Very few states are known for their tough regulations towards gambling like Texas. Despite this stringent set of rules, a large number of popular Texas sports betting sites are currently up and running. Many state residents and Texas lawmakers now support the full regulation of sports betting, too.
Our team of experts covers everything you need to know about sports betting in Texas in 2022. We review the current sports betting laws in the Lone Star State and present to you some of the very best online sportsbooks available here right now.
In this article, we'll discuss the best options for sports betting in Texas, as well as the current political state of the sports betting scene.
Can you bet online in Texas? Which real money betting sites are the best sportsbooks for US players? Do you have to pay taxes on your winnings? Below, we'll answer all of your burning questions.
Is Sports Betting Legal in Texas?
Texas is definitely a state that enjoys its sports, including football, basketball, and baseball. But when it comes to Texas' relationship with sports betting, things can get a little complicated.
In the early 1900s, a series of laws were passed in an attempt to keep gambling out of Texas. After prohibiting "drawing for prizes, sweepstakes, and gift enterprises," as well as off-track betting on horse races, Texas lawmakers went on to outlaw games such as jai alai, poker, keno, and roulette.
In 1977, the Texas Attorney General issued a legal opinion saying that it is illegal for individuals to participate in any type of sports betting—whether it's office pools or something more organized— because technically, there's nothing differentiating that from a lottery.
In 1992, however, things changed with the passing of what is now known as the 1993 State Government Code. Section 466.020 of the code prohibits betting on any game conducted by or between state universities, but it also includes "any collegiate sporting event," which has allowed for the legalization of betting on high school sports in Texas.There's also a stipulation that allows for bets between two individuals if no one takes a cut and all winnings are paid out in cash (for example, betting with your buddies on Friday Night Football).
However, Texas has been notoriously slow to legalize widespread sports betting, and they're one of the states predicted to halt sports betting legislation at all costs.
The conservative nature of the government poses a problem for all kinds of gambling but especially Texas sports betting.
Major Texas sports teams like the Dallas Cowboys, the Dallas Mavericks, and the Texas Rangers banded together to lobby for sports betting legalization. Their pleas fell on deaf ears, unfortunately, as Texas lawmakers missed out on making a decision about sports betting.
The next time sports betting in Texas will come to the table will likely be in 2023.
How Texas Sports Betting Compares to Other States
For now, Texas is one of many states struggling with sports gambling.
Neighboring states are making better strides toward legalizing sports betting. Arkansas, for example, has allowed sports betting at casinos since 2019, and sports betting in Louisiana is set to start this coming winter.
Other states throughout the US have been working toward legalizing sports betting in several capacities. Historically, conservative states are making the switch because the revenue from sports wagers is undeniably helpful for state projects.
In November 2020, Nevada brought in $62 million from taxes on sports betting alone. Imagine how much money Texas would make from sports wagers!
In October 2018, the Supreme Court ruled that federal law does not prohibit individual states from legalizing sports betting. As more and more states make moves to legalize some form of sports betting, there's only one thing left to do: wait and see what happens in Texas—one of the last holdouts on legalized gambling in the US.
Best Sites for Sports Betting in Texas
Before you head off to pick a sportsbook for all your betting needs, take a minute to consider these top three, which we consider our best TX sports betting sites. They're reputable, offer great bonuses, and provide a wide selection of sports and betting options.
Bovada – Best TX Sportsbook Online for Competitive Odds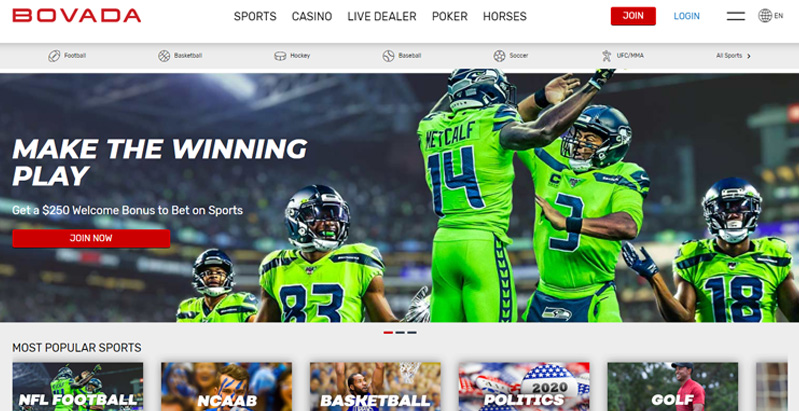 While your best bet for getting the most competitive odds on the wagers you want to make is to line shop, that won't be fruitful if you're always "shopping at the wrong stores." One of the best Texas betting sites that we've found to have the most competitive lines is Bovada.
It seems like the odds are hit slower by the sharks, and the gap (the vig) between both sides of the wager is fair. You'll see very few (-115) vs (-115) or (+140) vs. (-110) type matchups. If you're newer to sports betting and that confuses you, that's okay.
Here's the takeaway. Join at least two real money Texas betting sites or apps, and look at each sportsbook every time you bet to get the best lines and the best payouts.
---
BetOnline – Best Texas Sportsbook Option for Beginners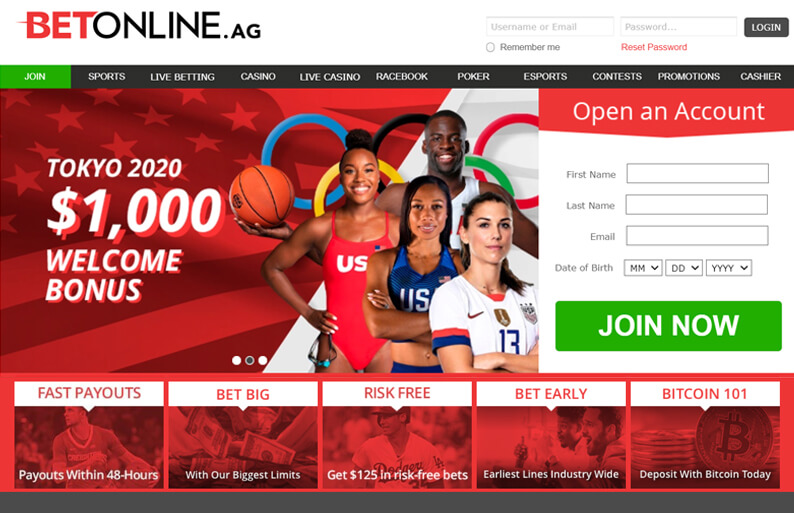 As one of the oldest online sportsbooks in the US, BetOnline has established itself as an excellent all-around betting site. It's particularly great for those that may be new to Texas sports betting. It has user-friendly design and excellent customer support options.
Just a few years ago, BetOnline faced heavy criticism for its somewhat lackluster design. The website owners heard these complaints and completely revamped the site's user interface. It is now one of the easiest online sportsbooks to navigate.
BetOnline provides a 24/7 live chat support option to answer questions directly. An email support option is provided to answer more in-depth questions, too.
It's no accident that BetOnline is one of the most trusted online sportsbooks in Texas for 2022. Give it a look today and learn why so many new bettors have flocked to this site over the years.
---
BetUS – Best Overall Sportsbooks for Texas Bettors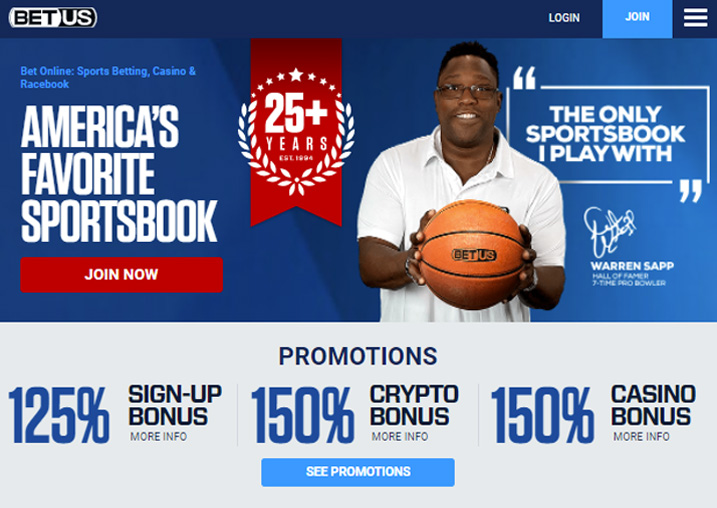 BetUS has been around for over 20 years, so they've perfected the art of online sports betting. You have all the options for major sports games and even some niche sports like cycling, darts, and table tennis.
Members here will find more than just traditional moneyline odds. BetUS provides a huge variety of unique betting options including over/under odds, prop bets, and futures betting odds. These options give bettors far more opportunities to win big on their favorite sports.
There is no doubt that BetUS is one of the best sites for Texas sports betting in 2022. With its excellent design, wide variety of odds, and excellent promotions, this is a site that deserves serious attention.
Comparing Texas Sports Betting Sites
| | BetOnline | Bovada | Betus |
| --- | --- | --- | --- |
| Year Established | 2004 | 2011 | 1994 |
| Welcome Bonus | Up to $1,000 | Up to $750 | Up to $2,500 |
| Bonus Rollover | 10x | 5x | 10x |
| U.S. Players? | Yes | Yes | Yes |
| In-Play Betting? | Yes | Yes | Yes |
| Bitcoin? | Yes | Yes | Yes |
| Casino Options? | Yes | Yes | Yes |
| Live Chat Support? | Yes | Yes | Yes |
| Phone Support? | Yes | No | Yes |
| Sign Up Now! | Visit BetOnline | Visit Bovada | Visit Betus |
Why Use These Sites for Sports Betting in Texas
The popularity of online sports betting has exploded over the last few years. Fewer and fewer individuals are willing to make the journey to a retail sportsbook just to make a couple of bets on an upcoming sporting event.
In certain states, retail sportsbooks are not available at all!
Texas is one such state where no land-based sportsbooks are available. Sports betting in Texas needs to be done online, which is easier in 2022 than ever before. Below, we highlight a few reasons why online sportsbooks are often far superior to their retail counterparts.

Tested and True
All good real money sportsbooks should have been tested for fairness. While we hate to see it happen, sometimes betting sites and online casinos will change their terms and conditions to suit their needs. Most times, players don't ever notice the change (after all, who religiously watches the terms and conditions) until it negatively impacts them.
To avoid this, choose an online sportsbook that has good reviews on the Google Play store, App Store, Yelp, or on social platforms like Reddit.
Players can be the best gauge of a sportsbook's authenticity. Sure, you'll have the random grumbler lamenting their exorbitant wager on an NFL team. But for the most part, the sports betting community is great about giving honest feedback.
Also, take a minute to poke around the sportsbook's legal page. You want to only play at licensed sportsbooks because that's the surest sign that they're legit.
Fast Banking Options
What's the use of having options? Most players see Mastercard compatibility and immediate deposit funds. Well, slow down, cowboy. Pull in the reins!
Another great way to gauge a sportsbook's legitimacy is to check their payment options. Reputable online sportsbooks and casinos must meet certain measures before they're approved to use certain payment options.
For example:
If PayPal or Skrill see an online sportsbook with shady operating procedures, they'll do everything in their power to make sure their service isn't a part of the sportsbook. They don't want to be associated with a sportsbook that's stealing people's money or changing terms and conditions.
With that being said, there can be such thing as too many banking options. You don't want to go to the cashier page and be overwhelmed by the sheer volume of choices.
Our advice is to pick a reputable and fast banking option, like Bitcoin or PayPal, and stick with it. Most real money betting sites will only let you withdraw funds through the same deposit method you used. So, if you've already decided on a safe and fast option, keep using it. If you're still undecided, check out our recommendations for the best fast payout betting sites.
Good Customer Service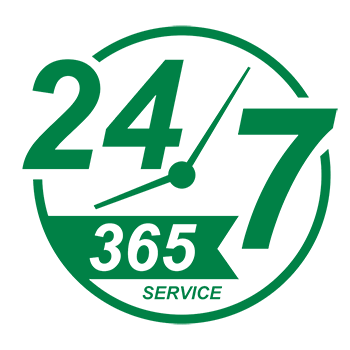 Before signing up with an online sportsbook, take a look at what others are saying about their customer service department. Again, turning to the players is a great tool for deciding which sportsbook to use. If someone had a bad experience with the sportsbook's customer service department, you bet your hat that the internet will hear of it.
Because so many people are using online betting sites—and from every part of the country, too—a good sportsbook will have customer service available 24/7. This is often in the form of live chat widgets or hotlines you can call to resolve issues.
Before signing up for an online sportsbook, make sure you know how to reach their customer service department. If a problem happens to arise, you want to be able to fix it as quickly as possible.
Land-Based Sports Betting in Texas
For some, the idea of joining any Texas sports betting site may seem like a daunting prospect. Certain people tend to prefer the old-fashioned way of making their sports bets at a retail location. However, as land based sports betting is restricted in Texas it is much easier to put in a bet online.
A few options exist for those determined to make their bets at a land-based location. Below are some of the best options in 2022.
Drive to Mexico
If you live close enough to the southern border, you may be able to travel to Mexico to get your sports betting fix in. There are a number of big casinos close to the US' southern border. And if you don't mind a road trip, you'll be able to conduct your sports betting there. Plus, you can pass the time with slot machines or table games, too.
Here are a few of the closest casinos in Mexico:
Casino Petrolero:
Casino Petrolero Blvd. Poza Rica, Calle Olmo Con, Col. Petrolera, 88640 Reynosa, Tamps., MX
167 miles south of Corpus Christi (2 hours and 48 minutes)
Casino Intercontinental:
Prado del Sur, Praderas de Oriente, 88595 Reynosa, Tamps., MX
167 miles south of Corpus Christi (2 hours and 46 minutes)
Casino Nacional SCP de CV:
Coahuila 1400 Poninente, Nísperos, 26020 Piedras Negras, Coah., MX
146 miles southwest of San Antonio (2 hours and 28 minutes)
Juega Y Juega:
Adolfo Ruiz Cortinez No. 3136 Esq. Veracruz, Electricistas, 88270 Nuevo Laredo, Tamps., MX
161 miles southwest of San Antonio (2 hours and 34 minutes)
Sports Betting in Neighboring States
Like we mentioned earlier, all states have a different approach to sports betting, and some of Texas' closest neighbors are rapidly making changes to allow for sports betting in casinos and racetracks.
Louisiana – In 2020, the Louisiana government passed a bill that would allow sports betting in casinos and other licensed venues, and it's been a hot topic since then. Apparently, Louisiana casinos might be bringing sports betting to the table as soon as November 2021.

The discussion about mobile sports betting in Louisiana is still ongoing. But once land-based casinos offer a wagers on sports, a mobile sportsbook won't be far behind.

Oklahoma – Unlike Louisiana, there isn't a hard-and-fast date for when sports betting will open up in Oklahoma casinos. However, the Oklahoma Indian Gaming Association has been meeting with lawmakers to allow their tribal casinos to offer sports betting, claiming that offshore and black market sportsbooks are taking away a lot of potential profit.

It's unclear when sports betting will come to Oklahoma, but tribal officials have said that once it's legalized, we could expect to see online and in-person sportsbooks open fairly quickly.

Arkansas – Arkansas legalized in-person sports betting in 2019. Since then, their biggest casinos and race tracks have been booming. If you're up for a ride, you can visit Oakland Racing Casino Resort in Hot Springs, Southland Casino Racing in West Memphis, or Saracen Casino Resort in Pine Bluff.

Mobile sports betting in Arkansas was supposed to be legalized in August of 2021, but lawmakers failed to come to a conclusive decision. The next time mobile sports betting will be on the table for them is in 2022.
Betting on Texas Sports Teams
Texas is home to 12 professional sports teams and more than two dozen collegiate teams, so sports are kind of a big deal for Texas residents.
One of the most popular sports to bet on in Texas (and the US in general) is basketball. They host three NBA teams (Spurs, Mavericks, Rockets) and one WNBA team (Wings). NBA franchise value has reached an all-time high in 2021, with an average of $2.2 billion franchise value.
There's a lot of hype around basketball, and it's even more exciting when you throw some wagers into the mix.
Baseball, too, is a fan favorite in Texas. In fact, in April 2021, the Texas Rangers' home opener hosted the largest crowd since the COVID pandemic started, filling up the Globe Life Field with 40,000 fans.
List of All Professional Texas Sports Teams
League
Team
Major League Baseball
Texas Rangers
Houston Astros
National Football League
Dallas Cowboys
Houston Texans
National Basketball Association
San Antonio Spurs
Houston Rockets
Dallas Mavericks
National Hockey League
Dallas Stars
Major League Soccer
Houston Dynamo
Auston FC
National Women's Soccer League
Houston Dash
Women's National Basketball Association
Dallas Wings
Collegiate Sports in Texas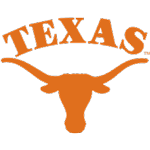 College sports teams in Texas are quite popular; Texas hosts over 20 Division I sports teams, including the University of Texas Longhorns and the Texas State Bobcats.
Some of the most-watched collegiate sports are American football, men's baseball, and women's softball.
Unfortunately, Texas does not allow betting on college sports. If you choose to bet on College Football outside of the state of Texas, here are our picks for top college football betting sites.
College Football Betting Sites
Horse Racing in Texas
The sports of horse racing and chariot racing were introduced to Texans in the 19th century. In Texas, you can bet online on a number of different horse-racing events at many different tracks. There have been quite a few famous horses that were born and raised in Texas, like Seabiscuit and American Pharaoh (the first Triple Crown winner in over 30 years).
Horse racing events include Thoroughbred racing, quarter horse racing, and harness racing.
Texans like to place bets on major races like the Kentucky Derby (the first leg of the Triple Crown), The Belmont Stakes (the second leg of the Triple Crown), and the Breeders Cup (the most prestigious horse race in America).
Daily Fantasy Sports in Texas
In 2006, the Unlawful Internet Gambling Enforcement Act was passed in Texas. This has allowed certain "daily fantasy sports" websites to operate as long as they abide by strict regulations. The sites must be free of underage users and based within Texas borders.
Texas currently hosts a few of the most popular daily fantasy sports websites, including DraftKings and FanDuel. While Texas doesn't allow sports betting, you can still play fantasy sports.
Motor Sports in Texas
The state of Texas has also taken part in some notable motorsports events. Some Texans have become especially well known for their abilities behind the wheel, like John Force (16-time NHRA funny car champion) and Mario Andretti (Formula One world champion).
Texans are also known for their love of NASCAR races. According to Forbes, Texas has ranked as the top-earning NASCAR state for over a decade. The Speedway Motorsports owns and operates four of NASCAR's most popular tracks:
Texas Motor Speedway (in Fort Worth)
Atlanta Motor Speedway (in Hampton)
Bristol Motor Speedway (in Blountville)
Charlotte Motor Speedway (at Concord)
Texas is also the only state that has hosted five Motorcycle Grand Prix races, two Formula One races, and held some of the greatest sports car endurance races.
For racing fans looking to get in on the action, you can place wagers on motorsports at many of the online sportsbooks we've recommended in this article.
Esports in Texas
Surprisingly, there are quite a few esports teams from Texas, some of them are fairly well-known.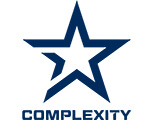 CompLexity Gaming, for example, is based in Frisco Texas, and has teams that compete in Counterstrike: Global Offensive, League of Legends, DOTA 2, Call of Duty, and other popular video games.
CompLexity's CS:GO team is currently ranked 27th in the world, and they have multiple accolades to their name.
Esports betting in Texas is not yet permitted, but as the industry continues to grow and more people place bets on esports matches, we expect Texas lawmakers will see its potential and take steps towards allowing wagering.
Texas Sports Betting FAQ
No, Texas casinos are not permitted to offer sports betting, and there are no state-operated sportsbooks there.
As of now, the sports betting legislation will not be discussed again until 2023. So, if it's not passed then, residents might be waiting for another few years to see results.
MyBookie and Betus can be used anywhere in the United States. Bovada has certain restrictions in place that prevent users from accessing the site from New Jersey, New York, Delaware, Maryland, and Nevada. You can always do a quick search online to see if your sportsbook will be available in whatever state you're traveling to.
Currently, the top three best Texas betting sites are Bovada, BetUS, and BetOnline. These three sites have held the top spots for some time. The design and layout of these top three real money betting sites make Texas sports gambling easy and enjoyable.
Yes, there are several casinos along the border in Mexico that take sports bets. As we're not as up to speed on the Mexican sports betting market, we do recommend calling first to get details about what type of action the book is taking. Some of the more popular Mexican sportsbooks on the border include Casino Petrolero, Casino Intercontinental, Casino Nacional SCP de CV, and Juega Y Juega.
One of the most critical elements we look at when assessing the best Texas sports betting sites is how fast winnings are paid. What we look at here comes in two parts—bet adjudication and withdrawals. Bet adjudication is how fast after a game your bets are paid into your betting account. We like to see this done within a couple of minutes at the latest. For withdrawals, the best TX betting apps process payments in under 48 hours and have your money to you within a few business days max.
Yes, according to the federal government, if you win more than $600 on sports betting, you are required to report it as a source of income and pay taxes on it.