Sports betting and sports betting sites in North Carolina are big. The state is packed with college sports fans (Duke, Wake Forest, East Carolina, NC State, etc.) as well as professional sports fans (Hornets, Panthers, Hurricanes, and more). All of these sports fans mean one thing—a huge market for betting on sports. If you are looking to bet on sports online in North Carolina, check out our list below of the best North Carolina sports betting sites.
Currently, the only brick and mortar real money North Carolina sportsbooks are at two facilities on tribal land. If you don't live close to them, you're not out of luck, though! The best North Carolina sports betting sites offer real money action to NC bettors all across the state 24/7/365.
3 Reasons These Are the Best North Carolina Sports Betting Sites
Recommendations, rankings, and reviews of North Carolina online sportsbooks can't be bought.
We only use expert reviewers with extensive experience.
Best North Carolina betting sites lists are regularly rechecked and updated.
Recommendations, Rankings, and Reviews Can't Be Bought
You're not looking at a list of paid advertisements here. Our list of the best North Carolina online sportsbooks is just that—a list of the best betting sites in North Carolina. While many companies try, we don't allow any book to buy, barter, or bribe its way onto this list. You can confidently trust that this is a list of the best options for real money sports betting sites in North Carolina.
We Only Use Expert Reviewers With Extensive Experience
Why would you ever trust a review about North Carolina online sportsbooks from someone who is not a sports bettor? You shouldn't. Unfortunately, other sports betting review sites hire reviewers who write well but don't know the first thing about wagering on sports. Not here.
TheSportsGeek only works with actual sports bettors who understand what bettors want to see from their North Carolina betting sites.
"Best of" Lists Are Regularly Rechecked and Updated
All of TheSportsGeek's "best of" lists are fluid. Just because a top real money North Carolina sports betting site makes the list on day one does not mean it's still going to be there a few weeks, months, or years later. In order to stay on the list, a sportsbook needs to continue offering the best online betting experience to North Carolina residents and visitors. The second North Carolina betting sites lose their way, or a better option presents itself, the list is updated.
Can I Legally Bet on Sports Online in North Carolina?
Yes! 2019 was a big year for sports bettors living in North Carolina. In July of 2019, Governor Roy Cooper of the great state of North Carolina signed into law a bill allowing sports betting on tribal lands within the state. Additionally, the state legislature is considering expanding this brick and mortar law to include all areas of the state (not just tribal land).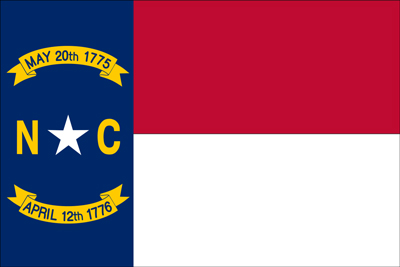 The bill does not directly address North Carolina betting sites. While this does not mean betting online in North Carolina is illegal, it does paint a bit of a gray area. There are some legal minds that would argue the lack of legislation makes the practice illegal. On the other side of the field, though, many look to the repeal of PASPA at the federal level as all that's needed to legalize online sports betting nationwide. For those familiar with the law, it's the classic state vs. federal showdown.
What does this mean for you as a sports bettor in North Carolina? It all depends on which camp you choose to follow. If you believe federal law supersedes state law, then you should be cleared to play. On that same token, there are no state laws that say you can't bet online in North Carolina. So, even if you're a proponent of state laws, it would appear nothing is being violated.
At the end of the day, it's up to you. We are not attorneys, but we're doing our best to give you our interpretation of the laws. If you require a more official position on interpreting the laws, you'll need to reach out to a gaming attorney in the state.
Four Steps to Place Your First Online Sports Bet in North Carolina
1. Open a Free Account at Any North Carolina Sports Betting Sites We Recommended
The entire process takes no more than about two minutes. You will need a valid email address and a physical address you can include in your profile. You can access the best North Carolina betting sites using the links provided at the top of the guide.
2. Make Your First Real Money Deposit
Funding your betting account used to be a headache. Now, though, real money North Carolina sports betting sites offer extensive options you can use to get free money online. Navigate to the deposits and banking page. Select the deposit option you'd like to use and input the amount you want to deposit. Click the submit button, and you'll have access to your funds immediately at North Carolina online sportsbooks.
3. Select an Available Bet You're Interested In
The next step is choosing the bet you want to make. If you already have a bet in mind, great. If not, utilize some sports betting strategies to try and identify a winning pick. Most North Carolina sports betting sites have the bets neatly organized by type, sport, or date for your convenience.
4. Place Your Bet!
Once you've picked out a bet you want to make, it's time to get into the action. Select the bet, input the amount you want to wager, and hit the submit button! Once the bet is live, double-check your North Carolina online sportsbooks to make sure everything is as you want it. After that, you're all set!
How Do I Put Money on North Carolina Betting Sites?
Depositing real money into online North Carolina sports betting sites used to be a headache. Thanks to the advancement of technology, though, that's no longer the case. Deposits can be made through popular means including:
Funds are almost always available immediately for live betting. The majority of sites for online betting in North Carolina do not charge a fee for depositing (and you should be using a site that doesn't charge).
Get Started Betting on Sports in North Carolina Now!
North Carolina sports betting sites are ready and waiting for your action. Follow the steps outlined in this guide at one of the recommended reputable options, and you'll be in the action in no time. Live sportsbooks are fun, but they pale in comparison to the conveniences offered through online options.