Real money poker apps represent the ideal method for players who want to enjoy playing poker without actually having to go to the casino. These online poker apps are available for connected devices that you can take with you as you go, such as smartphones, tablets and watches. If you choose right, you can find the convenience of playing on a real money USA poker app to actually be a more pleasurable experience for you.
Rank

Poker Site

Bonus
Get Started
1

BoL Poker

100% up to

$1,000

Go to Site

2

Bovada Poker

100% up to

$500

Go to Site

3

SB Poker

100% up to

$1,000

Go to Site

4

Ignition Poker

100% up to

$1,000

Go to Site
In terms of gambling games, few have a richer history than poker. It's the ultimate combination of luck, in terms of which cards you get, and skill, in terms of using your betting strategy to win hands even when you don't have the best cards. There's a reason why poker holds a special place in our culture.
But in our fast-paced society, it's unrealistic to think that people have the time to sit in poker rooms for hours on end. That's why real money poker apps are so welcome for active US players. They allow the same kind of action while also providing the convenience of letting you play wherever you might be.
The following article should tell you all you need to know about the world of real money online poker apps. You'll learn the basics of poker and what some of the main varieties of the game are on different apps. You'll also learn about the best apps for real money poker while finding out what makes these mobile online poker apps the best for you.
The Best Real Money Poker Apps Available for 2022
When it comes to choosing mobile poker apps, it can be a bit of a daunting process. After all, when you do a simple internet search, you're going to find hundreds of results popping up on your screen. The same goes for what would happen if you check out an app store and go looking directly for real money poker apps at the source.
That's why we're to help. We've done research for you and we've come up with a list of what we firmly believe are the best USA poker apps on the market. Here are our choices.
Why does it matter that you choose apps like the ones listed above? Well, you have to keep in mind that you'll be playing poker for real money on these apps. If you were dealing with free poker apps where there was no money at stake, it wouldn't be as important to be so selective.
But in the case of casinos apps which allow you to play poker and do so for actual stakes, you need to be as careful as possible with your choice. If you fail to do the proper due diligence before you get started, you could wind up regretting it down the line.
How to Play Real Money Poker on Your Phone
If you're technologically savvy and deal a lot with mobile devices, you might have a pretty good grip on how mobile apps work. But we realize that some poker fans might not be too familiar with this world. That's why we're here to give a quick primer on getting started with United States online poker apps to win money.
Step 1: Choose a Reputable Poker App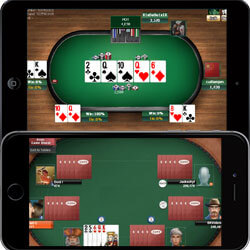 We're going to go into all the details about what makes a poker app better than other and the qualities you should be seeking a little bit further down in this article. But for the sake of getting started, we're going to assume here that you've done your research already or used our list of real money poker apps above. From there, you can go to the proper app store (more on that below) on the device of your choice and look for your preferred app.
Ideally, you'll choose one that allows you the flexibility to play on multiple devices as long as you have the right log-in information. For example, there might be times when your phone is all you have on you to play poker on a real money app. But there also might be occasions when you have your tablet handy, which allows you the experience of playing with a bigger screen.
Step 2: Downloading the App
Most of the top real money poker apps for US players will be free to download. After all, you'll be putting up money to actually play the game. You won't want to spend more just to get the app on your device. The actual downloading of casinos apps shouldn't take you more than a few minutes.
These downloads will take up space on your phone and will add to your data burden. That means you have to be sure that you have the space available and that you aren't risking going over any data limits you might have.
Step 3: Signing Up
This usually is a quick process which requires giving up some personal information. In addition to downloading, you'll likely be asked to provide a password that you'll use to log into any of these real money online poker apps in the future. Make sure you write down this information or commit it to memory.
Step 4: Funding Your Gambling Account
Since you are going to be playing online poker to win money, you'll also need to provide funding so that you can put that money at stake. This means providing some sort of financial information so that you can make your mobile poker bets. Once you have this account in place, you can allot funds from it to create your bankroll.
Most of these real money poker apps online use credit cards as funding. But if you're looking for alternative methods, there are apps that can give you that flexibility. For example, you can find certain poker apps that pay real money which allow for payment in cryptocurrency, such as Bitcoin.
Step 5: Choosing Your Game
From there, it's just a matter of getting into a game and starting to play. Real money US poker apps have a menu of options for you which list everything from the limits that you can bet and the style of play. You'll choose the game, take some money from your account as your bankroll, and you'll be ready to jump in a hand to get started.
How to Play Poker and Win Money
You now have the basics down in terms of getting on real money poker apps. The next step is understanding how to play poker. What you'll find is that there are many different types of games that all fall under the poker banner.
But the basic gist of all these games is the same. Multiple players all receive different hands of cards and attempt to form the best possible poker combination. All things being equal, the player with the best hand wins the pot.
Yet poker also incorporates a betting aspect which distinguishes it from many other online casino games. In most cases, other players at the virtual table won't be able to see what cards that you have, so you can "bluff" your way into winning the hand even if you don't have the best cards. The betting aspect is really what sets poker apart.
Winning Poker Hands
The specific winning hands available to you in a game of poker depends on the rules of play. For instance, if you were playing a game where wild cards were involved, you'd be able to create winning combinations, such as five of a kind, that wouldn't be available to you in normal circumstances.
But if you're playing a standard format on reputable real money poker apps, these are generally the combinations that you'll be trying to achieve:
Pair (two cards of the same rank)
Two pair
Three of a kind
Straight (five cards of consecutive rank, like 3-4-5-6-7)
Flush (five cards of same suit)
Full house (three of a kind and two pair in the same hand)
Four of a kind
Straight flush (straight with five cards of same suit)
Royal flush (ten, jack, queen, king, and ace of the same suit)
For those who don't know, the rank is essentially the identity of the card, such as a king or a two. The suit is the symbol connected to the rank. There are four suits in a standard deck of 52 cards: hearts, diamonds, spades and clubs.
On the list above, the hands are ranked from the least valuable at the top to most valuable at the bottom. In other words, two pair beats a pair, three of a kind beats two pair, and so on. When you become familiar with the probabilities of making winning combinations, you'll understand that the combinations that are most valuable are the ones that are hardest to achieve.
Looking For More Real Money Online Poker Tips?
Betting in Poker Apps
As we said above, you can win hands in poker without necessarily having the best hand. There are times when everyone else at the virtual table will "fold," which means that they have given up the hand. At that point, you would be the winner of the hand if you're the last one standing, regardless of what cards you have.
Poker betting strategy is focused on the technique known as bluffing. This means that you are betting as if you have a great hand, even if you really don't, in an effort to force everyone else to fold. You can do this because, in the vast majority of poker games found on online poker apps for money, at least part of your hand will be hidden to the rest of the table.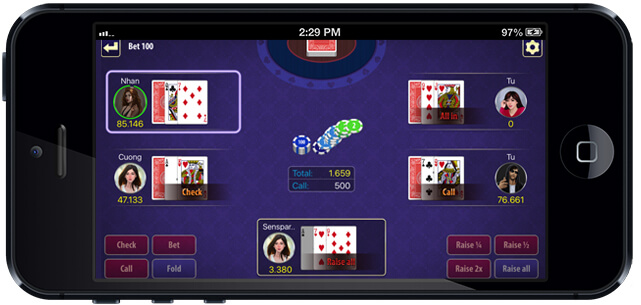 Below, you'll find some poker betting terms you'll need to know when playing mobile online poker for money:
Ante: This is the bet that you'll make at the start of every hand. You need to make the ante in order to play the hand.
Check: You can check on a round of betting if no one else has raised the bet in any way. If you check, it means that you are staying in the hand without adding to your bet.
Raise: This means that you are raising the bet from where it currently stands in the hand. When you raise, it usually means that you have a good hand or that you're bluffing.
Call: A call bet is one where you match the raise of another player at the table. It allows you to stay in the hand.
Fold: When you fold, you are giving up on the hand. It means that you lose whatever bets you've made on that hand.
When you play poker on a casino app, you'll see icons that allow you to commit to one of these wagers. You'll also be able to raise and lower your bet size with other icons on the screen.
Some games on poker apps will limit the amount you can wager in any given round. Other games, usually named "no-limit", allow you to bet as much as you want provided you don't exceed your bankroll.
How to Win a Poker Hand
Be the last player in the hand after everyone else has folded. This can happen at any time during betting.
Have the best hand at the end of the process, when all cards have been received by all players at the table and all betting rounds are complete.
When either of these things occurs, you win the pot. The size of the pot depends on how much was bet during that round when you take into account antes, calls, and raises.
Types of Poker Available on Apps
You can break down the world of poker into two main types:
Draw Poker: When you're playing Draw Poker, you'll have a chance to improve your hand from the deal. You'll get a chance to hold the cards you like and discard the ones you don't. At that point, you'll draw new cards from the deck which provided the deal to replace the ones you've discarded.
Stud Poker: In Stud Poker, you won't have any chance to improve your hand. You basically have to play the cards that you're dealt. When you're playing stud poker, being a clever bettor is a big part of determining whether you win or lose.
Within these two large groups, there are dozens of different variations you'll likely to be able to find on a typical online poker app. These variations will have their own specific rules pertaining to how many cards each player receives, whether there are community cards (which essentially belong to all players at the table), if wild cards are in play, and so on. Once you become familiar with basic poker play, you can branch out into these different areas.
The most popular of all poker games, both at casinos and on gambling apps, is called Texas Hold'em poker. Texas Hold'em was largely responsible for the boom in poker that took place in the 2000s. In addition, it's the standard format for most major professional poker tournaments like the World Series of Poker.
In Texas Hold'em, which can be found on many real money poker apps, each player at the table receives two cards which are known only to them. There are then five community cards which are dealt in piecemeal fashion. The first three are revealed, then a fourth and a fifth, with betting rounds taking place after each reveal.
Because of the way the cards are revealed, Texas Hold'em creates wild shifts in momentum in the course of a single hand. One player can be well in front with a great hand until the final card arrives. Your ability to handle these shifts and gauge what other players might have based on their bets, while also using your own bets strategically, will determine your success in this thrilling game.
How to Determine the Best Real Money Poker Apps
We gave you a list above of what we feel are the best poker apps to win real money. But there could come a situation where you want to choose one of these apps on your own. If that's the case, you should know the qualities you should be seeking.
With that in mind, we've put together the following list of characteristics that any top poker game app should have in abundance. Keep these in mind as you make your search for the best real money poker apps.
Reliable payback: This is perhaps the most important quality you should be seeking from real money poker apps online. If you put in the work playing poker and winning big pots, you'll want to be able to realize your winnings and be assured of the safest online poker experience. Yet there are less than reputable apps for playing poker out there that might not pay you or, worse, lock up the money you have in your gambling account so you can't get it back.
Poker variety: You might be the type that likes to dabble in different online poker formats, perhaps in terms of the style of game. If that's the case, you'll want a real money poker app that gives you that kind of versatility. If you have that, you won't have to worry about gameplay getting stale.
Betting limits: This one is more of a personal preference. Some poker gambling apps allow you to play for higher stakes than others by raising the limits on bets or requiring higher antes to play. You'll need to determine the level with which you're comfortable before settling on a specific online poker app.
Graphics and sounds: If you're a hardcore poker fan, you might not worry too much about how the game looks or sounds. But remember that you might be using this casino app quite often. As a result, you should want to use real money poker apps that look and sound pleasant and keeps things fresh in these departments.
Funding options: We touched above on the different methods of funding your account on a gambling app that features poker. If you have a specific method of funding you want to use, you should make sure it's available on the app you choose. More than that, you should be aware if these apps allow you to switch to different funding options in case things should change for some reason.
Bonuses: Don't be surprised when you start looking into online poker apps to see offers that allow you to play initially for free or that match your deposit with an equal amount of free betting money. These bonuses are a big part of the online gambling app world. Shop around for the best poker bonuses to help your bottom line.
Technical stability: It can be immensely frustrating to be in the middle of a sizable pot and have the screen freeze. Technical glitches are frequent on low-quality poker apps. That's why it's important you only use reliable mobile poker sites like the ones recommended on this page.

Don't sign up for any site until you've checked to see if it's technically sound.

Device compatibility: This will come into play if you plan on playing poker with your mobile devices as well as a computer. You should choose an app that lets you play with ease on a phone, tablet, laptop, or whatever you have. And you should be able to switch easily between devices while having all your information in place.
Customer service: You have to make sure that you get a good vibe from the online gambling app in terms of customer service. Problems could arise, even on the most reliable real money poker apps. As a result, you'll want the peace of mind that comes from an app with proactive, friendly customer service representatives.
Find Real Money Online Poker Apps
iPhone Poker Apps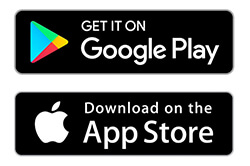 In terms of mobile devices, brand awareness of the iPhone and iPad is higher than just about anything else. When you head to the app stores on your Apple devices, you'll find a wide variety of reliable poker apps for iPhone. Many of these apps will allow you to play for free to learn the game with no risk, while others will be poker apps where you can win real money.
Poker Apps for Android
You might be someone that is immune to the Apple brand. If that's the case, there's a good chance that your mobile devices are Androids. If that's the case, you'll find an impressive selection of online poker apps in their stores that will give you the poker action you desire.
Online Casino Apps with Poker
Many casinos have strengthened their online offerings now that state and national laws concerning online gambling have loosened. As a result, you might be able to find real money poker apps that come directly from your favorite casino sites. Such apps might allow you to tie rewards you've earned from the casino into your play on a poker app, and vice versa.
We strongly recommend looking for reliable online poker sites with apps. These real money poker sites have spent years building their online reputations and take that same level of professionalism into their poker betting apps.
FAQ About Mobile Online Poker Apps
Once you have the app downloaded, it will go with your device wherever you take it. This kind of convenience is why many people play poker on casino apps. It keeps you from having to actually be at the casino to get the real-money poker action you crave.
You have to give up something when gambling on an app. In the case of poker, you might miss the signs from someone who has a bad poker face. Of course, if you're someone who has trouble concealing what they have when playing poker in person, an app will surely help you hide this flaw.
They most certainly do! Many of these tournaments allow you to buy in for a minimum fee, then try to make your way to the final table where big money awaits. You should always be on the lookout for tournament offerings from the app you choose.