Pennsylvania has always been a home for sports lovers. For example, there's plenty of football fans gearing up for the Pittsburgh Steelers and Philadelphia Eagles, not to mention the Nittany Lions. So, it's only natural for sports betting in Pennsylvania to be popular.
Overall, PA is a great state for sportsbooks. Whether you're looking to place wagers online, in person, or on your phone, there's a top-rated sportsbook for you. And we've done all the legwork so that you don't have to!
In this article, we'll discuss the legality of sports betting in Pennsylvania, as well as our top picks for Pennsylvania sports betting sites.
Best PA Online Sports Betting Sites
There are a few online sportsbooks for PA residents, like the BetRivers Sportsbook, which has a physical installation in the Rivers Casino. However, even though these sportsbooks are designed for PA sports enthusiasts, they might not offer all the wagers or sports that other offshore sportsbooks offer.
Below, you'll find our selection of the best online sportsbooks for PA residents to access and use!
Bovada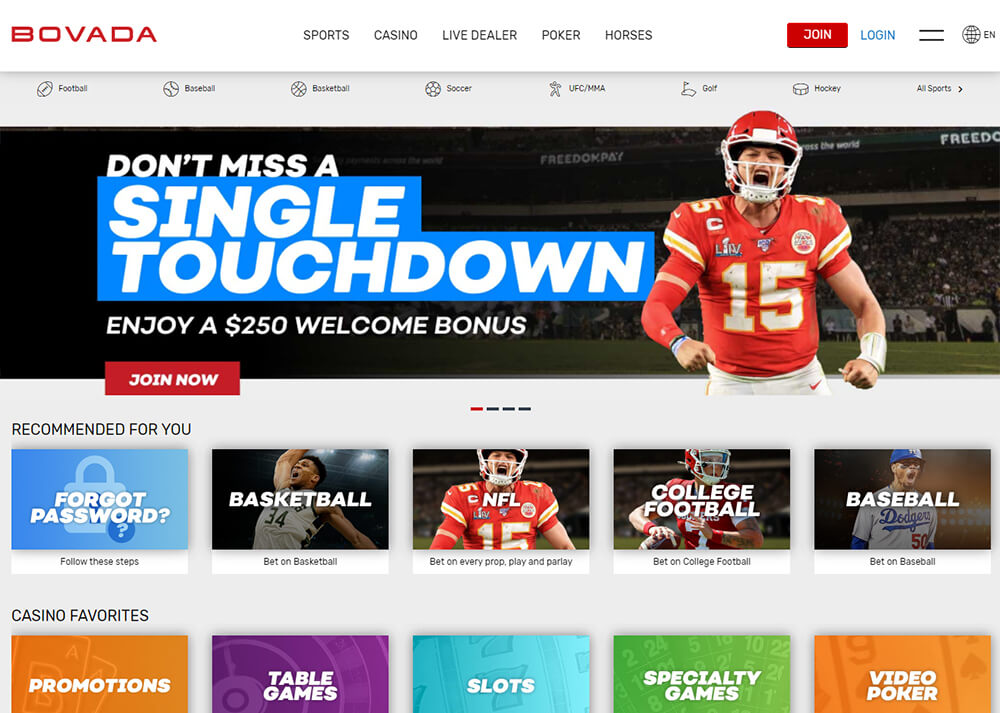 Bovada is a popular choice for US sports bettors. Their basic website design makes it simple for novices to wager, and their wide range of games is sure to appeal to anyone looking for something new to bet on.
Bovada offers a 50% deposit bonus on first-time deposits of up to $250, which is much lower than the usual industry level of around $1,000. But you can get some additional bonuses from their online casino, hosted on the same site.
Bovada Sportsbook has a plethora of pro and fan-favorite sports, including curling, badminton, motorsports, and even the Gaelic Games!
We spoke about the casino, it's really simple to switch lanes from sports betting to online casino games. So, if you want to make some bets on a major football game while playing online poker, Bovada is the place to go.
MyBookie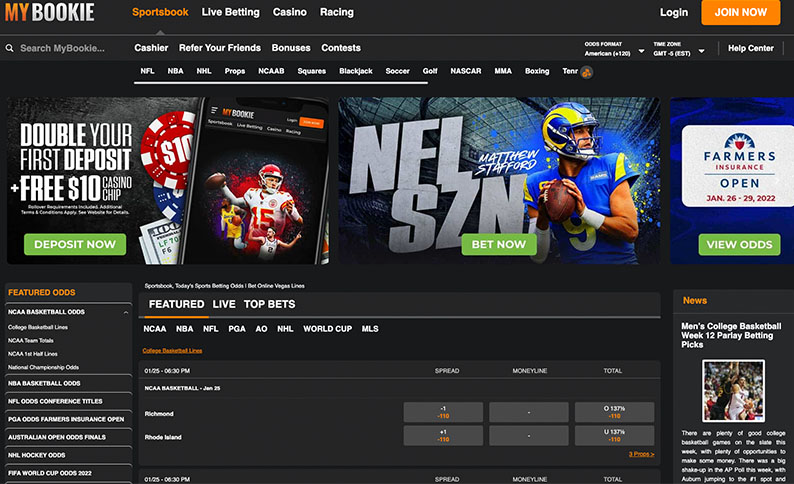 With their slick and easy-to-use website, MyBookie transforms sports betting into a reality. They're a well-known brand in the sports betting industry, and one of our favorites.
MyBookie provides a 100% deposit bonus of up to $1,000 for new players. That money might be used to wager on a wide range of sports events, including soccer and ice hockey.
They have a huge collection of sporting events to choose from, as well as unique betting possibilities for games, including chess, darts, bowling, and esports.
If you're looking for a sportsbook that has the greatest variety of niche sports, MyBookie is the place to go. It's also simple to top-up your account with their simple banking alternatives.
BetUS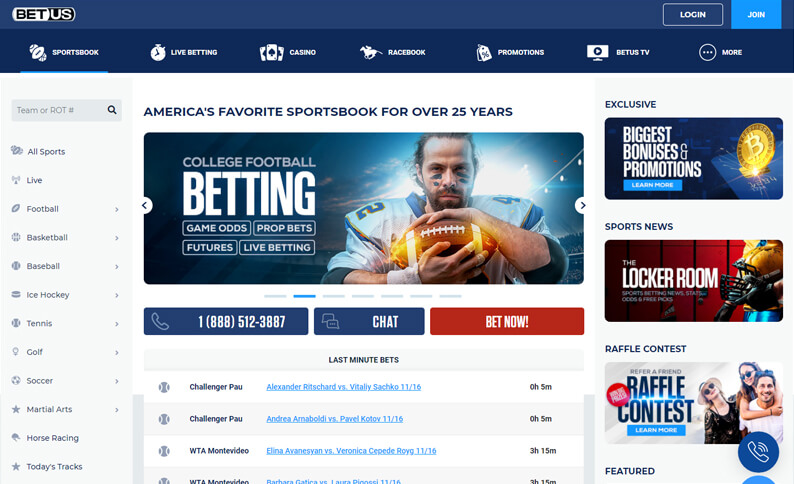 BetUS has been a big name in the sportsbook industry for a long time, and they provide unique specials and unrivaled security to help you place your bets easily.
New players can earn a 100% deposit bonus of up to $2,500 and other attractive incentives such as bonuses for Bitcoin deposits.
They not only provide gambling on a wide range of sporting events but also enable wagers on some less common ones. Here are some sports to name a few:
UFC and MMA
Cricket
Darts
Cycling
Motorsports
Comparing Pennsylvania Sports Betting Sites
| | Bovada | MyBookie | Betus |
| --- | --- | --- | --- |
| Year Established | 2011 | 2014 | 1994 |
| Welcome Bonus | 50% up to $250 | 100% up to $1,000 | 100% up to $2,500 |
| Bonus Rollover | 5x | 10x | 10x |
| U.S. Players? | Yes | Yes | Yes |
| In-Play Betting? | Yes | Yes | Yes |
| Bitcoin? | Yes | Yes | Yes |
| Casino Options? | Yes | Yes | Yes |
| Live Chat Support? | Yes | Yes | Yes |
| Phone Support? | No | Yes | Yes |
| Read our Review! | Bovada Review | MyBookie Review | Betus Review |
Why Use These PA Online Sports Betting Sites?
There's a lot of conflicting information on the Internet, especially when it comes to online casinos and sports betting sites. Some people recommend a certain site, while others condemn it.
At the end of the day, PA sports betting online all comes down to a few factors.
Reputation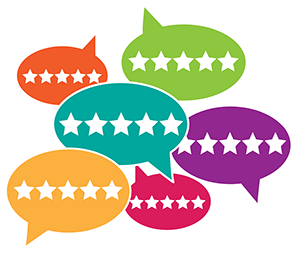 A sportsbook's quality will reflect in its reputation. One of the best ways to find out if a sportsbook is worth your time is to read reviews online from industry professionals and users alike.
User reviews are particularly helpful because they're the ones who actually sit down and use the site, so they know best what's good about it and where there's room for improvement.
You can look for reviews online by searching the sportsbook's name followed by "review." If you're on mobile, you can check the reviews of users on the Google Play or App Store.
Another aspect of reputation that some people don't consider is licensing. Just like online casinos, a licensing authority oversees sports gambling sites in Pennsylvania, New Jersey, Maryland, Delaware, Nevada, and West Virginia. Gambling sites that are licensed by this authority are legally obligated to follow its regulations.
For example, sports betting websites in PA need to be licensed by the Gaming Control Board of PA (GCOB) in order to operate. Sites must also meet strict regulatory guidelines in order to remain in business.
Great Customer Service
Internet dropped out and you lost your bets? Who you gonna call?
One of the most critical aspects of any online gambling site, be it a casino or a sportsbook, is quality customer service.
Because the internet has changed the way we gamble, real money betting sites must have customer service representatives available 24/7. You want to find a bookie that has a live chat feature because they are by far the easiest way to get in contact with the site.
Phone and email options are also available, but they won't be as fast as live chat.
Fast and Secure Banking
A sportsbook might look great on paper, but if their site and banking methods aren't secure, you could be in trouble.
Look for a sportsbook with SSL encryption. This 128- or 256-bit encryption is an industry standard to protect your sensitive data.
One of the fastest banking methods available to US gamblers is cryptocurrency, whether it's Bitcoin, Ethereum, or Litecoin. Sportsbooks have started to offer crypto deposits and withdrawals. And if you're looking for the fastest gambling experience possible, that's how to do it.
You also want to find a sportsbook that charges low transaction fees. Industry experts recommend keeping transaction fees under 2% to avoid overpaying on your bets.
Is Pennsylvania Sports Betting Legal?
In 2017, Pennsylvania legislators passed a bill that revised previously constrictive sports betting laws. Soon after, the Supreme Court struck down the Professional and Amateur Sports Protection Act in 2018. Pennsylvania was one of the first states to champion sports betting after the federal restrictions were lifted.
As of today, sports betting in person, online, and via mobile is legal in the state of Pennsylvania. Keep in mind, you must be over 21 years old to bet on college, pro, and international sports in PA.
How Pennsylvania Sports Betting Compares to Other States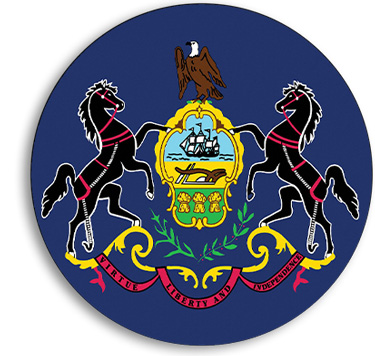 As we mentioned, Pennsylvania was one of the first states to bring sports betting into the mainstream. They're still one of the headliners of online gambling, right up there with Nevada and New Jersey.
PA's neighboring states are still in the infancy stages of their sports betting careers. Ohio is on track to make legislative changes by early 2022 to allow the development of sportsbooks.
Sports betting in New York has been legal in-person since 2013, and recent legislation in 2021 has paved the road for online sports betting.
Maryland is steps away from approving state-wide sports betting. The government is about to pass a law that would allow in-person sports betting at certain casinos and racetracks across the state.
Delaware was the very first state to legalize sports betting after PAPSA was amended in 2018. Currently, DE doesn't offer online sports betting.
PA Sports Betting Apps
PA is one of the only states that has authorized full sports betting across all platforms, meaning you can place bets in-person, on your laptop, or on your smartphone.
Mobile sports betting is very popular in Pennsylvania, and the first sportsbook on the market for PA residents was SugarHorse Sportsbook.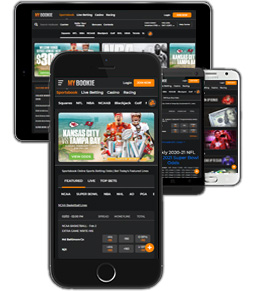 However, in the past two years, around a dozen other mobile sportsbooks opened up in the state, making sports betting available for everyone.
Many of the in-person sports betting locations offer their own sportsbooks, including:
BetRivers Sportsbook
Caesar's Sportsbook
Parx Sportsbook
FanDuel Sportsbook
Unibet Sportsbook
Land-Based Pennsylvania Sports Betting
Pennsylvania is a great state for gambling, whether it's over poker or sports. As such, PA has many brick-and-mortar casinos that offer sports betting. If you're looking for a casual place to chat with other bettors and watch the big game, check out these casinos.
Sportsbooks in Philadelphia
BetRivers Sportsbook in Philadelphia
Address: 1001 N Delaware Ave, Philadelphia, PA 19125
Phone Number: (877) 477-3715
FanDuel Sportsbook at Live! Casino
Address: 900 Packer Avenue, Philadelphia, PA 19148
Phone Number: (833) 472-5483
South Philadelphia Race and Sportsbook
Address: 700 Packer Ave, Philadelphia, PA 19148
Phone Number: (215) 551-8270
Sportsbooks in Pittsburgh
Rivers Pittsburgh Sportsbook
Address: 777 Casino Dr., Pittsburgh, PA 15212
Phone: (412) 231-7777
Live! Casino Pittsburgh Sportsbook
Address: 5260 Lincoln Highway, Greensburg, PA 15601
Phone Number: (878) 787-7770
Other PA Sportsbooks
FanDuel Sportsbook at Valley Forge Casino
Address: 1160 1st Ave, King of Prussia, PA 19406
Phone Number: (610) 354-8118
Harrah's Philadelphia Caesar's Sportsbook
Address: 777 Harrah's Blvd., Chester, PA 19013
Phone Number: (484) 490-1800
Hollywood Casino Sportsbook
Address: 777 Hollywood Blvd., Grantville, PA 17028
Phone Number: (717) 469-2211
Parx Sportsbook
Address: 2999 Street Road, Bensalem, PA 19020
Phone Number: 1-888-LUV-PARX
Betfred Sportsbook
Address: 77 Wind Creek Blvd., Bethlehem, PA 18015
Phone Number: (877) 726-3777
BetAmerica Sportsbook
Address: 8199 Perry Highway, Erie, PA 16509
Phone Number: (866) ERIE-FUN
There are plenty of other sportsbooks and racetracks around the state where you can place bets, but these are the most popular!
Betting on PA Sports Teams
Pennsylvania is one of the oldest states in America, and as such, they have a long history of avid involvement in sports. There are plenty of PA sports teams to bet on, no matter if you're into professional sports leagues or collegiate sports.
List of All Professional PA Sports Teams
Major League Baseball
Philadelphia Phillies
Pittsburgh Pirates
National Football League
Philadelphia Eagles
Pittsburgh Steelers
National Basketball Association
Philadelphia 76ers
National Hockey League
Philadelphia Flyers
Pittsburgh Penguins
Major League Soccer
Philadelphia Union
List of DI College Sports Teams in PA
Major DI College Teams
Penn State Nittany Lions
Pittsburgh Panthers
Villanova Wildcats
Duquesne Dukes
Horse Racing in Pennsylvania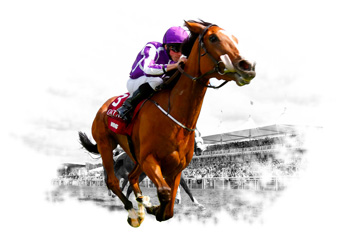 Horse racing is extremely popular in Pennsylvania, and there are many horse racing tracks across the state.
The most popular of these is the Parx, which has been open since November 9th, 1974. It's located near Philadelphia and boasts a grandstand that seats up to 14,000 people; it also has an onsite mall for fans to spend their money at while they wait.
People in Pennsylvania are extremely passionate about horse racing, so it's common to find bets being placed on horses in PA.
The minimum bet that you can place depends on the race, but the average is between $2 and $10 per bet. The Parx offers payouts of 2-1, which means you place a bet for $2 and win $4 if your horse wins.
Daily Fantasy Sports in Pennsylvania
Daily fantasy sports was legalized in Pennsylvania alongside other forms of sports betting in 2017. Most big-name fantasy sports apps like FanDuel and DraftKings operate within the state, but Monkey Knife Fight Fantasy Sports is not offered in Pennsylvania.
Motor Sports in Pennsylvania
Motorsports isn't quite as popular in Pennsylvania as it is in states like Texas, but there are still betting options for the racing enthusiast.
Most online sportsbooks offer coverage of big events like Formula 1, NASCAR, and MotoGP, as well as Indy500, WRC, and Formula E events.
PA is home to the Pocono Raceway, also known as the Tricky Triangle. This NASCAR racetrack is named for its location in the Pocono Mountains, and it draws thousands of viewers for every event.
Esports in PA

Even though Pennsylvania is a pretty progressive state when it comes to sports betting, they are certainly behind on the esports scene.
As of writing this, esports betting is illegal in Pennsylvania on the grounds that esports don't meet the legislature's idea of a sporting event.
But the Pennsylvania Gaming Control Board is working to make a decision to allow sports betting at popular esports venues.
Should the PCGB urge the legislature to vote in favor of esports betting, gamblers can expect to see esports come to PA online sportsbooks soon after.
This would bring betting options for popular games like CS:GO, League of Legends, Apex Legends, and Overwatch.
PA Online Sports Betting FAQ
The gambling age in Pennsylvania, whether for online sports betting or in person, is 21 years old.
As of now, you cannot bet on esports, high school sports, politics, or entertainment events using PA sportsbooks. But using an offshore sports betting site like Bovada or BetUS, you'll be able to get your esports betting fix in.
Football has a big following in the Keystone state. Both the Steelers and the Eagles have won national championships and have an avid fanbase. Baseball is also a popular sport, with the Pittsburgh Pirates frequently netting around $250 million in revenue.
Yes, all the sites we recommend for Pennsylvania bettors have been tested for site security and fairness. To learn more about what makes for a safe betting site,
check out this article
.