Calling all sports bettors in Washington State with some great news! The best Washington sports betting sites are alive and well, offering real money betting to residents and guests of the Evergreen State. Washington online sportsbooks offer safe, real money action, fast cashouts for winnings, and the flexibility to bet on anything you want. Whether you want to bet on a local Seahawks game or a Champions League soccer game in Manchester, England, these top Washington betting sites can deliver.
Four Reasons These Are the Best Washington Sports Betting Sites
You can bet on Washington State sports.
You can bet on sports online and events around the globe.
These Washington online betting sites are secure.
Depositing and withdrawing money is easy.
You Can Bet on Washington State Sports
All of these Washington betting sites deliver action on local professional and collegiate sports. Whether you're looking to fire a pro bet on the Seahawks, Supersonics, or Mariners, or you're looking to get in some college action on the Zags or the Huskies, you will have that ability. For many, betting on sports is about making a profit, while for others, it's about adding a little extra something to the good feelings when their favorite team wins.
You Can Bet on Sports and Events Around the Globe
If you fall into the category of sports bettors looking to make a profit or your favorite teams aren't Washington-based, the top real money Washington betting sites can still be your go-to. Washington online sportsbooks let bettors wager on action all around the country, the continent, and the globe. Whether it's South American soccer you're into or international basketball in Europe or maybe football in the south, you'll be taken care of.
These Washington Online Betting Sites Are Secure
Safety and security are paramount when picking out the real money sports betting sites in Washington you want to use. While the entire list of factors we assess is too long to mention here, some of the highlights include encryption levels, security practices, banking integrations, industry reputation, management structure, and auditing processes. Unfortunately, the only way to tell the best Washington betting sites from the worst is by digging deep under the hood.
Depositing and Withdrawing Money Is Easy
Online betting in Washington is not just convenient when you place your bets. It's also convenient when you're making deposits or withdrawals. The exact banking options you'll have at each site will vary slightly. That being said, the most common options include debit/credit cards, bank wires, cryptocurrency, direct deposits, checks by courier, e-wallets (like PayPal), and money management services (like Western Union).
House Bill 2638 – Sports Betting in Washington State
On March 25th, 2020, the Governor signed into law House Bill 2638, which paved the way for brick and mortar sports betting within state lines. The bill allows tribal casinos to offer sports betting on their lands. While this bill does not directly affect online betting in Washington, it's a positive step forward for the industry. Any regulations or legislation that show favorability to being able to bet on sports online in Washington is a plus.
Brick and Mortar Real Money Betting Options in Washington
In the state of Washington, bettors have plenty of options to get their gamble on. Options include casinos, poker rooms, horse racing, and the state lottery.
96 licensed casinos
9 licensed bingo halls
2 horse tracks
275 poker tables
31,559 slot machines
2,374,780 sq ft of gaming space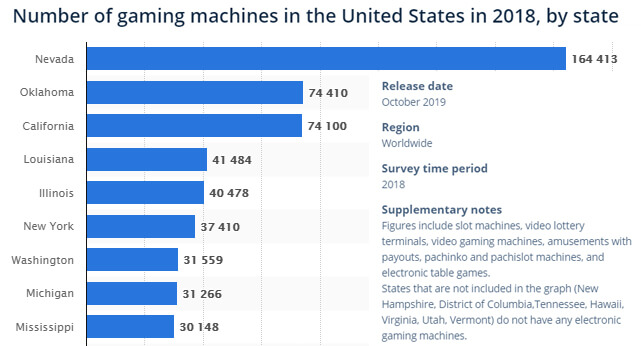 Image Source: Statista
The Washington State Lottery
In 2019, the Washington State Lottery sold over $800 billion in tickets. These numbers were just good enough for the state to squeak in the top 25. Some of the most popular games available to WA gamblers include: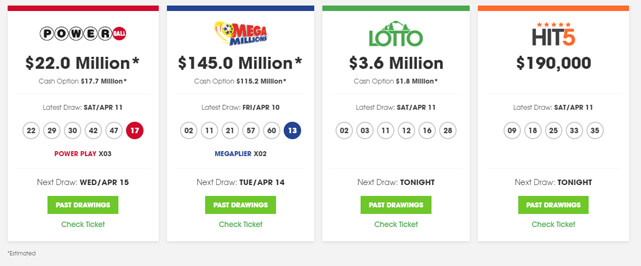 Getting Started Online Betting in Washington Now!
Ready to make your first real money online sports bet? The best Washington online betting sites are available 24/7/365 to take your action. Signing up takes less than five minutes, and deposits are available for betting near instantly.
To begin, go to the top of the page and select the best real money Washington betting sites for you. Click the link, create an account, and head over to the cashier. Make your first real money deposit, and you're all set to bet!
FAQ on the Best Washington Betting Sites
Yes! The top online Washington betting sites allow residents and visitors of the state bet on any sport for real money. The minimum wagers vary (usually around $5), and the Washington online sportsbooks are capable of handling big-money action as well.
In March of 2020, Governor Jay Inslee signed HB 2638 into law. While the bill didn't directly address online sports betting, it did pave the way for regulated brick and mortar sports betting on tribal lands. Sports betting is currently legal in the state of Washington.
The usual timeframe to receive a cashout from the top Washington sports betting sites is between a few hours and about seven business days. The variation will depend on the amount withdrawn, the withdrawal method, and whether you've filled out the necessary paperwork (usually just necessary on the first withdrawal). Decades ago, getting paid from online sportsbooks took forever. Today, though, the top sites pay fast and securely.
You'll have access to all major and minor sports locally and around the globe. Not only will you have access to all sports, but many of the top Washington betting sites give bettors the ability to wager on things like entertainment, reality TV, and politics.
Absolutely. The operative word here is "best," though. Make sure you're not using a random sportsbook that hasn't been heavily researched and vetted for safety and security. The top sites do a great job of keeping customers safe. As long as you don't stray from the beaten path, your time online betting at Washington online sportsbooks will be safe and secure.