If you live in Michigan, chances are you're a sports fan of at least one major professional team or college. And if we know one thing about these major sports fans, it's that they love to bet on sports online in Michigan.
Online sports betting in Michigan is alive and well thanks to a recent law that passed the House of Representatives in 2019. Those looking for the best real money Michigan betting sites can choose any one of the trusted options listed below.
Three Reasons Why We Love These Michigan Sports Betting Sites
Get paid fast from between a few hours up to about a week.
Make bets easily from your computer, phone, or another smart device.
Access help when you need it, 24/7/365.
Get Paid Fast
Each of the top Michigan betting sites recommended here offers access to several high-quality, trusted, and efficient online banking options. Residents of MI looking to cash out their winnings can expect to receive funds from within a few hours up to about a week's time. The actual wait time will depend on the banking medium you choose, the amount you withdraw, and whether or not you are using a trusted online casino.
Make Bets Easily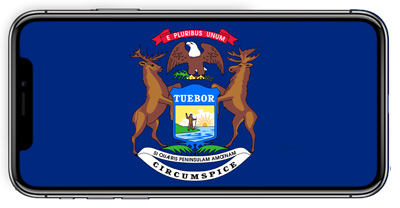 In the early days of online betting sites in Michigan, having access to a mobile app was a perk. Now, though, we treat it as a requirement for our list of recommendations. All of the Michigan online sportsbooks in Michigan listed here have fully-operational sports betting apps you can use from your iPhone, Android, tablet, iPad, or computer.
Additionally, these betting apps are highly tested to ensure they're easy to use. Clunky betting apps are not only annoying and time-consuming, but they can also set you up for failure with a misclick or accidental bet.
Access Help When You Need It
Quality customer service is a must-have when it comes to the Michigan sports betting sites we recommend. Each recommended option offers several different mediums to get in touch with support, including phone, email, live chat, social media, and/or contact form. Additionally, the customer service agents need to be available 24/7, speak fluent English, and be equipped with the tools needed to solve your issue.
2019 Sports Betting Bill Passes in the House of Representatives
In October of 2019, the Michigan House of Representatives passed a law legalizing sports betting within the state. The bill passed with a vote of 63-45 that included bipartisan support. Governor Gretchen Whitmer signed the bill into law in December of last year, paving the way for a full rollout of regulated sports betting online in the state.
One of the Biggest Tenants of the Bill is a layout of the taxes charged on operations. Sports betting will carry an 8.75% tax. Online books will see taxes starting at 4% that slowly ramp up to the eventual ceiling of 23%. Detroit casinos will see an additional city tax of 3.25%. It's expected that these taxes will raise upwards of $30 million for the state annually next year, assuming a market of $225 million.
While the Governor did sign the law into effect, she still feels the tax rate of 8.75% is too low. The chief concern is that sports betting will pull people away from using the state lottery system, which generates significant funds for the School Aid Fund.
The takeaway for sports bettors? It's open season for betting within the state of Michigan now. MI online casinos are welcome to operate fully regulated as long as they are willing to contribute their tax piece of the pie. It's quite likely that we'll see changes and additions to the legislation in the coming years, which could include a raise to the tax rate.
Getting Started With MI Betting Sites
The process for getting an account set up and making a real money bet with a Michigan sports betting site is simple, streamlined, and takes just a few minutes. If you're ready to get into the action, choose one of the book options listed at the top of the page. We do recommend taking a few minutes to make sure you pick the site that's best for you. Each book we recommend is a fully vetted and trusted option, but the actual experiences you receive with each option will vary slightly.
Once you pick the best Michigan sports betting sites for you, click the link and create your account. This should take less than two minutes. From inside your account, navigate to the banking page and make your first real money deposit. You should get access to your funds instantly! From there, head over to the list of bets and make your first wager.
Michigan Sports Betting Sites – FAQ
Yes. Trusted Michigan sports betting sites are 100% safe to deposit into and bet with. If you choose a sportsbook that has not been vetted by our team, though, we can't guarantee the safety of the site.
Additionally, you'll need to follow the basic safety rules of online gambling, like using a strong password, never betting when you're intoxicated or upset, and only wagering with money you're comfortable losing. Play at a trusted site and follow these steps, and your online betting in Michigan experience will be safe.
The payout timeframe ranges from a few hours (with cryptocurrency options) up to around five to seven business days with more traditional options.
The exact wait time will be contingent on the method you choose for withdrawal, when you request your cashout, and the amount you request. Typically, though, all withdrawals fall within this range.
The one medium that is an exception is check by courier. As these must be printed and hand-delivered by a third-party company, they can take upwards of 10 to 14 business days.
Yes! A bill signed into law in December of 2019 legalized online sports betting across the state of Michigan.
All of the best Michigan sportsbooks we listed here offer real money action on all your favorite sports and teams.