Betting money on NASCAR races is now easier than ever thanks to the growth of online NASCAR betting sites. But with that growth comes the million-dollar question—what is the best real money NASCAR betting site? With thousands of options to choose from, it can feel overwhelming to figure out where you can bet on NASCAR safely online, reputable, and also gives you the best odds of winning!
We're here to help.  In this guide, we're putting our whole team over the wall to help you find the best NASCAR sports betting app for you. If you're ready to get hooked up, buckle up, and let's get it!
What Makes These the Best NASCAR Betting Sites?
Coverage of All NASCAR Races and Popular Series
Wide Variety of Available NASCAR Bets
Lucrative Sports Betting Bonuses
Trust and Security
Coverage of All NASCAR Races and Popular Series
The first element we look at when looking for the top US NASCAR betting apps is race coverage. Can you bet on all of the races that you want to? Run of the mill sports betting sites generally offer action on major NASCAR races like the Daytona 500 or the playoff races. However, you'll need a dedicated specialty betting site if you want more action than that.
What we require for our list of the best NASCAR sportsbooks online.

Coverage of the three main series – Truck Series, Xfinity Series, and the Cup Series.
Coverage of all races – Action on every regular season and playoff race, not just the big ones.
Wide Variety of NASCAR Bet Types
Coupled with race coverage is another super important element we look for when assessing motorsports betting sites—betting flexibility. Any online sportsbook can offer action on who will win the race. However, it goes to the next level when you have action to bet on a multitude of unique NASCAR bets available.
Here are the most popular types of NASCAR bets we look for when racking and stacking auto racing betting sites.
Lucrative Sports Betting Bonuses
Free money is a staple when you choose to bet on NASCAR online. You can get paid extra cash just for making the bets you wanted to make in the first place! As a teaser, here are a few of our favorite online NASCAR sportsbook bonuses active and available today. Click the links to claim yours now!
Trust and Security
We put this last, but it's the most important factor when ranking the top websites for NASCAR betting. No option makes it within 500 miles of our list if we're not confident in the trust and security provided. Safety is paramount when you're betting real money on NASCAR, even if it's just a few bucks for fun.
5 Ways to Place Real Money Bets on NASCAR


Options! Yes, you do have quite a few options when you're looking to place a real money bet on a NASCAR race or season. Here are the five most common methods available, as well as a few pros and cons for each to help you decide what's best for you.
Online NASCAR Betting Sites and Apps
Live at NASCAR Tracks
In-Person Sportsbooks and Casinos
Through a Bookie
With Friends and Family
1. NASCAR Betting Sites and Apps
It's probably pretty clear already that our top choice for how to bet on NASCAR races is online sportsbooks—and for good reason! Here are some of the pros and cons of using this method, as well as a quick list of our top 3 favorite real money NASCAR sites.
Our Favorite Nascar Betting Sites
---
2. Live at the NASCAR Tracks
One of the neatest developments over the past few years is that you can start betting on races at the actual track. For example, you can now bet on races at Dover International Speedway! We'd expect to see this trend continue in states where in-person sports betting is viewed favorably by state-level legislators. Dover was the first track to offer the betting starting in the fall of 2018.
---
3. In-Person Sportsbooks and Casinos
The longest-running available option for making real money bets on NASCAR races are in-person sportsbooks. If you live in an area with access to one of these properties, it can be a straightforward way to get your bets in.
---
4. Through a Bookie – (Not Recommended)
Our goal at The Sports Geek is to be as complete as possible in our write-ups and guides. For that reason, we included an option for betting on NASCAR races that we don't condone. We're talking about betting through private bookies. A private bookie is someone who runs their own personal sportsbook that often operates outside of the laws. The dangers and risks that come with private bookies far outweigh any potential benefits (most of which you can now get through US NASCAR betting sites anyways).
---
5. With Friends and Family
Well before sportsbooks and betting apps came around, people bet the old-fashioned-way—with each other! If you're just looking for a little action and fun for an upcoming race, you could always bet with friends and family. But the ultimate word of warning—keep it fun. Remember, you don't have to bet money if you don't want to. Chores, meals, or a round of drinks are great options to keep things light.
NASCAR Betting Apps vs Brick and Mortar Sportsbooks

Out of the five aforementioned ways to bet on NASCAR racing, the big decision usually comes down to online vs. in-person. Here are a few things to remember if you're looking to decide between NASCAR betting apps or brick and mortar sports betting locations.
Real money NASCAR betting apps generally offer more bet types, especially on the non-Cup Series races.
If you're a big-time bettor, you may be able to get perks like show tickets or free hotel rooms in person. However, smaller-time bettors will get better rewards and VIP perks online, generally in the form of free bets or cash.
It's impossible to argue with the convenience of NASCAR betting apps or online betting sites. No waiting, no travel, no missing out on bets, and no hours of operation.
Line shopping is infinitely easier when you bet on NASCAR online. You can check several sportsbooks to see the odds in a matter of seconds.
Best Daytona 500 Betting Sites
The Great American Race! The Super Bowl of Motorsports! The Daytona 500 goes by a lot of powerful names and lives up to every single one of them. Arguably the most exciting and notable auto racing event of the year is the Daytona 500.
And as is the case with all sports, the "main event" usually comes with way more betting options and grandeur.
For that reason, we like to recommend Daytona 500 betting sites separately. You'll see a lot of crossover with this list, but the sites are more appropriately sourced based on how they handle the Daytona 500.
Popularity of NASCAR Betting in the United States
Ever wonder how popular betting on NASCAR in the U.S. really is? How does NASCAR betting online compare to betting interest in sports leagues like the NFL? What states have the most interest in wagering money on NASCAR?
All great questions! And guess what? We're going to get to the bottom of all of them right now.
In 2020, GlobalWebIndex ran a data survey study asking U.S. sports fans which sports leagues they would be most likely to bet on. Fans were given 10 different leagues and were allowed to answer yes to as many as they wanted to. The question was phrased "Which of the following sports might you be interested in placing a bet?"
28% of respondents signaled interest in betting on NASCAR
This ranked NASCAR 7th in the list of 10 US sports betting markets
Almost half of those interested in betting on the NFL would also bet money on NASCAR races.
| | |
| --- | --- |
| Sports League | % Interested in Betting |
| National Football League | 61% |
| National Basketball Association | 58% |
| Major League Baseball | 53% |
| Boxing | 42% |
| Horse racing | 35% |
| National Hockey League | 32% |
| NASCAR | 28% |
| eSports | 23% |
| Major League Soccer | 21% |
| Women's National Basketball Association | 16% |
Online NASCAR Betting in the USA – What States Are Most Interested?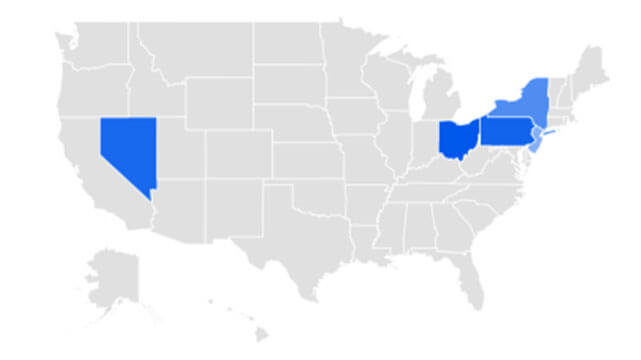 Which states in the US show the most interest in betting on NASCAR online? Well, we wanted to get to the bottom of it. Here is a look at the top 10 states ranked based on Google Trends data and internet search activity for topics relating to NASCAR betting, NASCAR betting sites, online sportsbooks with NASCAR odds, and similar searches.
Pennsylvania (Home of Pocono Raceway)
Ohio
New York (Home of Watkins Glen International)
Nevada (Home of Las Vegas Motor Speedway)
New Jersey
Rhode Island
Arkansas
Indiana (Home of Indianapolis Motor Speedway)
Iowa
Alabama (Home of Talladega Superspeedway)
How to Bet on NASCAR Today – Step by Step Guide
Betting on NASCAR online is incredibly simple and straightforward thanks to NASCAR mobile betting apps! Want to get started now? Here are the 10 steps to follow that shouldn't take you any more than about 10 minutes tops to get set up. After you're set-up, bets will only take you about 30 seconds to place for all future races.
Choose one of the real money NASCAR betting apps at the top of this page.
Create a free players account (2 minutes).
Make a real money deposit into your account (5 minutes).
Navigate to the NASCAR bets page.
Choose the wager(s) you want to make.
Click on the wager to add it to your virtual betting slip.
Input the amount you want to bet on the NASCAR race.
Check to make sure that everything looks correct.
Submit your bet.
Watch the race, and see how you do!
Need help deciding? Go with Bovada. It's our top pick.
Additional NASCAR Betting Resources
Online NASCAR Betting FAQ
Yes, NASCAR betting websites are safe to use, as long as you choose a reputable and trusted option. We would gladly recommend using NASCAR online sportsbooks to any of our users.
It's up to you. That being said, online NASCAR betting gives you much more flexibility with what you can bet on and with line shopping. Additionally, the bonuses offered online cater to NASCAR bettors of all shapes and sizes, not just big bettors.
A rollover requirement is the number of times a bonus dollar must be wagered before it's eligible to be withdrawn. Generally, the number is represented like 5x or 10x showing how many times it must be bet. Rollover requirements only apply to bonus cash and not to the money you deposited. You're always free to cash out that money whenever and however you want when NASCAR gambling online.
Futures odds are released pretty soon after the end of the previous season.
Odds for to-win bets for the first race of the year are released at least a month or two prior to the race.
More unique NASCAR bet types are released the week of the race after the field is set.
Expect odds to change dramatically at times throughout the week leading up to the race (as a result of more bets, qualifying, and practice data).
All of these timelines assume you're using a high-quality NASCAR betting app.