The great state of Minnesota has an extensive history when it comes to gambling. Minnesota was the first state in the US to negotiate agreements with Native American tribes to establish a gambling partnership. However, being the first came with its share of challenges. Also, a poorly performing attempt to push the Minnesota lottery online in 2013 has created further headwinds.
In this article, we will delve into the world of gambling in Minnesota and help you understand more about what makes this state unique, what your best gaming options are, and how to get started.
Top Online Sportsbooks in Minnesota
Our top priority at TheSportsGeek.com is to make sure you're set up for success when you get into online gambling and sports betting. Below is the list of the best options when choosing a Minnesota betting website or online sports betting site. The Sports Geek experts analyzed dozens of different real money Minnesota betting sites to narrow down which ones had the overall offering for players. Below you will see some of the extensive criteria we analyzed in making these selections.
What We Look for in the Best Minnesota Online Betting Sites
Game and Bet Selection
A key factor for any Minnesota online betting site is making sure that the website you choose offers a wide variety of bets and gaming options. Some real money gambling sites will provide only sports betting or only casino-style games. These types of Minnesota sports betting sites may be suitable when you are first getting started, but most players eventually want to try their hand at more than just the one or two games they play most often. Using a website that offers lots of options can be a fun way to mix things up, learn new games, and continue to develop your skills as an online gambler.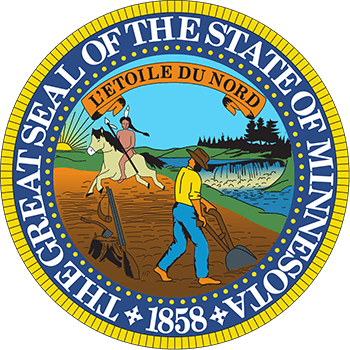 Giveaways and Promotions
Everyone loves getting free stuff. One of the best ways to get free stuff is to take advantage of Minnesota sports betting sites that offers giveaways or promotions. Land-based casinos offer these types of things to keep players engaged, and online sportsbooks in Mineesota do the same thing. Giving a player free play credits, cashback on losses or a chance to win something big always gets the players' attention. These perks can also be hugely impactful for the player. Winning a mega prize is great, but all the little promos add up too, so take advantage of as many of these as you can.
New Player Signup Bonuses
Whether you are brand new to online betting or you are an experienced player looking for a new place to play, new player signup bonuses should be on your shortlist of requirements. These bonuses are exclusive perks offered only to first-time users of a website. Some Minnesota gambling websites will offer these in the form of deposit matching on the players' first deposit. For example, Minnesota online sportsbooks like this one sometimes offer 100% deposit matches for first-time players.
Betting Limits
How much Minnesota betting sites will let you place on a given bet is call the bet limit. Online sportsbooks in Minnesota have caps on how much a player can wager at a time. Sites do this for a variety of reasons, but it can be frustrating for players as they get more advanced, and mainly if they play professionally. All the Minnesota sports betting sites we recommend will offer players high betting limits, meaning they can accommodate everyone from the first-timer to the old-timer.
Customer Service
An often-overlooked aspect of real money Minnesota online betting sites or online sportsbook is customer service. Unfortunately, this is the kind of thing most players don't think about or find out about until there's a problem. Luckily, we've got your back. The recommended betting sites above all have an outstanding record of impeccable customer service, which means if you do have an issue, they've got you covered. Knowing your website is there to handle any problem that may come up can relieve a ton of stress when gambling online.
Player Safety
Along with customer service, player security is also a primary focus of all the Minnesota online betting sites we recommend. It's crucial that you feel safe about where your money is deposited, and we have determined that these sites are your best options. The peace of mind that comes with a secure website can help you to stay focused on your bets.
Payout Processing Speed
Once you have dominated that tournament or won that massive jackpot, getting those winnings out becomes the most important thing to many players. It can be incredibly unsettling needing to wait days to get access to your funds. For that reason, we only recommend Minnesota betting sites that can process payouts as quickly as possible. All the websites on our list generally get cash to players in less than 24 hours.
Gambling With Cryptocurrency
There has been a new wave building over the last 10 years as cryptocurrencies have broken into the mainstream. Online gambling sites and Minnesota sports betting sites are beginning to offer cryptocurrency deposits to fund accounts. In addition to enabling players to use cryptocurrencies like Bitcoin, there are often bonuses attached to using these digital coins. Betting sites like Bovada sometimes have an entire page dedicated to Bitcoin promotions.
Live Stream Gambling
A significant advancement in online gambling over the last few years has been the emergence of live gaming. Minnesota betting sites are starting to offer players the ability to take a virtual seat at a real table and play their favorite games in real-time with a real dealer. Using webcams, the players are connected directly to a dealer. This type of gaming has a more personal feel than other online gambling varieties and offers the closest thing there is to being right on the casino floor.
How to Start Sports Betting in Minnesota
1. Pick the Best Minnesota Sports Betting Site Based on Your Needs
Step one is choosing the best Minnesota betting website or sports betting site for your needs. Use our list of criteria able to determine which pieces are most important to you. Some serious players will likely want to focus on making sure there are high limits and excellent promotions. In contrast, new players may want to focus on substantial new player signup bonuses. No matter what type of player you are, there's a gambling site for you on our list.
2. Familiarize Yourself With Your New Platform
This often-overlooked step can also be one of the most crucial. After you have finished registering for your new Minnesota gambling site, spend some time poking around all the tabs and features. Get an idea for games that are available as well as how all the site's players tools work. Being familiar with the technology can play a significant role in how your first bets go, especially for new players. Don't be that person who accidentally hits the wrong button and bets it all.
3. Make Your First Deposit
Now, you're ready to start funding your Minnesota sports betting site account. You will be able to do this using a wire transfer easily. Each of the Minnesota betting sites we recommend here is verified secure and keeps player safety as their top priority, so there's no need to sweat. Whereas payouts can usually take up to a day, when you're depositing money into your account, the funds are generally available to be wagered almost immediately. Make sure to verify that you are maximizing any deposit bonus the site is offering when you make your deposit. Getting the most out of the match might mean depositing a little more upfront to make sure you get all the free money they're offering.
4. Start Betting on Sports Online in Minnesota
The time has come to get into the action! At this point, you've gotten to know your new gambling site, and you've gotten funds into your account. Time to start placing those first wagers. We always recommend you start small and work your way up. One of the most common mistakes new players make is going too big right off the bat and losing big. Don't worry, your bets will start growing as you gain a little experience.
5. Evaluate Your Strategy
Finally, an essential part of a serious gambler's game plan is checking in on their strategy after they have some data. Bet for a while and pay attention to how your results are turning out. Be honest with yourself about which parts of your strategy are and are not working and, if needed, mix things up by trying a new game or maybe trying to learn more and develop your plan further. If you need help building your strategy, we've got you covered with our guide to sports betting strategy.
Types of Real Money Gambling in Minnesota
Tribal Casinos
As we mentioned before, Minnesota was the first state to create agreements with Native tribes concerning gambling. As a result, all land-based casinos in Minnesota are tribal-owned. These casinos offer players the full range of gaming options, from slots to sports betting. Some of these casinos offer far more than gambling, with massive venues that feel more like something in Las Vegas.
Sports Betting in Minnesota
When the US Supreme Court struck down PASPA, which paved the way for the legalization of sports betting by the states. It wasn't long before Minnesota jumped on the train. You will find players placing wagers in sportsbooks all across the state in the various land-based casinos, but Minnesota has not yet moved sports betting online. There was legislation introduced in 2019, but it ran into roadblocks and never came to fruition. For now, residents are limited to sports betting on offshore sports betting sites or betting in person at a casino.
Daily Fantasy Sports
Minnesota is one of the states where DFS is illegal, but that might change soon. Legislators have introduced a new bill that would enable a resident to play daily fantasy sports on sites like DraftKings or FanDuel. With the explosion this game type has seen over the last five years, there ' a high amount of player interest, which is driving Minnesota and other states to address the legality of DFS as quickly as possible.
Minnesota and Tribal Gaming Agreements
One of the most interesting parts about gambling in Minnesota is the history the state has with Native American tribes, as it was the first to negotiate agreements with tribes under the Indian Gambling Regulatory Act of 1988. The act does not permit the state to generate tax revenue from the tribal casinos. The tribe running the casino keeps all the profits and they are tax-exempt.
This arrangement is unique for an industry that has so much revenue potential for the state. The agreements cannot legally be renegotiated without the tribes' consent. Given the favorable terms of the current contracts, renegotiations are unlikely to occur because Native-owned casinos would have to open themselves up to new competition and a larger tax bill.
FAQ About Minnesota Sports Betting Sites
There are no state-regulated online gambling sites for Minnesota residents, but there are still plenty of options for placing bets online. Minnesota residents can bet online using any of the offshore betting websites and sports betting sites we have recommended above.
No. Currently, DFS is illegal in the state of Minnesota, but a piece of legislation is under review and the legalization of DFS could be on the horizon.
Between tribal agreements and the poor performance of the states' first significant attempt to take gambling online, it's hard to say what the prospects are to permit state-regulated online gambling. In the meantime, residents are best off playing on offshore betting sites like the ones we've recommended
above
.
Wrap up on Minnesota Online Sportsbooks
Gambling has long been a source of fun and entertainment for Minnesota residents. They led the way in tribal gaming, and despite some missteps, the industry has flourished to offer a wide variety of gambling options to residents. While online betting for Minnesota-based casinos is still illegal, legalization for DFS is on the horizon, which could lead to further changes. Be sure to check back on The Sports Geek for all the up-to-date information as laws change.
Hopefully, we have helped you to better understand the landscape of betting online for real money in Minnesota. Now you are prepared to jump and start betting. We discussed everything from picking a site to nailing down a winning strategy. Using this guide, you are ready to go out there and win. Have fun, gamble responsibly, and good luck!