What's the greatest holiday of the year for college basketball fans? If you say anything other than March Madness, you're wrong! The March Madness college basketball tournament is the single most exciting, action-filled sporting event of the year. And when you add in the rush of betting on March Madness, it gets even better.
In this guide, we're going to look at the best March Madness betting sites, talk you through all your options to wager on the NCAA tournament, and give you some much-needed resources to get on the right track towards winning!
Best March Madness Betting Sites
March Madness Betting Odds 2022
The 2022 March Madness tournament is now underway and basketball fans around the country are making their early bets on which teams will end up winning the championship. The March Madness championship odds are constantly changing. Below is a look at the pre-tournament future odds for the top-eight teams, provided by BetOnline.
Contents of Our 2022 March Madness Sportsbooks Guide
How to Choose The Best March Madness Betting Sites
Coverage of All Divisions and NCAA Tournament Games
When you include the play-in games, there are 67 games in the March Madness tournament every year for Division I. How many of those games do we at least want the option to bet on? All of them!
The best March Madness betting apps give you the ability to bet on every single one of these games for the ultimate in action throughout this year's NCAA tournament.
You don't have to bet on more than you want to, but you certainly want the options in case you've got a hot tip.
Spreads, Moneylines, Totals, Futures, and Unique Props for all 67 Games
When most think of March Madness betting odds, they will think of moneyline odds. Of course, most online sportsbooks provide a huge range of unique betting options for this entire tournament. All of these options offer bettors massive opportunities to win big.
Spread Bets – A bet on an individual March Madness basketball game where you get to choose which team is going to outperform its expectations.
Moneylines – The simplest March Madness bet on the market. Pick the team to win an individual game in any round. If you're right, you win.
Futures – This is a bet on a college basketball team to win the entire NCAA tournament. It's a tough one to get right, but when you do, you get paid handsomely. Futures bets are available well before the tournament and the odds continue to adjust as the tournament progresses.
Props – Proposition wagers are the category of March Madness betting odds on the more unique happenings of the tournament or an individual game. Here's a very small sample of some of the March Madness prop bets available for this year's tournament:

Will a #1 seed lose in the first round?
Will a #5 seed or higher win the tournament?
Will a team from the SEC win the NCAA tournament?
Will X player have over or under 12.5 points in the game?
What round will X team be eliminated?
Will there be a technical foul in the championship game?
March Madness Betting Brackets
Many March Madness betting platforms provide bracket challenges to their members. We have narrowed down some of the best 2022 March Madness bracket challenges being offered right now and highlighted the incredible prizes they offer. Check them out today to see the incredible prizes you can win! Some of these contests will close when the tournament tips off while others offer new contests every round.
Best March Madness Betting Bonuses

Just like the players have to hit their free throws, we have to capitalize on the free cash available when betting at US March Madness sportsbooks. Okay, weak segue—but we tried. In all seriousness, though, college basketball betting bonuses are a must when wagering on the tournament. If there is free money available for something you're going to be doing anyway, why not take it?
Here are a few of our favorite March Madness sportsbook bonuses:
BetUS: 150% sign-up bonus up to $1,875 (200% with crypto)
BetOnline: 50% sign-up bonus up to $1,000 (10x rollover)
MyBookie: 50% sign-up bonus up to $1,000 (Only a 10x rollover)
Bovada: 75% sign-up bonus up to $750 (Can only be redeemed using crypto)
Sportsbetting.ag: 50% sign-up bonus up to $1,000 (10x rollover)
24/7 Customer Service Available
The NCAA tournament betting action happens fast. And if you're betting a lot of games, the odds go up that there may be something you need help with. Maybe you need a bonus explained? Maybe you put a bet in wrong? Maybe you're not sure the terms of a bet in an odd situation? Whatever the reason, you don't have time to wait around. This is why the top real money March Madness apps for betting have customer service teams around 24/7 throughout March and April (and the rest of the year) to help you out.
Multiple methods to get in touch
Agents equipped with the tools to actually help
Knowledge about online college basketball betting and the March Madness tournament
Additional staff during NCAAB tournament time to minimize or erase wait times
Fluency in English
[ Back to Top ↑ ]
Pros & Cons of Different March Madness Betting Options
A huge variety of unique March Madness betting options are available throughout the United States right now. Each of these options has its unique pros and cons. Below is a quick look at the best and worst aspects of these different wagering options.
Online March Madness Betting Sites
Pros:
Never wait in line and risk odds changing against you
Line shop between USA March Madness betting sites super quickly
Cash in on bigger and easy to get bonuses
Cons:
Might be new and involve a learning curve if you're used to sports betting in person
Could be problematic if you don't have good self-control
Steps to Bet March Madness Online:
Head up to the top of this guide and select one of the real money betting sites options.
Create your account, and make a real money deposit.
Navigate over to the NCAAB betting section of the sportsbook.
Pick out the wagers you want to make and add them to your virtual betting slip.
Confirm that everything looks correct, and make your bet.
Sit back and enjoy the games!
Brick and Mortar Sportsbooks
Pros:
Can ask agents questions face to face if you need help
Can be an exciting environment to watch games in
Might be able to talk to other bettors in the area for tips
Cons:
Expect to wait in lines, especially around March Madness time
Many people in the US don't live near a sportsbook property
Steps to Bet March Madness at a Brick and Mortar Sportsbook:
Use Google to find the closest sportsbook. Keep in mind that it may be connected to a casino property.
If there is one nearby, hop in the car and head to the book.
When you get inside, find the sportsbook and hop in line.
After you get to the cage, let the agent know the bets you want to make.
Make sure you check the odds when it's your turn to bet to make sure they haven't changed to something unfavorable.
Confirm your wagers are correct on your ticket before you leave the counter or window.
March Madness Bracket Pools
Pros:
Gives you action and a sweat throughout the entire tournament
Chance to turn a small amount of money into a big win
Options available with online sportsbooks or with friends/family/coworkers
Cons:
Private bracket pools run the risk of not paying out
Your buy-in money is locked up for the duration of the NCAAB tournament
Steps to Get into a March Madness Bracket:
If you want to play in a March Madness bracket pool with friends, family, or coworkers, start asking around in February. If you want to join a March Madness bracket pool online, head to one of the college basketball online sportsbooks we've recommended (MyBookie, BetUS, or BetOnline).
Sign up for the tournament and pay the entry fee (if there is one).
Fill out your bracket when it's time and certainly before the deadline.
Make sure you take the time to understand the scoring to know how much weight to put on upsets and other selections.
Watch the tournament and hope to win!
[ Back to Top ↑ ]
2022 March Madness – Complete Schedule and Dates
Well, it's that time of year again. Get ready to gear up for 2021 March Madness- this will be a year like no other!
As per the NCAA, the tournament will be played entirely within the state of Indiana and the bulk of this year's games will be played, specifically in Indianapolis. Selection Sunday is set to begin on March 14 and the Final Four will be played April 3 and 5, respectively.
Dates for the January preliminary rounds are currently available and have been released and posted by NCAA.
2022 March Madness Complete Schedule:
Selection Sunday – 6 p.m. EST March 13
First Four – March 15-16
First round – March 17-18
Second round – March 19-20
Sweet 16 – March 24-25
Elite Eight – March 26-27
Final Four – April 2
NCAA championship game – April 4
You can catch March Madness via CBS Sports and Turner Sports. All 67 games will be made available for viewing on TBS, CBS, TNT, and truTV. You can also watch the games on CBS and Turner Sports digital platforms! Be sure to check out March Madness Live!
We told you this year was going to be unique. To comply with current COVID-19 restrictions, all participating teams will be accommodated with socially distanced dining and hotel rooms and precautions will be taken to make sure each team member is safely brought to and from each gaming arena.
Games will be played in West Lafayette at Lucas Oil Stadium, Bankers Life Fieldhouse, Hinkle Fieldhouse, Indiana Farmers Coliseum and Mackey Arena as well as in Bloomington at the Simon Skjodt Assembly Hall.
[ Back to Top ↑ ]
Comparing March Madness Betting Sites
There are many important features to look for in various March Madness betting sites. That includes the promotions, types of odds, and payment options provided. Our experts have spent time comparing what all of the top online sportsbooks provide to their members.
| | Welcome Bonus | US Restrictions | Mobile Compatible | Bracket Contest | Year Established |
| --- | --- | --- | --- | --- | --- |
| BetUS | 100% up to $2,500 | None | Yes | Yes | 1994 |
| BetOnline | 50% up to $1,000 | None | Yes | Yes | 2004 |
| MyBookie | 50% up to $1,000 | NJ, NV, NY, PA | Yes | No | 2014 |
| SportsBetting.ag | 50% up to $1,000 | None | Yes | Yes | 2001 |
| Bovada | 50% up to $250 | NJ, NV, DE, MD | Yes | No | 2011 |
Each of the websites above is fantastic. They are all providing a huge variety of unique March Madness betting odds, as well as fantastic promotions. We recommend checking each of them out today. These sites are available throughout the US and provide betting options on every single game taking place throughout this tournament.
[ Back to Top ↑ ]
Betting on March Madness From Outside the US
Even if you don't live in the United States, you can still get in on the real money online March Madness betting action. Whether you're from Europe, Canada, Mexico, or anywhere else on the globe—these March Madness betting apps work for you too!
A few things to consider and be aware of:
The currency is usually in USD.
Your cashout and deposit methods may differ from those available to US players.
The March Madness betting odds are the same no matter what country you're betting from.
Consider the time differences when you're looking at deadlines to get wagers or bracket selections in.
[ Back to Top ↑ ]
March Madness Betting for Beginners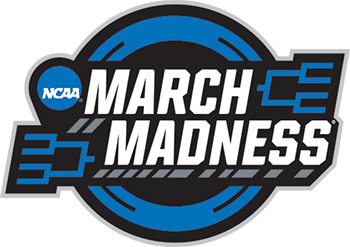 Pick out the best site? Get the best March Madness Odds? Bonuses? Playthrough requirements? If you're getting lost in the jargon and firehose of information—take a deep breath.
Everyone started out as a beginner bettor once. What we're going to do for you is offer some tips to help you feel comfortable and get into the real money betting action the right way.
Take another deep breath and check out these tips for online March Madness betting for beginners.
Take Your Time – Unless the games are about to tipoff in two minutes, you have some time. Check out more than one of the top real money NCAAB betting sites we've listed here. You can see and do just about everything except make a deposit and make an actual bet without even signing up. When you find one you like, you can move forward at your own pace.
Consider Line Shopping – Each March Madness betting app in the US will offer different odds and lines on the same bets. In other words, you can get paid more money and get better chances to win just by taking the minute to shop around. It's not something you have to do, but it's a great way to increase your chances of winning.
Ask Questions – What should you do if you run into something you don't understand when betting on the March Madness tournament online? Ask for help! Each of these sports betting apps comes with a robust customer service department. You can get email help, phone help, live chat help, and even help from the FAQ sections. Don't assume if you're not sure; ask for help.
[ Back to Top ↑ ]
Additional March Madness Betting Resources
[ Back to Top ↑ ]
Online March Madness Betting FAQ
The best March Madness betting site is
BetUS
. Close runners-up include MyBookie, BetOnline, and Sportsbetting.ag.
Yes! There are several apps for real money March Madness betting that offer bonuses just for signing up. One of the best bonuses available is the 50% sports betting welcome bonus up to $1,000 available through Sportsbetting.ag.
Yes, you have several options when it comes to making a bracket for March Madness. Many online sportsbooks offer bracket competitions and betting pools where you can compete against random people from around the world. Some of these bracket betting pools are free, and some have an entry fee.
For example, BetUS offers a $1,000,000 online bracket betting contest. If you get a perfect bracket, you win $1,000,000. If you get a perfect 16-team or 8-team bracket, you get $10,000.
Additionally, friends, family, and coworkers can set up bracket competitions through online sites like ESPN and Yahoo. You aren't able to bet on these through those providers, but they can track winners and losers based on the ruleset you choose.
There are 67 games (including the play-in/first four games).
4 games in the first-four
32 games in the 1st round
16 games in the 2nd round
8 games in the 3rd round (Sweet 16)
4 games in the 4th round (Elite 8)
2 games in the 5th round (Final Four)
1 game in the Championship
It takes less than five minutes to set up an online sports betting account. Depositing your bankroll into your account takes about another five minutes.
Yes, you can make in-game wagers on March Madness basketball games through online sportsbooks. This is a major feature that's only available when you choose to bet the tournament online instead of in-person.
While it can change every year (and we don't know until NCAA tournament betting starts), MyBookie is notoriously known for offering the most wager options, including the best March Madness prop bets.
2021 March Madness can be viewed on TBS, CBS, TNT, and truTV, all made available by CBS Sports and Turner Sports. You can also view the tournament via digital platform March Madness Live.
You can check out the
complete 2021 March Madness schedule
on our page above, where we discuss the dates, times, where each game will be held, where you can watch the games, and the current restrictions and safety protocols due to COVID-19. NCAA also has a March Madness schedule posted!
[ Back to Top ↑ ]