Busy sports enthusiasts know how vital mobile sports betting is when you're on the go, or away from home and need to place a wager on a game. An online betting app is a must-have tool for any sports bettor.
Mobile sports betting apps are game changers. The best sports betting apps are easy to use and cater to the user, so you get maximum benefits and hopefully maximum winnings in your sports betting endeavors!
If you're interested in placing wagers on your mobile device, look no further. We'll discuss how to pick a good mobile sportsbook, and field recommendations for the best mobile sports betting apps available.
Real Money Betting Apps by Sport
While the majority of mobile sportsbook users are looking to place bets on popular sports teams or playoff games, not everyone cares about the Super Bowl or March Madness. In fact, you may be surprised by all the sports genres available to wager on.
All the best sportsbooks will offer major league sports betting, but you can judge an app by what kind of niche sports they offer. Esports, UFC, rugby, cricket, and table tennis, darts, badminton, NASCAR, horse racing, cycling, snooker, and handball are all popular niche sports. Not all online betting apps offer these niche sports, but there are a few out there with an exceptional selection.
Top 5 Online Betting Apps
Online sports betting apps have become increasingly popular in the past few years, and everyone has seen an ad for FanDuel or DraftKings sportsbook at least once or twice. But there are better sportsbooks out there for people really interested in taking their gambling to the next level.
These five betting apps are among the best for mobile sports betting and the transition from desktop to mobile is effortless. You'll also discover many of these highly rated apps offer more than just sports. Some have casino games like slots, poker, blackjack, and roulette; while others provide unique betting opportunities like politics, entertainment, and world-renowned events like the Scripps Spelling Bee and Nathan's Hot Dog Eating Contest. The best sports betting apps have a bit of something for everyone's wagering tastes.
1. MyBookie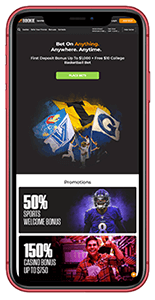 MyBookie is a reputable name in the online gambling scene, and they offer both a gambling site and a mobile app for bettors.
The MyBookie app has a simple user interface and is surprisingly easy to navigate. Plus, MyBookie hosts in-play betting, so if you're interested in placing live bets, this is the app for you.
They provide options to bet on all the major league sports plus:
Wrestling
Rugby
Politics
Religion
Cycling
Sports SIMS
In terms of bonuses, MyBookie gives new players a 50% deposit bonus up to $1,000 and a 25% reload bonus. Read our complete MyBookie app review here.
2. BetOnline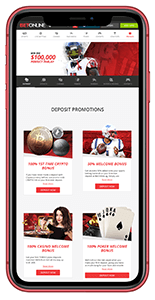 BetOnline is a major player in both the sports betting and online casino industry. Their mobile app has been optimized for the best user experience possible, making it a great place for new gamblers to start.
They offer even more sports to bet on than MyBookie, including niche sports like:
Olympics
Handball
Lacrosse
Chess
Darts
Snooker
Plus, BetOnline is always adding new sports. So, if you don't see one that interests you, be sure to check back!
Like MyBookie, BetOnline hosts in-play betting options so you can get right to the center of the action.
To make the most out of BetOnline's bonuses, use the code BOL1000 and deposit at least $2,000. Plus, you can make deposits using cryptocurrency for even more bonuses.
Even better, BetOnline has a $50 free play bonus when you place your first mobile sports bet.
BetOnline also features high-limit bets for those with large bankrolls and a re-bet feature to make your wagering process more efficient.
Out of all the mobile sportsbooks, BetOnline is one of the largest and most used betting apps, and it has exceptional customer service options. Not to mention the online casino you have access to right in the app. Play your favorite games like poker, blackjack, and roulette!
To get the full scope of BetOnline, be sure to read our BetOnline app review.
3. Bovada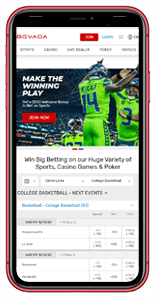 Not only does Bovada offer a top-of-the-line sportsbook, but they also host a great online casino.
But if you're just interested in wagering on your favorite sports team, Bovada has you covered. In addition to all major league sports, they also offer betting on:
Futsal
Winter sports
Beach Volleyball
Table Tennis
Esports
From a user perspective, the Bovada app is clean, crisp, and fast. Among all the mobile sportsbooks, Bovada stands out as a great option for new and old players alike.
The mobile betting app also features a wealth of information if you're new to the sports betting scene and need an overview or a refresher of what kind of bets you can place and how they work. Bovada features great how-to videos, if you're pressed for time and don't want to read through mountains of text.
As far as bonuses go, Bovada gives new players a 50% deposit bonus up to $250. While this is on the low end of mobile sports betting app bonuses, Bovada has a great rewards program. If you refer your friends, you can make up to 200% of your friend's initial deposit. Better call all your buddies!
Bovada's online casino hosts all the new slot games as well as live dealer poker and blackjack. New casino players can receive 100% deposit bonuses.
If you're interested in Bovada, be sure to check out our complete Bovada online betting app review.
4. SportsBetting.ag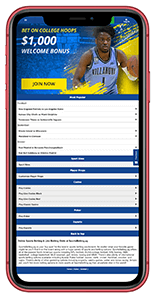 Out of all the mobile sportsbooks on the market, SportsBetting.ag offers the widest selection of major league and niche sports.
On their sports betting app, you can wager on:
Badminton
Handball
Snooker
Sport SIMS
Pool
Auto Racing
Chess
Darts
SportsBetting.ag has an exceptional user interface. Their navigation is simple, and they make it easy to find all the wagering options.
The "Live Betting" tab in the navigation takes you to a page with multiple options for in-play betting. Have a last-minute wager you want to place? SportsBetting.ag makes it easy to quickly place bets, which is ideal for bettors who are on the move.
To get your money's worth out of SportsBetting.ag, you should deposit using cryptocurrency. They offer a 100% deposit bonus up to $1,000 for Bitcoin and other crypto payment methods. But if crypto isn't your style, you can still receive a 50% bonus match for a credit card or e-wallet deposits.
Plus, SportsBetting.ag is one of the only sites to offer free bets. They're no risk, and if you win, you can make a decent profit.
To learn about all of SportsBetting.ag's other features and promotions, read our in-depth app review.
5. BetUS
BetUS offers a variety of sports to wager on. They also have a racebook and an online casino with a selection of slots, blackjack, poker, roulette, and more.
When it comes to sports betting, BetUS has all the popular, mainstream sports you know and love, plus an assortment of e-sports and niche sports.
Here are a handful of niche and e-sports you can bet on.
Volleyball
Badminton
Table Tennis
Futsal
Rugby
Cricket
CSGo
Dota 2
The app has a multitude of ways you can bet. In addition to odds, free picks, and projections, you'll also find specials, props, totals, spreads, moneyline bets, and live betting options.
BetUS has an easy-to-use interface and informative how-to guides with everything you need to know on the selected sport and betting choices.
The mobile sports betting app has an array of crypto deposits and re-up bonuses to pad your bankroll. A 200% Crypto Welcome Bonus matches 150% of your deposit towards sports and 50% towards the casino. There's also a 100% Crypto Sports Sign-Up Bonus that matches 100% up to $2,500.
If you're feeling competitive, BetUS has a contest section with featured competitions for select sports and events.
If BetUS sounds like the betting site for you, be sure to check out our in-depth review to learn more.
Other Top Sports Betting Apps
While the above sportsbooks are our favorites and great for new players, there is no shortage of other amazing mobile betting apps out there.
How to Choose the Best Sports Betting App
Now that we're knee-deep into the 21st century, there's no denying it. Online betting is the wave of the future. More and more people are turning to their phones to gamble on sports than ever before. When making a purchase as important as this, you want to make sure you utilize your resources and do your homework. Here's how to choose and use a mobile betting app like a pro!
Safety and Security
Being able to check your bankroll, make bets, and receive winnings on the go is great. But nothing's quite as sweet as winning big on the hottest game of the week with no strings attached. Security should be your number one priority when choosing a mobile bookie. Make sure that any gambling site you sign up for has proper encryption practices in place to keep hackers out of your personal information!
Your mobile betting app must also have SSL enabled at all times for the best security.
If you're using a reputable sports betting app, you shouldn't have to worry about app security. But if you're downloading sportsbooks at random, you put yourself at risk for phishing or viruses. Make sure the app you download has good reviews on the Google Play or App Store and is recommended by industry experts.
Bonuses and Promotions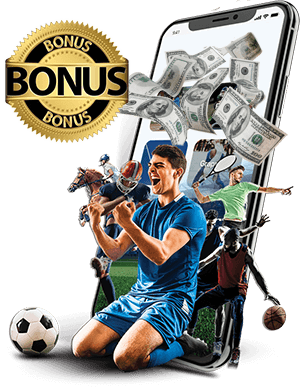 No matter how safe or secure a website is, it's still not worth much if you don't stand to gain from using it! When assessing which online bookie to use, make sure they offer special bonuses and promotions you can take advantage of. Check out how bonuses work and what you can expect from a sportsbook before signing up for an account to make sure the terms will mutually benefit both you and them!
There are a few kinds of bonuses to be aware of when it comes to mobile sportsbooks.
The deposit bonus is perhaps the most important because it's like the app's gift to new players. Some apps offer 100% (or higher!) deposit bonuses for signing up. But be wary of accepting the biggest offer you can find, because sometimes, these apps put strict requirements on how you're allowed to use your bonus.
If they set a minimum wagering requirement, make sure it's not exorbitantly high, like 40x. This is the app's way of getting you to make a risky bet, so play smart. The best sports betting app will offer a deposit bonus with flexible ways of using it.
Other bonuses exist, too, like account top-off bonuses or special promotions on certain bets or sports. Most sports betting apps put the fine print right on the promotion itself, but if you can't find it, you can always click on the terms and conditions at the bottom of the page, search the FAQs section, or chat with customer support.
Banking Options
Online casinos and sports betting apps are usually the first to adopt new ways of managing money, so their banking options are pretty flexible. You should decide on a deposit and withdrawal method before you sign up with a mobile sportsbook.
Nothing hurts worse than winning big on your playoff bet and having to pay a high fee to withdraw your cash.
A good sports betting app includes payment methods like Visa, Mastercard, e-wallets like PayPal or Skrill, bank and wire transfers, and cryptocurrency options (BTC, ETH, LTC, Doge, BCH, Dash, XRP, Neo, and others.).
Be sure to check what kind of fees are involved with making withdrawals. Most online casinos and betting apps have adopted the "no fee" policy, but it never hurts to double-check. Typically, this information can be found in the banking section of the app or the FAQs or Help Center.
Customer Service

Mobile services may come in a variety of forms, but talk is cheap when it comes to customer service. No matter how advanced technology gets, humans will always be the key to providing a good service. The best mobile services have multiple ways for their customers to get in touch with them!
There are two different types of customer service that should be considered: live chat and email. If you have any questions about your bets, bonuses, or account balance, being able to reach an agent quickly will be a godsend if the website fails to address your needs on its own.
Please Note:
Live chat is often conducted via instant messaging apps like Whatsapp, Facebook Messenger, or a dedicated chat widget within the app. Also, consider what channels they use for support. Betting apps tend to favor social media sites like Twitter, Discord, and Telegram.
Ease of Use
Regardless of how many cool features a service might have, how good their limits are for betting, or what kind of welcome bonus they offer, you won't use them if they're too complicated to navigate!
Make sure whatever platform you choose is intuitive and easy to use. A complex app with a cluttered interface is just going to frustrate you and lead to poor results. Anytime you shift from a desktop experience to a mobile one, the interface transition should be seamless.
Newcomers should join the simplest apps while more experienced bettors can afford to play on apps with a more advanced user interface.
One thing's for certain, it has never been easier to place sports bets than it is today!
All major mobile device types are supported; no matter if your device runs iOS or Android, you can almost always bet on sports from it.
The internet is a wonderful source of information and convenience when it comes to betting. It's not just about placing bets anymore, it's also about being able to monitor your bets in-play, make last-minute change-ups with live betting, and even chat with other bettors!
How to Use a Mobile Sports Betting App
Once you decided on the sports betting app you prefer to use, getting started is easy.
If you've ever downloaded an app to your phone, you'll know it is fairly straightforward. Follow these steps to begin using the app of your choice.
Select the online betting app you'd like to use from the Android Play Store or Apple Store
Download the app
Once it's installed, sign up as a new user or login to your existing account
Deposit funds
If you're a new customer, claim a welcome bonus or if you're an existing customer claim a reload or promotional bonus
Start placing your bets
And remember, you can use more than one mobile betting app. There are many great options when it comes to sports wagering on your mobile device these days. You're certainly not limited to just one option!
Sports Betting Apps vs. Online Betting Sites
Whether it's physical or online gambling, all serious bettors know there are distinct advantages and disadvantages to each type of sportsbook.
Mobile sports betting is most like land-based sportsbooks but with the added advantages of convenience, ease of use, and accessibility. Mobile sports betting apps are becoming increasingly popular because they provide bettors with the ability to put wagers on games wherever they may be. If you are out with friends on a Saturday night at the bar, and have your phone with you, all you have to do is click on your favorite app and place a bet! It's super easy and convenient, plus you no longer have to locate your bookie or make a phone call to get in on the action.

Online sports betting websites are more akin to traditional gambling websites found online. Players can place wagers on games from their home, office, or even while traveling without having to worry about finding a physical bookie.
Online gambling websites may be slightly less convenient than mobile apps because they require players to have a laptop or a desktop computer, but there are online sports betting sites that can be accessed on mobile devices. These bettors get the best of both worlds.
It's important to note that most gamblers use both mobile apps and online websites. If your mobile app is an online website for placing bets, you can simply log in to the same account and all of your information will sync. This seamless operation allows players to check up on their bets no matter where they're at. Another great feature is the interface will look virtually the same whether you're using a mobile version vs a desktop.
Advantages of Mobile Sportsbooks:
Placing bets from anywhere, whether you're using Wi-Fi or data
Simple interface with options for quick bets
Notifications for when you've won or lost a bet
Ability to bet with friends
Higher betting limits
Faster payouts due to lower overhead costs
Live streaming, live scores, and live odds for events you may be watching on TV. This is especially beneficial to bettors that like to place wagers on sporting events they are watching
More flexible options for placing bets
Betting Apps: Android vs. iPhone (iOS)
In football, the Patriots and the Colts have an infamous rivalry. The same can be said for iPhone and Android users.
But when it comes to using your phone for mobile sports betting, there isn't much of a debate. Both iPhone and Android users can enjoy the benefits of the best mobile sportsbooks.
It's worth noting that newer phones like the iPhone 13 or Samsung Galaxy S21 are best equipped for mobile sportsbook because of their lightning-fast computing power.
If you're rocking an older model, no worries! The best sports betting apps are designed to be compatible with older generations of phones, though you might experience slower loading speeds.
When you're looking for a mobile sports betting app on the Google Play or App Store, take a minute to check the device requirements. If your phone is outdated, you'll probably get better results using an online gambling site on your laptop. Alternatively, you can use an iPad or Samsung tablet to download the sportsbook app.
Sports Betting Apps FAQs
If you're just planning on making wagers, 3G connection is about all you'll need. But if you want to watch live streams or participate in live betting, you'll need 4G/LTE or a Wi-Fi connection for optimal performance.
All reputable mobile sportsbooks have the best security precautions embedded in their app. But if you plan on entering sensitive banking information, you should use data or a secured Wi-Fi connection. We don't recommend making deposits or withdrawals on public Internet.
Not really. Some mobile sportsbooks are optimized for the iPad's larger screen, but overall, there isn't a difference when it comes to their functionality.
Use attribute "a" for answer.
We recommend using cryptocurrencies like Bitcoin or Ethereum. While it is a bit of a process to actually buy crypto, once you have it, it's easy to make deposits and withdrawals. Some mobile sportsbooks and online casinos only offer cryptocurrency withdrawals now, so if you want to get your winnings as soon as possible, crypto is the way to go. Plus, the inherent safety of the crypto blockchain means your transactions are secured.
While there's not much information out there about lag betting, it's essentially using the mobile sportsbook platform to your advantage. As you're watching a live game, the sportsbook has to adjust the bets and lines to reflect the current status of the game. This comes with a price, as there's often around a 60-second lag between what's happening in the game and what happens in the sportsbook. Hardcore bettors use this to their advantage to place wagers on the spread or game totals. There's a whole strategy behind betting on lag, and it's fairly complex. We advise taking a more traditional approach to sports betting before exploring lag betting. It can be very lucrative, but it's also intimidating for beginners.