Are you looking for a detailed review of the BetOnline.ag app? If so, you've come to the right spot. On this page, you'll find our in-depth analysis of their online gambling app. The goal of this page is to help you quickly determine if it's the right app for all your online sports betting and casino needs.
Before we dive into the details relating to the BetOnline.ag mobile app, we wanted to provide you with a quick look at everything we'll cover in this guide. Below, you'll find a listing of all the different sections included on this page, and you can click on any of them if you'd like to skip ahead to one now.
BetOnline.ag Sports Betting App
To get things started, we're first going to focus our attention on the sportsbook component of the BetOnline.ag betting app. In this section, you'll learn about the different types of sports you can wager on, user interface, and more. If you're interested in placing online sports bets, you'll be able to use the information in this section to decide if the app from BetOnline.ag is a good fit for your needs or not.
Sports You Can Bet Using the BetOnline Betting App
Up first, we wanted you to get a quick idea of the different sports you can bet on using the BetOnline.ag sports betting app. Check out the list below to see if all your favorite sports are included on their online sportsbook.
Aussie Rules
Auto Racing
Badminton
Baseball
Basketball
Boxing
Chess
Cricket
Cycling
Darts
Entertainment
Esports
Financials
Football
Futsal
Golf
Handball
Hockey
Horse Racing
Lacrosse
Lottery
Martial Arts
Olympics
Politics
Pool
Rugby
Snooker
Soccer
Softball
Sport Sims
Table Tennis
Tennis
Volleyball
Wrestling
View the full list of sports
With a staggering count of more than 30 sports you can bet on, the real money betting app from BetOnline.ag provides users with access to more than most online sportsbooks in the industry. Because of this, it will allow most folks to do all their sports betting in one location.
If you didn't see a sport you enjoy betting on listed above, it might have been due to the timing of our review of the BetOnline mobile sportsbook. Be sure to check the BetOnline mobile sports betting app once that sport's season has started to see if the sportsbook offers action on it or not.
In-Play Betting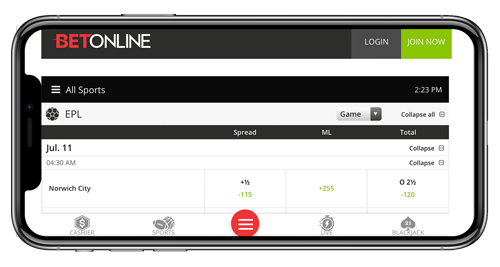 One of our favorite parts of online real money sports betting at BetOnline is the easy access it provides to live betting. With this function, you can wager on sports as they happen, instead of just before the match begins. Luckily, the BetOnline.ag app provides users with a broad assortment of in-play betting action. Be sure to check this section out to see all your live betting options.
Sportsbook User Interface
The last thing we wanted to touch on about the BetOnline sports gambling app is its user interface. We enjoyed how easy it was to navigate the sportsbook, thanks to its quality user interface. In addition, the layout is very simple and clean and is not cluttered with a ton of adds for other sections of the app.
BetOnline.ag Real Money Casino App
Now that you've got a good understanding of the sportsbook offering from the BetOnline mobile betting app, we also wanted you to understand what you'd have access to in the online casino section. Check out the details included below to get up to speed on the types and number of games you'll have access to, along with tons of other helpful information.
Slots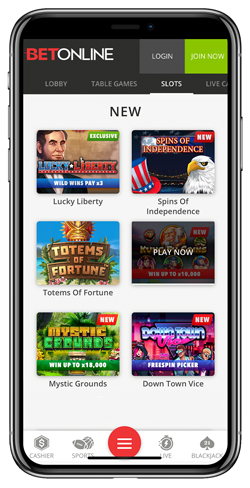 Fans of online slot machines are in for a treat with the slots section of the BetOnline.ag app. There, more than 160 excellent slots await players. With this many choices, this app provides users with access to more online slot machines than many other gambling apps in the industry.
Table Games
The lineup of table games on the BetOnline casino gambling app also doesn't disappoint. In total, we counted more than 50 high-quality table games. Be sure to visit this portion of the online casino if you enjoy playing games like blackjack, roulette, baccarat, and others.
Video Poker
If you're into playing online video poker, check out this section of the real money app from BetOnline.ag casino. Once there, you'll find 15 different video poker machines to select from. You'll be able to play up to 25 hands at once across a multitude of popular video poker variants like Jacks or Better and Deuces Wild.
Online Poker
Another great thing about the BetOnline.ag app is that it has a quality real money online poker room. On the BetOnline poker app, you can play tournaments and sit and gos (SNGs). Don't miss this section of the app if you're interested in experiencing a quality online poker room.
Specialty Games
Do you enjoy playing specialty casino games like Keno and bingo? If you do, then you won't want to miss the specialty games section included in the app from BetOnline.ag. In this section, there are seven games to choose from, including four versions of the game keno.
Live Dealer Games
In addition to the other excellent online casino games mentioned above, there's also a lineup of live dealer games available on the BetOnline.ag app. If you've never experienced a live dealer online casino game before, it's worth checking out. With this game format, you'll play along with a video feed of a real dealer located in a casino somewhere around the globe. Check out this section of the app to play games like blackjack, roulette, baccarat, and others.
App Software Providers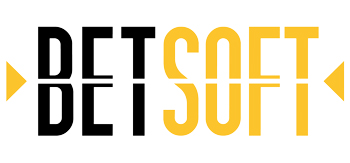 If you're a fan of games from the software manufacturer Betsoft, then you're going to love what you'll find in the BetOnline.ag app online casino. That's because all the games in the app's casino come from Betsoft. If you're not familiar with that name, they're one of the top providers in the industry. Take a moment to explore the casino and experience the excellent quality games they make.
Casino User Interface
Before we move on, the last thing we wanted to touch on about the BetOnline.ag app casino is its user interface. We were extremely pleased with the UI of the casino app. Thanks to its excellent design, navigating the casino games was very easy to do. Based on our experience with the app, we don't believe you'll have any issues locating the games you want to play.
BetOnline.ag App Bonuses
Do you like the sound of earning bonus cash, free bets, and more while you gamble online? If so, be sure to review the details below about some of our favorite bonuses and promotions currently available to users of the BetOnline gambling app.
Sportsbook Welcome Bonus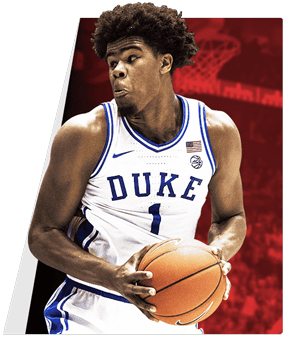 New clients of the sportsbook on the BetOnline.ag app can benefit from a welcome bonus with a 50% bonus match. In total, you can receive up to $1,000 of match with this promotion. To get the maximum amount, be sure to use code BOL1000 and deposit at least $2,000 or more.
Sportsbook Cryptocurrency Welcome Bonus
If you'd like to get even more bonus bang for your betting dollar in the real money BetOnline.ag app sportsbook, consider using a cryptocurrency like Ripple or Bitcoin for your deposit. By doing this, you'll get a 100% bonus match that's good for up to $1,000. Simply enter the BetOnline.ag promo code CRYPTO100 to claim this quality offer.
Sportsbook Reload Offer
By entering the BetOnline bonus code LIFEBONUS when reloading your sportsbook account on the BetOnline.ag app, you'll be able to earn up to $250 of bonus cash. What's nice about this offer is it provides users with a 25% bonus 24/7/365. Be sure always to use this promotion to help get added value each time you top off your account.
Casino Welcome Bonus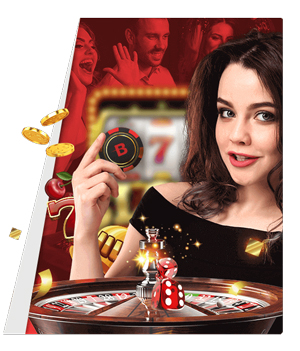 Are you thinking about using the BetOnline.ag app to play casino games online? If you are, then you can receive up to $3,000 of bonus cash across your first three deposits on the app. You can use the BetOnline casino bonus code BOLCASINO to get a 100% match on up to $1,000 for each of those three deposits for your online casino account.
Poker Welcome Bonus
In addition to the excellent casino welcome bonus, there's also a great one for players interested in playing poker using the BetOnline.ag app. With this promotion, you can receive up to $1,000 of bonus cash. You'll get a 100% match on your initial $1,000 deposited for online poker action.
Referral Bonus
Something else you can do to receive additional bonus cash while using the BetOnline.ag gambling app is to refer your friends to use it, too. Thanks to the refer-a-friend promotion, you can earn up to $100 for every friend you refer to use the app. You'll benefit from a 100% bonus match on your friend's opening account deposit.
Additional Bonuses and Promotions
While we've covered many great bonus offers from the BetOnline.ag app above, there are many more than what's featured on this page. To see the full lineup, simply visit the promotions tab of the app.
BetOnline.ag App Banking Options
Up next, we wanted to provide you with handy information relating to the different banking methods you'll have access to on the BetOnline.ag app. Check out the details below to see what your options will be when making deposits and withdrawals from the gambling app.
Deposits
Bitcoin
Ethereum
Litecoin
Bitcoin Cash
Ripple
Visa
Mastercard
Discover
American Express
Person to Person
Money Order
Wire Transfer
Cashier's Check
Withdrawals
Bitcoin
Ethereum
Litecoin
Bitcoin Cash
Ripple
Person to Person
Wire Transfer
Check by Courier


If you choose to use the BetOnline.ag app, you'll have access to one of the best lineups of banking methods in the industry. We love the vast collection of cryptocurrency options along with others, like credit cards, wire transfers, and more. Thanks to this sizeable assortment of banking options, you shouldn't have any issue moving funds onto or off of BetOnline's app.
How to Download the BetOnline.ag App
Are you ready to download the BetOnline.ag App after reading our review? If so, we've got you covered. In this section, we'll talk about how you can download the app and get started using it today.
One of the great things about the mobile app from BetOnline.ag is that it doesn't require a software download. This allows you to save time and valuable storage space on your devices. Instead, you can use the BetOnline.ag app directly from your device's internet browser.
No matter what kind of device you're planning to use, the BetOnline.ag app should work just seamlessly. Thanks to its excellent mobile compatibility, it functioned flawlessly on our computer, laptops, mobile phones, and tablets.
To get started using the app from BetOnline.ag, it's effortless. Simply head to the BetOnline.ag website using your device's browser. Once there, take a few moments to create an account. Then, fund it using one of the many instant deposit options. After that, you're ready to begin using the app to gamble online on casino games and sports betting action. In total, the whole process described here should take you just a handful of minutes.
Before moving on, we wanted to point out one exception to what we mentioned above. While the sportsbook and real money online casino from the BetOnline.ag app are all mobile-based, there is a choice to download an app for poker is you're an Android user. To explore this option, click on the mobile poker option.
However, it's not required to download the poker app to play. If you're an Apple or Android user, and you're not interested in a software download, you can use BetOnline from your phone and its mobile browser.
Real Money BetOnline App FAQ
Before concluding things, we wanted to be sure we didn't leave you without some additional information about the BetOnline.ag app. If you're still hunting for some answers, don't miss the collection of frequently asked questions included below.

Yes, it is possible to bet on sports from your phone with the BetOnline app that is already in progress. Check out the sportsbook portion of the review above to read more details about the in-play betting options available on the app.
No. Currently, the BetOnline.ag app doesn't have a free play mode on any of their casino games. However, this is something we'd love to see them enable in the future, as many other online casinos provide this option to their users. We're big fans of it, as it allows people a way to practice new games or to enjoy the thrill of gambling without risking real money on it.
The app from BetOnline.ag works with just about every kind of device out there. As long as you have a computer or mobile device that's not too old and has a connection to the internet, you should be good to go. Because of their app's excellent mobile compatibility, you'll be able to bet on sports and casino games from whichever device you prefer to use.
Absolutely! BetOnline.ag has been in business for more than 15 years at this point. This is something that simply wouldn't be possible if it were not a safe and trustworthy place for folks to gamble online. If you decide to use this gambling app, we're confident you'll be using one of the safest options in the industry.
If you've decided this is the gambling app for you, it's fast and easy to get up and running. Simply head to the BetOnline.ag website, open an account, and make your initial deposit. Once that's done, you'll be ready to begin enjoying real money gambling online. For most individuals, this entire process should take around five minutes or less.
BetOnline.ag App Conclusion
We hope you enjoyed all the detailed information we've included in our review of the BetOnline.ag app. As you can see, this online gambling app is a well-rounded choice filled with tons of options for its users. If you're pleased with what you've read here, we'd urge you to try out using the app to experience it for yourself.
For those of you who have never visited our website before, we have plenty of other gambling-related resources to help you learn more. If you'd like to see some of our most popular pages, you can visit our free sports betting picks, strategy guides, and gambling site reviews. In addition, you can explore all our offerings by using the main site menu. It doesn't matter if you're into online sports betting or casino action, we've got you covered.
Thanks for reading, and best of luck mobile online gambling at BetOnline!