The sport of horse racing can trace its roots back to Ancient Egypt. So, it's no surprise that horse racing betting has been around for centuries. In the modern world, this type of gambling has started to include mobile sportsbooks. This transition has left many people wondering, "What are the best horse race betting apps?"
To stay relevant as long as horse racing betting has, you have to be popular among the betting public and offer a chance for bettors to win real money. Today, horse racing is still one of the top five most popular sports to bet.
One common question regarding horse racing betting is whether it is legal. The legality of horse racing betting differs from one country to another. In the US, the decision of whether to legalize online gambling is left up to individual states to decide. For horse racing betting specifically, the US has allowed for online horse racing sportsbooks to operate under an exception to the Unlawful Internet Gambling Act (UIGEA, 2006).
For newcomers to horse betting, there can be a lot of information to grasp about the sport itself and the ins and outs of the sportsbook they are using. Some important points to make sure you understand are:
Why Are These Horse Betting Apps the Best?
Whether you are new to using horse betting apps or you are a seasoned bettor, it is important to know what sets the best apart from the rest. We make sure that all of our recommended horse betting apps meet our high standards to make sure players have a safe and enjoyable experience.
There are many different aspects that you should factor into your decision of which horse race betting app you are going to trust to earn you real money. Some of the factors that we look at are:
Safety and Security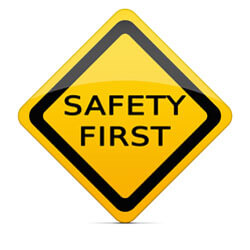 One of the highest priority items we look for when considering a site is the safety and security it offers to players. There are a lot of risks involved in gambling already. But you should feel confident that if you do lose your bankroll, it is because you bet on the wrong horse and not because an app took it from you unjustly.
The bottom line is that if a site is not safe to use, then we will not suggest it to you. As such, you can trust that all of the sites listed above have met our high standards for protecting bettors and allow you to earn real money in a safe environment.
Variety of Betting Options
One of the biggest factors that we look at when assessing a horse betting app is the variety of bets available to players. A variety of betting options on a horse racing app is important because more betting options mean more opportunities for players to win real money.
All of the horse betting apps that we recommend feature an extensive list of horse race betting options.
Even if you are the type of person that usually only plays it safe, it is important to use a site with a wide range of betting options for when you hit your hot streaks and are looking to make the most real money you can in a short amount of time.
When looking at the betting options of horse betting apps, it is also important to look at the betting odds the apps offer. We recommend horse race betting apps that offer both high quantity and quality betting options to make sure you have the best chance at winning real money betting on horse racing possible.
Accessibility
Another big factor that you should consider when comparing mobile horse race betting apps is the ability to access the site easily. Horse race betting apps offer players the ability to access their sportsbooks from anywhere and can be a major advantage over other betting options.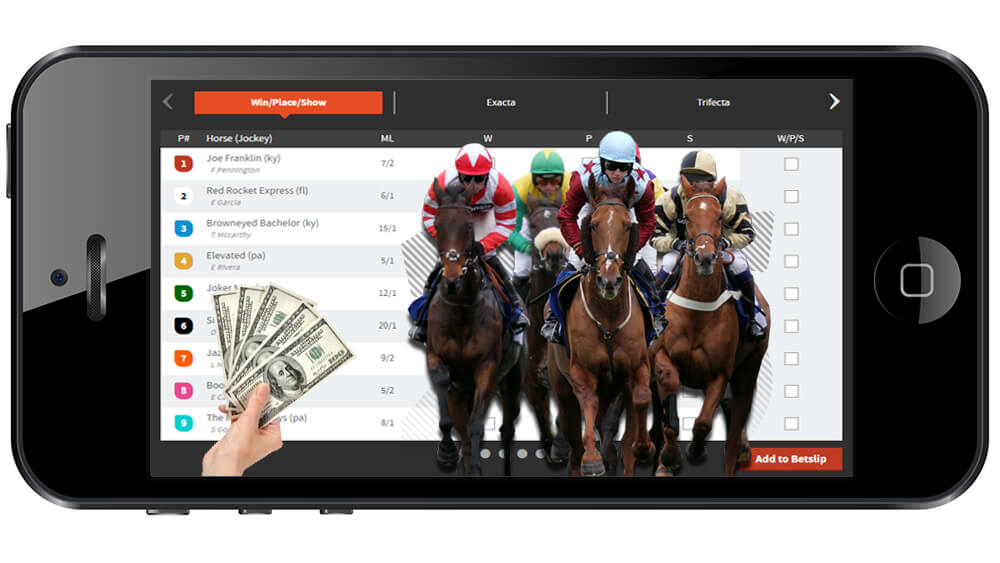 With that in mind, it is important that you use an app for betting on horses that is compatible with your mobile device and has a history of running efficiently. An app can offer the best odds and bonuses in the world. But if it's always down for maintenance, then you will never be able to use it to make real money.
Bonuses
With any type of online betting, whether it is mobile-based or not, you are going to want to consider the bonuses a site offers. When you are in the market for a new horse betting app, potential bonuses should not be your highest priority, but they also should not be ignored completely. A wide variety of easily used bonuses can be the deciding factor between two closely matched apps.
The type of bonuses available can vary greatly from one betting app to another, but some commonly found bonuses include:
Sign-up bonuses
Loyalty bonuses
Referral bonuses
All of the apps for horse betting that we recommend offer players like you a wide variety of bonuses. Not only that, but the bonuses offered are also easy to take advantage of and will, hopefully, lead to you walking away with more real money in your pocket.
High-Quality Customer Service
In the modern age, being able to offer top-tier customer service with your app is a must, and horse race betting apps are no exception. All of our recommended horse betting apps have shown a history of offering consistently high levels of customer service to players.
What an individual looks for in their desired customer service experience is going to vary from one person to another. Some of the typical components that we look for in great customer service are:
Variety of contact options available
Dedicated, qualified customer support agents
Live chat and telephone options for instinct help
Service available 24/7 for players
Range of Banking Options
If you are planning on making real money using your horse betting app, then it is important that you find an app that has banking options that fit your needs. When you are making your betting strategy, one of the key ingredients should be defining how you plan to deposit and withdrawal your money.
If you are having trouble creating your horse racing betting strategy, check out our helpful guide here.
Once you know how you want to manage your money, it should be an easy, but crucial, task to find a mobile horse racing app that offers the banking options you need. Fortunately, all of our recommended horse racing betting apps offer a wide range of banking options for players so it should be easy for you to pick the best one for you.
The type of banking options available are going to depend on the horse racing app you are using and could even vary based on your location. Some of the typical banking options you will find in our recommended horse racing apps are:
Cryptocurrency, including Bitcoin
Digital wallets such as Neteller and PayPal
Major credit cards like Mastercard and Visa
Payout Speeds

Along with finding a horse racing app with the best banking options, the payout speeds of the mobile sportsbook should also weigh heavily in your decision. The best horse betting apps are going to offer consistently high payout speeds to players.
It is important to keep in mind your desired payout speed when you are determining what banking option you are going to use. Ultimately, your chosen banking option and the site's payout speed are going to be the two biggest factors in how long it takes for you to be able to walk away with the real money you earn using your horse racing betting app.
Optimized for Mobile Users
We mentioned earlier that horse betting apps allow players to access their horse racing sportsbooks like never before. The best horse racing betting apps achieve this with apps that have been optimized to get the most of the mobile experience.
What it means to be optimized can vary from one device to another.
For instance, some apps for Apple's iPad have been designed to take advantage of the larger screen. Regardless of the mobile device you are using, you can be confident that our recommended horse betting apps have been designed to allow you the best player experience possible.
Easy-to-Use UI
A key part of optimizing mobile apps that we feel needs special attention is the user interface (UI). An easy-to-navigate UI is vital to any player looking to earn real money betting on horses. This is especially true if you plan on making more than one wager at a time. Some of the features we like to see in an apps UI are:
Able to easily see all of your bets
View betting lines on upcoming races
Manage your bankroll
Access all of the in-app features
This is just a shortlist of things you want to see with your horse race betting app, and the importance of using a horse racing sportsbook with a good UI cannot be overstated.
Member-Exclusive Perks
One of, if not the, biggest reasons people have started migrating toward mobile horse race betting is because of the exclusive perks they can take advantage of. Most online horse racing sportsbooks offer players access to special bonuses, such as risk-free bets, while using their sites. As we mentioned earlier, many horse betting apps go a step beyond and offer mobile players exclusive bonuses.
In addition to special bonus offers:
Mobile users can also find other exclusive perks using their horse racing betting app. For instance, some apps offer players in-app betting advice on upcoming races, commentary about ongoing events, and the ability to watch races live on your mobile device.
As we mentioned earlier, there are other factors to consider long before you start looking at the bonuses a horse racing betting site offers. The same applies to these member-exclusive perks. However, if you are having trouble deciding between two horse racing sportsbooks, then the extra perks can be helpful in swaying you one way or the other.
[ Back to Top ↑ ]
Important Things to Know About Betting on Horses
In-Person vs. Mobile vs. Virtual Betting
One of the first decisions you have to make if you are interested in horse racing betting is whether you are going to be placing wagers in person, using an online or mobile sportsbook, or if you are betting on virtual races.
While in-person races may offer a more engaging experience for some bettors, it can be hard for many people to participate in if they do not live near a racetrack and only offers a limited number of races to bet on.
The use of horse race betting apps on a mobile device or computer can address these issues by offering better accessibility and more races.
Virtual races on the other hand differ greatly from both in-person and mobile horse racing betting in many ways. The biggest differences are that virtual horse racing betting involves placing wagers on a simulated race, meaning that you are betting on a computer program rather than actual horses. Also, there are drastically different legal restrictions for virtual races, so if you decide to use them make sure they are legal in your area to use.
Payout Structure
After you decide the type of horse racing betting you want to use, it is important to make sure that you understand the payout structure.
For straight bets, the payout structure is going to look like other types of betting you may have done in the past. If you place $50 on a horse that is 5-1 and you win, then you get $250 plus your original bet of $50, totaling $300.
Where payouts typically get complicated with horse racing betting is when you start placing exotic wagers. These wagers require you to bet on multiple horses and can even mean placing bets across multiple races. While these bets can be more complicated, they also offer higher payouts and a better chance to win real money on a single wager.
Commonly Used Terms
If you are new to horse racing betting, then you are going to want to familiarize yourself with some of the jargon you may hear thrown around. It would take all day to go over all the lingo you might run across, but some common terms are:
Purse: This is the total prize money that is awarded to the winner of the race
Lock: A term used to describe a horse that is considered a heavy favorite to win
Handicap: Horse may have extra weight added to them in an attempt to level the field
These are just some of the terms you will want to know before betting real money wagers on your horse races. For more terms you will want to know, check out this helpful guide.
[ Back to Top ↑ ]
Types of Horse Race Bets – Straight Bets vs. Exotic Bets
If you are new to the world of horse racing betting, then it is important that you take some time to familiarize yourself with the different types of bets you can make. In general, the two main types of bets you will see will fall into one of two categories: straight bets and exotic bets. However, there are multiple types of bets that fall into those two categories.
In addition to straight bets and exotic bets, some horse betting apps will also offer players the option of placing prop bets.
As we mentioned above, most of the bets you will see on your horse betting apps are either going to be straight bets or exotic bets. The defining difference between straight bets and exotic bets is the number of horses you are betting on.
Straight bets involve only one horse, and exotic bets involve two or more horses.
Straight Bets
If you are a rookie in the horse racing betting world then we encourage you to start by placing straight bets. As we stated above, straight bets involve only betting on one horse in a race. This makes straight bets significantly less complicated than their exotic bet counterparts. When looking at placing straight bets in your mobile horse racing sportsbook, you will likely see bets that fall into two sub-categories: win, place, show or across the board.
Win, Place, Show
As the name implies, with a win. place, or show bet you are betting that the horse you selected will either win, place, or show, respectfully. The difference between these three types of bets are simple:
Win: You are betting that the horse you have picked will win the race outright. Because of the small margin of error, these bets are the hardest straight bets to win. However, with more risk comes better real money rewards.
Place: You will win a "place" bet if the horse you bet on comes in either first or second place. Place bets are a middle ground between "win" and "show" style bets.
Show: Show bets can be won if the horse you picked finishes the race in either first, second, or third place. These types of bets can be ideal for bettors new to betting on horses because they carry the least amount of risk.
Across the Board
If you are looking into placing "across the board" bets then it is important to understand that you will essentially be placing three bets, meaning that you will need to pay triple the normal wager. With these combination bets, players have the chance to win real money by betting three times on one horse.
If the horse you bet on wins the race, you will get paid for all three bets (the win, place, and show.)
If your chosen steed only comes in second, then you still will win money for your place and shows bets.
The downside of across-the-board bets is the amount of money you have riding on one horse. If the horse you bet on only comes in third place or worse, then you lose three times as much of your bankroll that you would normally by just placing one straight bet at a time.
Exotic Bets
If you are looking for more of a challenge then you may be interested in placing exotic bets. These bets involve betting on more than one horse in the same race. It is important to keep in mind that the more horses you bet on, the harder it becomes to win. However, if you get your exotic bet right then you can walk with a lot more real money than your standard straight bet. Some common exotic bets include:
The simplest type of exotic bet to win is the quinella. To place a quinella bet, you need to pick two horses you want to bet on. Once you make your quinella bet, in order to win you need the two horses you picked to finish in first and second place.
The nice part about the quinella bet is that the horses you select only need to finish first and second, but it does not matter which horse wins and which one is the runner-up. Quinellas can be an easy way to transition into making exotica bets.
Exactas are a step up from quinellas in the sense that they are harder to win. As with quinellas, you are betting on two horses in the same race. However, if you are using your mobile horse racing sportsbook to place exacta bets then you need your chosen horses to finish in the exact order that you bet.
The transition from quinella to exacta bets can be difficult to make for many players because it is hard enough to pick the top two horses in a given race, let alone the correct order they will finish. However, as with all the horse racing bets we are going to discuss, higher difficulty leads to better real money payouts.
As the name would suggest, the trifecta involves betting on three horses in the same race. As with exacta bets, a trifecta bet also requires the player to pick the exact order the top horses will finish in.
Make no mistake about it, picking the top three horses in a race and getting the order exactly right is no easy feat, and that is why the trifecta offers some of the biggest real money payouts you will find on your horse betting app. While the allure of a big real money win may be enticing to many betters, we recommend that novice bettors work their way up to these more difficult wagers.
If you find yourself looking for even more of a challenge while betting on horses, you can try to hit the superfecta. Superfectas require that you pick the exact order the top four horses in the race will finish in.
Superfectas are extremely difficult to hit on and should only be attempted by experienced horse racing bettors if you are planning on placing a large amount of money on a single wager. That being said, it is possible to win real money from superfectas even if you are only betting a small amount.
Another type of exotic bet is the daily double. These bets, similar to quinellas and exactas, involve picking two horses. However, daily doubles spread the picks over two races. Essentially, you are trying to pick the winner of back-to-back races.
In most horse racing sportsbooks, a daily double will usually pay more than most other types of wagers because it requires picking across multiple races. In simple terms, more races mean there are more horses to pick from, and therefore it is harder to pick the right horses.
Building off the daily double model, many sites will offer players the option of placing pick 3s and pick 4s style bets. These bets involve picking the winner of 3 or more races in succession. Depending on the horse race betting app that you are using, you may even be able to make one bet that covers all of the races at a particular track that day.
As we stated above, betting on multiple races is typically seen as a riskier option as the field is larger. Because of this increased difficulty, these types of exotic bets will typically offer the highest real money payouts across most horse betting apps.

For more on exotic bets and for help making a plan to rake in real money, check out our guide to exotic betting strategies.
Prop Bets
Depending on the horse race betting app you are using, you may also be able to place prop bets. These bets are can vary greatly from one mobile horse racing sportsbook to another, and can range from the concrete to the abstract. Some examples of prop bets include:
Time of the first half mile
If the winner will lead wire-to-wire
If the last place horse will have an even or odd saddlecloth number
How many spectators the event will have
Who the winning jockey will thank first
While these bets are often silly, they can also be a fun way to make real money while using your horse racing betting. Also, the abstract nature of some prop bets makes them hard to predict which in turn means they often have favorable odds for bettors willing to take the risk.
[ Back to Top ↑ ]
Advantages of Horse Betting Apps
When the internet began being widely available in the '90s, the world of online gambling quickly started to gain popularity. With the release of modern-day smartphones two decades later, it is no surprise that mobile gambling apps quickly became high in demand. Recently, new legislation has lifted many of the restrictions on online and mobile betting operations allow for the industry to expand even further.
These recent changes have made it so that horse betting apps are able to boast many advantages over their brick-and-motor and computer-based competitors. Some of these benefits exclusive to users include the ability to win real money anywhere, access to more races, and being able to take advantage of bonus offers exclusive to mobile users.
Ability to Win Real Money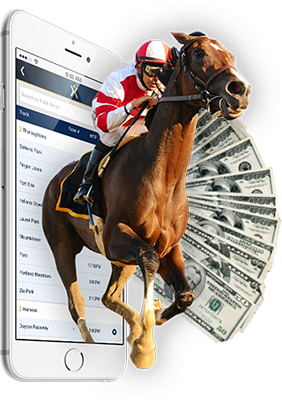 One of the biggest questions that surround mobile horse betting is whether or not someone can make real money from it. If you are using one of our recommended horse race betting apps then the answer is a resounding yes. The laws and regulations regarding operators of mobile horse racing sportsbooks make it so that using horse betting app gives you the same, if not better, odds of winning real money as you have when betting at the track.
Not only do you receive the same odds using mobile sportsbooks, but using online and mobile betting options gives players the advantage of having access to more bonuses than they typically would receive betting at the actual racetrack. And, since you can use your horse betting app anywhere, you will have more opportunities to use your bonuses and turn them into real money winnings.
Access to More Races
The ability to access your horse racing sportsbook from anywhere is another advantage of mobile horse race betting that computer-based and in-person betting cannot compete with. Many apps offer streaming options for events, meaning that not only can you bet on more races, but you can also watch more races.
As we mentioned above, the improved accessibility of horse betting apps is also an advantage for players in terms of accessing their bonuses more easily. In short, improved access to the sportsbook and the bonuses they offer leads to a better chance of you winning real money from your horse racing betting adventures.
Mobile Exclusive Offers
The third advantage of horse betting apps is the exclusive offers that only mobile users have access to. We discussed this at length above, but we felt it needed to be repeated here. With many horse racing betting sites, players can access these bonuses using their Android or iOS devices on top of the bonuses offered by the sportsbook's regular website.
[ Back to Top ↑ ]
Disadvantages of Horse Betting Apps
Unfortunately, no system is perfect and there are a few disadvantages to using horse race betting apps. These drawbacks include differences in legality between countries, limitations of the mobile device, and a lack of horse betting apps in the app store.
On the bright side, all of our recommended horse betting apps do their best to address these issues to limit the negative impact they have on your ability to win real money. Also, as the modern world becomes more accepting of mobile gambling apps, many of the disadvantages are being addressed.
Legality Varies by Location
One of the biggest disadvantages of using any horse betting app is that the legality of the app itself is dependent on the location of the user. In the US, this often comes down to what state you are in as each state is allowed to set its own laws regarding gambling.
Fortunately, many legislatures have started clearing the way for online and mobile gambling operations. This means that even if you do not live somewhere that currently allows the use of betting apps, that does not mean you will not be allowed to use them in the future.
We strive to recommend horse betting apps that are widely available.
Apps May Not Be Available in the App Store
Apple and Google have had differing views on the mobile betting industry over the years. As a result, Apple has allowed horse betting apps in their app store much longer than Google. This means that Android users can be at a disadvantage when it comes to finding their favorite horse racing sportsbook in the app store.
There are some workarounds for this issue, such as downloading the app from the horse racing sportsbook's website instead of the app store. Also, since Google has started allowing gambling apps in their app store, this issue is quickly becoming a thing of the past.
Smaller Screen
Another disadvantage of using horse race betting apps is the limitations of the mobile device you are using. The biggest example of this would be the screen size. Let's face it, there is simply no way for phones to compete with computers when it comes to screen size. This can affect your horse racing betting experience because the smaller screen can limit the number of betting lines you can see at one time.
Some players can avoid this issue by simply using a mobile device with a bigger screen, such as an iPad or Android tablet. Many horse betting apps have even started optimizing their apps to take advantage of the bigger screens on tablets.
[ Back to Top ↑ ]
Horse Race Betting Apps FAQ
How quickly you can get up and running on a betting app will depend on the app's registration process. Once you have picked an app and made sure it is legal and reputable, then all you need to do is download the app and make an account. With your account set up, you should be able to deposit money onto your account and begin placing bets.
We do our best to only recommend horse racing betting sites that have quick and easy registration processes and allow for instant deposit options. If you are using one of our suggested horse racing sportsbooks, then you could be up and running in as quickly as five minutes.
The type of bets and sports you can bet on will depend on the mobile sportsbook you are using. If you are using an app that is dedicated to solely horse racing betting, then no you cannot bet on other sports.
However, there are many mobile sportsbooks that allow you to bet on multiple sports. The mobile sportsbooks that we tend to recommend fall into this second category. While some people may prefer to have separate sportsbooks for different sports betting, it tends to be easy to use one app for all of your wagers so that you don't have to keep track of your money across different platforms.
Yes! Using one of our recommended betting apps allows you to access races across the globe. This includes the Kentucky Derby, Dubai World Cup, and just about any other major race.
By using one of our recommended horse racing apps you can also get exclusive in-app commentary and betting advice on upcoming events to help you win as much real money as possible. Some apps even allow you to stream the event live on your phone.
Use attribute "a" for answer.
Use attribute "a" for answer.
[ Back to Top ↑ ]