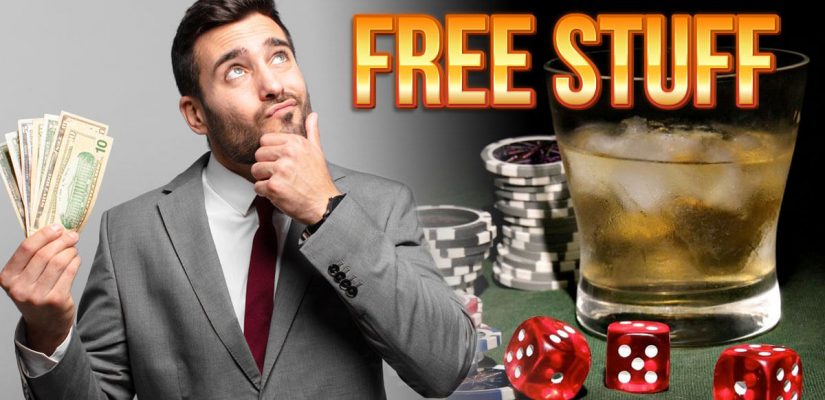 Casino giveaways have been part of the business since the very beginning.
Casinos are the rock stars of the loss leader marketplace and have long been the land of the $1.99 prime rib dinner and free hot dog buffet. There's no round number or magic dollar amount that will lead to free parking, a loss rebate, free bets, or a comp'd hotel room. Every casino does things a little differently, and there are levels to the giveaway business.
The answer to the question of how much you have to gamble to get comps is more complicated than that.
What's a Comp?
The word comp is shorthand for "complimentary." These are free things the casino hands out to customers. They can be small, like a free cocktail or an offer of comped parking.
Incentives for big-money whales to come to play, rewards for big spending at the high-limit tables, or special offers made to loyal customers.
The amount and quality of a comp are determined by which games a customer plays, how much they bet, how long they play, and how regular a guest they've been over the years.
Casino Comp Levels
Most loyalty programs are tiered, meaning as players spend more money, they move up the different tiers, and the comps they can earn get more valuable.
At the bottom of the scale is the comp'd cocktail, basically given to anyone who's spending any amount of money gambling. There's no accounting for the quality of those drinks since they're free, but it is a nice gesture on the part of your casino host. One rung up, you'll get access to free parking (not valet), lounge access, free meals, etc.
When you start to put a little more money in place, the casino kicks up the comp offers, extending to free valet parking, free hotel stays, access to high roller lounges and restaurants, and so on. In some cases, a player may be comp'd as RFB, meaning their room, food, and beverage are all taken care of.
At the high end, the sky is the limit for comps.
Casinos sometimes pay for airfare on top of RFB, along with limo rides, tickets to shows, concierge service, basically the whole red carpet package. It's not unheard of for casinos to offer their biggest-paying customers things like loss rebates, whereby their losses will be recouped by a certain amount from the house.
Use of a private jet, private suite, or private anything is another big dangle from the casino hosts.
How are Comps Determined?
While high-level casino employees like hosts and floor bosses are authorized to issue comps, most players earn them by using players cards and having their play tracked automatically, usually by a computerized system overseen by human operators.
As players swipe their cards and go about their gambling, the system tracks how much action they're putting out, and on what games and for how long. A tiered system is usually in place so that lower-level players can gain some rewards, while the casino's best customers can get free stuff more in line with their financial status.
Though all casino loyalty programs calculate things a bit differently, I can say that casinos tend to require players to play for a specific amount of time at a specific level of action to earn different levels of comps. The industry phrase for this is Average Daily Theoretical Loss.
Also known as the "theo."
A player's theo is the theoretical amount of money they stand to lose based on the house edge of the games they're playing. The casino uses this number as a guide to set comp tiers and payout rates.
Examples of Casino Comps
Some casino comp systems are more transparent than others. It's a good idea to look at some of these specific systems to get an idea of how casino comps work.
Caesar Rewards is one of the biggest loyalty systems in the industry, with 40 member properties worldwide. This system is free to join and tracks your play and spending at Caesar Rewards properties. It also gives members special access to dining, show tickets, shopping, and hotel rates. Caesar Rewards pays out two kinds of rewards points – Tier Credits and Reward Credits.
Tier Credits contribute to your overall Tier Score which sets your status for a given year, between January 1st and December 31st. The basic tiers are Gold, Platinum, Diamond, and Seven Stars.
Reward Credits are like Caesar's currency for getting your player benefits. These points can be redeemed for instant cash back or as points to go toward room, food, or entertainment at any Caesars property. The system is simple – every Tier Credit you earn also earns you a Reward Credit. You earn Tier Credits by placing bets.
Caesars Rewards is a little secretive about their exact exchange rate in terms of bets to reward points. I was able to find a couple of specific numbers. Apparently, for every $5 you play on slots, you earn 1 Reward Credit. You earn 1 Reward Credit for every $10 you play on video poker. Caesars doesn't disclose their formula for table games like blackjack and craps, but it's probably not that different from the formula for machine games as described.
Here's the credits scale for the different tiers through Caesars Rewards:
Gold Tier:
0-4,999 Credits
Platinum Tier:
5,000 – 14,999 Credits
Diamond Tier:
15,000 – 24,999 Credits
Diamond Plus Tier:
25,000 – 74,999 Credits
Diamond Elite Tier:
75,000 – 149,999 Credits
Seven Stars Tier:
150,000+ Credits
The benefits that come with the Seven Stars Tier include complimentary early check-in and late check-out, a free upgrade to the best available room at check-in for free, access to special free airfare offers and exclusive travel vouchers, and discounts on shopping and vacations.
Of course, Caesars Rewards isn't the only game in town.
Some casino properties have their own bespoke loyalty programs and don't rely on the larger networks as described above.
Treasure Island, on the Vegas Strip, has its own system called TI Player's Club. It's a loyalty program like any other, but it only applies to play at their Vegas casino-resort. The TI Player's Club is described as a fairly standard comp system, rewarding comp'd or reduced-rate rooms, tickets to shows, free meals, access to members-only events, and special invitations to tournaments and other casino events.
The exchange rate at Treasure Island is similar to what you find at Caesars properties, but a little cheaper. You earn a TI point for every $4.50 you play into video poker, and one for every $1.50 you play into the slots or other machine games.
How Much Do You Have to Spend to Get Comps?
In case you haven't figured it out by now, the casinos don't really want to tell you how much to spend to get access to their freebies.
We can make some assumptions, though.
You don't have to spend much at all to earn the lowest level of comps. Casinos will toss you a free cocktail almost immediately when you start playing if you order it. Play for an hour or so at most casinos and you've done well enough to get your paid self-parking comp'd.
However, the gap between those low-level giveaways and even the very next tier of rewards is pretty wide.
If you're a slots player, and you join the Caesar Rewards program, you'll need to put $25,000 in action through the slots to get to the second tier. That's about 41 hours of play at $1 per spin. If you play video poker, the number is bigger. You'll need to put $50,000 into the machines to get boosted to the second tier. That's 40,000 plays at $1.25 per round or about 50 hours of play at the typical speed. To get to the Seven Stars tier as a slot player, you'd need about 1,230 hours of slot play. That's more than 51 full days of playing slot machines. Remember, all that play has to be during the same calendar year for you to earn the rewards.
Clearly, to get the best offers from the casino, you've got to have a lot of money at risk and be a regular enough customer to rack up either hours of play or tens of thousands of dollars in bankroll losses.
Earning free stuff from the casino is expensive.
Conclusion
Some players work casino comps to their best advantage, playing at full tables to reduce their losses, picking the best-possible video poker odds, and doing everything they can to minimize losses and maximize their giveaway earnings.
Though casino loyalty programs have tightened to a point where this kind of bonus-maxing requires something like a full-time job to pull off, you'll still find advantage grinders out there subsisting on comp'd French fries and watery Sprites.
There's no reason you shouldn't join a casino's loyalty program if you're going to gamble there anyway. Just don't expect too much in the way of cool free stuff until you're gambling big money in high-risk situations.