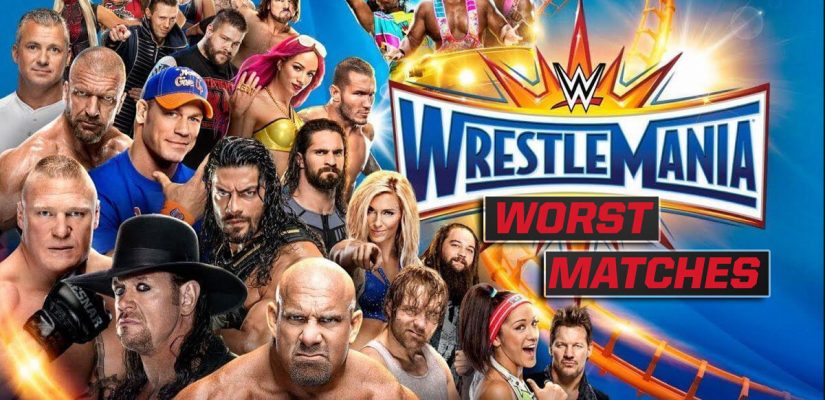 WrestleMania 38 is less than a week away, which means we're talking about all things WWE over the next few days. World Wrestling Entertainment's most prestigious annual event will take place over two days (Saturday, April 3 & Sunday, April 4) at AT&T Stadium in Arlington, Texas.
Today, we're looking at the ten worst WrestleMania matches of all time – and trust me, there were plenty of clunkers from which to choose. But before we dig into some of WWE's most fantastic flops, remember: WrestleMania being right around the corner means an influx of quality WWE betting lines online.
This weekend promises to be one of the most exciting pro wrestling betting opportunities of 2022. Our favorite WWE betting sites have already posted odds for every match scheduled on the card.
Keep an eye on The Sports Geek's blog section; we'll publish a series of WrestleMania 38 previews and predictions throughout the week.
As for this article, taste is subjective, so my "ten worst WrestleMania matches" will be different from other wrestling fans'.
My Rankings Considered the following factors:
Expectations

There are plenty of filler and gimmick matches involving lower card talent that would technically qualify as worse overall, but I'm judging the performances relative to expectations.

Name Value

This is in a similar ballpark as the previous factor. Matches featuring more prominent stars stand out more — and mean more –when they flop.

Timing / Contrast

Horrible performances appear that much worse when followed or preceded by matches that brought the house down. When a segment on the card stinks enough to cool off a crowd still buzzing about the legendary battle they've just witnessed, you know it's one of the worst WrestleMania matches of all time.

Historical Significance

I'm also considering these WrestleMania matches' place in history. They could be responsible for forcing WWE to implement changes or have forever altered a wrestler's career. A few examples below are almost celebrated for being such monumentally awful ideas.

In-Ring Performance

Within the context of the previous variables, actual in-ring action is of the utmost importance when rating the worst WrestleMania matches.

Public Reception / Outrage

How angry did the WrestleMania match make WWE viewers? Did it become a source of public ridicule amongst online wrestling communities?

Fan response is a crucial factor when putting together this kind of list. The source of blame behind many of WWE's worst WrestleMania matches is Vince McMahon's terrible booking decisions (usually involving the humiliation of a fan favorite, derailing any momentum built getting themselves over with the crowd). If the outcome – or egregious booking decisions within the match – sully a passable in-ring presentation, the result is still just a bad match.
10. Butterbean vs. Bart Gunn—WrestleMania XV
I will kick off this list with the worst WrestleMania match that ended with the loser knocked unconscious and ruined professionally. It was a fitting end to the Brawl for All tournament, universally recognized as the most idiotic, irresponsible series of "matches" in WWE history.
The Brawl for All tournament featured wrestlers donning boxing gloves and competing in Tough Man-style fights on Monday Night Raw. The event was supposed to build Dr. Death Steve Williams as a real-life badass ahead of a long-term feud with Stone Cold Steve Austin.
Instead, Bart Gunn – an unheralded low-card talent — emerged as the best boxer in the competition. He knocked out Steve Williams, the Godfather, and Bradshaw en route to the championship bout, effectively exposing his peers as fake tough guys in the process.
So, did Vince capitalize on Gunn's surprising success and use it to launch his career?
Nah – he decided to punish Bart for messing up WWE's plans, allowing his victims' reputations to be destroyed in vain.
As a reward for winning the tournament, Bart Gunn was given a WrestleMania match against superheavyweight boxing legend, Butterbean.

The professional wrestler was exposed by an actual boxer with better technique and an enormous weight advantage. Gunn was knocked out cold in less than a minute.
The Brawl for All concluded without benefiting a single participant.
On the contrary, it ruined one main event push, injured several participants, and exposed multiple performers who were billed as real fighters.
Considering the damage caused by this unmitigated disaster of a tournament and utter lack of any positive outcomes, WrestleMania XV's Brawl for All championship fight belongs among the worst WWE matches of all time.
9. Booker T vs. Triple H – WrestleMania XIX
Number nine on my list wasn't included because of the in-ring action, but due to who won – relative to how the angle was built. When it comes to this terrible WrestleMania match, context is king.
WrestleMania 19 occurred in 2003, during Triple H's reign of terror – where one deserving wrestler after another was buried by the boss's son-in-law. Nobody was safe from the backstage politicking of the man with the golden shovel.
So, it was upsetting enough when the payoff to the feud was fan-favorite Booker T – a five-time WCW world champion – losing clean, 1-2-3 in the middle of the ring. What made this WrestleMania match worse were the racist undertones preceding the result.
Triple H cut a series of blatantly racist promos on his opponent in the weeks leading up to their match.
"I think you're a little bit confused about your role in life here," he began. "You're going to get to go to WrestleMania, but the fact is, Booker, somebody like you doesn't get to be a world champion. People like you don't deserve it. That's reserved for people like me. That's where the confusion is."

The defending champ continued, "You're not here to be a competitor. You're here to be an entertainer. That's what you do. You entertain people. Hell, you entertain me all the time. Go ahead, do a little dance for me. Go ahead. Give me one of those 'Spinaroonies.' Entertain me. That's your job. Don't be embarrassed. You're here to make people like me laugh. With your nappy hair and your 'suckas.' Hell, I was laughing all week long after you won that battle royal."
Usually, when a wrestling heel behaves that offensively, it's to set up the final payoff – the babyface overcomes, and the villain receives their comeuppance.
That didn't come at WrestleMania XIX. WWE opted to validate Triple H's racist comments about the types of people who "deserve" to be a world champion.
The burial of Booker T is the perfect encapsulation of what's wrong with the WWE product – that's why it deserves to be remembered as one of the ten worst WrestleMania matches.
8. Akebono vs. Big Show – WrestleMania XXI
My eighth entry is another example of WWE booking gimmick matches for WrestleMania. Boxing was a horrible mistake; however, Big Show and Akebono facing off in a legitimate sumo match places this contest beyond "bad idea" territory, landing firmly in the "outright absurd" region.
I mean – they even made Big Show wear the giant sumo diaper.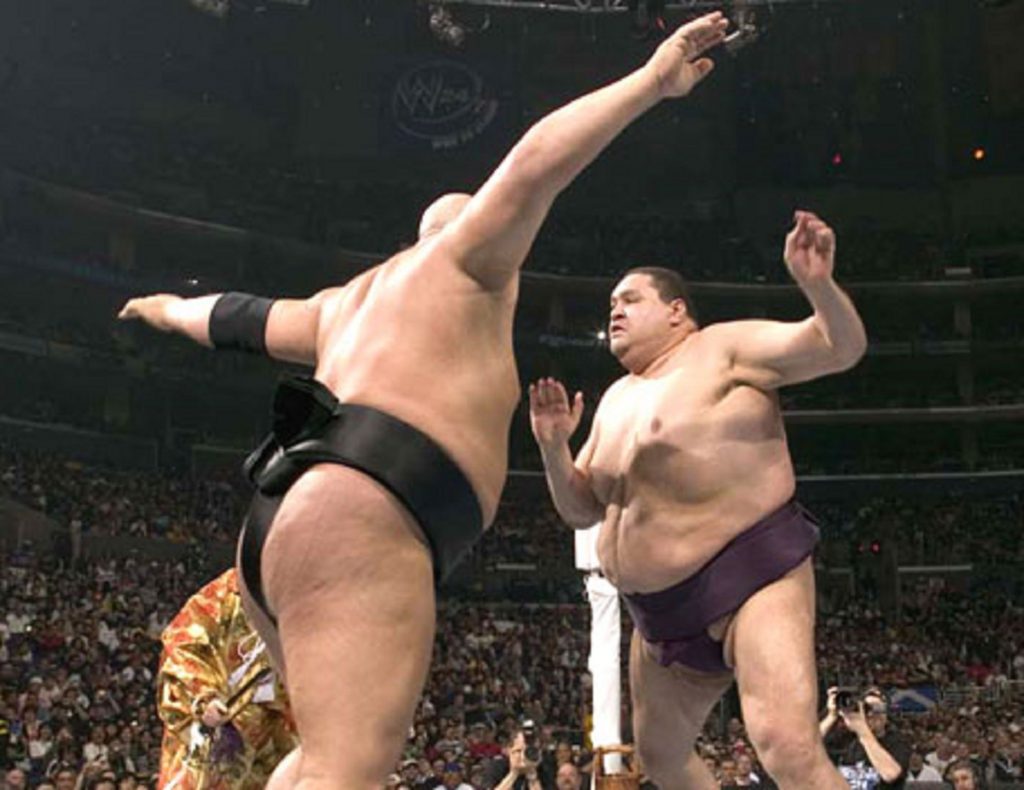 Akebono, the first non-Japanese-born wrestler ever to reach the rank of Yokozuna (the highest in the sport), made quick work of WWE's resident giant — as one might expect from a contest between an expert sumo wrestler and a total novice. Akebono dumped Big Show out of the ring, securing the victory in one minute.
To make matters worse, the bizarre gimmick match was slotted for just-before WrestleMania 21's two main events: John Cena vs. John Bradshaw Layfield (for the WWE Championship) and Batista vs. Triple H (for the World Heavyweight Championship).
As a rule, WrestleMania matches featuring the Big Show in an enormous diaper are always a mistake.
7. Jake Roberts vs. Rick Martel – WrestleMania VII
It's only fitting that our seventh-worst WrestleMania match comes from WrestleMania VII in 1991. Once again, it involves Vince McMahon's promotion ruining the blowoff match of an ongoing feud with a ridiculous gimmick.
Jake Roberts and Rick Martel wrestled in a "blindfold match," which consisted of both men wearing black sacks over their heads. The first problem was that they could obviously see through the bag. However, they still had to work "blindness" into the performance, making for a dull, disjointed abomination of a WrestleMania match.
Watching people pretend not to see might be worse than if they'd just attempted to wrestle blind.
6. Bam Bam Bigelow and Luna Vachon vs Doink the Clown and Dink the Clown – WrestleMania X
I was reluctant to include this tag team showcase from WrestleMania 10 because of how hard I laughed upon rewatching it for this article. My God, was the WWF a strange place in the early-to-mid-nineties.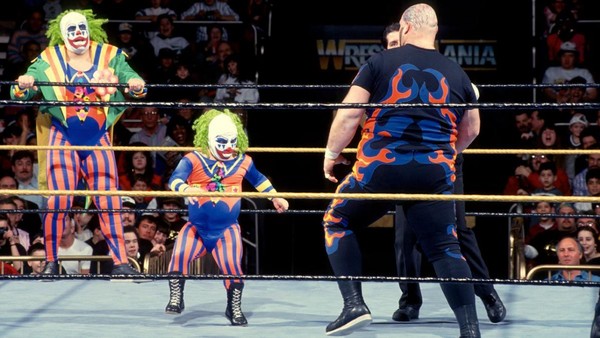 This contest featured Bam Bam Bigelow and his "main squeeze," Luna Vachon taking on Doink the Clown, and his "mini me," Dink…a little person. The segment stinks plenty on its own merits. Still, to really drive home the point, by comparison, it immediately followed one of the best WrestleMania matches ever: Bret Hart vs. Owen Hart – brother versus brother.
The comedy spots were all hacky and lame, and there was very little wrestling to be found. A significant portion of the six-minute fiasco consisted of Luna chasing Dink around the ring.
I don't know if it qualifies as one of the worst WrestleMania matches; it more closely resembles a terrifying acid trip.
5. The Undertaker vs. Giant Gonzalez – WrestleMania IX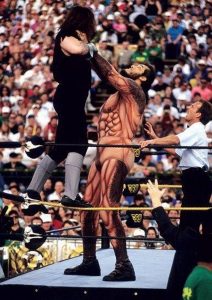 When compiling this list, I realized that The Undertaker's fabled WrestleMania winning streak includes quite a few absolute duds. The most egregious examples occurred fairly early in Taker's career before WWE ever acknowledged – or were probably even aware of – "the streak."
There were several examples worthy of inclusion in this article, but his WrestleMania 9 showcase with Giant Gonzalez deserves to be here the most. Everything about this performance is abysmal – often comically so.
For starters, Giant Gonzalez decided to wear full-body tights airbrushed to look like he's nude except for very pronounced muscles and patches of hair. An undead wizard fighting a giant trying to appear naked will always garner mixed reviews.
Still, the visual presentation was better than the actual wrestling. Giant Gonzalez was too devoid of talent for The Undertaker to carry through a match, resulting in a clunky, disjointed mess.
The icing on the cake was a ridiculous finish that saw Gonzalez chloroform The Undertaker, knocking him unconscious and earning the massive muscle nudist a disqualification loss.
4. Kane vs. The Great Khali —WrestleMania XXIII
Here's a formula for terrible WrestleMania matches: big man versus big man, one of whom is either too green or too immobile to compensate for the loss of their main gimmick – being larger than their opponents. Take away the handful of classic "giant" spots, and you get oversized stiffs who can barely move, much less work, to save their lives.
The Great Khali is a prime example.
His only talent is "big," so when his opponent isn't running around, bouncing off him to make Khali look strong, he's worthless in the ring.
Kane did his best to bump for the mammoth Indian, who WWE was trying to sell as a believable contender for John Cena's title. Despite the Big Red Machine's best efforts, the five-and-half-minute slog deserves its place among the ten worst WrestleMania matches.
3. Jerry Lawler vs. Michael Cole – WrestleMania XXVII
Jerry "The King" Lawler is one of the greatest, most influential professional wrestlers in the industry's history. Unfortunately, most of his career – and the entirety of his prime – took place in Memphis during the territory days. Lawler was a full-time color commentator by the time he got the opportunity to perform at WrestleMania.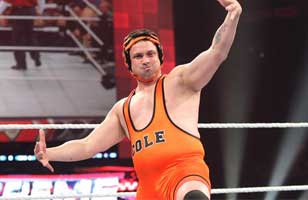 After years behind the desk, WWE finally decided to give their 60-year-old announcer a WrestleMania feud. Rather than give him a respectable younger wrestler with whom to work, the King was paired up with fellow commentator Michael Cole.
The purpose of the feud was to turn Cole heel. First, he sabotaged Lawler, costing him a Tables, Ladders, and Chairs match for The Miz's WWE Championship. He then spent the following weeks mocking his much older broadcast partner. He even took shots at Lawler's mother, who had passed just weeks earlier.
Finally, the two agreed to meet in a WrestleMania match with special guest referee JBL.
The performance deserves to be included here for Michael Cole's orange wrestling singlet and the shockingly peach-shaped body, if for no other reason.
That said, the whole thing was a forgettable, overproduced dud. It ended in Monday Night Raw's computerized GM intervening to disqualify Jerry "The King" Lawler, naming Cole the winner.
2. Sheamus vs Daniel Bryan, WrestleMania XXVIII
Sheamus versus Daniel Bryan at WrestleMania 28 is everything rotten about Vince McMahon's company, distilled into 18-seconds.
It took years for Daniel Bryan to find his spot-on WWE's main roster. Then, in 2011, the perennial underdog won the SmackDown Money in the Bank ladder match.
His subsequent feud with World Heavyweight Champion Mark Henry revolved around the World's Strongest Man telling the smaller athlete how he wasn't championship material.
As WWE always does with undersized fan-favorite types, Bryan spent the months following winning the Money in the Bank briefcase losing one match after another on television.
Every time Daniel Bryan would seemingly overcome the odds to claim his title, a new obstacle was thrown in his path. The SmackDown GM voided one championship victory; other times, he fell victim to outside interference.
After all the trials and tribulations, Bryan successfully cashed in the briefcase at the December TLC pay-per-view to win his first WWE World Heavyweight Championship.
The reign ended 105 days later at WrestleMania XXVIII.
Despite being one of the best in-ring performers alive, WWE decided that he'd open the 2012 WrestleMania card on the losing end of an 18-second squash match. Bryan was distracted by a good luck kiss from AJ Lee, leaving him open to a brogue kick and a quick pin, capping off an unpopular loss to Sheamus.
Garbage.
1. Goldberg vs. Brock Lesnar—WrestleMania XX
My choice for the worst WrestleMania match of all time is Goldberg versus Brock Lesnar at WrestleMania 20. What looked like a can't miss barnburner on paper, starring two of pro wrestling's most dominant monsters, became WWE's biggest embarrassment of the night.
Negative crowd reactions were intensified by knowledge that both wrestlers were leaving the company.
With Goldberg's contract set to expire and Lesnar leaving wrestling for an NFL tryout, the Madison Square Garden Crowd said, "good riddance," chanting the "Na-Na Na-Na, Hey Hey Hey, Goodbye" song throughout the boring exhibition.
The two were also showered with chants of "You sold out," "Austin," "This match sucks," "We want Bret," "Boring," "Goldberg sucks," and "Hogan ."The one redeeming moment came after Goldberg's victory, when Stone Cold hit both competitors with his famed "stunner," much to the crowd's delight.
Special guest referee Stone Cold Steve Austin was the only participant to be cheered.
I can't overstate the degree to which neither man cared about their performance. The lack of effort exerted by the pair would likely set some kind of record if it were possible to quantify such things.
Still, when you consider the name value of the participants, Austin being involved, and the natural excitement generated by hoss-versus-hoss matches, few WrestleMania matches failed to meet expectations as dramatically as Lesnar vs. Goldberg at WrestleMania 20.