Pros of the Playamo App
A staggering lineup of banking methods for deposits and withdrawals
One of the largest game collections in the industry with more than 2,000 to choose from
24/7 customer support
Cons of the Playamo App
Lower bonus amounts than the average casino app
Telephone customer support is not an option
Are you looking for an in-depth review of the Playamo casino app? If so, you've found the best one on the internet. By using the information contained in this guide, you'll be able to quickly discern if this casino app is the right one for your needs or not before even visiting Playamo.
If you're wondering what we'll cover in our Playamo app review, check out the details below. Here, you can view all the different sections included on this page. Keep scrolling down to read the complete analysis or click on one of the section titles to skip ahead to it right away.
Playamo Mobile Casino App
Up first, we've assembled a detailed look at the casino portion of the Playamo app. Here, you can see how many casino games they offer, which gaming types are available, which software providers are utilized, and much more.
Live Casino
Are you into live dealer casino games? If so, the Playamo casino app is one you won't want to miss. With nearly 150 choices of live dealer games, Playamo brings more of them to the table than the majority of other competitors in the industry.
Not sure what live dealer casino games are? If not, you'll want to explore this section of the Playamo app. With this type of casino game, you'll be able to play the game along with a real-life dealer from somewhere around the globe. Thanks to a live video feed, you can watch the action as it plays out. For many, this gaming format offers additional excitement over standard online casino games.
Slot Machines
The Playamo casino app is a dream come true for individuals who are fans of online slot machines. The reason for this is that the collection on the app totals more than 2,000 games! With so many slots to play, Playamo offers significantly more options than just about everyone else in the industry.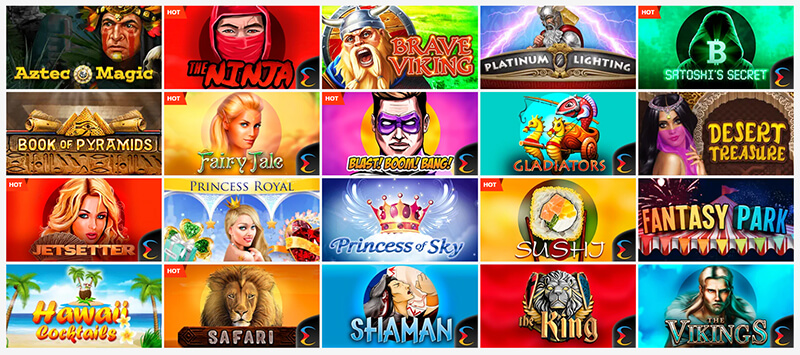 Do yourself a favor and don't miss out on this fantastic assortment of slot machines!
Video Poker
Another great part of the casino included in the Playamo app is its video poker collection. No matter what video poker machines are your favorites, Playamo has you covered! You'll find all kinds of popular variants of the game in both single and multi-hand versions.
Specialty Games
Outside of the major casino game types included above, the Playamo mobile app also offers options for players looking for something less traditional. On the app, you'll find specialty games like scratch-offs and bingo. You can use the main search tool to locate these games if you're interested in playing them.
Table Games
The table games assortment in the app from Playamo also doesn't disappoint. During our review, we discovered roughly 150 table games we could choose from. Once again, this number is much higher than what we find from the average casino app.
All of the most popular table games like roulette, blackjack, and baccarat are included in this impressive lineup.
Playamo Mobile Gaming Software
The main reason the Playamo mobile app can offer such a massive collection of casino games is because of how many different software providers they have partnered with. In total, they work with more than 20 providers of online casino games. Included in the list of providers are well-known names such as Betsoft, Microgaming, and many more. Luckily, all their selected software providers make top-notch online casino games, so you'll always be impressed no matter what type of game you're playing on their app.
We're proud of our ability to give you an honest review, and the online casino provided by the Playamo app is truly impressive. With more than 2,000 games, it's one of the largest collections of quality games in the industry. If you're looking for a one-stop-shop for all your online casino gaming, Playamo should be on your short list of considerations.
Playamo App User Interface
Something else we wanted to touch on in our Playamo casino app review is the app's user interface. In this part of our guide, you'll get to see insights about different components of the UI, such as mobile compatibility, design, and overall app functionality.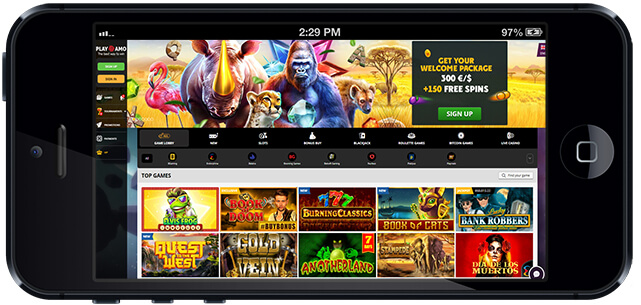 Functionality: After spending a large amount of time using the Playamo app, we're very impressed with its functionality. Everything is clearly laid out in such a way that it's simple to locate precisely what you're looking for.
Mobile Compatibility: Folks looking to play casino games from mobile devices like tablets or smartphones can use the Playamo app to do just that. Thanks to its web-based design, the app from Playamo provides compatibility for most mobile devices currently in the market.
Download Casino: Playamo offers a download casino option. Check out one of our later sections in the review to learn how you can download the Playamo app.
Design: We are big fans of the overall design of the Playamo casino app. The vibrant colors and sharp graphics help this online casino app to stand out from many others in the industry.
Playamo App Banking Options
If you're thinking about using the Playamo casino app, then you're in for a treat when it comes to banking methods. As you'll see below, this app provides a massive lineup of banking options to select from for both account deposits and withdrawals.
Playamo App Deposit Methods
| Method | Minimum | Maximum |
| --- | --- | --- |
| Visa | $10.00 | $4,000.00 |
| Mastercard | $10.00 | $4,000.00 |
| Maestro | $10.00 | $4,000.00 |
| Skrill | $10.00 | $10,000.00 |
| Neosurf | €10.00 | €4,000.00 |
| Paysafecard | $10.00 | $4,000.00 |
| Ecopayz | $10.00 | $4,000.00 |
| Rapid Transfer | €10.00 | €4,000.00 |
| MiFinity | $10.00 | $1,000.00 |
| STICPAY | €20.00 | €3,000.00 |
| AstroPay | $10.00 | $500.00 |
| UPayCard | €10.00 | €4,000.00 |
| ZOTAPAY | $10.00 | $4,000.00 |
| Interac Online | CAD 100 | CAD 4,000 |
| Bank Transfer | €500.00 | €4,000.00 |
| Bitcoin | 0,001 BTC | 2 BTC |
| Ethereum | 0,01 ETH | 5 ETH |
| Bitcoin Cash | 0,01 BCH | 5 BCH |
| Dogecoin | 1500 DOGE | 700,000 DOGE |
| Litecoin | 0,1 LTC | 30 LTC |
| Tether | 20 USDT | 4,000 USDT |
One remarkable thing about the deposit methods available on the Playamo casino app is that all of them are instant deposit methods, meaning you'll have immediate access to your funds. In addition to this, all these deposit banking options are not charged any fees by the casino app, making them all free to use.
Withdrawal Options on Playamo Mobile
| Method | Minimum | Maximum |
| --- | --- | --- |
| Visa | $10.00 | $4,000.00 |
| Mastercard | $10.00 | $4,000.00 |
| Maestro | $10.00 | $4,000.00 |
| Skrill | $10.00 | $10,000.00 |
| Neosurf | €10.00 | €4,000.00 |
| Paysafecard | $10.00 | $4,000.00 |
| Ecopayz | $10.00 | $4,000.00 |
| Rapid Transfer | €10.00 | €4,000.00 |
| MiFinity | $10.00 | $1,000.00 |
| STICPAY | €20.00 | €3,000.00 |
| AstroPay | $10.00 | $500.00 |
| UPayCard | €10.00 | €4,000.00 |
| ZOTAPAY | $10.00 | $4,000.00 |
| Interac Online | CAD 100 | CAD 4,000 |
| Bank Transfer | €500.00 | €4,000.00 |
| Bitcoin | 0,001 BTC | 2 BTC |
| Ethereum | 0,01 ETH | 5 ETH |
| Bitcoin Cash | 0,01 BCH | 5 BCH |
| Dogecoin | 1500 DOGE | 700,000 DOGE |
| Litecoin | 0,1 LTC | 30 LTC |
| Tether | 20 USDT | 4,000 USDT |
The vast majority of the withdrawal banking options on the Playamo mobile app are free to use and instant transfers. However, there are a handful of banking methods with a slight delay of up to a week or so. Check out the banking portion of the casino app to see additional details.
We're highly impressed with the banking methods offered on the Playamo app. In fact, it's one of the best lineups we've seen from any online casino app currently in the industry. Thanks to its long list of options, players using the app will find lots of flexibility when moving funds into or out of their account.
Playamo Casino App Bonuses
Up next, we wanted you to get a feel for some of the ways you can receive bonus cash and other perks while using the casino app from Playamo. In this portion of our review, we'll highlight some of our favorite promotions currently being offered on their platform. Be sure to check out the promotions portion of their app to see even more ways you can score perks while playing on their platform.

First Deposit Bonus
If you're a new user of the app from Playamo, you can take advantage of their first deposit bonus. With this, Playamo will offer a 1:1 match of your opening deposit up to $100. In addition, they'll toss in 100 free spins on one of their leading slot machines.
Second Deposit Bonus
After making your initial deposit on the Playamo app, there's additional bonus cash and spins to be earned on your second account deposit. With this offer, you'll receive 50 free spins and a 50% bonus match that's good for up to $200.
Daily Specials
Should you decide to use the app from Playamo for your online casino gambling needs, be sure to keep an eye out for their daily specials. Currently, there's the ability to receive bonus cash and spins on Mondays and Fridays. If you need to reload your account, try to do it on one of these days to reap the rewards associated with these offers.
High Roller Bonus
If you're planning to make larger deposits on the Playamo casino app, don't miss out on this offer. While the other offers above didn't offer a ton of bonus match potential, this one does. As long as you deposit more than $1,000, Playamo will match your deposit 50% up to $2,000. That means you'll want to deposit $4,000 or more if you'd like to receive the maximum benefit from this high roller promotion.
As a whole, we'd like to see more from Playamo on the bonuses and promotions front. Besides the high roller bonus, their current offers are relatively low when compared to offers we see from other casino apps. In the future, it would be great to see them add in more bonus potential across the board and even more ways for clients to receive additional spins and bonus cash.
How to Contact Customer Service from the Playamo App
As part of our complete review of the Playamo app, we also investigated their customer service. Here, we tested things out ourselves to see how good the support was. Below, we've included feedback about what we found and experienced from the Playamo support team.
Contact Options
Should you have a question or need assistance from the Playamo app customer service team, you'll have two ways to go about getting in touch with them. You can send them a message through a web contact form, or you can use live chat.

If your question or issue isn't that urgent, we'd suggest using the web form. With this, you should expect to have a reply from them in less than 24 hours. However, for more pressing matters, live chat is the way to go. With it, you'll be instantly connected with one of their helpful agents who will assist you in a matter of moments.
Sadly, the Playamo casino app doesn't provide a phone number where clients can call in for help. This is something we'd love to see them add in the future to give more flexibility to their clients in terms of how they can reach out for help when it's needed.
Availability
While the contact options for getting in touch with the customer support team of the Playamo gambling app left us wanting more, we were pleased with the availability we found. Luckily, the support folks for the app work around the clock. In turn, someone is there to help you 24/7, meaning you'll never have to wait a long time to get the answers you need. Compared to many other casino apps in the market with limited support hours, this is a huge leg up.
Even without the ability to call in for support, we're very comfortable with the level of customer service provided to users of the Playamo app. After contacting their team on several different occasions, we were impressed with the response time and the quality of help we received. We do not doubt that you'll be in good hands if you choose to call the Playamo app your online gambling home.
Playamo Mobile App Restrictions
As with any casino app, Playamo has a set of countries that are restricted from playing for real money on their platform. Luckily, the collection of countries not allowed to play on this app isn't terribly long. Below, we've included the list of restricted countries we found at the time of our Playamo app review. If your country isn't included in the bullet points below, that means you should be able to enjoy everything the app has to offer.
*And its overseas territories (Guadeloupe, Martinique, French Guiana, Réunion, Mayotte, St. Martin, French Polynesia, Wallis and Futuna, New Caledonia)
How to Download the Playamo Casino App
After checking out our review of the app from Playamo, some of you might be wondering how you can download their app. If you're one of them, you've come to the right spot of our review. In this section, we'll walk you through how you can get it done.
To download the Playamo app:
It's a straightforward process. From the main website, simply click on the "Playamo App" link located on the left-hand side of the page. From there, the app will install itself on your computer.
It's worth noting that the app from Playamo is a web-based app. In turn, when you download it, it's only placing a link to their website directly on your device, instead of a large software file being downloaded on your computer smartphone, or tablet.
If you don't want to use the Playamo app, you're still able to enjoy everything their online casino has to offer. Thanks to their high-quality mobile-responsive website, you can play all their games from any device with a connection to the internet. Simply point your internet browser to their main website, and you're all set!
Playamo Mobile App FAQ
Understandably, everything we've included above in our Playamo app review might not have answered all your questions. If you're still hunting for some answers, be sure to review the list of FAQs included below.
No. If you're looking to play casino games online for free, Playamo offers that option for many of their games on the app. To do this, select the "Play for Fun" option associated with a game. By choosing this choice, you'll enter a free practice mode. Based on our observation, this is available for nearly all of the casino games on the app, excluding live dealer ones.
No. Currently, the app from Playamo is solely for casino gambling. If you're looking for a trustworthy place to bet on sports online, don't miss our collection of the
best online sportsbooks
.
Yes! In fact, you can use the app from Playamo on the Apple iPad, too. Because of its mobile-friendly design, this casino app works on devices from all sorts of other manufacturers, including, but not limited to, Android, Windows, and more.
If you're ready to get started using the Playamo app, it's very fast and easy to open an account. Simply head to their main website and follow the instructions. Once the account is opened, be sure to use one of the instant deposit methods to fund your betting account. You'll then be ready to begin playing your favorite casino games online. In total, the whole process of opening and funding your Playamo account should take just approximately five minutes.
Final Words on the Playamo App
Thanks for checking out our Playamo casino app review! Hopefully, it has been able to help you decide if it's the casino app you should use for your online gambling. After spending a significant amount of time using their casino app, we're quite impressed, and we believe many of you will be, too.
If you're unsure if Playamo is the right casino app for you, we'd suggest you check out the link included below. Here, you can view some of our other top picks for the best casino apps in the industry. Our goal is to help you find the one that's the ideal fit for your unique needs.
While you're here, we also wanted to introduce you to some of our other popular pages if you're a newcomer to our website. As you'll quickly learn, we've developed tons of quality content to help you get the most out of your gambling, whether it's casino or sports betting related. Don't miss out on our gambling industry news, blog, or online poker pages!