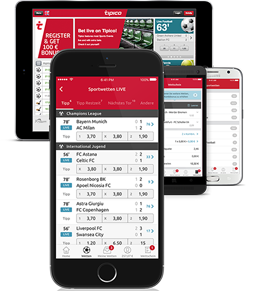 Betting on sports has never been easier. Most sports fans prefer to bet on their favorite teams and players using their smartphones. Online betting operators have recognized this trend and provide fantastic mobile sports betting options.
Our experts have formed the ultimate guide to mobile sports betting in 2022. We'll explain the most important features of these betting platforms, highlight the best ones operating today and explairn what exactly sets them apart.
Top Mobile Sports Betting Sites
After careful research and analysis, our experts have compiled a list of the best mobile sports betting sites in 2022. We recommend looking at each one individually. Those without the time to review these sites can learn a little more by reading the summaries we have provided.
For those of you that are ready to get started now, we've listed our top mobile sports betting sites below. Each one of these sites is first in class. We've handpicked these sites because of their trustworthiness, overall quality, and their customer service record.
Bovada has been one of the most popular online sports betting sites for years. It has always stayed on the cutting-edge of the US sports betting industry and now provides one of the sleekest mobile platforms in 2022. Some members claim the site's mobile platform is even easier to use than its desktop version.
The design of this mobile betting platform will be appealing to both new and experienced bettors. Live betting odds are featured directly on the homepage. Hit the "Sports A-Z" tab to see a complete list of betting odds available here.
BetUS has been working to expand its presence in the US in recent years. It has succeeded in that goal, due partly to the site's excellent mobile sports betting options. The mobile site works seamlessly using both an iOS and Android device.
One of the coolest features here is a "Last-Minute Bets" section that highlights odds for upcoming sporting events. It's a great way for sports fans to earn quick money on winning bets, 24/7. The live chat feature is another great way to learn more about what this site has to offer.
For many years, BetOnline operated with an old, outdated design. The site's owners decided to update its design recently and BetOnline now features one of the most modern mobile online betting platforms in 2022. BetOnline's massive variety of odds is still what has helped it reach such a large userbase over the years.
Members here can bet on just about every major sporting event taking place around the world. To make things better, BetOnline provides a comprehensive list of prop bets for these events. That large variety of odds gives bettors far better opportunities to earn money than mobile sportsbooks offering only moneyline odds.
MyBookie has gained a huge following thanks to its many sponsorship deals with various sports stars. The site's excellent design and user interface are what keep bettors there. As you might expect from a modern betting platform, this site is very sleek and makes it easy to find odds on major sporting events.
New and existing members here have access to fantastic promotions. That includes the 50% welcome bonus on players' first deposits up to $1,000. MyBookie is constantly adding new odds and deserves its spot as one of the best mobile sports betting sites in 2022.
SportsBetting is unlikely to win any awards for style points. It has a slightly outdated design that many have called to be modernized. What it lacks in design, however, it makes up for with a huge collection of odds and solid bonus offers.
This mobile site also features a great racebook. Fans of horse racing will love the ability to bet on races taking place around the world using just their phone. Expect to find odds on major sports leagues including the NFL, NBA, and MLB, too.
Key Features of Mobile Betting Sites in 2022
In this section, we're going to detail the top things that you should look for in a mobile sports betting site. While you don't necessarily need to locate a site that offers all of these, the more boxes that you can check off this list, the better. Be sure to keep all of these things in mind as you hunt for your mobile sports betting home.
Device Compatibility
When dealing with a mobile sports betting site, one of the first things you need to look for is a site that is compatible with the device you plan on using. If a site that you are interested in doesn't work well on your device of choice, then it doesn't make any sense for you to wager there. What you'll want to do is test out potential sites on your tablet, phone, or laptop to make sure that the site functions as it should. If you're unsure about device compatibility, consider reaching out to the site's customer service team for assistance.
In order to help you go deeper into device compatibility, consider checking out the following links. If you're currently using an iPad, iPhone, Android phone, or BlackBerry, we've done specific write-ups about our favorite online sportsbooks for each of those devices. You'll find each of the links below, where you can learn more information specific to your device.
Competitive Lines
Once you've got device compatibility sorted out, take some time to investigate if a site is offering competitive lines. Your goal should be to find a site that provides competitive lines most of the time. By doing this, you'll add more profit to your bottom line over time versus betting on a site with less competitive lines.
It's super easy to shop a site's line competitiveness. For starters, you should compare lines between different mobile sports betting sites. Also, you can use the internet to research the Las Vegas odds being offered at sportsbooks there. If you notice that your site seems to be in line with other sportsbooks, you're all set! However, if you see that the lines are not as competitive, you should keep shopping for another site. In general, lines tend to be pretty similar from site to site. However, there can be differences, and some frequently tend to offer less competitive odds than the industry average.
Bonuses and Promotions
When you're looking for your mobile sports betting site home, also pay attention to the bonuses and promotions that they have to offer. If you're new to betting online, you should know that online betting sites tend to offer some great bonuses and promotions to help bring in new clients and retain current ones. Over time, these sportsbook bonuses and promotions can help you add thousands of dollars of bonus cash to your betting account!
One of the best forms of bonuses out there tends to be the welcome bonus. On many mobile sports betting sites, they'll match a portion of your initial deposit dollar for dollar. For example, a website might offer to match your initial deposit 100% up to $500. Therefore, if you deposit $500 or more, you'll score $500 in bonus cash on that site. By shopping around for an excellent welcome bonus offer, you can help yourself get a satisfying jumpstart to your betting account.
Another bonus that is pretty common is a reload bonus. The goal of this type of reward is to help you earn more bonus cash when you need to recharge your account. Often, if you're reloading your account, that means that you've lost everything you've deposited there. These sites use these bonuses as a way to help you get some extra mileage out of your reload deposit. Often, these reload rewards will operate much like a welcome bonus and will have some form of dollar-for-dollar match.
Outside of welcome bonuses and reload bonuses, you'll also typically see mobile sports betting sites offer other exclusive bonuses and promotions from time to time. These types of rewards tend to be specific to some particular wager or sport. For example, a site might offer reduced juice bets on all Monday Night Football wagers. Just be sure to keep an eye on your email inbox, along with the site's promotions page, to make sure that you're always up to date with the latest promotions available.
It's also worth pointing out that many of these mobile sports betting sites will have bonuses and promotions tied to their online casino offerings. If you think that you'll spend some time in the online casino, these rewards are worth shopping around, too. In general, we often see casino welcome bonuses, reload bonuses, and other special bonus offers. By taking advantage of these, you can add even more bonus cash to your betting account.
Sports You Can Bet On
Before committing to a mobile sports betting site, check out the sports that you can bet on there. Your primary goal should be to locate a site that offers the sports you like to wager on. If a website doesn't provide some or all of the sports that you prefer to wager on, it is a waste of your time.
Ideally, we'd suggest that you locate a site with your favorite sports to wager on and then some. By going this route, you'll be able to expand the list of sports that you wager on at a later date, should you choose to do so. If you select a mobile sports betting site with too few sports to bet on, you may end up outgrowing it at some point.
Expect to find more than just sports betting odds online.
Many of the casino apps operating today also serve as online sportsbooks. Modern gambling sites want to provide members with as many wagering options as possible. We recommend looking at the full list of sports odds available, as well as checking if these mobile betting sites offer any casino games.
User Interface
While checking out potential mobile sports betting sites, make sure to take note of their user interface. If you don't know what a site's user interface is, it is what determines how you interact with the site. For example, the interface defines how you move about the site and search for things.
If a site has a robust user interface, you should be able to quickly navigate around the site and find things that you are looking for. If you see yourself struggling with either of these, then the user interface might not be the best fit for you. Luckily, user interfaces vary between sites, so you can quickly look for other potential options if one site's user interface is not one that you like.
Keep in mind that user interface preference can vary from person to person. Just because a friend or online review has said they like a site's user interface doesn't necessarily mean that you will.
Banking Options
To wager with real money online, you'll need to locate a mobile sports betting site that offers you banking options that you want to use. If you can't find this, you'll have a tough time moving your money onto and off of the site. For example, if you prefer to bank using PayPal, you should find a site that offers PayPal as a banking option for deposits and withdrawals.
In most cases, a site specifies their banking options on their cashier page. If you don't find this information posted, you can always reach out to one of their customer service agents to inquire about their banking options. While reviewing your banking options, also take a moment to consider any fees associated with your preferred method of banking.
Quality Customer Service
You should make it a goal to find a site that offers you quality customer service. If you have an issue or question at some point in the future, you'll want to rest assured knowing that your site has a solid team that will help you.
There are two key things that you'll want to seek from a site's customer service team. The first thing is availability. You'll want to locate a site that offers you customer service support during the hours you need it and through convenient contact options. For example, if you live in the United States and a site only offers support during London business hours, you're going to have a tough time reaching them in most cases. Similarly, if a site only offers phone support through an international phone number that will cost you long distance fees, you'll probably want to look elsewhere.
The second key thing relating to customer service is the actual quality of their assistance. Even if a site has a team manning the support department 24/7, it's worthless if their team is not helpful. We would suggest that you test drive the customer service quality by contacting them yourself. Just reach out and ask a few questions and see if you get quality answers from their team in a timely fashion.
Downloadable Mobile Sports Betting Apps
Convenience is key when betting on sports online. Many bettors love the ability to grab their phones and bet on upcoming events. Some of the mobile sports betting platforms in 2022 provide downloadable apps that can make this process even easier.
As the name suggests, these platforms need to be downloaded and are generally available to both iOS and Android users. This removes the need for a web browser.
In some cases, these mobile betting apps work better than traditional mobile web browser sportsbooks. They are designed with simplicity in mind.
In order to find these apps, head over to the sportsbook's website. From here, a link to the site's downloadable app will be featured. This link will redirect players to the Apple Store or Google Play Store where the apps can be quickly downloaded.
The designs may differ from apps to mobile online betting sites. Generally speaking, the betting process remains exactly the same. Make sure to check out the sites we recommend and look to see if they provide a downloadable application.
Why Bet Online?
We often get the question from readers about why they should bet online. Many on staff here also had that same question until they one day saw the light and realized why online sportsbooks are so much better than traditional retail sportsbooks.
In short, there are several different reasons why you should consider betting online. The main reasons are the convenience factor, potential free money, and the selection of sports that you can bet on. We'll dive deeper into each one of these factors below to help you better understand why you might want to gamble online.
Convenience Factor
If you're like the majority of people, you don't have a casino or sportsbook that is very convenient to your home. Unfortunately, most people have a pretty good trek to get to their closest one. Because of this, getting to the sportsbook to place your wagers eats up lots of time and gas money.
Trust us; we get it. Between work, family, and other things that pop up, it's often hard to find time to get to your local sportsbook. Luckily, online sportsbooks allow you the ability to bet where you want and when you want.
You can now save yourself the hassle of getting to your local sportsbook. Instead, just pull out your laptop, tablet, or phone, and wager to your heart's content. Thanks to mobile sports betting sites, as long as you have a smart device and a cellular connection, you're able to wager.
What's beautiful about betting online is that you can now wager much more efficiently. Even with just a few moments between putting the kids down to nap and needing to mow the lawn, you can make sure that you get the wagers in for that night's action. Instead of spending a ton of time in the car, you can get back to living your life. If you've never tried it, give it a shot. We think that you'll quickly realize just how easy it is to wager online versus at your local sportsbook.
Potential Free Money
We're also monster fans of betting online thanks to the possible free money that you can earn through bonuses and promotions offered by the sports betting sites. In general, your traditional brick-and-mortar sportsbooks and casinos don't provide a ton of chances for you to earn free cash. On the flip side, it is super common with sports betting sites.
With sports betting sites, you'll have lots of opportunities to score free bonus cash. Be sure to check out the section above on bonuses and promotions to learn more about what to look for so you can maximize the amount of bonus cash that you can earn.
Selection of Sports
One of the other strengths of betting online versus at your local sportsbook is that you tend to have more sports to bet on. While both online sportsbooks and your local one will have all of the major sports like basketball and football covered, online sportsbooks tend to have more hard-to-find sports available.
At online sportsbooks, you can often find sports such as futsal, Aussie rules, and floorball. In addition, we've also seen many online sports betting sites offering wagers on esports, which are hard to come across in brick-and-mortar sportsbooks. While the significant sportsbooks in Vegas are covering them, many of your more local casinos and sportsbooks are not. Even if you're not currently interested in wagering on some of these harder-to-find sports, keep in mind that they are there if you want to wager on them later.
Mobile Sports Betting FAQs
We didn't want to wrap things up without including some frequently asked questions. In this section, we've gathered up some questions that we often hear in relation to mobile sports betting sites.
For the most part, you should be safe when using a mobile sports betting site, assuming you've found yourself a reliable website to wager on. Typically, the folks that we hear from that end up having issues are folks that didn't take the time to do their research. By doing a little bit of homework like you are currently, you can make sure to avoid the pitfall of ending up on an untrustworthy site.
The list of our top mobile sports betting sites located at the top of this page represents our favorite places for mobile betting. Also, they are also very trusted sites. If you decide to go with any of those websites, you can wager with the knowledge that you're in good hands.
If you're up for it, we'd suggest that you consider signing up for more than one mobile sports betting site. By doing this, you'll be able to shop your lines between both locations. While lines are often the same or very close in most instances, sometimes things will vary between locations. If you're signed up for more than one mobile sportsbook, you can always make sure that you're getting yourself the best bang for your buck by line shopping between the two. For those of you that are new to all of this and a bit overwhelmed, you might want to consider this once you get the hang of things. While having an account on more than one mobile sports betting site is excellent, it is not a requirement. You can always add on another site account at a later date when you're ready.
To use a mobile sports betting site, you'll just need some form of a tablet, phone, or laptop. The odds are that if you have purchased that device in the last three years or so, you'll be fine to use it with a mobile sports betting site. To test if your device is compatible, just try using it on a site that you are considering signing up with.
Before you can get started with a mobile sports betting site, you'll first need to decide which one you would like to do business with. We suggest that you do some homework on sites before deciding on which one to go with. If you're brand new to all of this, check out the list of our top mobile sports betting sites at the start of this article. Each one of these sites is reliable and trustworthy. Once you've found the site that you'd like to go with, you'll then just need to sign up and load funds onto the site. Both of these steps are usually pretty quick and painless. Then, once you have your money loaded on the site, you're free to begin making sports wagers.
For the most part, you should not find it too difficult to move your money onto and off of a mobile sports betting site. What's important is that you locate a website that provides you with banking options that you prefer. For example, if you prefer to use PayPal, you should identify a mobile sports betting site that lets you use PayPal. By finding a website with your preferred method of banking, you should be unlikely to deal with any issues moving your funds on or off of the site.