Santa Anita Derby betting sites provide you with all the betting action if you can't make it out to bet on the race in person. These horse racing betting sites can also offer you exposure to all kinds of events, sports, and even casino games.
But the key to receiving ultimate enjoyment and satisfaction is knowing how to choose from among the many online betting sites available to you. Luckily, we can get you started by narrowing down the field to the sites that we believe are the best Santa Anita Derby online racebooks, which you can find right here:
In the world of horse racing betting, there are few tracks more scenic to race than Santa Anita in California. With the Pacific Ocean looming not too far from the track, racing at Santa Anita features top talent trying to perform well at a historic track that has crowned many great champions. And many of those champions made their mark by winning the Santa Anita Derby.
The Santa Anita Derby features some of the best three-year-old Thoroughbred racing talent from that part of the country and beyond. As you might expect from a race of this caliber, it presents some excellent betting opportunities.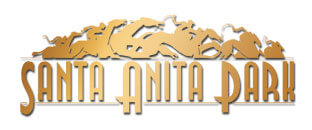 The best real money online Santa Anita Derby betting sites can provide you with the smoothest betting experience and the widest variety of sports and horse racing betting opportunities. They can pile you up with worthwhile bonuses that will help add to your bottom line.
Once you've checked out our recommendations for the best Santa Anita Derby betting sites above, you can learn about how we made those decisions. In the following section, we will discuss all of the characteristics that we sought out in those horse racing betting sites. Then, we are going to tell you why the Santa Anita Derby makes for such an exciting race and how you can learn to wager on it and other horse races properly.
Top Santa Anita Derby Betting Sites
If you do a quick internet search of the term "Santa Anita Derby betting sites," you might be surprised at how many you uncover. You should then be prepared to dig into the sites which intrigue you and do the research to see what they're all about. This could entail reading about their terms of services, bonuses and bets, or even checking out the feedback of other bettors to see which sites they prefer.
To help you with that process, we went about finding the top online Santa Anita Derby racebooks ourselves. We looked at how these sites operated and also checked out what bettors were saying about them.
More than that, though, we thoroughly researched how they handled different parts of the online betting process. When you settle in to make bets at these top Santa Anita Derby betting sites, certain key characteristics about the site will stand out. And, if the site is a good one, these qualities will be on display without fail.
When we decide which of the real money Santa Anita Derby online racebooks should be at the top of our list, we made sure that they were all solid in these six key categories. These categories run the gamut from how bets are handled to what types of bets can be made, as well as how the site deals with banking transactions. Check them out below:
Betting Bonuses
Betting Variety
Mobile Wagering and Site Functionality
Funding Options
Deposits and Withdrawal System
Customer Service
All of these qualities are important to the process of online wagering. If you try to get away with a site that isn't up to speed, it could come back to bite you. Often, you won't know there are problems in the beginning, but once you start placing horse racing bets, you might find issues.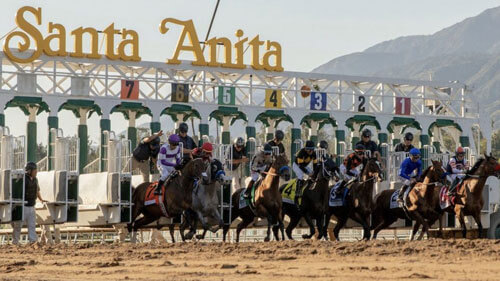 Which of these categories are most important for a Santa Anita Derby betting site to possess? Well, they're all important, but what is more important may come down to your personal preferences. You might have the need for a site to be stronger in one area than another, and that's something that you'll have to determine on your way into the selection process.
For example, it might be of the utmost importance for you to be able to score the biggest bonuses. There is no right or wrong way answer in this case, but it is important that you define the things that you need most out of a site.
Another thing that you should try to do before choosing the best Santa Anita Derby betting sites is familiarize yourself with what will happen when you sign up for an account. By knowing what to expect, you can identify the areas that are top priority.
Although we feel pretty confident that we've provided you with a comprehensive list of the top sports betting sites with Santa Anita Derby odds, it is possible that something flew under our radar. That could be because the site is just starting out, or perhaps it has undergone changes.
You don't have to be afraid of going with a site that isn't listed here, as long as you subject it to the same rigorous standards that we applied to the horse racing betting sites above. If you do that and find that a site passes all your tests, feel free to give it a shot. Or you can take our list of sites and stick with them, researching until you find the one that suits you best.
No matter what process you choose to get it done, make sure that your research on the best real money Santa Anita Derby betting sites is extensive enough that you can be comfortable with your choice. Betting is a somewhat stressful endeavor, considering your money is on the line. You don't want to add to your stress by choosing a betting site that you can't be sure is in your corner.
To do that research, you need to know how the categories that we mentioned above fit into the online wagering process. Let's take a look at that now to help you out. Once you have the basic of betting online at Santa Anita Derby online racebooks down pat, you'll be able to make your choices with confidence and sign on with the site that provides you with an ideal betting experience for horse racing and whatever else you might have on your wagering agenda.
Real Money Betting Bonuses
Bonuses might be the first thing that grabs your attention when you visit Santa Anita Derby betting sites. After all, the advertisements for these bonuses are usually plastered all over the site, and there might even be some of those bonuses that are tied into the Santa Anita Derby itself, considering how popular the race is. You might also get notifications from the website through email or text about bonuses or offers which might be suited to what you like to wager.
You shouldn't get too carried away with focusing on bonuses, which can be easy to do.
Keep in mind that you are likely to find other Santa Anita Derby betting sites with similar bonuses. In fact, if you do a little comparison shopping, you might even find better deals.
This can especially be true when you take the rollover requirements into play. Rollovers are restrictions which require you to bet a certain amount on top of the bonus amount before you are allowed to collect your winnings. In that way, Santa Anita Derby betting sites can help to ensure that you do some wagering with your bonuses.
If you get too carried away worrying about bonuses, you could miss out on some of the more substantive elements of the site. But betting bonuses can help boost your bottom line, so don't ignore them either. It might be best to use them as a deciding factor if you are stuck between two online Santa Anita Derby racebooks in terms of your final choice.
Betting Variety
It makes sense to go with the sites that are strongest in the areas where you like to bet. If you're interested in the Santa Anita Derby, it probably means that you have a deep interest in Thoroughbred racing. As a result, you should be looking for the horse racing betting sites that offer you access to not just the big stakes races, but also routine, "overnight" races at tracks all over the world.
You might also like to have the option of placing specialty bets on some of the bigger races. As an example, futures wagering on big races like the Santa Anita Derby might be of interest to you. With a futures bet, you can lock in a price on a horse well before the race, giving you the opportunity for more favorable odds than what you will get right at race time.
In addition to horse racing, many top wagering sites will allow you to take your chances with other sports. Horse racing is always in season, but there might be certain times of the year when the races are less interesting to you for wagering purposes. That's when you might be glad for the opportunity to bet on other popular sports.
Finally, online casino action might be something that you'd enjoy at Santa Anita Derby betting sites. Many sites feature all the top games that you can play at your local casino, including video poker, table games and slot machines. Having one site to handle all of your online betting needs can be a source of great convenience for you.
Mobile Wagering and Site Functionality
It's common sense, but you should be looking for a site that works properly whenever you need it to do so. Some people get so excited to do some online wagering that they overlook the most basic services that a site can perform. You can trust the top Santa Anita Derby betting sites that we've listed will function properly.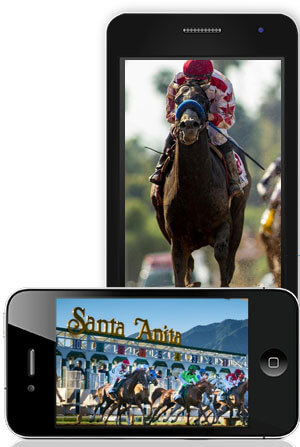 You should make sure to do a little tour of any site that you plan on using. Look for problematic areas like broken links or pages that aren't there anymore. Be also on the lookout for slow loading times, since that can interrupt your opportunity to put a bet down in a hurry.
Part of what makes a site functional is its ability to handle your wagers no matter where you are at any time of the day or night. And that's why some sort of mobile betting aspect should be available with the online sportsbooks with Santa Anita Derby odds you choose. That will ensure that you can get your bets in even if you only have a smartphone at your disposal.
Make sure that both your app and the website itself is easy to use. Not everyone has the technological knowhow to handle confusing web pages or apps. Check these websites out beforehand to make sure it's easy to get around and do all that you need to do to place your bets.
Funding Options
If you've never gone through the process of online wagering, you might not realize just how important it is to have multiple funding options at your disposal. Maybe you'll be lucky to find that the Santa Anita Derby betting sites you've chosen allow the options that you prefer. But it's a good idea to check first to make sure.
Most sites will have a list of the different methods that you can fund your betting. Some might even make it a big part of their advertising, bragging that you can use a lot of different methods for funding. It's a good idea to find out if the methods that they do allow are in line with how you want the process to go for you.
If you're okay with paying with a credit card, most Santa Anita Derby betting sites will be able to take care of you. Just make sure that the card that you prefer to use can be used for online gambling. Depending on your jurisdiction, there might be some legality issues which would cause certain credit card companies to balk at their funds being used for online gambling.
Alternative methods allowed at top real money online sportsbooks, such as online payment systems, bank transfers, money orders, prepaid cards, or even cryptocurrency, all have their advantages and disadvantages. When it comes to online gambling, it's important to find the method that works for you in terms of its ease of use and cost-effectiveness. If you're forced into using something with which you're not comfortable or which hurts your bottom line, your overall experience will suffer.
Deposits and Withdrawals
We talk a lot about the bottom line in online gambling. While gambling should be fun, you should still be looking at it as an investment. When you look at the way that a Santa Anita Derby betting site handles withdrawals and deposits, you are essentially safeguarding this investment.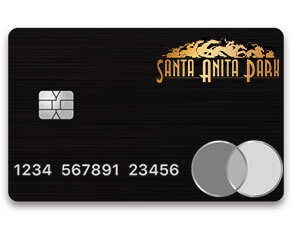 Many online sports betting sites with Santa Anita Derby odds have their terms of service listed somewhere on their web pages. While these documents can be a bit lengthy to read, they are important in that they will often explain to you how deposits and withdrawals work. If they seem a bit confusing, make sure that you ask someone at the site to explain them to you.
What you should be looking for is a reliable system of deposits and withdrawals. If a site says that all requests for withdrawals will be honored within two business days, they should stick to it.
Any site that tends to bend the rules, especially when it comes to paying out your rightfully-earned money, is one that you should probably avoid.
In terms of deposits and withdrawals, you should look at this category as being connected to concerns about funding options. The option that you choose will often determine how quickly you are able to get your bets in and realize your winnings. Make sure that you feel comfortable with the process before committing to an account.
Customer Service
The last of the categories that must be properly handled by Santa Anita Derby betting sites is customer service, but we didn't list it last because we think it's the least important. We saved it for the end because, in many ways, customer service ties into every other category. And if you skimp on it when picking your betting site, you could come to regret it.
You'll probably be hearing from a site representative shortly after you sign on with one of the real money Santa Anita Derby online racebooks listed above. They'll be looking to help you get started and answer any questions you might have. In addition, they also might have a little sales pitch, explaining any bets or promotions that you might like.
That brings us to an important point about the customer service at Santa Anita Derby betting sites. You should never feel pressured or badgered to commit to anything in terms of offers or promotions. If a site is badgering you constantly that you're not betting enough, it's a good sign that it's a site you shouldn't be frequenting.
The Santa Anita Derby betting sites that we listed don't need to do that with their customers. By contrast, the customer service at those sites is all about helping you along and solving any problems you might have. They will treat you with courtesy and respect every step of the way.
Santa Anita Derby Facts
The Santa Anita Derby is held every April at Santa Anita Park in California, United States. Horses involved in the race must travel a distance of 1 1/8 miles on the dirt surface on the track. Only three-year-old horses are allowed in the race.
One of the reasons why top racing talent makes their way out to the West Coast for this race is because the horses that perform well in it are often poised for big seasons. In particular, the Santa Anita Derby is known as a top Derby Prep, which is a name for the races that lead to the Kentucky Derby. In fact, many horses who have won the Santa Anita Derby have gone on to win the Kentucky Derby a month later.
As a bettor, the Santa Anita Derby is generally a race where you can find excellent opportunity. Because the race is contested by three-year-olds, there is an unpredictable nature to the race. After all, three-year-olds are only beginning their racing career and, therefore, there isn't a lot to go on when predicting how they will do in this big race.
Another big factor that makes this race hard to predict is the distance. 1 1/8 miles is usually longer than any of the horses in the field have ever raced to that point. That means that it's hard to know just how they will perform when tasked with handling the extra distance.
Betting on the Santa Anita Derby Online and Other Horse Races
When you settle in to bet on horse racing at online Santa Anita Derby racebooks for real money, you'll generally have to decide three things: how much you want to bet, which horses you want to bet, and what types of bets you want to make.
By boiling everything down to those three elements, you can simplify the somewhat confusing process.
How much you want to bet can come down to several factors, including your budget, how confident you are in your pick, and how much you hope to win. As for choosing the right horse, that can be based on a gut feeling or can be the process of intense study. Some of the things that factor into what horse you might want to pick include, but are not limited to:
Past performances
Class of competition
Jockeys and trainers' records
Pedigree
Track condition
Once you have an idea of the horse or horses you want to bet, it's time to decide what types of bets you want to make. Again, this process is easier when you break it down to two main areas. You can either bet on a single horse in a single race or bet on multiple horses in either a single race or a string of races on the same program.
Betting on a single horse, which is also known as a straight bet, is the most surefire way to come out a winner. After all, your bet is just riding on the performance of a single horse. But straight bets generally don't pay off all that much if you're only betting a little bit, unless you manage to pick a long shot winner.
Types of straight bets include:
Win: Your horse must come in first in the official order of finish.
Place: Your horse must come in first or second in the official order of finish.
Show: Your horse must come in first, second, or third in the official order of finish.
When you bet on multiple horses at online sportsbooks with Santa Anita Derby odds, also known as exotic or accumulator betting, you generally need every one of the horses that you choose to perform as expected to win the bet. That means that you will have a harder time winning these bets. But it also means that they usually pay off at a much more aggressive level than straight bets, even for a very small wager amount.
The most popular types of these bets at Santa Anita Derby betting sites are:
Exacta: Your horses must come in first and second in the official order of finish.
Trifecta: Your horses must come in first, second, and third in the official order of finish.
Superfecta: Your horses must come in first, second, third, and fourth in the official order of finish.
Daily Double: You must pick the winners of two races in a row.
Pick 3, Pick 4, etc.: You must pick the winners of several races in a row.
Once you get the hang of betting on horse races, you'll be able to make these decisions much quicker. And that means that you'll be able to get more bets in during a short amount of time. Just remember to take enough time with your wagers to ensure that each decision is well considered.
Conclusion on Santa Anita Derby Online Racebooks
Springtime is the heart of excitement for racing season in the United States, and the Santa Anita Derby plays a big part. It is one of the top races for three-year-old horses in the world. And it points the way to many of the bigger races ahead in the United States, including the Triple Crown.
It is the kind of horse race that regular bettors live for and even casual fans get excited about when it comes up on the schedule. If you're not going to be there in person, make sure you scout out the best Santa Anita Derby betting sites so you can make your real money horse racing bets. And make sure that you take as much time with the decision of which site to choose as you do about which horses to pick.
[ Back to Top ↑ ]