St Leger Stakes betting sites give you the chance to wager on a prestigious, important, and bettor-friendly horse race without having to witness it in person. In fact, these horse racing betting sites can take you beyond just the St Leger Stakes and give you betting access to the whole world of horse racing and far more beyond that.
When you think about the sport of horse racing, you probably think about its history. And nowhere is that history richer or more imposing than in Great Britain, where there have been certain major stakes races in existence for hundreds of years, including the St Leger Stakes. Check out the following list, which represents all of the betting sites that we highly recommend.
Many other sports haven't allowed people to wager until recent years. But horse racing, in just about every jurisdiction, has always included legal betting as part of the allure. For many years, the only way you could wager on a big race like the St Leger Stakes was to be on the grounds in person. While off-track wagering facilities started to pop up in the 20th century to allow for remote betting, these still required dedicated time to travel.
For most people, none of those options made horse racing betting easy. These betting solutions all pale in comparison to online betting, a development that has revolutionized all of sports wagering.
Today, there's a lot of competition among online betting sites with odds on horse races. And while it's nice to have so many choices, the sheer number of St Leger Stakes betting sites can seem overwhelming. Some betting sites you encounter might even be lacking because they don't have the technical capability or the financial backing. Other sites might just be a front to scam you out of your money.
This is why it's important to do proper research and choose the best online St Leger Stakes racebooks out there. Thankfully, we've done some of the legwork for you and listed our favorites above.
We're here to get you started by giving you our recommendations for the best possible St Leger Stakes betting sites and provide you with the tools to do the research on your own. We'll explain how the online gambling process works and detail all the key characteristics that a top betting site should have. Finally, we'll go into detail about the St Leger Stakes and show you how you can make the right kinds of wagers to help you win the most money.
Determining the Top St Leger Stakes Betting Sites Online
Figuring out which sites are the top St Leger Stakes online racebooks is almost impossible if you don't know how online gambling works. But we're here to help you out! Not only did we give our recommendations, but we're also going to show you how you can pick these top betting sites out of a crowd.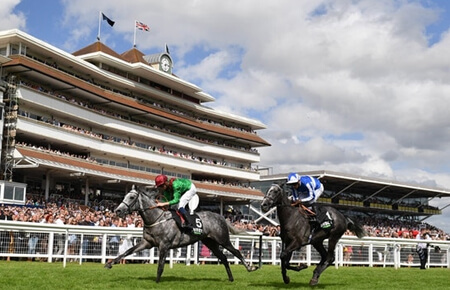 Many people get so excited about the prospects of wagering on horse racing online that they sign up with the first St Leger online sportsbooks they see. Maybe they'll get lucky and stumble upon one of the premier St Leger Stakes betting sites by accident. But more likely than not, they will end up with a site that doesn't maximize their experience, or even one that could do much worse and cost them some real money.
Don't be one of the people who make that same mistake. Take your time when deciding upon the online St Leger Stakes racebooks that you are going to frequent. You can start off this process by checking out our list of recommendations at the top of the page.
Don't just pick the first name off of our list of St Leger Stakes betting sites. Choose a couple of them and see which one fits your needs the most. While these are the best sites for betting on horse racing, you still need to figure out which one is the best for you.
You see, even though all the sports betting sites with St Leger odds we listed above have been vetted by us, they don't go about things the same way. They all have their own processes and special features that differentiate them from the rest. And what you'll find, once you look into it a little bit, is that these specific parts of the site might be what you're looking for out of your experience.
So, we suggest that you go through each site on your own and check them out in terms of key qualities that you're looking for. Here are six characteristics that we look for in St Leger Stakes betting sites:
All of the St Leger Stakes betting sites that we recommended have their ducks in a row when it comes to these key qualities. But, again, they all go about it differently. And by thoroughly navigating through these horse racing websites, you can then determine if a certain site or two has what you need.
After all, even the St Leger Stakes racebooks online that we recommend aren't perfect. They are all strong in most areas, but they might be lacking in some in comparison to one or more of the other top sites. And you can't ever really know any of that without taking a look for yourself.
You can even reach out to site representatives to see how they interact with you. Or see if you can get a trial account before actually committing any money to your wagers to see if you like the way that they do things.
On top of all that, you might also come upon other St Leger Stakes betting sites that pique your interest. Should you disqualify these sites from your search just because they haven't made our list? Not necessarily.
The world of online wagering is always growing and, as a result, there are sites popping up on the web practically every day. Some of these might have what it takes to join our list but just missed out on our vetting process. Or you might come upon a site that missed the cut when we did our research but has improved since.
Whatever the case may be, you now have the qualities to look into whatever St Leger Stakes betting sites you happen to encounter. Check them out in terms of those categories that we listed above. If you can go through and give them a positive ranking in all six of those aspects, you might have just found a site that will work well for you.
You should also understand how the online gambling process works and how those aforementioned categories come into play. At some point, you will have to go through every part of the process where these aspects will be in use. With that in mind, let's take a look at each of the six categories we listed as crucial components of the process at online sportsbooks with St Leger odds.
When you've made it through this section, you should be ready to review each site you encounter to see if they have what it takes. It's just a matter of doing the work now, so you can reap the benefits of a reliable, fun betting site down the road.
Customer Service
The first thing you need to know when dealing with the customer service at online St Leger Stakes racebooks is how they deal with you. Are the site representatives anxious to talk to you and explain everything the site has to offer? Or do you feel like it's pulling teeth just to get them to even respond to an email or phone call?
Along those lines, you should be wary about the manner and tone that customer representatives use when they are dealing with you. The old adage that "the customer is always right" applies here as it does anywhere else, so the St Leger Stakes betting sites you deal with should be trying rectify your concerns to the best of their ability. You should feel like they are dropping everything to address your problem, and if they can't fix it, they should offer a way to make it up to you.
The best case scenario is if you establish rapport with a representative at one of these sites for St Leger betting online. That will help you cut through a lot of the formalities when issues arise. It can also help if the customer service representative handling your account knows your betting habits and can steer you in the direction of promotions and bets you might enjoy.
Deposits and Withdrawals Procedures
One of the first things that you should be doing when trying to see if a St Leger Stakes betting site is worth your while is quizzing them on their guidelines and restrictions for deposits and withdrawals. You should be asking questions like: How long after I deposit can I start wagering on events? When can I withdraw money from my account and how long does it take to process?
If you find it hard to get a definitive answer, you could be in for some trouble. You should be looking to see if the site is willing to discuss these matters with you openly. You should also be finding feedback from other gamblers about the site's reliability.
There is nothing more frustrating than trying to get money that you've earned from a website and feeling that it is impossible to do so. Do not sign up for any St Leger Stakes betting sites without having all the answers about deposits and withdrawals. This is one of the most important categories of all the ones we've listed.
Mobile Betting and Overall Technical Capability
The need for a St Leger Stakes betting site to have some sort of mobile betting aspect as part of its operations is even stronger when you are dealing with horse racing betting. Horse racing doesn't have a particular season. It takes place all over the world all year long.
That means that a prospective bet might come into your notice at any time. If you don't have the ability to make a wager through a horse racing betting app and you are away from your computer, you could find yourself missing out on a potentially excellent opportunity. Betting apps are an absolute must in this day and age, so don't choose a site that doesn't have all that squared away.
The app should be easy to use and it should have a reputation for being technically sound and intuitive. That also goes for betting sites themselves.
Betting websites must be in working order at any time, in case you need to make a bet in a hurry. What that means is there should be quick loading times on the site, no instances of broken links, and no occasions where the site is down for maintenance when you need it most.
Funding Options
When you research St Leger Stakes betting sites, you might see notices from those sites bragging about how many different funding options they have available. If you've never bet online before, you might be at a loss as to why this is important.
Well, first of all, credit cards, which are the most common form of funding at top gambling websites, might not be your funding method of choice. You might instead prefer to use bank transfers, online payment systems like Venmo or PayPal, or even cryptocurrency. If those avenues aren't available to you, you might find yourself scrambling to come up with ways to pay for your bets.
On top of that, your chosen credit card might not work because the site doesn't accept it or the credit card company won't allow you to gamble with the funds. Having a backup plan is a wise move on your part. Locate St Leger Stakes betting sites that accept other payment methods for contingencies.
Betting Variety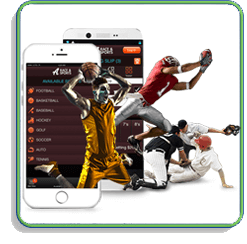 There are many ways betting variety can be displayed at St Leger Stakes betting sites. In terms of horse racing, variety can come in the form of a site that lets you bet on tracks from all over the world. It might also mean that the site dips into more obscure forms of horse racing like harness racing or jump racing.
What about betting on other sports besides horse racing at St Leger Stakes online racebooks? The sites we recommended above essentially have sportsbooks as part of their operations. That means you can bet on whatever sport might be in season in addition to your horse racing exploits.
The final part of the equation concerning variety at St Leger Stakes betting sites has to do with online casino gambling. Wouldn't it be a nice bonus to be able to play all your favorite slot machines and table games on the same website you make your horse racing wagers? Many top online gambling sites have online casino gambling options in addition to their sports betting operations, so you can have it all!
Betting Bonuses
When you gamble at St Leger Stakes betting sites, look for some kind of an edge to help out your bottom line. Sign up bonuses are one of the most effective methods in terms of seeking profits. Remember that the house always has an edge no matter what kind of bet you might make, but bonuses can help narrow and even eliminate that edge.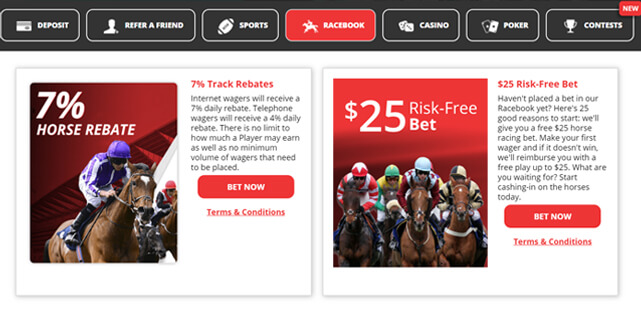 You will immediately notice, when you research online St Leger Stakes racebooks, that bonuses will be offered to you just for signing up. But top gambling sites don't just stop with introductory offers. They also try to keep you in the fold by offering bonuses whenever you put in a fresh deposit or by giving you bonuses known as VIP perks the more you bet with them.
In addition to watching for the size of the bonuses offered at St Leger Stakes betting sites, you should also be aware of the size of the rollover requirements. Rollovers are how gambling sites protect themselves from bettors taking advantage of their kindness. These restrictions force you to bet a certain amount based on the size of your bonus. The lower the rollover amount, the quicker you can collect your money/
Betting on the St Leger Stakes Online
Now that you have a little bit of knowledge about what to expect at sports betting sites with St Leger Stakes odds and what you should be looking for from them, you should turn your attention to learning how to bet on the races. Whether it's the St Leger Stakes or any other horse race in which you might have some interest, it's good to have some background on the procedure for making wagers. It can get tricky if you've never bet on a horse race before, but it shouldn't take too long.
Basically, all horse racing bets come down to three main things:
Which horse you like in each race
How much you want to bet
What type of bet you want to make
In terms of picking horses to bet, that can be done in a lot of different ways. Expert handicappers might use every last bit of information they can by watching lots of horse races and studying racing forms. Since you are just starting out, you might want to focus on something easy at first, like how well a horse has done in its most recent races or how well the jockey has been performing.
You can do this in a lot of different ways, but the key to picking winners at online sportsbooks with St Leger odds is to find a system and stick with it. That should also help govern how much you want to wager on each race. Remember to only bet how much you can afford to lose, even if you think you are getting good at picking horses, the races are always unpredictable to some extent.
Finally, you should come up with a betting strategy and understand the types of bets you can make. You can break these down into two main areas. Straight bets involve just a single horse in a single race. Meanwhile, exotic bets include multiple horses, and they can focus on one race or be spread over multiple races.
Straight bets give you a better chance of winning than exotic bets. That's because you only have to depend on one horse doing what you think it will. If you're looking for big winnings from a straight bet, you will either have to put a decent sum of money at stake or take a chance on a horse with long odds, also known as a long shot.
Common types of straight bets include:
Win: The horse that you bet on has to come in first in the official order of finish.
Place: The horse that you bet on has to come in first or second in the official order of finish.
Show: The horse that you bet on must come in first, second, or third in the official order of finish.
By contrast, exotic bets have a lower success rate than straight bets. That's because you need every part of an exotic bet to come in as you predicted or else the entire bet is a loser. The lure of an exotic bet is that you can often win a lot of money for a very small wager, making it the best chance for you to score big in a hurry.
The most popular forms of exotic bets are:
Betting on horse races online will become second nature to you the more you do it. If you have questions, don't hesitate to ask a St Leger Stakes betting site representative about it. They should be able to help you get it all figured out.
St Leger Stakes Fast Facts
The St Leger Stakes is held at Doncaster Racecourse in Doncaster, England, each year. It takes place in September and is open to three-year-old horses, either colts or fillies. Horses who do compete will travel a distance of about a mile and six furlongs, which roughly comes to 1 3/8 miles, on a grass surface.
A big part of the allure of the St Leger Stakes is the fact that it forms the third and final leg of the Triple Crown of British horse racing. Earlier in the year, the 2000 Guineas and the Epsom Derby comprise the first two legs. If a horse comes to the St Leger Stakes with a chance at sweeping all three races for three-year-olds, an increasingly rare accomplishment, the excitement level goes through the roof.
One of the unique factors in determining who might win the St Leger Stakes is figuring out which horses have what it takes to handle the long distance. As a comparison, the longest race in the American Triple Crown series, the Belmont Stakes, takes place over 1 ½ miles. The St Leger Stakes, at 1 3/8 miles, is particularly grueling for three-year-olds, especially considering that it comes toward the end of summer after the horses have often already competed in many other major races along the way.
Conclusion on St Leger Betting Sites
St Leger Stakes online racebooks present incredible thrills to racing fans, as some of the top three-year-olds in the world go at it for a big purse and a chance to be recognized as one of the top horses in their age group throughout the entire world. It is also a race that is high on the list of bettor-friendly races throughout the world. After all, bettors love races that are competitive, since these offer the most value on a horse-by-horse basis.
Yet the only way to truly experience the excitement of betting on this race, aside from actually making it out to Doncaster in person, is to find St Leger Stakes betting sites that can give you the wagering access you need. Keep in mind, it's important to look for quality when choosing a site in the same way you'd be looking for quality while picking a horse. In both cases, if you do the work and research the possibilities, you have the best chance of being a winner.