Are you looking for an in-depth review of the Betway app? If so, you've come to the right place! On this page, you'll find our complete review of the app's sportsbook, online casino, bonuses, and so much more.
As you'll see in the sections preview below, we've included loads of information in our review of the app from Betway. If you're looking for specific information, you may want to jump to one of the sections included in the review. Simply click on one of the titles below if it's one you'd like to read right away. Otherwise, keep scrolling below to see all the details included in our analysis of the Betway app.

The Betway Sportsbook App
To get things started, we first focused our attention on the Betway sportsbook app. If you're considering using the app for online sports betting, be sure to check out the details included in this section to see if it's a good fit for your needs or not.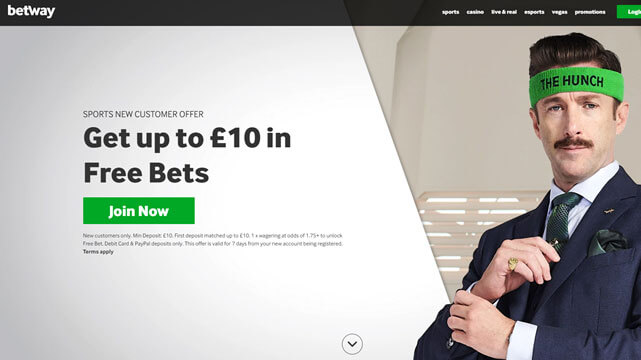 Sports You Can Bet On
When trying to decide if the betting app from Betway is ideal for your sports betting needs, one of the vital components is ensuring they offer action on the sports you like to bet on. Below, we've included a list of all the sports listed at the time of our review. Take a moment to review it to see if your favorite sports are included on this sports betting app or not.
Basketball
Boxing
Cricket
Cycling
Darts
Esports
Gaelic Sports
Golf
Greyhounds
Handball
Hockey
Horse Racing
Motor Sports
Poker
Politics
Rugby Union
Snooker
Soccer
Table Tennis
Tennis
Virtual Sports
Volleyball
Winter Sports
View the full list of sports
It's worth mentioning that the list of sports you can bet on above may not be all-inclusive due to our review's timing. For example, a sport may not have been in season and thus not included above as no bets were currently being offered. If that's the case for any sports you're interested in betting on, try checking the Betway mobile app once that sport's season is underway.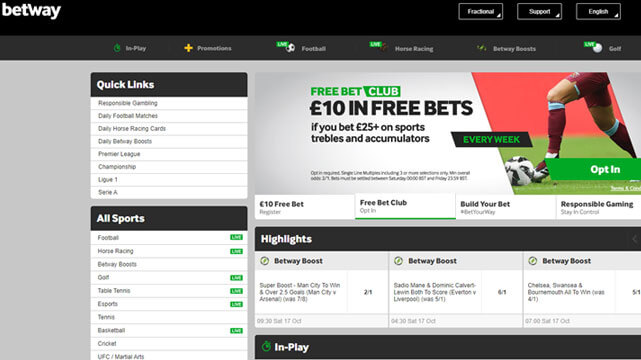 With over 20 sports you can bet on, the app from Betway provides its users with lots of sports betting options. We love that the online sportsbook offers a nice mix of major sports like basketball and soccer, along with harder to locate ones like snooker and handball.
In-Play Betting
If you're into online sports betting, something else you should be aware of regarding the sportsbook on the Betway app is that it provides users the ability to enjoy in-play betting. Also known as live betting, this type of wagering lets you bet on sports that are underway instead of just before they begin. It's something we'd encourage you to try out if you're a fan of sports betting and have never participated in live-betting action. Simply click on the "In-Play" section of the app to see all of the live wagers currently available.
The Betway Casino App


Moving along, we didn't want you to miss out on all the pertinent details about the online casino portion of the app from Betway. In this section, you'll learn about the types of games available there, who makes them, and much more.
Slots
The largest collection of a single casino game type on the Betway app is their slots section. Here, you'll locate approximately 300 different online slot machines. If you're a fan of playing online slots, we're sure you'll be impressed with this quality lineup of top-notch games and popular titles.
Table Games


Outside of slot machines, the second-largest assortment of casino games on the app from Betway is their collection of table games. Here, you'll find the option to play more than 60 different versions of popular games like blackjack, baccarat, roulette, and many more.
Video Poker
In the video poker portion of the app from Betway, you'll find just over 20 variants you can select from. While the video poker collection is a bit smaller than average online casinos, we still found popular variants like Aces and Faces and Jacks or Better in the mix. Ideally, we'd love to see Betway add some additional video poker options to provide their clients with more diversity in the future.
Specialty Games
Luckily, the Betway mobile app also has a small assortment of specialty casino games for folks looking to mix things up from standard offerings. In the "other" section of the casino, you'll discover options like bingo, keno, and others.
Live Dealer Games


Are you a fan of live dealer casino games? If you are, the collection found on the app from Betway is one you won't want to miss. We were highly impressed with their large lineup of games in this exciting format. While the mobile app includes common casino games like blackjack and roulette in the live dealer format, harder to find options like Crazy Time and Mega Ball are also included. To check out the entire live dealer games assortment, click on the "Live and Real" option of the casino app.
Casino Software Provider
Finally, one last thing we wanted to mention about the online casino found on the Betway gambling app is that Microgaming manufactures all the casino games found on the app. The good news about this is that Microgaming is one of the top providers for online casino games, and we're sure you'll be impressed as you check them out for yourself. However, the drawback with just having a single software manufacturer is that it means Betway doesn't offer as large of a game lineup as some other online gambling apps.
App User Interface
In this next portion of our Betway gambling app review, we're focused on the app's user interface. Here, you'll get a preview of what you can expect when it comes to items like mobile compatibility, app design, and more.
Functionality: When it comes to functionality, the online Betway app doesn't disappoint. Throughout our app review, we found the functionality to be flawless and without any bugs issues.
Mobile Compatibility: Those of you interested in betting on sports of playing casino games from your tablet or smartphone are in luck with the app from Betway. Thanks to excellent apps and a mobile-friendly website, you'll have no problem betting from the palm of your hand.
Download Software: Are you hoping to download software for the Betway app online? Luckily, that's an option with this gambling app. Check out the section included below about how to download the app from Betway to see just how fast and easy it is to get started.
Design: We're big fans of the overall design of the Betway app. After spending a large amount of time using it, we're impressed with its modern and clean look. Thanks to this, this online gambling app stands out from the rest of the competition with its sharp design.
Mobile Banking Options on the Betway App
If you're considering using the app from Betway, then you'll want to ensure that you'll be able to move funds onto and off their betting platform easily. In this section, we'll provide you with insight into the banking methods currently offered for both deposits and withdrawals. Be sure to take a moment to look these over and ensure you find at least one banking method that works for your needs.
As you can see from the details above, the Betway app provides users with many different banking methods to select from. We're pleased with the current assortment, but we wouldn't mind seeing them include some cryptocurrencies like Bitcoin and Ethereum in the future. By doing this, they'll increase the banking flexibility for their customers.
Betway Bonuses and Promotions
No matter if you're planning to use the Betway app sportsbook or online casino, you'll find a variety of different ways to earn rewards. In this section, we've highlighted some of the best promotions we found at the time of our review. Be sure to check these out to get an idea of how much value you can receive in bonuses and promotions if you choose to use this app for your online gambling needs.
Sportsbook Welcome Bonus
When you join the app from Betway, you'll be able to claim their sportsbook welcome bonus. Here, you'll earn £10 of free bonus cash as long as you deposit £10 or more for your opening deposit. While we're glad they have a welcome bonus for their sportsbook portion of the app, the size of this bonus potential is much smaller than what we tend to see from many other gambling apps in the industry.
Esports Free Bet Club
If you're planning to bet on esports using the Betway casino app, don't miss out on their free bet club. With it, you'll earn a £10 free bet every week that you bet £25 or more on esports doubles, trebles, or accumulators. Simply opt into the free club and start earning free bets right away.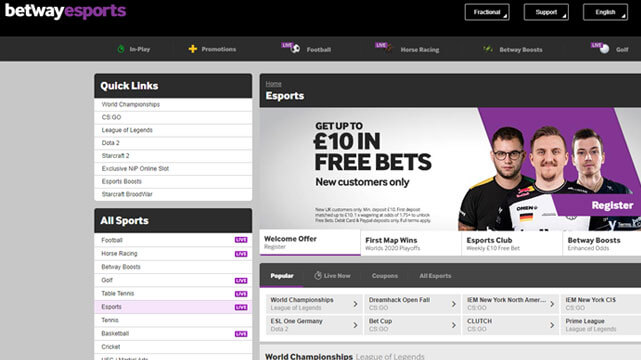 Slots Rewards Club
Those of you who are fans of playing online slots will want to take advantage of the Betway app slots rewards club. Thanks to it, you'll have the chance to score up to 200 free spins and £20 of free sportsbook wagers each week!
Increased Casino Loyalty Points
When using the Betway app casino, you'll have the ability to earn increased loyalty points on select games. Each month, check out the promotions portion of the app to see the latest collection of games included in these offers. You can currently receive up to 3x loyalty points by playing games that are part of this promotion.
Customer Service
After checking out many other components of the app, we turned our attention to the customer support provided by the Betway app. Here, we wanted to ensure that the quality of the customer service was stellar. Luckily, we did indeed find a stellar customer service experience. Check out the details below about some of the highlights we discovered during our review of the app's support.
Help Section
We wanted to point out that you might not need to contact the support team of the Betway app often thanks to the excellent help section provided on the app. Here, you'll find a well-designed support section filled with tons of topics and associated questions and answers. We found it simple and quick to locate the answers we needed. Because of this, we'd urge you to visit the Betway help section before contacting their support agents, as it will most likely save you time and effort.
Contact Options
After checking out the help section available on the app from Betway, you may still have some topics that require you to connect with one of their help agents. If that's the case, there are two ways you can go about connecting with them.
For pressing concerns or questions, we'd recommend using their live chat option. With it, you'll be able to chat directly with one of their support agents on the Betway mobile app itself. In turn, you'll be able to find a resolution to your question within a matter of moments.
However, not all questions you have may be pressing. For these types of inquiries, you can use the contact form available on the app in the help section. When using this option, you can expect to have a response from one of their team members in 24 hours or less.
Availability
Whenever you need to contact the support team from the Betway app, you'll never have to wait a long time to get the help you need. Luckily, we discovered their support agents are always there to assist. With 24/7 hours, Betway provides more availability than many other online gambling apps in the industry.
Restricted Countries
Unfortunately, not all individuals around the world will be able to enjoy the Betway mobile app. The reason behind this is that there's a set of countries that are restricted from using it. Luckily, the list of restrictions from Betway isn't that long, and we've included it below for your review.

Australia
Bulgaria
Denmark
France
Greece
Greenland
Iran
Israel
Mexico
Netherlands
North Korea
Romania
Russia
Singapore
South Africa
Turkey
United States
How to Download the Betway App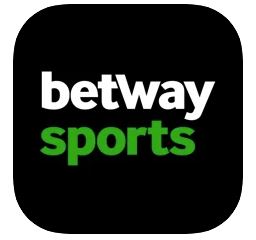 If you're ready to download the Betway app start using it today, it's a simple process. For Apple device users, simply download the app from the Apple App Store. Similarly, Android users can download it on Google Play.
Once you download the Betway app, you'll want to open the mobile app and establish an account. Then, you'll want to make your opening deposit, so you can begin placing real money wagers. In total, this whole process shouldn't take you more than a handful of minutes, meaning you can start betting online today.
Before we proceed, we wanted to point out that you don't have to download the app from Betway if you'd prefer not to. If you don't have storage space on your device or prefer to gamble without downloading software, you can use the Betway website. Thanks to its excellent mobile-responsive design, you can use it from any device to access the online sportsbook and casino.
Visit Betway
Frequently Asked Questions
While we've done our best to be as thorough as possible in our review of the Betway app, we might not have covered everything you were hoping for. To help, we've included a collection of FAQs about the app below. If you're still searching for some answers, we hope these will be able to assist you.

You can start betting on the Betway app in as little as 10 minutes. Simply download the app, open an account, fund it, and you'll be ready to begin wagering on casino games or sports betting action in practically no time at all!
Yes. Thanks to its quality mobile-friendly website, the app from Betway functions well on devices from Apple, Android, and other manufacturers. In addition, Betway has Apple and Android-specific apps that are optimized for use on those devices.
No. Currently, all the casino games on the Betway casino app require you to wager real money on them. In the future, we'd like to see them add in a free play option for some of their games. We're a big fan of this functionality, as it allows players to learn how to play new games and experience them before risking real money.
As of now no. The Betway sportsbook app is only for non-us customers. There are other
mobile betting apps
that do accept US bettors though.