Are you trying to decide if the app from Bodog is an ideal one for you? If so, then we've got you covered. Our team has performed an in-depth review of the Bodog app so you can quickly determine if it meets all your needs or not.
In our complete review of the Bodog app, we'll touch many different topics about their operation. Below, we've included a list that previews all the different sections included below. If you wish to skip ahead to any of them, simply click on the section's title.
Bodog Sportsbook App Review
Up first, we'll touch on the sportsbook section of the Bodog app. In this section of the review, you'll learn vital information about which sports you can bet on using the app and more. As you'll see, if you're into online sports betting, this gambling app is one you should seriously consider using thanks to all it has to offer.
Sports You Can Bet On
One of the big advantages of betting on sports online is the variety of different sports you can bet on being more diverse than your typical physical sportsbook. Luckily, we found that to be the case during our review of the Bodog betting app. Below, we've added a list of all the sports you can bet on using their online sportsbook section of the app.
Aussie Rules
Baseball
Basketball
Boxing
Cricket
Cycling
Darts
Entertainment
Esports
Football
Golf
Handball
Hockey
Horse Racing
Motor Sports
Numbers Games
Player Props
Politics
Rugby
Snooker
Soccer
Table Tennis
Tennis
UFC/MMA
Virtual Sports
Volleyball
Winter Olympics
View the full list of sports
With more than 25 sports you can bet on, the Bodog sportsbook app provides its clients with an excellent lineup of options to choose from. While we expected all the primary sports like baseball and basketball to be included, we also enjoyed seeing their inclusion of harder to find sports like volleyball and darts.
Thanks to this quality collection of options, most sports bettors should be able to accomplish all of their wagering in one convenient location.
It's worth noting our list above may not be all-inclusive based on the timing of our review of the app from Bodog. If you don't see a sport listed above that you enjoy betting on, try checking the Bodog sportsbook once that sport's season has begun.
In-Play Betting
Besides the stellar lineup of sports you can bet on, the app from Bodog also provides users the chance to participate in in-play betting. By selecting the "live" options within the sportsbook, you can bet on sporting action as it happens, instead of just before the event occurs. If you haven't tried in-play betting before, it's an excellent way to enjoy betting on your favorite sports while watching them play out.
Bodog Casino App Review
Unlike some gambling apps in the market that offer an online sportsbook or casino only, the Bodog app offers both. What's great about this is that you can enjoy online sports betting and casino action all on the same app. Below, we've included highlights of what you can expect to find within Bodog's excellent online casino.
Slots
One of the first things to capture our attention in the slots section of the app from Bodog was the massive lineup of slots games included on the platform.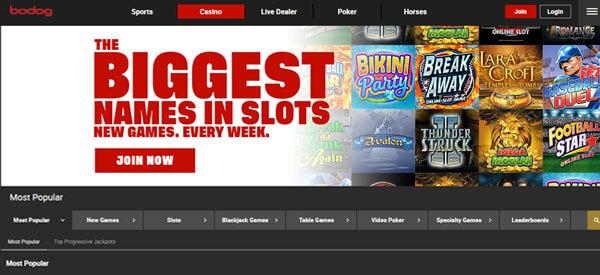 As we checked out this portion of the online casino, we discovered more than 400 slot machines to play. With this many in their collection, Bodog offers significantly more than average online casino apps.
Table Games
For those who enjoy playing table games online, the Bodog casino app provides an excellent assortment of options. In total, there are approximately 30 different games which patrons can choose from. Included in the lineup are popular table games like blackjack, baccarat, roulette, and others. To see the full assortment of options, check out the blackjack and table games sections of the app.
Online Poker
If you're into online poker, the app from Bodog is one you should seriously consider. This is because it's a trustworthy online casino offering a full poker room.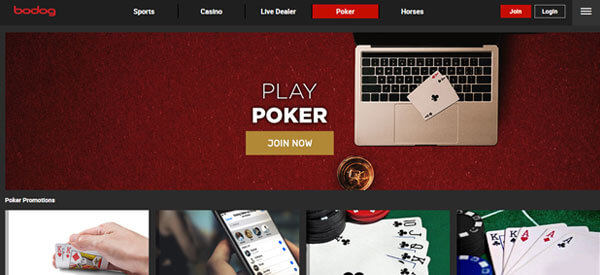 No matter if you enjoy tournament play or sit n' gos, you'll find a ton of options to select from in the Bodog poker room. Be sure to visit this portion of the app to see all the different ways you can play poker online for real money.
Video Poker
In addition to slot machines and table games, the Bodog app casino also provides users with access to online video poker options. In total, we counted nearly 20 different variants of the game in this section of the casino. Compared to many other online casinos, Bodog's video poker collection is a bit smaller than average. However, the games they do have are top-notch examples of online video poker games.
Specialty Games
In the casino portion of the Bodog app, we found one of the largest lineups of specialty casino games we've ever come across. In total, we counted more than 20 options to choose from. Be sure to visit this section of the casino to play games like scratch-offs, keno, bingo, and more.
Live Dealer Games
Something else worth mentioning is the lineup of live dealer games found on the Bodog app.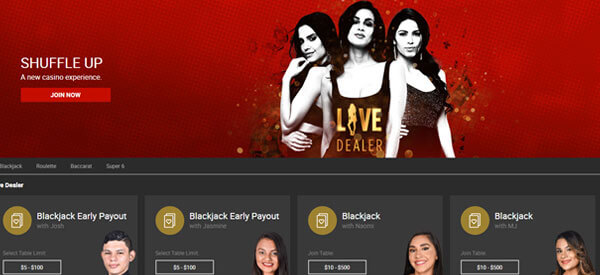 In this section of the app, you'll find an assortment of four games you can play in this exciting new format using camera feeds of real-life dealers from around the globe. Currently, you can choose between Super 6, roulette, blackjack, and baccarat.
App Software Providers
Unlike many other online casino apps, Bodog's casino makes use of multiple software providers. Because of this, users benefit from an increased assortment and a greater variety of games. While playing on the Bodog casino, you'll come across games from popular gaming providers like Betsoft and RealTime Gaming. In addition, Bodog has even produced some of its own proprietary online casino games.
Bodog App User Interface
While performing our review of the Bodog app, our team paid close attention to the user interface of the online sportsbook, casino, and overall app. Below, you'll read our key takeaways of what we enjoyed about the app's UI.
Functionality: The Bodog app functioned perfectly well throughout our entire review of it. At no point did we hit any snags while exploring everything it has to offer.
Mobile Compatibility: Thankfully, the app from Bodog is mobile compatible. In turn, you can use it from mobile devices like smartphones and tablets. Not only that, but it's also mobile responsive, so you'll find it perfectly fits the screen of your selected device.
Download Software: Currently, there is no download available for the Bodog app. Instead, everything runs through their high-quality website. And as we mentioned above, it's fully mobile-responsive and will function well on nearly all devices in the market.
Design: After spending a large amount of time on the app from Bodog, we were big fans of the overall design. We found the design to be very modern, clean-looking, and pleasing to the eye.
Bodog Mobile Banking Methods
As with all gambling apps, Bodog has a select collection of baking methods you'll be able to use when you'd like to move money onto or off their app. In this portion of our Bodog app review, you'll learn what banking methods you'll have at your fingertips for both deposits and withdrawals from your account.
We're very pleased with the lineup of deposit banking methods available to users of the Bodog app. With that said, we'd like to see some additional banking options provided for withdrawals from the app. With just two, the current selection is smaller than what we'd expect to find. Hopefully, the Bodog team will add more withdrawal methods soon to help increase flexibility for its customers.
Bodog Bonuses and Promotions
Moving on, our review of the Bodog app wouldn't be complete without touching on some of their promotional offers. In this portion of our analysis, we've included some of their current top bonuses and promotions. Please take a moment to review these to see all the various ways you'll be able to receive bonuses while gambling on their app.
Sportsbook Welcome Bonus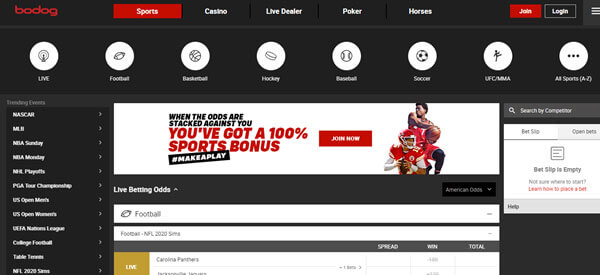 If you're new to the sportsbook on the Bodog app, you can earn up to $200 of bonus cash through this promotion. For each dollar you deposit initially, Bodog will match it up to the $200 limit. If you plan on betting on sports using the app, be sure not to miss out on this chance to add more funds to your account.
Casino Welcome Bonus
In addition to the sportsbook welcome bonus, the Bodog app also provides a quality offer for new clients using their online casino. As part of its casino welcome bonus, you'll be able to receive up to $600 in bonus funds thanks to a 100% deposit match on your opening deposit.
Bitcoin Bonuses
Before you claim one of the two welcome bonuses above, consider the possibility of using Bitcoin as your funding source. By doing this, you can receive even more bonus cash on your opening deposits. When using Bitcoin, you can get up to $300 in sportsbook bonus and $900 of casino funds.
Poker Welcome Bonuses
Luckily, those interested in playing poker online using the Bodog app also have access to an excellent welcome bonus.
With the poker welcome bonus, you'll receive a 100% bonus match that's good for up to $1,000 of match.
In turn, be sure to deposit at least $1,000 if you'd like to reap the maximum benefit of this promotion.
Referral Bonus
Did you know you can also make money by referring your friends to play at Bodog? Thanks to their stellar referral program, you can get up to $225 for each friend you refer. Bodog will pay you 200% of their bonus up to $200 and will toss in an additional $25 for each friend who deposits using Bitcoin.
Additional Promotions
As if the lineup of stellar bonus offers above wasn't already enough, there's more to be had from the Bodog app when it comes to promotional offers. Make sure that you visit the promotions portion of the app to see all the current offers available. In addition to the ones included above, you'll find many more ways to reap the rewards while gambling on their platform.
Bodog Customer Support
As part of all our in-depth gambling app reviews, we take the time to utilize the customer service each one provides. In this portion of our Bodog app review, you'll gain insights into our experience with their customer support team. Take a moment to read what's included below to learn what you can expect when you reach out to their team for assistance.
Contact Options
With the app from Bodog, you'll find two ways to contact their support team. For items that are pressing, we'd suggest using their live chat service. With it, you'll find yourself connected within a matter of minutes to one of their excellent support agents. Alternatively, you can send an email to their team. This is a great choice when your question or issue doesn't require an immediate response.
Something that stood out to us with the customer support from the Bodog app relates to their help section.
While many gambling apps have a help section in some form or another, most of them are relatively useless overall. However, Bodog's team has designed an excellent section of help topics worth checking out before you contact their team. Based on our experience using it, you may find answers to most of your questions without ever even needing to use the live chat or email options. To access this help section, simply select the "help" option within the app menu.
Availability
During our review of the app from Bodog, we noticed their customer service is offered 24/7. We were very happy to see this, as it means that clients using their app won't ever have to wait too long to get the help they need. Currently, Bodog advertises folks using email support should have an answer in less than 72 hours, and those using live chat should be connected to an agent within five to seven minutes. Based on our experience, we found these response time estimates to be accurate.
Restricted Countries
If you like what you've read in our review of the Bodog app, there's a good chance you'll be able to use it.
That's because Bodog has a relatively small assortment of restricted countries. Compared to most other online gambling apps, this lineup of countries who can't use it is very short. If you don't see your country included below, you should be able to enjoy everything the app from Bodog has to offer.
Australia
China
Malaysia
Thailand
United Kingdom
USA
How to Download the Bodog App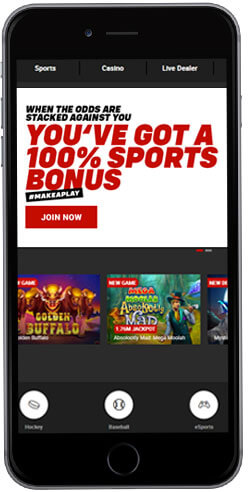 Are you interested in downloading the app from Bodog after learning about all the excellent options it brings to the table? If so, we've got you covered. In this section, we'll walk you through the simplistic process of downloading their app. As you'll quickly learn, it's very straightforward to get started.
The great thing about the Bodog app is that it doesn't actually require a download. Instead, the whole app runs off a mobile-responsive website. In turn, you can enjoy everything the app has to offer without needing to download software onto your preferred device.
Besides saving you precious storage space on your computer, tablet, or smartphone, the Bodog app also provides improved compatibility thanks to its quality mobile design. No matter what type of device you'd like to use to wager on their platform, you should not experience any issues.
To get started using the app from Bodog, all you need to do is head to their website. Once there, you'll be able to create and open an account. After funding your betting account, you'll be ready to start enjoying sports betting and casino action online.
Bodog Frequently Asked Questions
Before wrapping up our review of the Bodog app, we wanted to provide you with access to some of the questions we hear most commonly about it. For those of you still searching for answers about the app, be sure to review the FAQs included below.
Yes. If you choose the Bodog app for your online gambling needs, you're sure to have a high-quality and safe experience. Part of our in-depth review of their app centered on investigating their security measures to help keep you safe, and we're satisfied with what we found.
No. Currently, the app from Bodog is completely run using a mobile-responsive website. Thanks to this, no download is required, and you can enjoy everything they have to offer from your preferred device.
No. It's free for users to download the app from Bodog.
You have to be at least 18 years old and living in a country that Bodog accepts players from.
Not currently and we would speculate that they never will due to the fact they have a sister company called
Bovada
that's focused on the US market. Luckily the 2 apps are very similar.
Bodog has been accepting bets online since 1994 making them one of the older names in the industry.
Yes. Bodog is both licensed and registered in Antigua and Barbuda.
Yes. The app from Bodog is mobile compatible. In turn, you can use the app from tablets. In addition, it also functions well on mobile phones.
Final Thoughts on the Bodog App
We hope our review of the Bodog app was informative and helped you decide if it's a good fit for you. As you can tell, we're big fans of what Bodog brings to the table for online casino and sports betting action. We'd highly suggest taking a few moments to experience it for yourself if you haven't already done so.
Some of you might be looking to explore some other online gambling apps before deciding if the one from Bodog is best for you or not. If that's the case, you won't want to miss the link we've included below. Here, you can get information about some of the other best gambling apps in the industry to find the right one for your unique needs.
Lastly, one other thing you should be aware of if you're new to our website is that we've got much more to offer than what you found in our review of the app from Bodog. Consider exploring some of our most popular pages like our strategy guides, sports betting picks, and blog.