If you've landed on this page, then you're probably curious about apps for betting on politics. If that's the case, we've got you covered. We've created this page to equip you with a list of the best political betting apps, alongside with additional information you can use to learn more about them and why you might consider using one.
Up first, we wanted to take a quick second to showcase everything you'll find in our detailed guide about apps for political betting. If you want to make sure you don't miss out on any of the pertinent details, be sure to review everything included on this page.
Best Apps for Political Betting
Are you looking to start using a real money political betting app now?
If so, we've included the list below that you won't want to miss. Here, you'll find our suggestions for mobile sportsbooks with the best political odds. Hands down, these apps represent the best of the best.
For more information about why we chose these options, we've added detailed information in the next section of this guide.
Understandably, you may not be ready to explore our recommendations just yet. If you're interested in learning more about political betting apps first, simply keep reading below. Then, just come back to our list of suggestions above when you're ready to experience the best apps for betting on politics.
How We Selected These Political Betting Apps
Now that you've seen our selections for the top political betting apps, we wanted to provide you with insight into the selection process we used to help handpick them. Check out the information below to see why these apps for betting on politics came out on top over all the other options in the industry.
Collection of Political Wagers
As you check out our list of recommended political betting apps, you'll notice each one of them provides a massive lineup of wagers on politics, and that's by design. You see, we wanted to make sure our top picks each provided some of the largest collections of political bets available in the industry. By choosing to work with one of our suggestions, you'll enjoy access to political wagers from across the world.
Excellent User Interface
Something else we searched for in an ideal app for betting on politics was a quality sportsbook user interface. Our goal here was to ensure you'll be able to swiftly find the bets you're looking to place and be able to make them in practically no time at all.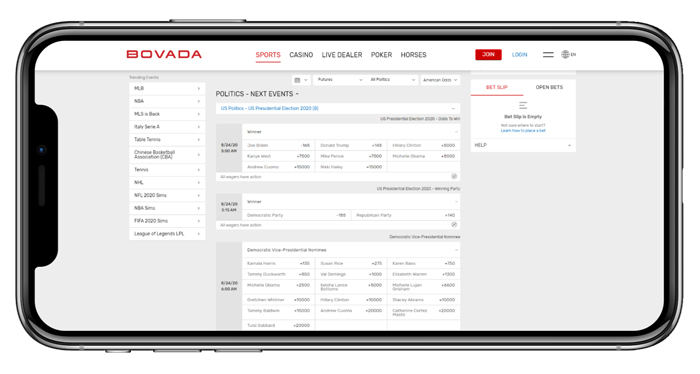 As you explore our recommendations, you'll notice just how well each of the user interfaces are designed.
Industry-Leading Real Money Bonuses
When gambling online, one of the top perks of doing it is the ability to take advantage of bonuses and promotions offered by the apps. But we didn't want you to settle for average bonus opportunities. Instead, our list of best political betting apps all brings some of the top-earning potentials within the industry. Check out each of their offers to see how you can score free bets, bonus cash, and other perks.
Collection of Banking Methods
While there are many real money political betting apps within the industry, not all of them provide an excellent assortment of banking methods. To help you easily be able to make deposits and withdrawals from your account, we sought out apps offering a broad collection of banking options. As you explore our recommendations for where to bet on politics online, you'll find choices like bank transfers, credit cards, e-wallets, cryptocurrencies, and more.
Trusted Gambling App
Sadly, not all the apps for betting real money on politics out there are ones that you can trust. Unfortunately, some of them have poor track records of bad behavior. However, we've scrubbed our list of suggested political betting apps to ensure each one of them provides you with a trustworthy and safe platform for online betting.
Quality Customer Service
Finally, something else that was a vital part of our search for the best political gambling apps related to their customer support. Here, we sought out gambling apps providing top-notch customer service. If you end up using any one of our recommendations from above, you'll benefit from working with some of the best support agents in the industry. In turn, you'll receive quality and fast help any time you need it.
Some of you might decide to perform your own search for a political betting app. If that's the case, consider keeping the criteria included above top of mind to help ensure you end up working with a trustworthy and legitimate app for betting on politics.
What Is Political Betting?
Perhaps you've made it this far, and you're asking yourself what political betting is. If so, this is the section for you. Here, we'll help get you up to speed on exactly what this form of wagering entails.
If you're familiar with betting on sports, real money political betting is essentially the same thing.
However, the key difference is you're betting on the outcome of political-related items as opposed to the result of sporting events.
For example, check out the image below from Statista. In it, you can see the significant increase in the number of folks betting on the impeachment of Donald Trump in May of 2017 compared to April of the same year.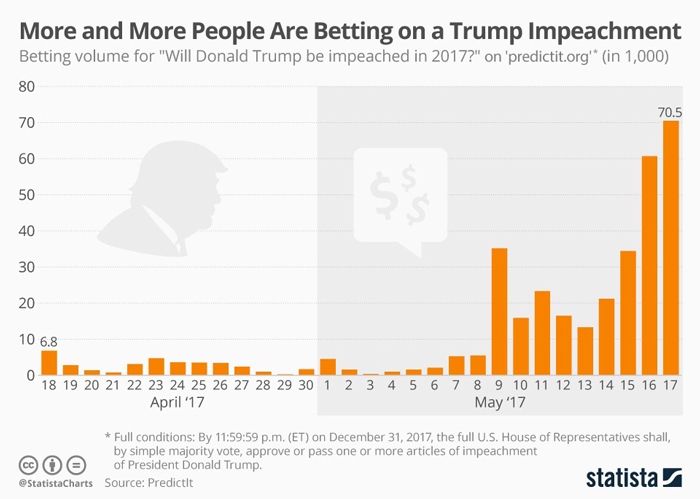 However, the example above is just one example. While you can bet on things like impeachment, you can also bet on the actual political races themselves. As you check out some of our suggested apps for betting on politics, you'll see how broad your assortment of options is.
Recently, political betting has increased in popularity. Check out the chart below from Statista to see what else folks are betting on instead of professional sports.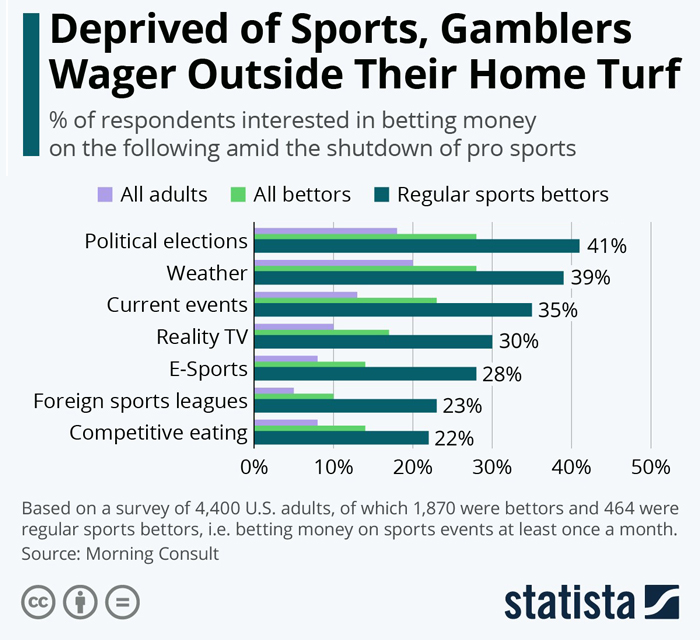 More than 40% of folks who classify themselves as regular sports bettors are interested in betting on political elections. Some of the other things they are interested in betting on include the weather, current events, and entertainment events.
Types of Political Betting Apps
If you're new to the idea of using an app to bet on politics, you might not be aware of the fact that there are different types of them available. In this section, we'll discuss some of the most popular types of online political betting apps found in the industry.
Political Betting Apps for iPhone
Up first, there are many mobile political betting apps made just for folks using an Apple iPhone. What's nice about this collection of iPhone political betting apps is there are plenty of options to select from due to the popularity of Apple phones.
Political Betting Apps for Android
Outside of apps designed for Apple phones, there are also many of them made to work on Android phones. If you're an Android user, you'll have no shortage of excellent options to select from. Check out our list of suggestions at the top of this page to view some of the best the industry has to offer when it comes to Android political betting apps.
Political Betting Apps for Windows Phones
If you're not in the majority of folks who have an Android or Apple phone, you might be one of the individuals with a Windows phone. Luckily, if that's the case, there are gambling apps designed for your type of phone, which will allow you to bet on politics online.
Reasons to Use a Political Betting App
Some of you who've ended up on this page may not have experience using real money political betting apps. If you're one of them, check out the details below. Here, we've included information about some of our favorite reasons why we think you should consider using one of these apps to bet on politics.
Ability to Bet Real Money on Politics
One reason we like using apps for betting on politics is that it offers us the chance to bet real money on them. While many folks often have opinions relating to political races, many don't realize they can put their money where their mouth is. If you've got a hunch, you can use these political betting sites with apps to make real money if your wager is correct.
Bonus Possibilities
If you're new to online betting, you might not be aware of the bonus possibilities which come along with some of the top apps for wagering on politics. As you explore our suggested best political betting apps, you'll find some massive bonus opportunities from welcome, reload, and other special offers.
Be sure to check out their latest and greatest offers to see all the ways you can score bonus cash while betting on politics online.
Convenience
Lastly, something else to keep in mind when considering the possibility of using apps with political betting odds is the convenience they provide. While some brick and mortar sportsbooks offer wagers on politics, you'll likely find a much broader collection of betting possibilities with these apps. Thanks to this, you'll be able to bet on politics from your phone on many more political races from around the world.
Political Betting Apps FAQ
Are you still looking for some answers related to political betting apps? If so, then be sure to take a second to review the FAQs we've included below. We hope these will be able to help you find any information you're searching for.

Using betting apps for political betting is entirely up to you, and that includes the number of apps you want to use. For those of you who are new to using betting apps, we'd suggest getting started with just one. Later on, you might consider using more than one. However, our guidance would be to try to locate a single political betting app that provides you access to everything you'd like to bet on.
No. One of the reasons we're big fans of the suggested political betting apps at the
top of this page
is because they allow you the ability to wager on politics from all over the globe. Take a moment to check some of them out to see just how quickly you can diversify your political bets.
No matter what type of smartphone or tablet you're planning to use, one of our suggested apps for betting on politics above is sure to work for you. Luckily, many of these apps where you can bet on political events from your mobile phone work directly from your device's internet browser. In turn, it means no download is required, and they work with a wide variety of devices from brands like Apple, Android, Windows, and more.
Unfortunately, not all real money betting apps with odds on politics are safe places for you to gamble online. Sadly, there are some operations out there that can't be trusted to keep you safe. However, all our suggested political betting apps at the top of this guide are places we trust to help keep you safe. If you decide to use any one of them, we're confident you'll be protected.
You should never have to pay to download a political betting app. All our recommendations at the start of this guide provide you with access to free downloads of their app. Should you ever come across an app wanting to charge you to download it, we'd suggest you steer clear of it, as there are many excellent choices in the industry who provide free downloads.
Conclusion on Political Betting Apps
We appreciate you stopping by to visit our guide about the top political betting apps in the industry. We hope this page has been able to help you locate an app that's an excellent fit for your needs. If you're new to our website and you liked what you found in this guide, there are many more ways we can help you. We've designed our site to help folks from all walks of life get more out of their favorite forms of gambling.
We'd suggest you take a moment to use the main website menu to explore our offerings or check out some of our most popular pages like our betting site reviews, industry news, or free sports picks.
Thanks for reading, and good luck with all your future real money political bets!