Real money video poker apps stand out as the next step in the evolution of one of the most popular of all video poker games. First, there were video poker machines, followed by games at online gambling websites. But with real money video poker apps, you can play the game on any connected device, such as a phone, tablet, or smartwatch.
In the world of casino games, there are few games that offer the same benefits to gamblers that video poker does. For many years, the only way to enjoy your video poker action was to camp out at a machine in a casino. But the recent boom in casinos apps now allows you to play video poker online for actual stakes no matter you might be in the world.
To help you out in this brave new world, we're here to help you out in navigating the best real money video poker apps. We'll tell you what these apps are, how to find them, and the methods you can use for finding these apps on your own. In addition, we'll give you a tutorial on video poker to show you how to play and demonstrate why so many gamblers love to play it.
The Best Video Poker Apps for 2022
We're here to tell you about what we believe are the best real money video poker apps at app stores for various devices. How do we know that there are the top video poker gambling apps on the market? Well. We've done extensive research, taking a look at all the advantages and disadvantages that each possesses.
To that end, here are the real money video poker apps that we feel stand above the rest:
Why is it important that you seek out the best apps for real money video poker? Well, the key in that question are the words "real money." Since you'll be putting money at stake, it is absolutely crucial that you take the choice of which real money video poker app you're going to use seriously.
An unreliable app can ruin your video poker play in many ways. You may run into technical difficulties, or you might find that you have a hard time collecting any money you might have won. The worst-case scenario could end with you losing any money you've put into your account or having your personal information compromised.
For all those reasons, you should start any search for the best online video poker apps for money with the apps listed above. In a little bit, we'll explain what separates the best apps from the also-rans.
How to Play Video Poker on a Real Money App
Video poker is beloved for many reasons, and one of them is because it is relatively easy game to learn. Here is a quick tutorial to help you get through a sample hand when using real money video poker apps.
The Bankroll
This will be the money that you allot to yourself for game play. Most video poker casino apps that pay real money will break down the dollars (or other monetary unit) that you allow for play into units known as "credits" or "coins." These units will be tied into the denomination of the game that you're playing.
The Bet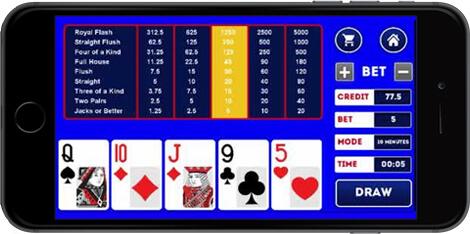 In most video poker games, you'll have the option to bet up to five per hand. Some games with special features allow you to bet more than the five credits, with the "max bet" bringing most of the extra twists into play. Regardless of the game, you should always try to make the max bet, since that leaves you with the biggest payback potential.
The Deal
While using real money video poker apps, you'll get a five-card deal from a simulated deck of 52 cards. These cards will be identical to what you would find in a standard deck. Each deal is completely random, thanks to random number generator software within real money video poker apps.
The Decision
You get to choose which of the five cards you want to keep and if there are any you want to discard. Cards that you hold will be a part of your final five-card draw, and you should touch the screen to indicate these cards. The cards that you don't hold will be discarded.
The Draw
Any cards that you discard will be replaced by others from the deck at the moment you hit the "draw" icon on the screen. This draw deck will have 47 cards in it, since the five cards you were dealt from the original 52 will not be in there. The draw completes the hand.
Winning Video Poker Hands
Your goal is, at the end of the deal and the draw, to make one of the winning card combinations on the pay table that you're playing. While each pay table is different, in games where wild cards aren't involved, you'll usually be trying to make one of the following hands:
Pair of jacks or better
Two pair
Three of a kind
Straight (five cards of consecutive rank, like 3-4-5-6-7)
Flush (five cards of same suit)
Full house (three of a kind and two pair in the same hand)
Four of a kind
Straight flush (straight with five cards of same suit)
Royal flush (ten, jack, queen, king, and ace of the same suit)
On most pay tables at mobile video poker apps, the wining combinations at the top of this list pay the least. As you move down the list, payback gets higher. In other words, the combinations that are the most difficult to make are the ones that pay the most.
Different Ways to Play on Real Money Video Poker Apps
There are many different ways you can change up video poker play on casino apps. The most basic format of video poker is known as Jacks or Better, which was the first format used when the game was invented. But you can mix things up at casino apps by utilizing these methods of varying video poker app gameplay.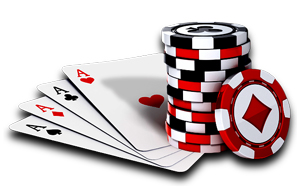 Pay tables: These are the tables that you'll see on the screen showing how much you get paid for each winning hand of video poker you could play. Many pay tables break off from Jacks or Better by switching up the payback amounts you can expect for hands such as four of a kind. By doing this, mobile video poker apps let you tailor your potential risk and reward to the way you like to play.
Wild cards: Games like Deuces Wild and Joker Poker include wild cards in the deck. When you get a wild card in your hand, you can turn it into whatever card improves your hand the most. Using wild cards gives you a better chance of attaining rare hands.
Multi-hand Play: Some video poker apps where you win real money include games that let you play more than one hand at a time. These multi-hand games give you a single deal as if it were a basic game. But from there, your decisions will affect several hands, speeding up the pace of play.
Special features: If you look through the selections on real money video poker apps, you'll find many games that include twists on basic gameplay. Multipliers, free hands, and wheel spins are just a few of the twists that you'll find. Depending on how adventurous you are, you might find these video poker games to your liking.
Learning Strategy to Use on Video Poker Apps
If you want to play video poker at a top level on casino apps for real money and maximize your winnings, you'll have to learn ideal strategy. This means that you're making the correct mathematical decisions for each deal that you receive about what to hold and discard. Here are some ways that you can do that.
Free Video Poker Gambling Apps
Before you start with a real money video poker app, you might want to try one that allows you to play for free. You wouldn't be playing for real money, but you also wouldn't be putting any money at stake. That would allow you to learn the nuance and rhythm of video poker in a risk-free environment.
Training Apps or Software
With a video poker trainer, whether it comes in app form or as software to be downloaded on your computer, you can play hands of the variation you're hoping to play for real. Each time you make a wrong decision on a specific deal about your holds and discards, the software will alert you. After a while, you won't make those mistakes.
Strategy Charts
Strategy charts can be found online for all of the top video poker variations. You can memorize these charts, which rank the best possible card combinations you can get on the deal. Once you know that information, you'll know the right cards to hold onto every time.
The Advantages of Video Poker Apps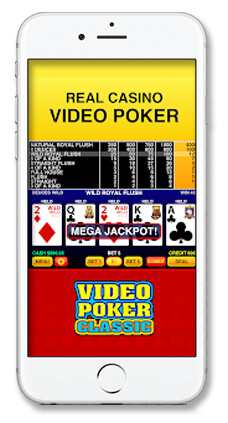 You can learn how to play a video poker game app in a matter of minutes. This is true even if you've never played poker in your life. Video poker is a much easier game than some of the casino table games that you can also find in gambling apps.
You never have to play the same game twice. As we said above, there are so many different twists on basic Jacks or Better available to you that the possibilities are practically endless. Maybe you'll find one game you love, or maybe you'll want to sample them all.
You can play video poker online without any hassles from other players. Video poker is a self-contained game, needing just one player and a machine (or, in this case, a real money video poker app). That means you get complete privacy and can play at your own pace.
You can use strategy when you play video poker. This separates it from other games found on gambling apps, like keno, slot machines, or roulette, where you don't have any real control over the action. If you learn to play the game well, you can expect better results in the long run.
You can actually hope to make a profit from playing video poker. Based on the payback percentages of the top mobile video poker games and the bonuses you can get for signing up with real money video poker casino apps, you might be able to remove the dreaded house edge. At the very least, video poker ranks right up there in payback with any other casino game you could imagine.
You can find all you need to play video poker well simply by inspecting the pay table. After all, the probabilities for achieving winning combinations are fixed by the 52-card deck. Once you know what each winning hand will pay, you can project your potential payback and volatility level.
Learning How to Choose the Best Casino Apps for Video Poker
Now you know why video poker is such a beneficial game to play. And we've already told you what we believe are the finest online video poker apps on the market. But what about if you wanted to choose an app on your own?
There could be many reasons you want to do this. Perhaps there are some casino apps with video poker on the market that you want to try. Or perhaps an app you're already using has just added video poker to their selections.
If that's the case, here are the qualities you should be looking for from any video poker game app you happen to find.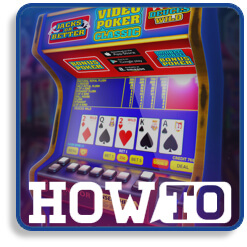 Variety: Don't settle for an online video poker app that locks you into a single game. If you go through the process of signing up and funding your account, it could be a hassle to reverse that process if you find you're bored with playing the same old game. Look for mobile apps for playing video poker that give you the widest variety of games.
Withdrawal and deposits: It's important to choose real money video poker apps that keep your money in good hands. By that, we mean that you know that you can both deposit and withdraw when you wish. You don't want to get stuck in a situation where you can't collect your winnings.
Top graphics: If you're going to be playing an app often, you won't want one that is ugly to look at all the time. By the same token, you're not going to want to play a game that sounds like you're playing in a tin can. That's why you shouldn't neglect graphics when you're making your choice.
Big bonuses: Always remember that real money video poker apps are plentiful, and you can always shop around. If you feel that a certain site isn't giving you good bonuses for signing up or playing often, you should be ready to move on.
Remember that betting bonuses are an important way to beef up your gambling bottom line.
Smooth play: The last thing you want when playing an online video poker app is one that glitches out on you and interrupts play. Think about how frustrating that would be if you were on the verge of a high-paying hand. Make sure that the app you choose runs smooth.
Funding versatility: Make sure to check what kind of methods you can use to fund a certain app. Are they limited in their choices to a single credit card, or do they offer many alternatives? Many gamblers overlook this and come to regret it down the road.
Reliable customer service: Problems can arise at even the best real money casino apps with video poker. As a result, you should want to find an app that is known for its customer service initiatives. This will give you peace of mind that you'll have any issues that come up quickly rectified.
How to Get Started Playing Video Poker From Your Phone
If you're familiar with using apps for your smartphones, tablets, or other connect devices, you shouldn't have any issues with using real money video poker apps. But for those who might be new to the process, here is how to get rolling.
Choose your app: You can look around at the various app stores until you've found one or two casino apps with real money video poker that are right for you. We've talked above about the qualifications you should be looking for.
Download onto device: You'll see an icon on the page to download the app onto your device. For most real money video poker apps, this process shouldn't take too much time, maybe a matter of minutes depending on the speed of internet you're using. Keep in mind that these apps will use data, so make sure that you have space on your device and you're not overstepping any internet plans you have.
Provide information: Most top-rated real money video poker apps require you to reveal some personal information and a way to contact you. This is because real money will be changing hands. If you're using free video poker apps where there isn't money up for grabs, this step isn't usually needed.
Fund your account: Different apps might have requirements in terms of the minimum amount required in your account to start playing. It's at this point you'll probably need to provide credit card information or information tied to an alternative funding method, just as if you were signing up for an online casino site. This will be the basis for your bankroll when you play.
Allot money for your bankroll: This will lead you right to step 1 of actually playing your video poker game. You should base how much you allot on the denomination you're playing and the amount of time you wish to play.
Places to Find Real Money Video Poker Apps
Now that you know how to play real money video poker from your mobile device and how to get started with signing up, it's just a matter of finding the best real money video poker apps. Here are the places you should be looking.
Apple app store: Whether you have an iPhone or an iPad, you'll want to make sure that you're checking out the Apple app store for the best video poker apps for iPhone and other apple devices. The selections of video poker iPhone apps in those stores should be plentiful. After all, Apple remains the major player in the mobile device market so they are bound to have some great real money gambling apps.
Android app store: It's the age-old question, Apple or Android? No matter which one you choose, you shouldn't have any issues locating the best video poker apps for Android. The Android store is rife with excellent options in this department.
Casino website apps: Maybe you already play video poker regularly at a local casino and want an app connected to that action. The good news is that many casinos now have dedicated apps that will let you earn rewards. And these rewards can be used in both the app and the casino itself. Once you find the app, the icon will lead you to the proper app store.
Online Video Poker Apps FAQ
It's the version of a pay table that offers the highest payback to a gambler. You should be in search of the full-pay table for whatever video poker variation you like to play. Make sure to search real money video poker apps until you locate the full-pay version if you really want to maximize your winnings.
Variance measures how much your bankroll will rise and fall in an average session. High-variance games are ideal for those players who are trying to win a lot of money in a short amount of time. Meanwhile, low-variance games generally let you play longer sessions even with a small bankroll.
The payback for the best mobile video poker games essentially depends on the pay table that you can find. And the good news with casino video poker apps is that you can keep searching until you find the most lucrative pay tables. At casinos, you are limited to the games in front of you.
Conclusion on Mobile Video Poker Apps
We hope that you now understand the world of real money video poker apps much better. It's an amazing way to play one of the most popular casino games of all. You basically have an entire world of video poker at your fingertips.