Our team of real money online gambling experts has reviewed, ranked, and rated the top Illinois online casinos. You can stop searching and start playing your favorite casino games at any of these IL casino sites. Claim any or all of the welcome bonuses below.
In our Illinois online casino reviews, we go into a lot more detail on the pros and cons of these sites. Take some time to read the reviews for the ones you're interested in. They may help you make a decision about what site to play at.
Top Sites for Online Gambling in Illinois
You might wonder why these are the best Illinois online casinos. Since there are hundreds of offshore casino sites that accept American players, why did we select these? They all meet our five-point essential checklist for all real money online gambling sites.
They're safe, fair, and run by legitimate operators with player-friendly terms and conditions.
They all offer generous welcome bonuses that give you a realistic chance to keep what you win.
There are hundreds of high-quality casino games, including video slots, keno, roulette, blackjack, and others.
The games have been verified fair by third-party testing organizations that test the random number generators.
These casinos offer fast payouts with low or zero fees. You'll get your winnings within a few days.
Why Play at Real Money IL Online Casinos?
There are a few excellent land-based casinos in Illinois. So, why should you choose to play real money casino games in IL when you have access to several top-notch gaming venues in your home state? Consider the advantages of playing at Illinois online casinos.
Convenience
Depending on where you live in Illinois, you might not have convenient access to land casinos. This is a rural state, for the most part, and lots of you will have to drive hundreds of miles to get to a casino. When you play at our approved Illinois online casinos, you'll have all your favorite games at your fingertips. You can also bet on sports and play poker at many of them.
Privacy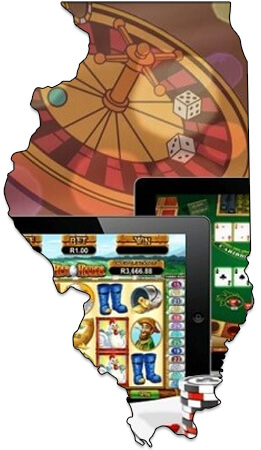 These days, you can't take your privacy seriously enough. But if you play at in-person casinos, anyone who's out and about will know what you're up to. At online casinos for Illinois customers, you can use cryptocurrencies like Bitcoin or Monero to leave no trace of your gambling activities.
It's great because other than gossips who might talk about your online gambling activities, banks and lenders can deny you just on the basis that you have a few gambling transactions on your statements. If you take the correct precautions, real money Illinois online casinos offer unrivaled privacy.
Illinois Online Casino Bonuses
Are you a high roller? 99% of readers will answer no to that question. Unfortunately, only the fortunate 1% can expect bonuses and VIP comps at land-based casinos. However, 100% of players can get them at Illinois online gambling sites.
You can claim first deposit bonuses as a new player, there are usually daily or weekly real money promos. And in most cases, every wager counts towards accumulating comp points, regardless of how big or small. You won't get the same type of treatment in land-based casinos unless you're gambling with big bucks.
Real Money Casino Games
Even at the best casinos in Illinois, you won't have access to such a wide variety of games. Some of them may offer thousands of slot machines, but many of them are the same game replicated across dozens of machines. At the top Illinois online casinos, you can play hundreds of unique slot machines, most of them offer at least a dozen table and card games, and a growing number of them also offer live dealer blackjack, baccarat, and roulette. Even Vegas casinos struggle to complete with the game variety at our chosen Illinois online casino sites!
Mobile Gambling Options
From a cafe in Chi-Town to a bar in Bloomington, the entire state of Illinois is a potential casino thanks to mobile Illinois gambling apps and mobile casinos. While you'll have the option to stay warm and cozy at home with your feet up, you can also play your favorite casino games anywhere in the state.
Wanna shoot craps in Lincoln Park? How about spinning slots while sitting along the Chicago River? You can do that thanks to IL online gambling sites and Illinois casino apps.
Service
Just as with real money bonuses, you'll need to have a hefty bankroll to get the VIP treatment at land-based casinos. However, at most Illinois online casinos, you'll have customer support agents at your fingertips available around the clock.
Most online casinos offer support via email, live chat, and even telephone hotlines. Since there's no limit to how many agents these casinos can hire, you won't have to fight for a service rep's attention.
Online Gambling Laws in Illinois
Illinois does have some legal online gambling, but it does not currently regulate online casino gaming market. Since 2012, Illinois residents have been able to play in lotteries such as Powerball and Mega Millions online for real money.
As of June 28th, 2019, with the passage of the Illinois Gambling Act, it's legal to bet on sports online in Illinois. However, Illinois online casinos have not been legalized and are not currently regulated.
Does this mean you can't play online casino games in Illinois? Not at all. There are a number of offshore Illinois online gambling apps. These aren't regulated, and so there are some risks to playing at them. But legal jeopardy is not one of those risks.
Ever since 2006, US online casino gambling has been prohibited at a federal level. The Unlawful Internet Gambling Enforcement Act prohibited casino gaming online, and it remains the de facto law in all states that haven't taken action to legalize and regulate on a local level.
It's important to note that players cannot be prosecuted under this law. It deals with illegal operators of Illinois online casinos and payment processors, such as banks and e-wallets.
To sum it all up, sports betting and lotteries are legal and regulated in Illinois. Casino gaming is not, but it's widely available at real money offshore Illinois casino sites, and you face no potential legal penalties if you choose to play at them. Until the state decides to legalize and regulate online casino gaming, they're your only option if you want to gamble online in Illinois.
How to Stay Safe Playing at Illinois Casinos
The best way to stay safe is to play at the safest IL casinos online. We've listed them for you on this page, and sticking to these sites will eliminate most of your potential problems. However, you can always do the following checks before you play at any online gambling site.
Is the connection encrypted? Look for "https://" before the web address. Illinois online casinos with this prefix use the latest SSL encryption. In this case, your data is safe from snoopers and hackers.
Are the bonus terms fair? We get into this in all of our Illinois gambling site reviews. If the bonus terms are unfair, it means it's not a player-friendly casino app. You'll want to avoid these sites.
Is downloading the casino mandatory? This is always a bad sign. Hackers can bury malware, ransomware, and spyware in the software of real money Illinois online casinos. You should always be able to play flash games in your web browser.
Does the operator have a valid license? This isn't always necessary, and some USA gambling operators can get by on a fair track record alone, but it's always best if the operator is sanctioned to operate by a legit and trustworthy regulator. The most legit Illinois online casinos have valid licenses.
Is this communication legitimate? Always ask yourself this when you receive a call, an email, or any other form of communication from Illinois online casinos. Identity thieves are everywhere, and it only takes a few minutes to confirm the authenticity of the communication with a support agent.
Land-Based Casinos in Illinois
If you prefer to give IL casino websites a miss and would rather play at one of the state's world-class land-based casinos, check out these five options.
Casino
Address
Hours
Hollywood Casino Aurora
1 W New York St, Aurora, IL 60506
Sunday-Thursday: 8:30am-4:30am
Friday-Saturday: 8:30am-6:30am
Hollywood Casino Aurora
250 S Grove Ave, Elgin, IL 60120
Sunday-Thursday: 9:00am-3:00am
Friday-Saturday: 9:00am-5:00am
Par-A-Dice Hotel Casino
21 Blackjack Blvd, East Peoria, IL 61611
Sunday-Thursday: 9:00am-1:00am
Friday-Saturday: 9:00am-3:00am
Hollywood Casino and Hotel Joliet
777 Hollywood Blvd, Joliet, IL 60436
Monday-Sunday: 8:00am-4:00am
Rivers Casino Des Plaines
3000 S River Rd, Des Plaines, IL 60018
24/7
Hollywood Casino Aurora
One of Chicago's premier casinos, this one has a 53,000-square-foot gaming floor. It has over 1,000 slot machines and 20 table games, including blackjack, roulette, craps, baccarat, and Texas Hold'em poker. When you're ready for refreshments, head to the steak house, the buffet, the deli, or the exclusive VIP lounge.
Grand Victoria Casino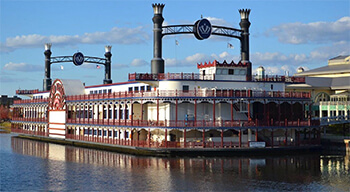 The Grand Victoria is another great Illinois casino on the river. You can play 1,100 slot machines and dozens of table games like blackjack, baccarat, roulette, craps, and poker. There are three restaurants, including a steakhouse and two buffets. High rollers and Sterling members can also access the V Club.
Par-A-Dice Hotel Casino
If a riverfront casino appeals to you, this is probably the best casino in Illinois. It offers 930 slot machines and 30 table games, including blackjack, craps, roulette, baccarat, and poker. Casino credit is available upon approval. If you get hungry, there's a steakhouse, a deli, and a fully stocked bar offering spirits, beer, and cocktails. You can also spend the night in one of the on-site hotel rooms for reasonable rates.
Hollywood Casino and Hotel Joliet
Not quite as large as its Aurora sister casino, this venue offers 1,000 slot machines and 18 table games across a 50,000-square-foot gaming floor. You can play blackjack, craps, and roulette, and you can place real money wagers on sports. Eat at the steakhouse, the deli, or the buffet, or grab some drinks and burgers at the 99 Hops House.
Rivers Casino Des Plaines
Rivers casino offers an impressive selection of 1,100 slot machines and 65 table games, including blackjack, baccarat, craps, roulette, and several poker variants such as Texas Hold'em, Three-Card Poker, and Mississippi Stud. There are five places to grab something to eat, including grilled meats, burgers, and Asian cuisine. There's also a coffee spot and a cocktail bar.
If you want to place real money sports bets, you can also do that in the Betrivers Sportsbook.
More Online Gambling Options for Illinois Casino Players
Real money Illinois gaming sites come in all shapes and sizes, and if you like to gamble across the spectrum, you'll find a lot more on offer than just casino games.
You have many options when it comes to online gambling for money in Illinois.
There are now lots of
legal sports betting sites in the state
. Some of our top-rated Illinois gambling sites offer lines on football, baseball, basketball, hockey, boxing, MMA, soccer, rugby, motor racing, eSports, and lots of other sports.
If you want to play poker online in IL, that's also an option. Several of the gambling sites listed on the table above offer sit and go games and regular real money poker tournaments with guaranteed pots.
Will you have to sign up at different sites to access these services? Not necessarily. Some of the best real money gambling sites for IL customers offer casino games, sports betting, and online poker from one account.
Illinois Online Casinos FAQ
They're safe if you play at legitimate, trustworthy Illinois online casinos. Since online casino gaming for money isn't regulated in IL, you have to be careful, because there's no regulator to complain to if you get ripped off. If you stick with our recommended IL casino sites, you've got nothing to worry about gambling online.
Most offshore casinos accept players from all states. If you're traveling outside Illinois, you can gamble online from most of them. You may run into some restrictions if you're in New Jersey, Maryland, or Washington DC. But for the most part, it doesn't matter what state you're in. Just list your home address in Illinois when you register, and you should be good to go.
As you may have already noticed, Illinois is home to a large number of world-class casino websites. Some of the United States gambling sites have gained reputations for being better than others. We recommend that you join one of these IL casino sites offering safe payment options, a helpful customer support system, and the types of casino games you're interested in playing.
All real money IL casino websites require their members to be at least 18 years old. Before making any online wagers, you'll need to verify your age. Fortunately, this process should only take a few minutes. Keep in mind that the registration process varies between different IL casino apps.
We know that this can be an "uh-oh" moment for new players, but we assure you it's for a good reason. Illinois online casinos don't want money launderers and criminals tainting their operations. This can bring all sorts of legal heat down on them, not to mention the ethics of accepting this cash. Identity verification helps stamp out crime and is often a necessity to hold a legal gambling license in any jurisdiction. Usually, these checks will only kick in when you want to make a significant withdrawal.