Country roads, take me home, to the place where I can gamble! Okay, so maybe those aren't the exact words to this famous John Denver song about West Virginia, but we think it works as a fun variation.
Why? Well, we don't have to tell you just how much residents of WV love to gamble. And while you do have a few in-person options to get your gamble on, the real high-flying action is online at the top real money West Virginia online casinos.
If you're ready to get into real money gambling without ever needing to step foot outside of the house again, stay tuned for the details on the best West Virginia casino apps and online gambling sites.
What We Look For in the Best West Virginia Online Casinos

Variety of Real Money Casinos Games
We're not just talking about the number of casino games you have to choose from, but we're also talking about the quality.
In order to make our list, West Virginia casinos online needs to offer hundreds of games that are updated with the latest software, best graphics, highest quality animations, and top-notch sound effects.
You can play online casino games for money in West Virginia with confidence that these are the best, safest online casinos on the web.
The Safety and Security
While this is number two on this list, it's actually the number one factor we assess when selecting the top WV casino sites. There is no room for error when it comes to keeping you, your money, and your personal information safe.
Here are just a few of the specific factors we look for:
The highest level of encryption available
Banking-level security protocols in place
Never selling your information to third parties
Dedicated security and support teams working around the clock
A proactive approach to combatting security issues
A proven track record of offering a safe online gambling experience
Sites That Offer Mobile Betting Options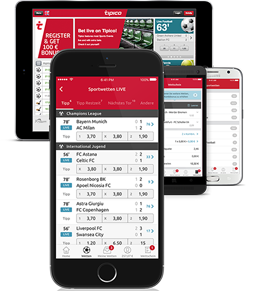 If we could describe the perks of gambling online in West Virginia in one word, it would be convenience.
And a big part of that convenience factor is the ability to play your favorite real money casino games from anywhere at any time.
Unless you're someone who rolls your desktop computer around with you everywhere you go, this means having a great mobile betting platform.
You should be able to play all West Virginia online casinos right from your mobile device, be it Android, iPhone, iPad, tablet, or whatever mobile device you have.
With betting apps on the rise, West Virginia casino apps are becoming the most convenient way to gamble online.
However, we don't require a dedicated mobile app, but we at least require a mobile-responsive website.
In fact, many members of our expert review team believe the perks that come with mobile-responsive gambling sites far outweigh those that come with dedicated casino apps for West Virginia residents. But just in case you are in the app camp, we have both options included in this list.
Lucrative Promotions and Bonuses
One the best parts of West Virginia gambling online are the casino bonuses! Nearly every gambling site offers some sort of welcome bonus to lure you in and get you signed up. The top WV casinos online will give you free money, free spins, free play, and VIP rewards just for choosing to gamble at their casino.
We always ask our readers to understand the terms and conditions first to make sure you get the most bang for your bonus buck.
Here's a look at some of the best West Virginia casino bonuses available online:
Below are some of the most common bonuses you'll find at WV online casino sites:
Deposit Bonuses
Welcome Bonus Packages
Account Reload Bonuses
Free Spin Bonuses
Free Play Bonuses
Loss Rebate Bonuses
Creative Bonuses (trips, swag, gear, etc.)
If you use the links we've provided at the top of this guide, your account will automatically be eligible for the best West Virginia casino bonuses the site has to offer.
Get Your Winnings Paid Out Fast
Banking integrations and processes need to be fully squared away before our team will sign off on any West Virginia casinos online. What does this mean? Here are a few of the questions we require answers to before giving our nod of approval:
Are there several high-quality and secure options for withdrawing and depositing?
Do the West Virginia gambling sites offer instant fee-free deposits?
Do you get at least one free withdrawal every month?
Have the banking integrations been implemented properly?
Is there dedicated support for cashing out?
Do cashouts come in a timely manner?
High-Quality Customer Support
Sometimes, you need a little help when you're gambling online in West Virginia. Whether that's getting the details of an online casino bonus ironed out or checking on the status of a pending cashout, you want answers quickly.
All of the top West Virginia casino apps and gambling sites listed in our recommended list have exquisite customer service solutions ready to help you if you need it!
Online Gambling Laws in West Virginia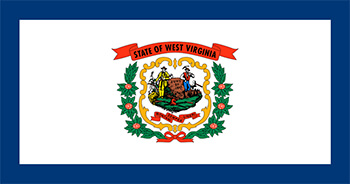 West Virginia was the fifth state in the nation to legalize online gambling! Where most other states operate in a sea of uncertainty and gray areas, that's not the case in WV.
H 2934 is the gaming law that recently paved the way for continued growth for online casinos in the state.
What does this mean for you? Everything!
It means that you're completely free to legally play your favorite online casino games in West Virginia without any fears of legal repercussions.
Banking Options at West Virginia Online Casinos
Probably the biggest question that people ask about gambling online in West Virginia is how the money works. How do you get your bankroll online so you can play, and how do you withdraw your winnings when you strike it rich? Here are the factors you need to know.
Be aware that these factors assume you're using one of the real money West Virginia casinos online we've recommended and vetted. While other sites not on our list may still be safe, we can't guarantee anything without doing our research.
The most popular online banking options you'll see at WV casino sites for depositing and withdrawing are credit cards, debit cards, prepaid cards, PayPal, e-wallets, Western Union, money services, bank wires, direct deposits, cryptocurrencies, and checks.
The time it takes to receive your winnings cashout depends on the method you choose to receive your money. The fastest method is cryptocurrency. The slowest method is getting a check mailed to you. The average time of all options is about five business days from the time you request your cash out.
You should never have to pay any fees when making a deposit. Additionally, your deposited funds should be made available to you immediately.
The top West Virginia online casinos always offer at least one free withdrawal every month. Additional withdrawals during the month might be free or may come with a small fee attached.
Are There Brick and Mortar Casinos in West Virginia?
Yes, there are a few different locations in West Virginia where you can gamble in person. While these locations aren't as flashy as some of the casinos you'd see in other states, they still offer the same exciting real money action.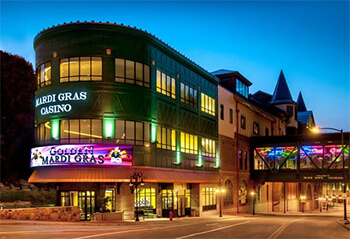 One of our favorites in the state is the Mardi Gras Casino and Resort located in Cross Lanes, WV. Open daily from 9 AM to 4 AM, this casino has greyhound racing, a sportsbook, slot machines, table games, poker, and big jackpots.
The casino has over 90,000 square feet of gaming space with almost 1,000 slot machines and over 20 table games. Additionally, the casino is a full-service hotel, so if you are looking to get away for a few days, it could be a great fit.
What If I Want to Gamble in Person and Gamble Online?
If you're someone who sees the benefits in both of these real money gambling options, that's okay. There's nothing that says you can't take advantage of both, depending on your current needs!
Want to hit up the casino this Friday night for some in-person fun? Also, want to play a few games the Thursday before to practice up for your casino night? That's all totally fine!
You can also download West Virginia gambling apps and play from your phone while you're in the casino in person! Though that might be a little much, it's still an option and there's nothing that says you can't.
Many West Virginia gamblers take full advantage of both of these avenues of action and get the same, fun gambling experience overall.
How Is Gambling in West Virginia Different Than in Person?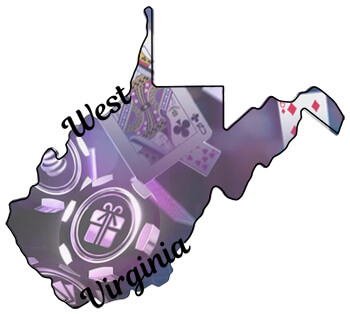 It's More Convenient
The number one perk to using real money West Virginia online casinos is the convenience. You're never going to have to drive anywhere, wait in any lines, or check to see if the casino is still open and operating. Play any game, at any time, and from anywhere.
A handful of the top casinos online we recommend have released casino apps which will make your mobile gambling in West Virginia experience all the more better.
It's Not as Social
The one potential drawback (depending on your preferences) to gambling online in WV is that it's a bit less social than playing in person. However, if the games are what's most important to you, this won't bother you at all.
Additionally, if you want the human interaction with dealers, you can always use the live dealer tables at the best real money West Virginia online casinos.
But if you're looking to rub elbows with other patrons and other gamblers, you won't get it with West Virginia casino sites outside of the typing chat function.
It's Safer
It's amazing how many people you ask that would tell you gambling in person is safer than gambling online. If you're using one of the reputable West Virginia online casinos we've recommended, though, this isn't the case. Why?
First, you don't have the risks that come with traveling to the casino.
Second, casinos have a bad tendency for attracting unsavory characters who might be looking to do you harm.
Third, you have to carry around large sums of cash and chips when you gamble in person.
All three of these risk factors go away when you choose to gamble online for money in West Virginia from the comfort and safety of your own home.
The Stakes Start Lower
At the casino, the minimum table stakes generally start at around $5 per hand.
If the casino is busy, though, those stakes go up to as high as $25.
When you gamble online in West Virginia, the starting stakes for all games is $0.01 per hand. Additionally, it doesn't matter if you're playing mid-day on a Tuesday or at prime time on a Friday night; the minimum stakes don't increase.
You Get Your Own Table
Unless you're using the live dealer tables, your dealer is going to be digital. What this means is that every single player at the casino is going to get their very own table!
This gives you the flexibility to play fast, take your time, and really set the tone for how your gambling experience goes. Additionally, you don't have to worry about picking your bets out of a sea of other bets.
Other Gambling Options in West Virginia

Online casino games aren't the only type of action you can get in West Virginia. If you're a fan of sports betting or playing poker, you've got some really great options. Some of these options are available at the same real money West Virginia casinos online that we've recommended, and some of the options are available at dedicated options.
You can bet on sports using one of the top online casinos we've recommended or download West Virginia betting apps and get in on the action now!
Here are a few links to our lists of the best options available to you in the state:
How to Get Started Playing Now
If you've heard enough and you're ready to get into the action, you aren't far away. First, head back up to the top of the guide and select the real money West Virginia online casinos that are the best fit for you. Once you've picked one (or two) out, create your account and make a deposit. After that, head over to the game lobby and find the game you want to play.
How long is this all going to take? You should be able to start playing your favorite online casino games for real money within about 10 minutes tops!
If you're ready for those country roads to take you home to the place where you can gamble, it's smooth sailing from here!
FAQs About Gambling Online in West Virginia
West Virginia has already legalized
online sports betting
, but that doesn't mean you can't still play casino games for real money in West Virginia over the internet. All anti-gambling laws currently in place in the United States were written to prevent citizens from unlawfully operating their own casinos. There is nothing in the laws that keeps people from actually placing real money bets in West Virginia.
So, you can play poker, blackjack, roulette, or any of your other of your favorite casino games online in West Virginia without having to worry about the police showing up at your door and throwing you into the back of a squad car.
Absolutely! In fact, we recommend it. All of our highest-rated online casinos for West Virginia players have developed and released their own mobile apps that you can download right to your mobile phone or tablet. The vast majority of these West Virginia casino apps are compatible with Apple and Android devices. The best real money West Virginia casino apps offer the same functionality and options that you'll find at their desktop websites. Playing casino games via mobile device is an easy way to get your bets in if you can't get to your computer, or if you're looking to avoid leaving the comfort of your couch.
The online gambling experience is often as safe as you make it. There are several steps you can take as a bettor to make sure that your personal information and data does not wind up in the wrong hands. However, the sites also bear quite a bit of responsibility when it comes to your safety and security.
That's why we only refer you to West Virginia online casinos that meet our high standards for security. There are plenty of seedy sites out there that don't take the proper security measures, which puts their consumers at risk. The best online casinos for West Virginia players meet our expectations for safety, which is why we recommend you get the majority of your action at the sites listed at the very top of this page.
Cryptocurrency has exploded in popularity in recent years, which is a trend that has not gone unnoticed by most online betting operators. As a result, the majority of our top-ranked online casinos in West Virginia will now accept Bitcoin and a number of other forms of crypto as a payment method. You can process your deposits and withdrawals with Bitcoin, Bitcoin Cash, Litecoin, Ethereum, and a number of other crypto options nowadays.
We recommend consulting the handy table at the top of this page for our complete rankings of the best real money West Virginia casinos online. These sites all meet our stringent standards for safety, banking options, fast payouts, game variety, customer service, and more!