100%
WELCOME BONUS
UP TO
£250
Lots of sports available
Multiple payment methods
High payout percentages
22Bet Review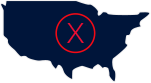 Not Approved
for US Customers
Pros
Lots of sports available
Multiple payment methods
High payout percentages
Mobile app available
Cons
Does not accept US Players
Lack of live streaming
Payments can be slower during peak times
Low withdrawal minimums
22Bet is a European online gambling website founded in 2018. They aim to offer the best possible online betting experience to players around the world. Since their inception, they have expanded across Europe and all around the globe. Their rapid expansion comes as a result of offering a wide range of daily markets, excellent odds, and fantastic customer experience.
In addition to sports betting, 22Bet provides a full online casino, including slots, table games, and a live casino. We have dug in to highlight the key points and give a trustworthy 22Bet review to help you decide if they fits your needs.
22Bet Sportsbook Review
The biggest draw for 22Bet is the sportsbook. By offering a wide range of sports, any player will be able to find somewhere to place a bet. Their simple user interface and excellent odds make for an exceptional customer experience. Here are a few highlights from our 22bet.com sportsbook review.
Betting Variety at 22bet.com
A big part of the draw for 22Bet is the full range of sports on which players can place bets. Regardless of which sports you prefer, 22Bet will have something for you. In addition to an extensive list of sports betting options, the site offers lines on other things, such as popular culture and politics. They even offer bets on esports, which can sometimes be more profitable than betting on real sports.
Below is a selection of some of the sports available at the time of our 22Bet sportsbook review. This list is not exhaustive but gives you an idea of the breadth of offerings.
Football
Basketball
Soccer
Ice Hockey
Tennis
Baseball
Golf
Speed Skating
Volleyball
Rugby
Formula 1
Alpine Skiing
Curling
Cycling
Snooker
Boxing
MMA
Darts
Chess
Badminton
Esports
Snowboarding
Horse Racing
Beach Volleyball
Live Betting
Another cool feature on 22bet.com is the ability to place live bets during an event. This feature makes online sports betting even more engaging, as you are not limited to the bets you set before the match started. Say, for example, you're betting on a soccer game. In addition to the moneyline, you could bet on who will score the next goal mid-game. These live bets are available for a wide range of the sports available on 22Bet online sportsbook, and there will almost always be some sort of live contest any time you want to place a bet.
22Bet User Interface
Players will appreciate the clear and straightforward layout of 22Bet. During our 22Bet review, the clean design made placing and editing bets easy, even for beginners. You will find all the available sports listed on the left with the information about the events in the middle. They also have timeframe filters to help you narrow down your selection. Even if you're new to sports betting, 22Bet will make it easy to place your wagers.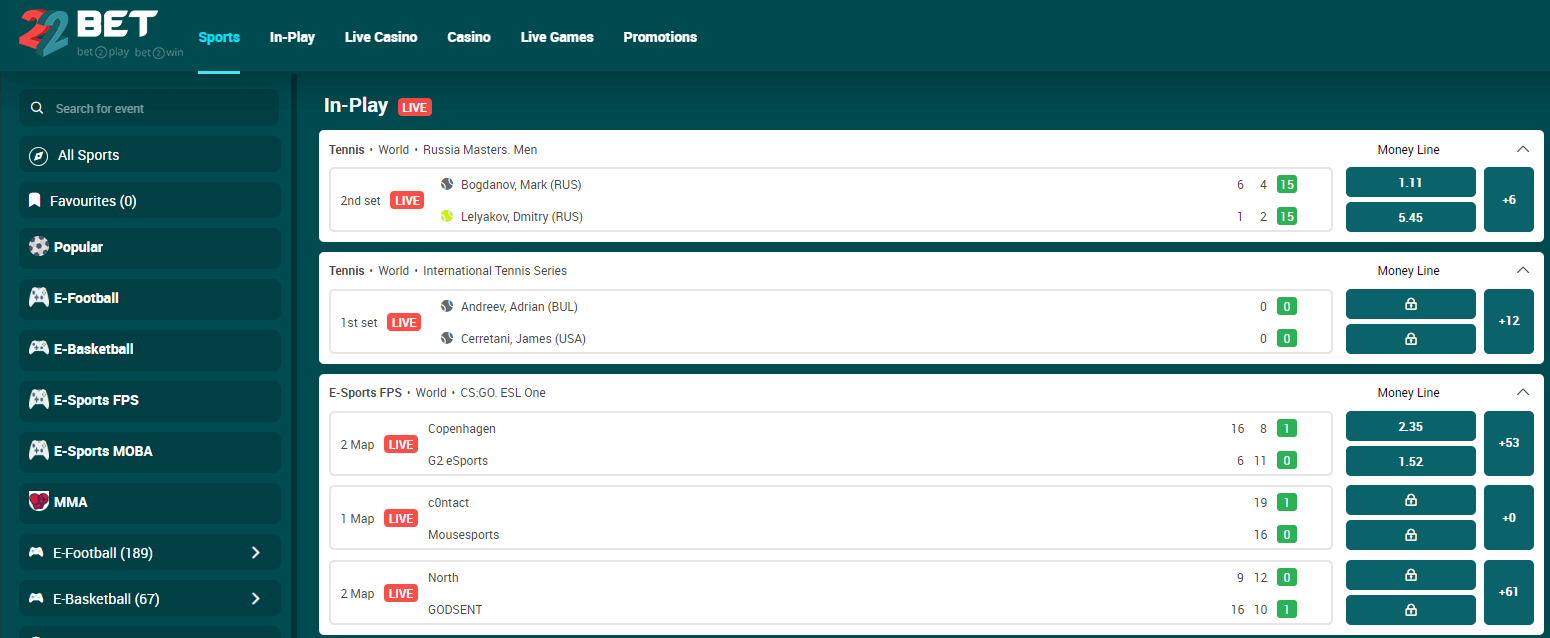 In addition to excellent site design, 22Bet supports a wide range of players around the world. By offering dozens of currencies and numerous languages, they can accommodate nearly any player. The available currencies range from the more common to some you have probably never heard of. Below is a list of some of the currencies and languages available.
Albanian Lek
Argentine Peso
Armenian Dram
Australian Dollar
Azerbaijani Manat
Belarusian Ruble Bitcoin
Brazilian Real
British Pound
Bulgarian Lev
Canadian Dollar
Central Africa Franc
Chilean Peso
Chinese Yuan
Colombian Peso
Czech Koruna
Danish Krone
Euro
FYROM Denar
Guarani Paraguay
Georgian Lari
Hong Kong Dollar
Hungarian Forint
Icelandic Krona
Indian Rupee
Indonesian Rupiah
Iranian Rial
Iraqi Dinar
Japanese Yen
Kazakhstan Tenge
Kenyan Shilling
Kyrgyzstani Som
Korean Won
Croatian Kuna
Malaysian Ringgit
Mexican Peso
Moldovan Leu
Mozambican Metical
New Taiwan Dollar
New Zealand Dollar
New sol Peru
Nigerian Naira
Norwegian Krone
Romanian New Leu
Russian Ruble
Serbian Dinar
Singaporean Dollars
South African Rand
Swedish Krona
Swiss Franc
Tajikistani Somoni
Thai Baht
Transnistria
Tunisian Dinar
Turkish Lira
Turkmenistan Manat
US Dollar
Ukrainian Hryvnia
Uzbekistani Som
English
Spanish
Chinese
Turkish
Albanian
Arabic
Czech
Danish
Estonian
Finnish
French
Georgian
German
Greek
Hebrew
Hungarian
Indian
Italian
Japanese
Korean
Malaysian
Norwegian
Polish
Portuguese
Serbian
Slovak
Swedish
Ukrainian
Vietnamese
22Bet Mobile Betting
An expectation of all customers in today's tech-advanced world is portability among all their devices. Players expect to have a seamless experience, whether that's playing on a computer, their phone, or their tablet. 22bet.com offers users the ability to bet via mobile using both native Android and iOS apps.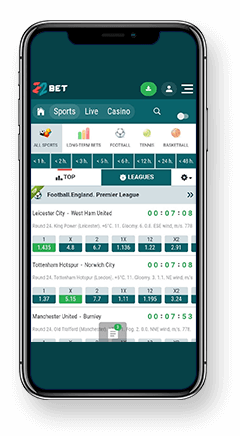 While the user interfaces are clean and intuitive, there is one challenge we found during our 22Bet online sportsbook review. The installation process is not as straightforward as downloading from the app store, which may deter some players. If you can get the app correctly installed, you're in for a comfortable betting experience.
The 22Bet Casino
An excellent selection of high-quality casino-style games is an essential part of any legitimate online gambling website. We found during our 22bet.com review, that they fit the bill by offering players a wide range of casino games to complement their sportsbook offerings. During our 22Bet casino review, there were over 100 options available, including table games, slots, and live gaming in which the player can play with a live dealer via webcam. The selection of games is always changing, so any player will be able to find something that fits their needs.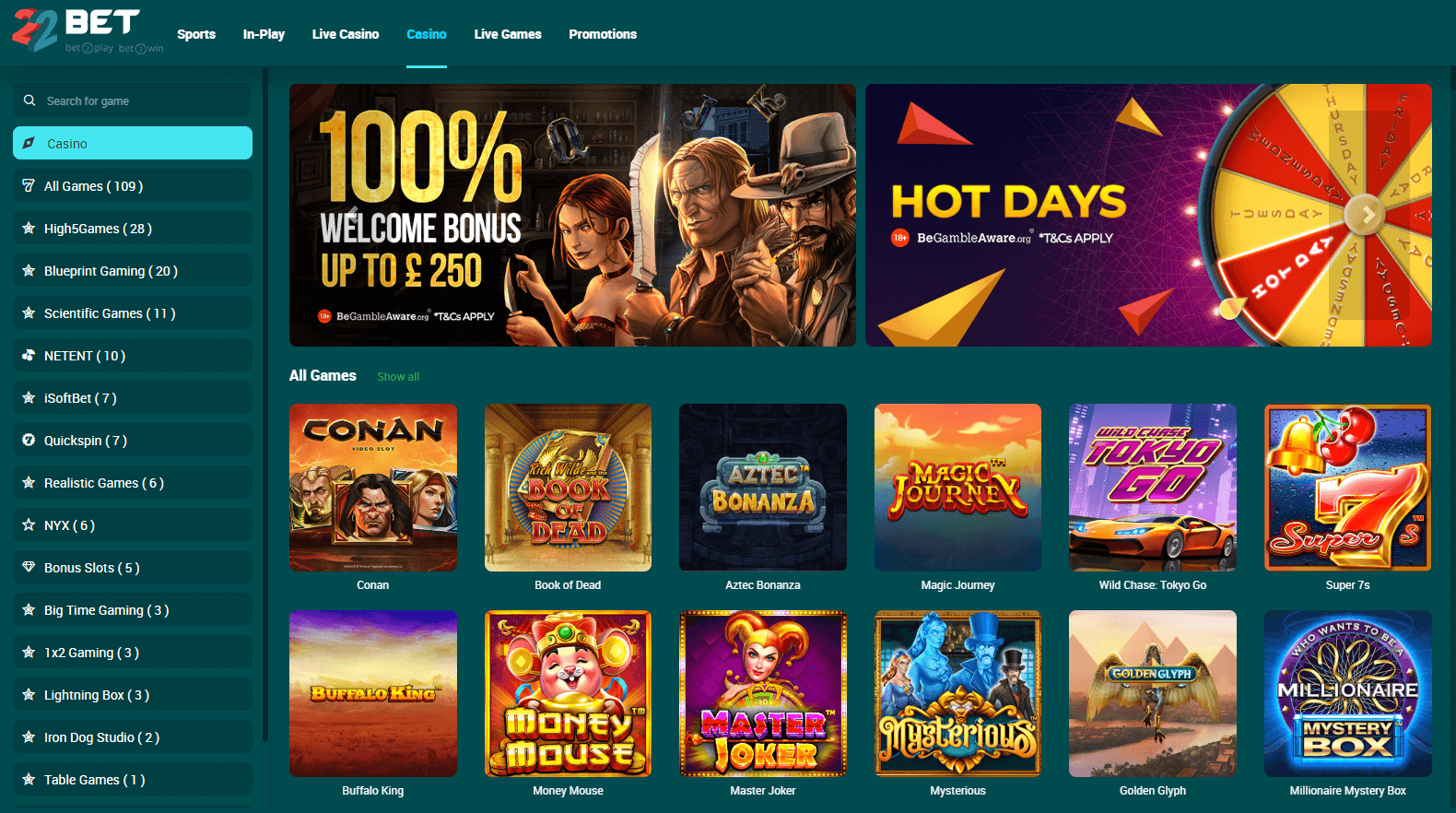 When looking through the selection of games, you'll find lots of new games. But you will also find some of the classics you know and love. The site features everything from cutting-edge 3D games to the trusty favorites like poker and blackjack. You can also participate in tournaments at 22Bet casino, such as their Quickspin tournaments, which offer players a shot at a considerable prize. In this type of contest, players winnings are tracked over a certain amount of time, and the player who wins the most gets an extra cash bonus.
22Bet Banking Options Deposits
Getting money into an account is made easy by the breadth of deposit options available. Players can use everything from bank transfers to cryptocurrency. Also, there are dozens of more regionally popular methods available. Some of these include Skrill, Neteller, ecoPayz, Paysafe, Webmoney, Payeer, Neosurf, Boku, and Qiwi. Using any of these methods, deposits are virtually instant, and funds are immediately ready to be used. Almost all of these options have a low minimum deposit of just €1, so there's no need to tie up tons of money if you don't want to.
Withdrawals
Withdrawals are just as simple as deposits, but there are not quite as many options for how to withdraw. Keep this in mind, as the method you used to fund the account may not work to take out winnings. A few of the notable methods that can only be used for deposits are Neosurf and Boku.
A significant advantage for 22Bet is that they offer low minimums on withdrawals. For most methods, you can withdraw as little as €1.50. These limitations are much smaller than other sites, which make accessing funds much easier for small-time players.
One crucial consideration to keep in mind when making a withdrawal is that 22Bet will require that you have complete all identity verification before completing a withdrawal. To ensure a speedy payout and minimize issues, make sure you complete all identity verification documents prior to requesting your first withdrawal.
Payout Speed
Finally, all of the withdrawal methods on 22Bet offer speedy payout times. For the majority of the providers, you can have withdrawals complete in under an hour. This is uncommon among online gambling sites. Fast access to winnings adds to player confidence and improves the overall player experience.
Promos and Bonuses at 22Bet
There are a variety of compelling promos and bonuses that 22Bet runs to keep players engaged. They do an excellent job of balancing one-time bonuses with valuable recurring promos to provide value for the player. Based on how you intend to play, these can be quite lucrative. Here are a few of the deals they offer:
Welcome Bonus: – For sports betting – 100% match up to £50 for new players
Welcome Bonus: – For casino games – 100% match up to £250 for new players
Monday Boost: – 50 free spins
Friday Reload: – 50% match up to £200 for all deposits made on Friday
Secure and Fair Gaming
When playing on 22Bet, you will not need to worry about whether or not your personal and financial data is safe. 22Bet uses state-of-the-art security software as well as industry-standard encryption to keep all player data secure. They operate with licenses from the government of Curaçao as well as UKGC, which is a respected license in the world of online gambling.
In terms of fair play, every player receives the same odds, whether playing table games or slots. Independent auditors regularly verify the fairness of the odds, and they periodically release statistics on payouts.
Customer Service
22Bet offers players 24/7 customer support in dozens of languages. With options for live chat, email, and phone support, players can rest assured they will get all questions answered promptly and professionally. The site also offers an FAQ section to help players find answers to more common questions without the need to contact support. In the past, they have received poor customer reviews for slow customer service. But this has changed dramatically, and they now offer best-in-class customer care.
22Bet Review FAQ
Yes, you can place a parlay on 22Bet. Once you have selected more than one bet and added them to your bet slip, the Multibet option will become available.
This gambling site's top priority is player satisfaction, and they work to settle bets as quickly as possible.
Yes. 22Bet uses industry-standard security and encryption to protect all player data.
No. Once a bet is confirmed, it cannot be canceled.
22bet.com Review Conclusion
Whether you're a sports bettor, table game player, or whatever else in between, 22Bet will have a game to match your style. They offer players a wide range of options, as well as many advantages that will make playing on 22Bet more enjoyable than many of its competitors. We hope you enjoyed our honest review of 22Bet, and we wish you the best of luck in picking an online gambling website.