The XFL had briefly returned after a lengthy hiatus and things were looking better than ever. The league had brought excitement to football fans and sports bettors unlike any other football game outside of the NFL. Unfortunately, the XFL filed for bankruptcy in 2020 and the status of the league is up in question. But with that said, if the XFL returns and you're looking to bet on the XFL, but don't know how, then don't worry, because we've got you covered with this XFL betting guide!
Top XFL Betting Sites
How to Bet Real Money on the XFL Online
The first thing you might be asking yourself is, "can you bet on XFL Football online?". Well, the answer is yes, and wagering on the XFL through online betting sites is easy. In fact, it's easier than going for a 3-point extra try in the game. All you have to do is follow these simple steps, and you will be betting on the XFL in no time.
The first step when trying to place XFL bets online is finding where can I bet on the XFL. We've done that job for you and compiled a list of the best XFL online betting sites. If you are wondering what makes these XFL online sportsbooks one of the best, check out the following criteria that our list of the top real money XFL betting sites have smashed: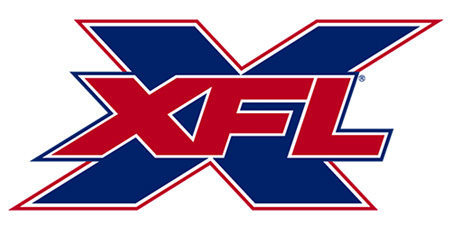 Highly credible
Easy to use
Top-of-the-line security
Quick banking and payouts
Offers a wide range of XFL bets
Great customer service
Excellent reviews by sports bettors
The best bonuses and promotions
Sign up With at XFL Betting Sites
Once you've chosen one of the best XFL online sportsbooks, it's time to sign up. This step is easy because the sites make it very simple to register for an account. Within a matter of minutes, you can be registered, have your money deposited, and be ready for XFL betting online.
Can You Sign up at More Than One XFL Betting Site?
Absolutely. We strongly encourage that you sign up with more than one of the top XFL betting sites on our list. Not only can you take advantage of several welcome bonuses and promotions, but it's also the best way to shop for optimal betting lines.
Deposit Your Funds
At this point, all you have to do is decide on how you plan to deposit your funds and they will arrive within a few minutes. The best XFL betting sites have lightning-fast banking so that your funds arrive quickly enough to place a wager in a matter of minutes.
Find the Best XFL Betting Odds
Once the funds are in your account, it's easy to find XFL betting odds. Just search the navigation menu for football wagers and it likely will be listed in the same section as the NFL and college football. From there, it's a matter of choosing which XFL bet to wager on.
Understanding XFL Betting Odds and Lines
XFL betting odds work in the same manner as NFL or college football betting odds and lines. Each game offers various types of bets for you to choose from. Let's take a look at some of the bets you will find on our list of the best XFL betting sites.
The Most Popular Types of XFL Bets
These types of football wagers are the most common wagers to bet on:
XFL Moneylines
This is the easiest wager to place money on. Simply put, moneyline betting means you're backing whichever team that you think will win. For example:
XFL Moneyline Bet
Matchup

Odds

Seattle Dragons

-150

Tampa Bay

+175
In this example, the Seattle Dragons are the favorite with a moneyline of -150. That means you would have to wager $150 to win $100 dollars. The Tampa Bay Vipers are the underdogs with a moneyline of +175. For this bet, if you wager $100 dollars on the Vipers, then you would win $175.
Spreads
The point spread represents how many points a team can win or lose by. It's designed to create a 50/50 scenario so that the bookmaker gets an even amount of bets on each side. For example:
XFL Spread Bet
Matchup

Odds

LA Wildcats -4

-110

NY Guardians +4

-110
The spread for this game is +/- 4 points. That means if you want to wager on the Wildcats then they would have to win by more than 4 points for your wager to be a winner. If you want to wager on the Guardians then they can't lose by more than 4 points.
If the score ends and the Wildcats won 24 to 20, then they didn't cover the spread and the bet is a "push." This means that nobody wins this wager and you get your bet back.
As for the numbers inside the parentheses (-110), these are the lines that determine how much you need to spend to win $100. In order to bet on the Guardians or the Wildcats' spread, you will need to risk $110 to win $100.
Totals
Totals, also called over/unders, represent the expected total number of points scored by both teams in a game. For example:
XFL Totals Bet
Matchup

Odds

Houston Roughnecks Over 45 Points

-110

DC Defenders Under 45 Points

-110
In this example, real money XFL betting sites have set the total to 45 points. So, you can either wager that the total score for the Roughnecks vs. Defenders game will go over 45 combined points or under 45 combined points.
Like with the spread, the numbers inside the parentheses represent how much money you would have to wager in order to win $100.
Other XFL Bets
In addition to the common types of bets listed above, there are a few other wagers that are often found on XFL sports betting sites.
XFL Props
Prop bets, short for propositions, are wagers based on specific outcomes or performances and not the final score of a game. Some popular XFL prop bets include:
Total passing yards for a QB
Which team will be the first to score
Distance of the longest touchdown pass or run
Props are a more enjoyable way to bet on games because you don't have to pick a specific result like which team wins or by how much. In addition to being fun, prop bets could be a great way to consistently make money betting on the XFL.
Futures
Future wagers are a type of prop bet that have their own niche within football betting. They involve a future event or action that can be for a player or a team. One popular XFL futures bet is for the XFL Championship, as XFL bettors can place wagers on which team they think will win the 2022 XFL title.
| Team | Odds |
| --- | --- |
| Houston Roughnecks | +200 |
| DC Defenders | +300 |
| St. Louis Battlehawks | +375 |
| Dallas Renegades | +550 |
| LA Wildcats | +1000 |
| New York Guardians | +1300 |
| Seattle Dragons | +2000 |
| Tampa Bay Vipers | +2200 |
Another popular futures wager for online XFL betting is choosing the MVP for the season. Like with the championship futures bet, XFL betting sites will list multiple options to wager on.
After each week of the season, the odds could change depending on how the team or player has performed.
Live Betting on the XFL
You may be asking yourself, what is live betting on the XFL. Live betting is an exciting opportunity for bettors to place wagers during a game. These odds can change quickly due to what's happening on the field. So, it does require a bit of focus and understanding of the game and the teams.
Nevertheless, live betting can be very profitable as you can wager on the types of bets mentioned above. These lines will change based on scoring, which team is on offense, and where the ball is at on the field. If you have any questions about any type of XFL betting, consult our XFL FAQ page where we answer any question you could have.
XFL Betting Tips
If you are an experienced bettor, then you already have an understanding of the basics for betting on football. If you are a beginner, then the first tip is to learn more about how to bet on football in general.
Once you have a firm grasp of the basics, you can start implementing the following XFL betting tips .
Know the XFL Rules
This should be obvious for any sport that you bet on, but with the XFL, it's even more important. Throughout the history of the XFL, the football league has provided some exciting new rule changes from the traditional style of football that we're used to. From extra point tries to kickoffs, this league has rules that can really impact the outcome of a game.
With that said, it's important to learn the differences in the XFL rules, especially when it involves scoring. In the case of extra points, the XFL allows teams to go for 1-point, 2-point, and 3-point tries.
This means that we're not dealing with the traditional 6-point and 7-point scores, but we're now looking at 6-point to 9-point scores. In the NFL, when down by nine, a team would need two scores. But, in the XFL, they only need one TD and a 3-point conversion. This is only one example of how the XFL differs from the NFL.
Check the Opening XFL Betting Odds
With XFL games played on Saturdays and Sundays every weekend, football betting sites tend to release XFL odds for these games early in the week. Staying on top of the opening lines can give you a chance to find value in odds or lines that sportsbooks might have gotten wrong.
Let's say the Dallas Renegades open as a 3-point favorite in their game against the New York Guardians. Now, in this scenario, the Guardians are the worst team in the league and should probably lose by more than 3 points.
The public starts hammering the Renegades at -3 points and, before you know it, the spread has climbed all the way up to -6 points within a day or so after the opening lines.
If you got in at the -3 points, not only did you get a lower number, but you also have gotten confirmation that the majority of bettors agreed with your initial thoughts that Dallas at -3 was a great bet to wager on.
Be mindful of when the XFL betting sites release their opening odds in order to catch any juicy betting opportunities.
Keep an Eye on the Injury Report
Whether it's XFL football betting or college football betting, injuries can make a huge difference in the outcome of a game. So, it's extremely important to pay attention to injury reports following a game and during the week. Not only can a player get hurt in live action, but they can get hurt in practice as well.
In the opening weekend of the 2022 season, Dallas Renegades quarterback Landry Jones wasn't able to play the first game of the season, as he was still nursing a knee injury. XFL betting websites didn't take this injury into consideration and favored the Renegades by double digits.
We took this into consideration and said to go with the underdog due to Jones not playing. Not only did the underdog team cover the spread, they also won the game. This was a great real-life example of how bettors and sportsbooks didn't factor in an injury. Don't make that mistake!
Shop for the Best Lines
One of the most important strategies for betting on the XFL is line shopping. Searching for where to find the best XFL odds is key to ensuring you are getting the biggest bang for your buck.
It's like shopping for a car or any other item. Just because you find a car that you like, doesn't mean you should pay full price at the first dealership you visit. Instead, you look at other dealerships and purchase it at the lowest price possible.
Line shopping is that same concept as you search all of the top XFL betting sites and find the best betting odds and lines available.
Let's say that you believe the Seattle Dragons are going to cover a 2-point spread at home against the DC Defenders. Your go-to betting site has the Dragons favored by 2 points, but odds of -120. You do some searching and find another top XFL betting site has the Dragons favored by 2 points, but at -105.
Through line shopping, you have found the same spread but at a lower amount. Your go-to betting website requires you to risk $120 to win $100, but the second site only requires risking $105 to win $100. Obviously, risking less money is the preferred option on any XFL bet.
Another way line shopping can really help is finding better lines. For example, the BattleHawks are favored by 3.5 points at your go-to betting site, but they're only favored by 2.5 points at another site.
The game ends and St. Louis won by 3 points. If you took the 3.5 line at your go-to site, then you would've lost your bet. However, if you took the 2.5 point spread at the second site, you would've won.
So, not only can line shopping help you to risk less, but it can also help you to find better odds that offer a better chance of winning.