Live betting has been around for a long time. In Europe, when horse racing was all the rage, you could place bets as the races were in play at physical bookies.
And as technology has improved, so have the capabilities of sportsbooks and bookies. Now, with a solid internet or data connection, you can place live bets from your smartphone or laptop at a click of a button.
At the same time, live betting websites and live betting apps raise a lot of questions. "Which live betting websites are the best? Is it better to use an app or your computer? Are the bonuses for live betting good?"
Well, a good thing for you, we're here to set the record straight with all things live betting!
The Best Live Betting Sites
The best online live betting sites are those that prioritize speed and simplicity over flashy designs and complex navigations. When you're focused on watching the game and keeping track of the stats, you don't want anything to slow you down.
Plus, sites worth their while make sure to keep you up to date on the best live bets right now, as the game is being played. This makes it easy to jump in at half-time and make wagers for the rest of the game.
Rest assured that each of our recommended sites is tested for security, fairness, and a handful of other criteria.
BetOnline
BetOnline is one of the largest sports betting sites out there, and it's no secret that they offer some of the best live betting in the business.
When you land on the BetOnline homepage, it's very easy to navigate to the lie betting section with their simple menu navigation. And once you're on the live betting section of the site, they clearly display all the live games currently in play, as well as list all the upcoming games that will be offered live.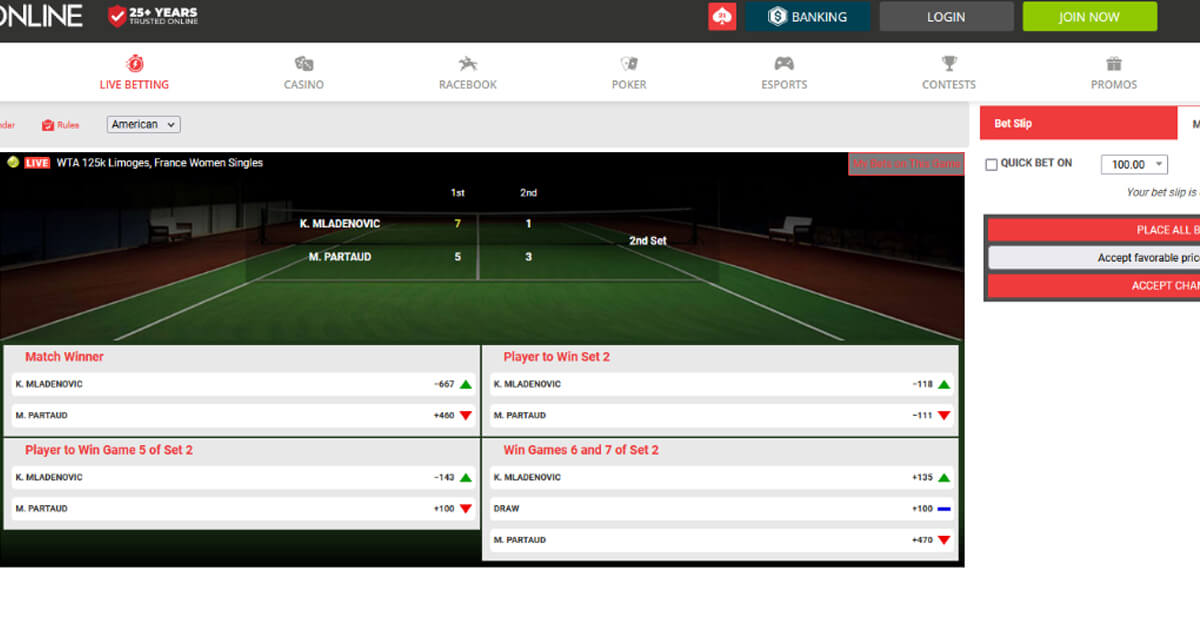 You can easily change how the page is displayed with their customization tools, and you can alter the betting odds between American, fractional, or decimal.
They offer live betting on American football, soccer, tennis, basketball, and all the other major sports. They also have live betting on some esports, like FIFA, CS:GO, and DOTA 2.
Funding your online betting account with BetOnline is simple and fast. Out of all the sportsbooks and online casinos we've seen over the years, they offer the most deposit options. They include:
Visa
Mastercard
Money Order
Bank Transfer
Bitcoin
Bitcoin Cash
Chainlink
Dogecoin
Ethereum
Litecoin
Ripple
Stellar
Tether
USD Coin
Cashier's Checks
New players at the BetOnline sportsbook are eligible to claim a 50% deposit bonus up to $1,000. Using crypto will net you an additional 10% bonus, as well!
BetOnline is one of the best live betting sportsbooks out there because of their wide game selection, easy-to-use site, and enticing bonuses.
MyBookie
MyBookie is one of the best live sports betting sites for experienced sports gamblers. Their online sportsbook offers all the popular sports like football, baseball, basketball, and soccer, as well as specific betting lines for college teams, Formula 1 racing, Gold, MMA, and Horse Racing.
The live betting portion of MyBookie is clearly displayed at the top of the navigation, and the subsequent live games are all organized on the left sidebar. Plus, as the moneyline odds for each live game update, you'll see the changes in real-time.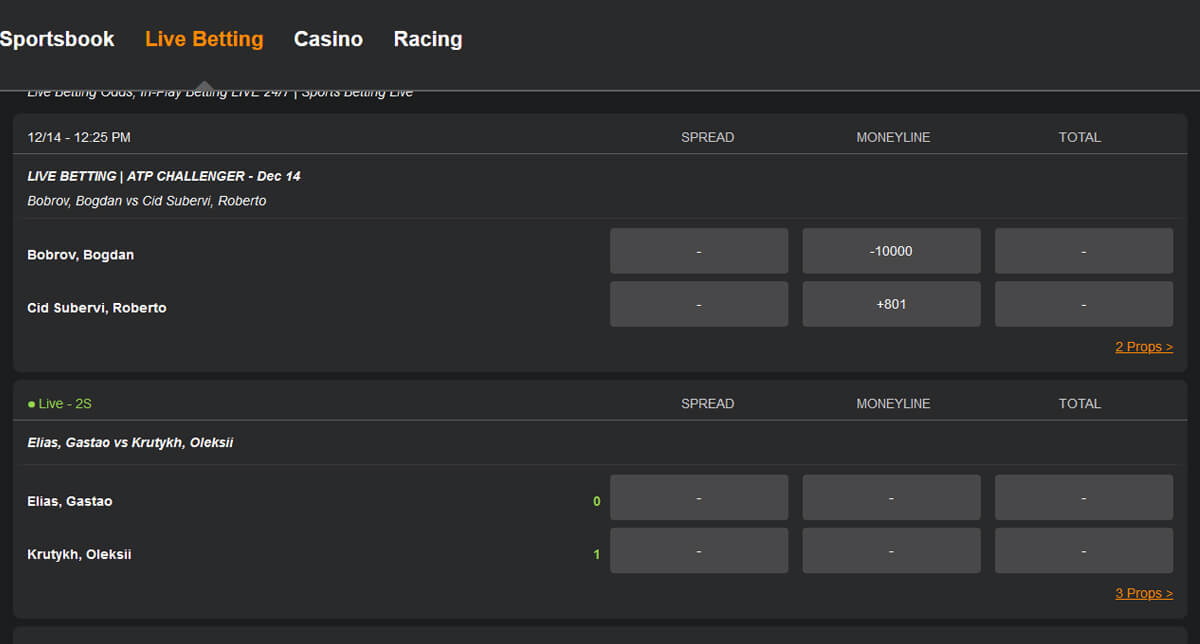 The changes in the odds are denoted by red or green arrows that indicate if the odds have increased or decreased. This is a nice feature that BetOnline is missing.
At MyBookie, you can make quick deposits using:
Mastercard
Visa
Bitcoin
Bitcoin Cash
Ethereum
Ripple
Litecoin
Person2Person
In terms of promotions, new players can double their first deposit with a 100% top-off bonus. Other promotions include a 25% sports reload bonus and an 8% horse rebate. Plus, if you refer friends, you can receive 250% of your friend's first deposit!
Bovada
There has been a lot of controversy over Bovada's sportsbook because there are accounts of people who win their bets a lot losing access to their bonuses or getting kicked off the site.
That being said, Bovada makes it clear that their site is for recreational sports bettors. People who make their living of sports betting shouldn't use Bovada, because there are other sportsbooks that offer more competitive odds.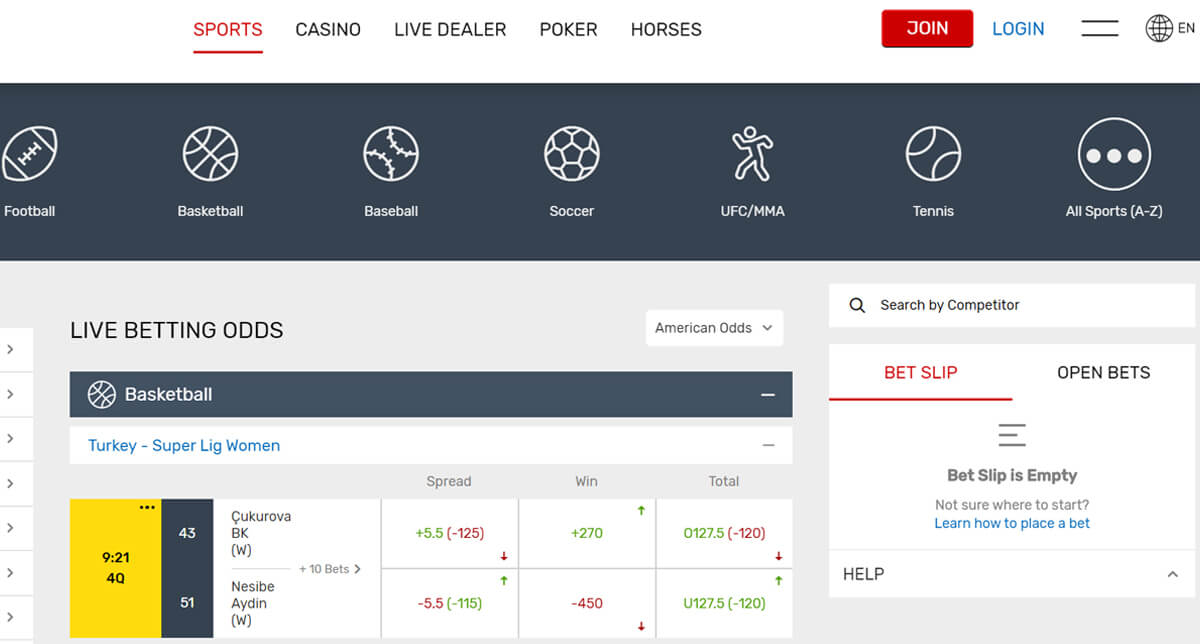 But, if you're looking for an easy-to-use site with low betting limits ($0.50!), then Bovada is for you. If you plan on live betting infrequently, or only during big sporting events, then you'll be fine. But, if you're winning multiple lines each day, Bovada won't be too happy. And if that's you're style of gambling, there are better sites out there for you.
New players can receive a 50% deposit bonus up to $250, as well as reload bonuses and crypto-specific rewards. You can make deposits at Bovada using the following methods:
Visa
Mastercard
American Express
Bitcoin
Bitcoin Cash
Zelle
UnionPay
Much like other live betting sites, Bovada's odds change in real-time. But something that not all live betting sites offer that Bovada does, is the ability to add multiple lines to your bet slip. Some places only permit one bet per slip, but at Bovada, you can place multiple bets on a single slip, making it easy to bet parlays.
The Best Live Betting Apps
All the online live betting sportsbooks we've recommended also have live betting apps, which makes cross-platform betting easy!
But if you're looking for a live betting app that's been designed specifically for mobile, you have a few options:
| Betting App | Compatibility | States Available | Specialty |
| --- | --- | --- | --- |
| FanDuel | iOS and Android | AZ, CO, CT, IL, IN, IO, MI, NJ, PA, TN, VI, WV | Same Game Parlay |
| DraftKings | iOS and Android | AZ, CO, CT, IN, IL, IO, NH, NJ, MI, PA, WV, MS, WY, VI, TN | Player and Game Props |
| Caesars Sportsbook | iOS and Android | AZ, CO, IL, IN, IO, LA, MI, NJ, PA, VI, WV | Free Bets and Welcome Bonus |
What Makes a Good Live Online Betting Site?
The best live online betting sites make their websites and apps easily accessible because they know that live betting can sometimes be a stressful hobby, so making their platforms as easy and fast as possible will boost usership.
Here are some of the most important qualities to look for in a live betting site:
Simple User Interface
If the live betting section of a sportsbook app or site is hard to find, that's a big red flag. And if you finally do find it, then don't be surprised if there are too many links and an overcomplicated interface.
Don't worry; that kind of complicated design is reserved for sites that want to keep you on the dead sections (and away from the more profitable live betting) as long as possible.
The best live betting websites have easy navigation and a crisp, clean interface. Getting bogged down by clunky design features will not only frustrate you, but it'll make you lose money when you're wagering on live games. That brings us to our next criteria–speed.
Fast Speeds
Any experienced live bettor will tell you; speed is everything. And if a website takes forever to load (through no fault of your Internet or data connection) then you're putting yourself at risk to lose money.
As the page loads, you might have won or lost your bets, or missed an opportunity to cash out. That's why you should check your connection before gambling, and use a site that has the best site loading speeds.
You can find out what sportsbooks have the fastest speeds by entering their URL into Pingdom's free speed test. As you can see below, BetUS's loading time is about a second and a half, which is pretty good!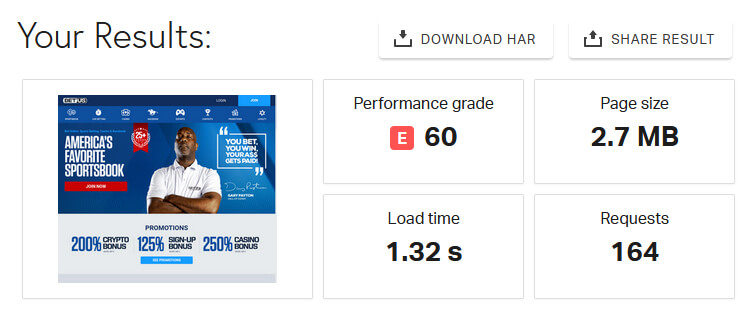 Quick Banking Options
If you're looking to deposit or withdraw money from your live betting account, you'll want to use a site that has quick and easy banking options.
Some sites have minimum withdrawal limits of $50 or more, which can be a hassle if all you have is a few bucks in your account. And some sites make you wait several days before your money is processed and sent to you.
The best live betting sites have quick banking options, so you can get your money in and out of the site as quickly as possible. Cryptocurrency and e-Wallets are some of the fastest banking options, and if the live betting site doesn't offer them as withdrawal options, then they aren't worth your time.
Site Security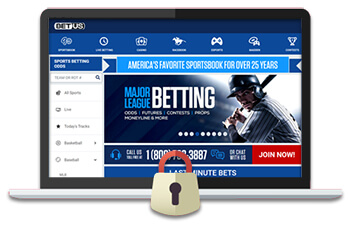 Third-party site security is incredibly important, especially when it comes to live betting. Once you've logged in and placed a bet, you don't want anyone (including the site itself) to be able to access your account and steal your money.
That's why you should always use a site that has an SSL certificate. An SSL certificate will encrypt all of your data and make sure it's secure.
Additionally, most sportsbooks and online casinos will hire a third-party security contractor to test their site for vulnerabilities and keep it secure. You can see these details by hovering over the little lock icon in your URL bar! If the lock icon is open, you may be visiting a site that's not secure.
Great Promotions
Being able to bet live is a great privilege, so you should enjoy yourself as much as possible when wagering on sports. That includes taking advantage of the best promotions on offer from different sites. Live betting sites often have massive reload bonuses, free bets, and other goodies for their users.
Make sure to read the terms and conditions of any promotion you're considering, so you know what you're getting into. If a site doesn't have great promotions, then it's not worth your time.
Pros and Cons of Live Betting
Live betting is like a coin-flip: It has great benefits, but it also has some troubling downsides. For many people, live betting is worth the risk, but these pros and cons will help you decide for yourself:
Pros
• Exciting Betting Options – There are more options when betting live than there are for pre-or post-game wagers. Just about everything that happens in a game is fair game for your bet, including who scores the next goal, how many points will be scored during the rest of the quarter, and whether or not a coach will get ejected.
• Fast Cash Outs for Easy Profits – Instead of having to wait until the game is over like with pre-or post-game wagers, you can cash out before anything happens (based on your bet). This allows you to get quick returns on your bets, and it lets you place new bets to potentially boost your profits throughout the whole game.• Fun and Rewarding – Live betting is fun, and it's also a good way to learn about sports and games. Paying attention and following the action of a game makes you feel like you're really there. The fast-paced nature of live sports betting draws plenty of bettors who can't be in the stands watching the game.
• Mobile-Friendly – One of the biggest advantages of live sports betting sites is that they're compatible with your mobile devices, like your smartphone or tablet. This makes it super easy to wager on the move, at the bar, or at a friend's house.
Cons
• Can Be Overwhelming – The more options you have, the more chances you have to make a mistake. With live betting, there are many opportunities to bet on different outcomes, and this can lead to confusion and frustration.
• Time-Consuming – You can't just sit down, open a new tab on your browser, and start betting! Live sports bets have to be placed by following the action of a game as it unfolds. This takes time and practice, so you may not always place wagers in time for them to count. If you're not watching the stats for the whole game, you could seriously miss out on a big opportunity.
• Can Worsen Gambling Problems – For some people, live betting only exacerbates gambling problems. The fast action and high potential for profits can lead to reckless betting, and this can quickly spiral out of control. If you know that you have a problem with gambling, then it's best to avoid live betting altogether.
How to Bet on Live Sports
Betting on live sports is a bit different than placing a wager on a normal game. With a game you're not betting on live, you can walk away and come back later to see if you hit your bet. You don't even have to be watching the game to wager!
But, with in-play betting, money is made and lost during the course of the game as it's played. This means if you don't have the time to sit through the whole game and watch the stats like a hawk, then you probably won't succeed with live betting.
Here are some of the most important tips and tricks when it comes to in-play betting:
The Best Live Bets for the In-Play Gambler
The main goal of the in-play sports bettor is to find an edge before the game starts and then ride that edge through all of the action.
If you don't have time to put your knowledge of a game to use before it kicks off, there are certain bets that are very powerful when made during the game.
Moneyline – Moneyline bets are some of the simplest live bets you can place on any sport. For American football, basketball, hockey, soccer, or tennis, you just pick the winner of each match/game. If you bet the moneyline for the home team and they end up losing the game, then your wager is a loss.
Spread – A point spread is simply the difference in points between the home team and the away team. For example, if you bet on Team A being -3 against Team B, that means that Team A must win by at least 4 points for your wager to be a winner. Spreads are a great way to level the playing field on two unmatched teams.
Total/Over-Under – This is the total number of points or goals that will be scored in a game. For example, if you bet on the over/under at 52.5 for an American Football game, that means that you are betting that the total points scored in the game by both teams will be more than or less than 52.5, respectively.
Types of Live Sports To Bet On
Some games are just not suited for live betting. Imagine watching a professional chess match–if you're not a hardcore chess expert, you'd probably fall asleep! But there are certain sports that are great for live betting because they're complex, fast, and exciting.

American Football – This is one of the most popular sports to bet on. Games are fast-paced, with plenty of action to keep you entertained throughout the game. That being said, there are so many different variables within an American Football game that it's not for the faint of heart.
Casual gambling enthusiasts might find it more straightforward to wager on sports like Soccer when they first start out. With American Football, you have to watch so many different aspects of the game – field position, yards gained, penalties committed are just a few things that are important to note when placing your bets.
Soccer – This is another popular sport to bet live on, especially in Europe where the action happens quickly. If you're a fan of watching games at your favorite pub, live betting on soccer is a great way to put that knowledge into action!
Tennis– Tennis can be a relaxing sport to watch because you're not trying to pay attention to half a dozen players all over a big field or court. But tennis still has the speed and intensity that makes betting live very exciting–especially during Grand Slam events!
Basketball – This is a sport that is perfect for live betting because the action happens quickly and there are lots of twists and turns. Plus, the games are typically shorter than American Football or Soccer matches, so you can jump in and out without feeling like you're missing too much action. And the prop betting options for basketball can make it very profitable.
Hockey – Hockey offers fast-paced action and lots of twists and turns (including the occasional ice brawl). It's especially fun to bet live on hockey because of the wide range in betting lines–some games are heavily favored, while some are so close, they offer great value for wagers.
Tips For Live Online Betting Success
Now that you know the basics of live betting, it's time to learn how to be successful when wagering on sports. Here are a few tips to get you started:
Pick a Sport You Love: This is probably the most important piece of advice. If you don't understand the sport or have a deep passion for it, then your chances of success are slightly lessened. Of course, you can always get lucky, but with years of knowledge about your favorite team in your back pocket, you're already off to a good start.
Brush Up Before the Game: Just because you think you know everything about the Pittsburgh Pirates, there's no harm in brushing up before the first pitch. Take some time to read picks about the upcoming game, review team stats, and talk about the game with your fellow sports enthusiasts, whether that's your neighbor or people in online forums.
Watch The Game and The Stats: Get ready to spend a lot of time in front of your TV, computer, and phone. In-play betting is one of those hobbies where you have to stay focused, so take the commercial breaks to review all the betting lines and check the status of your wagers. But, if you're already planning on watching the big game with your pals, then why not add some sports betting fun into the equation?
Stay Patient: Waiting for your wagers to come to fruition can be nerve-wracking, so take a deep breath and stay patient. Getting angry or frustrated at the game/players won't accomplish anything. Just know that not every bet will be a winner, so make sure you have the bankroll to cover your losses.
Live Betting Sites FAQs
If you have the time and the know-how, yes. There is a whole subset of the Internet dedicated to taking advantage of the technology of live betting. There's always a bit of lag between the events of the live game and the odds on the betting site. Players will watch for these inconsistencies and take advantage of them. This is known as lag betting, but it's an advanced strategy that we don't recommend for beginners.
American football, basketball, and soccer are all quality sports to bet on live. They have the widest range of moneylines, props, and over/unders, which gives players flexibility in how they bet.
Sportsbooks have a lot of advanced tools at their disposal, like AI prediction software and other advanced algorithms. But sometimes the odds are updated manually by a trader working for the sportsbook.
As long as you live in a state that has legalized sports betting, then yes. Many American use offshore sportsbooks if they live in a state that has yet to make sports betting legal.
Use attribute "a" for answer.