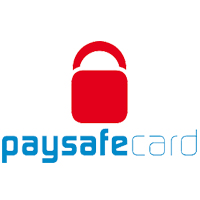 The Paysafecard is a prepaid card that you can purchase from any number of local outlets like grocery stores (Albertson's, Smiths, etc.), drug stores (like CVS) or financial companies (Rapid Cash, Ace Cash, and similar stores), or gas stations. Basically, you purchase the card in store for a fixed amount (much like a gift card), and then you can redeem it at an online sportsbook to get into the action. There are more than 600,000 retailers in the world that sell Paysafecards so you should have no problems finding a place.
If you're looking for the top online sportsbooks that accept Paysafecard, check out the list we have below. These are the top-ranked and most highly-rated online sportsbooks that accept the Paysafecard as a method of depositing.

Best Paysafecard Betting Sites
So, what makes these Paysafecard betting sites the best? Did we just do a quick Google search and list the first few sites we saw? Did we figure out which site was going to pay us the most for the best review? The answer to both of those questions is a profound no.
We go through a lengthy review process with each online sportsbook we come across to ensure that they are of the highest quality before we even consider recommending them to you. We look for the trust factor, their overall reliability, how quickly they pay out, what sports they have for you to bet, the volume of bets offered, the user interface, and the overall betting experience they offer. Only after they have received high marks in each of those categories do we look to see if they accept the Paysafecard.
By following this process and not letting outside influences affect our reviews and rankings, we can ensure that we always are recommending the real top Paysafecard betting sites. Additionally, we update this list frequently to ensure that no sites have gone stale or lost their way. We also do this in case there are any new Paysafecard betting sites that have entered the market or added Paysafecard as a deposit option that are better than the sites we have recommended. This ensures you can always count on our recommendations to steer you the right direction and get you the best online sports betting experience possible.
Pros and Cons of Betting with Paysafecard
Some of you reading this guide might be new to the Paysafecard concept and might not be sure if it's the right fit for you or not. Below, we're going to analyze some of the top pros and cons of using a Paysafecard betting site. Hopefully, this quick look and the good and the bad will help you to decide if this online sports betting deposit method is the right fit for you and your situation.
Pros
No Banking Information Needed
For a lot of people, the idea of using your banking information or credit card to load money into an online sports betting account isn't ideal. Maybe you have some concerns with security, or maybe it's just not something you're comfortable with for whatever reason? Whatever the case, the Paysafecard eliminates the need for you to ever have to give your banking information to an online sportsbook.
All you have to do is go to the store and purchase a Paysafecard in the amount that you want to play with. Then, you go home and input the information, and the money is transferred into your account. You never have to give the online site your banking information even if you don't want to and you can still get into the action.
Some of you out there might have reasons that you don't want online sports betting transactions showing up on your bank statement. We're not here to pry as to why or to judge, but we do know that some people would rather that information be left out for one reason or the other.
When you use a Paysafecard betting site, you are covered here. Let's say you want to make a deposit into one of the Paysafecard betting sites we've recommended at the top of the page. So, you hop in the car and head to the local CVS, and you purchase a card for $50. You go home and input the information into your account, and you now have $50 funded into your online sports betting account. The only thing that is going to show up on your bank statement is that you spent $50 at CVS. It's not going to say what the purchase was or anything like that. It will look the exact same as if you had spent $50 on gummy bears or a prescription or anything else you normally buy from CVS.
If you want the ultimate in privacy (again, for whatever reason), you can purchase the Paysafecard in cash and then there is zero trace of what you spent your money on. We won't begin to wonder why you want to keep things private, but everyone is entitled to conduct themselves as they please. We are all adults here.
Helps With Self-Control (If it's an Issue)
If you have issues with self-control and sports betting, you probably shouldn't be sports betting at all. But, if you're someone who just gets a little carried away from time to time, the Paysafecard might be a great fit for you. You see, when you use another deposit method, you can just keep reloading as often as you'd like. But, when you use a Paysafecard, you can only load the amount on the card that you purchased.
If you want to load more money into your sports betting account, you have to go back to the store, purchase another card, and then come home and load it up. These extra steps might be just what you need to curtail your issues and keep you to only betting the amount that you are comfortable playing with.
Cons
Requires a Trip to the Store
If you're looking to load a larger amount of money into an online sports betting account, you may have to make multiple transactions when you use Paysafecard. The maximum that you can purchase on one card is $100. So, if you want to make say a $300 deposit, you are going to have to purchase three separate Paysafecards and then input the information separately for each.
This isn't that big of a deal as the process is seamless (especially with the sites we've recommended above), but it could be an issue if you're a bigger player and are looking to put thousands of dollars online. If you're just looking to do a couple hundred or less, though, Paysafecard should be a great option.
As far as we know, the Paysafecard is not a method for withdrawing money offline. With most other deposit methods, they also double as withdrawal methods so you can just move your winnings right back out through the same channel. But, with Paysafecard, you will have to utilize one of the other withdrawal methods offered by the site.
Typically, they're going to have plenty of great options for you to use, but we do recommend checking that before you make your initial deposit. You want to make sure that when you win, there is a way for you to get your cash and enjoy the spoils of crushing the sportsbooks.
Why Use Paysafecard Betting Sites?
So, who should use Paysafecard betting sites? Well, if you are looking for a way to get money online that doesn't require you to use your own personal banking information or keeps the fact you're playing online private, then the Paysafecard is going to be a great fit. It allows you to get your money on quickly and without exposing yourself to any additional risks.
Do keep in mind that you will have to make a trip to the store to make your first deposit, and if you want to make subsequent deposits into a Paysafecard betting site, you will need to go to the store again. This is a perk for some people but might seem annoying to others. Also, if you're looking to make a large deposit online, you may want to look into some other deposit methods that have higher limits, so you aren't inputting a handful of Paysafecards at once.
Overall, though, the Paysafecard is an awesome way to get money online and can be handled by just making a purchase at a store that you know and trust.