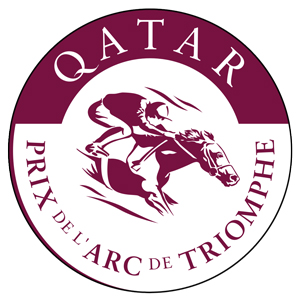 Prix de l'Arc de Triomphe betting sites allow you the opportunity to wager on one of horse racing's finest events. Since it is a race held in Paris each year, and therefore might be otherwise out of reach for fans in other parts of the world, this kind of wagering might not be available without the use of horse racing betting sites. Finding online betting sites with odds on the Prix de l'Arc de Triomphe that are reliable and meets your betting needs can be a difficult task.
Luckily we're here to help you by providing you with our list of the best Prix de l'Arc de Triomphe online racebooks that are available to you on the internet right now. This list was compiled only after we did extensive research on your behalf. Here are our top selections:
The sport of horse racing is one that has been in existence for hundreds of years. And, for most of that time, people have enjoyed the races while also placing wagers on the horses that they think are going to perform the best. While other sports have been slow to accept legal gambling on their events, wagering has always been a big part of what horse racing is all about.
Since the sport has been around so long, there are a few races which have stood the test of time to capture fans' imaginations over several generations. And one of those is undoubtedly the Prix de l'Arc de Triomphe. It is not just the most famous race in all of France, but it stands tall throughout Europe and even captivates fans from other areas of the world.

One of the reasons that the race has attracted such massive interest is because of how it is such a good horse race to bet on. When you have a race like the Prix de l'Arc de Triomphe that attracts a lot of top competition, it means that there is very little chance of one or even a few horses standing well above the back. Practically every horse in the race is capable of winning it, which means that the odds for bettors will usually be quite valuable no matter which direction they choose to take.
Of course, those who think that they want to bet the race might feel like they have no option to do so because of its location. Unless you have the ability to be in Paris, France each October to bet the race in person, you might be under the assumption that you are out of luck. Luckily, there are real money Prix de l'Arc de Triomphe online racebooks that can help you out.
With online Prix de l'Arc de Triomphe racebooks, all you have to do is sign up and have an internet connection. You can then deposit some money, make your wagers, and if you win, collect your money. There is no need for you to do anything other than take your time to make the best selection for the race in terms of the horse or horses that you think will do well.
You should also take the time to select the right Prix de l'Arc de Triomphe online racebooks that you wish to use very carefully as well. Not all of these racebooks can provide you with the best experience. Some of them aren't capable or willing to provide access to such international events while others still might not be trustworthy and could be out to do nothing other than scam you out of your money.
That's why you shouldn't just jump at the chance to sign up for the first site that you see. Take your time to find out which real money Prix de l'Arc de Triomphe betting sites are the best among all of the possibilities on the internet. And, once you've done that, narrow it down to the site that fits your betting interests the best.
We're here to help by providing you with our recommendations for the very best Prix de l'Arc de Triomphe betting websites that you can find on the internet. In addition, we'll use this article to explain to you why some sites are better than others because of certain qualities that they possess that fit well with the online gambling process. Finally, we'll talk about the race itself and explain a little bit about how you can go about betting it.
Finding the Best Prix de l'Arc de Triomphe Betting Sites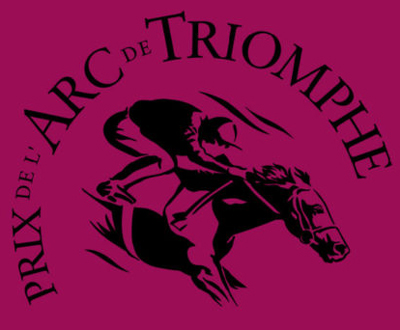 In case you've never done it before, you might be surprised to know how popular online wagering is around the world. As a matter of fact, if you go searching for Prix de l'Arc de Triomphe betting sites, you'll be in awe at the number of possibilities that pop up on a search engine.
Yet that creates a problem as well. Not all of these sites where you can bet real money on the Prix de l'Arc de Triomphe online are really worthy of taking your gambling business. Whether it's because they are brand new and don't yet have the technical ability to handle it, or because they might be out for something other than an honest relationship with bettors.
After all, you might think that betting is all fun and games and, in the best-case scenario, you should indeed be enjoying yourself at Prix de l'Arc de Triomphe racebooks. But betting is also serious in that you will be putting sums of money up for grabs as you make your wagers. You need to make sure that every step of the online gambling process is well taken care of by the site or else you run the risk of unintentionally losing that money even if your wagers turn out to be winners.
That is why it is so important to know how to choose the finest Prix de l'Arc de Triomphe betting sites on the internet. These Prix de l'Arc de Triomphe online racebooks can pretty much guarantee that your wagers will be made safely and that you can reliably expect to collect on any winnings that you amass.
Now that you have this list, what should you do with it? Well, it might be tempting just to pick a name out of the group and go with it. Your search would be over, and you can start placing bets on the Prix de l'Arc de Triomphe and whatever else tickles your fancy, right?
The only problem with that is that you might be short-changing yourself. While all of these sites will get the basic job done, they all go about it in a slightly different way. And those differences mean that some of those Prix de l'Arc de Triomphe online betting sites might be more closely suited to what you're seeking than others.
What these sites do have in common is that they all score well in certain basic qualities. These qualities come into play over and over again in the online betting process and in terms of the relationship between bettor and website. Here are the six qualities that we think every online sportsbook with odds on the Prix de l'Arc de Triomphe should possess and should be concentrating as they provide their service:
Customer service
Multiple funding options
Variety of bets
Technical prowess and mobile betting
Fair process of deposits and withdrawals
Meaningful bonuses for bettors
When you're placing bets on the Prix de l'Arc de Triomphe online at a horse racing betting site, at some point or another, all of these qualities will come into play. And if the site is lacking in a certain department, it could ultimately mean that your experience with the site will suffer as a result. The good news is that the racebooks that we recommended have all of these bases covered.
But it's a good idea to try and understand how all of these qualities relate to online wagering. On the one hand, you can test out the sites that we listed to see which ones rate better in the things that are most important to you. And you can also use them to test out new sites that you may encounter along the way, so you can see if they're up to snuff.
With that in mind, let's walk you through what will happen when you research and eventually sign up with a real money Prix de l'Arc de Triomphe betting site. In this way, you can see how these qualities come into play. And you can also begin your research and, hopefully, begin your wagering not long afterward.
Researching Prix de l'Arc de Triomphe Online Racebooks
Just as you shouldn't ever pick a horse race without first looking at who is going to be participating, so too should you never choose a wagering site without deciding first if it is worthwhile by doing some research. Some of this you can do through resources like this page or by checking out feedback from other bettors who might have commented on the sites in forums or on social media. But, ultimately, you should actually visit the site in question.
What you should be looking for is whether or not the site seems to be operating properly. Look for warning flags such as a broken link somewhere on the site. Take notice if any page seems slow to load.
If horse racing betting is the top interest that you have, you will need to make bets in a hurry. There are races going on at all times in different parts of the world. Sometimes, you might notice one that you want to bet in the spur of the moment, but that can't happen if the site isn't working properly.
Along the same lines, you should be checking to see if the site is easy to use. You might notice fancy graphics and things like that, but ultimately, those qualities are just stylistic in nature. What you should be looking for in Prix de l'Arc de Triomphe online racebooks is substance, which means that you should be able to find the pages that allow you to make wagers without having to go through a kind of website maze to get there.
One other thing that you should immediately be seeking when you are dealing with Prix de l'Arc de Triomphe betting sites is whether or not they have a betting app as part of their operations. We talked about how horse racing is a 24/7 sport, and unless you plan to be tethered to your computer for your whole life, you'll need to be able to make wagers from wherever you might be with whatever device you might have. Mobile betting will allow you to do that.
Getting Started
Let's say that you've decided to move forward with a Prix de l'Arc de Triomphe betting site after checking it out. You'll most likely be asked to input some information, at which point a site representative will likely reach out to you to welcome you. This is the first step in the customer relations outreach that the site will make, but it hopefully won't be the last.
Customer Service
It is important to be able to contact Prix de l'Arc de Triomphe betting sites about problems that you might encounter or even if you just have a question about something. Even with the best Prix de l'Arc de Triomphe betting sites, which usually have all the boxes checked and laid out for you pretty clearly, there can still be issues that pop up along the way. When they do, you'll want to be able to get in touch in a hurry and get a response just as quickly.
In terms of customer service, the way that Prix de l'Arc de Triomphe betting sites operate should be like any business that cares about its customers. They should be courteous and professional in their dealings with you. And they shouldn't push too hard with promotions or offers that they think might interest you.
More than anything, they should make it feel like your problem is their number-one priority at that moment. Some lesser sites will bend over backwards to satisfy their high rollers but will neglect those bettors who might not be putting as much on the line on a daily basis but still take what bets they do make very seriously. The Prix de l'Arc de Triomphe betting sites that we've recommended won't fall into that rut.
Fair Process of Deposits and Withdrawals
One of the things that you should be asking about immediately upon signing up is the way that the site handles its deposits and withdrawals. These are the areas where your real money will be changing hands, so it's important to know the process. Ideally, this process will be communicated to you up front so that you can make sure that you feel comfortable with it.
What you might not be able to tell is whether a site will follow through on this process. Some of the less-than-reputable racebooks available might make promises about when they will pay you, only to come up with excuses when it's time for you to cash out. This is an area where you should take our word that the Prix de l'Arc de Triomphe betting sites that we recommend won't try to pull those kinds of tricks with you; if they did it to other customers, they certainly wouldn't enjoy the solid reputations that they have among online gamblers.
Multiple Funding Options
You should also be clear about the methods of funding that they allow. This is something that might not cross your mind at first but could become problematic if they don't allow a specific way to pay that you actually prefer. Some common methods of online gambling funding at top gambling websites include:
All of these methods have their benefits and drawbacks. But the bottom line is that you'll want to have as many options as possible open to you. That will provide you with flexibility should something come up where you want to make a change in the way that you pay or get paid at a Prix de l'Arc de Triomphe betting site.
Bets and Bonuses
The fact that you are reading about Prix de l'Arc de Triomphe racebooks probably means that you have a strong interest in the sport of horse racing. And, chances are, that interest might not be limited to big events like the Prix de l'Arc de Triomphe and that you might like betting routine Thoroughbred races on a daily basis. It might even mean that you'd like to have exposure to other forms of horse races to bet, such as harness racing or jump racing.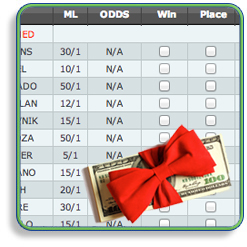 As a result, you should be on the lookout for those Prix de l'Arc de Triomphe online betting sites that don't just restrict you to certain races. Also, you might want to think in terms of the types of horse racing bets you can make.
We'll talk more about this in the betting on the Prix de l'Arc de Triomphe section below, but there are many different wagers you can make on horse races, and the Prix de l'Arc de Triomphe online racebooks which allow the widest variety of those horse racing bets will give you the most ways to win real money.
What about online betting on other sports, such as football, golf, or whatever your favorite might be? The Prix de l'Arc de Triomphe betting sites aren't just locked in on horse races. They include wagering opportunities on just about any sport you can name, and, again, the variety of bets that you can make on these sports goes far beyond just simply picking the winners.
Online casino wagering has also grown in interest by leaps and bounds in recent years. Why struggle to get to a casino and battle the crowds there when you do all your casino gambling with a device connected to these Prix de l'Arc de Triomphe betting sites. You can win real money by playing video poker, slot machines, table games, or whatever other casino game might interest you without the need to actually be at a brick-and-mortar casino.
This kind of variety at Prix de l'Arc de Triomphe betting sites can really do you a lot of favors as a bettor. But you shouldn't settle for variety only when choosing your site. You should also think in terms of which site gives you the most bang for your wagering buck by offering you lucrative bonuses.
Just as casinos offer rewards to players, so do betting sites who give bonuses to their clientele. It is the only way that they can hope to possibly attract customers in most cases, since other sites are aggressive in doing so. The Prix de l'Arc de Triomphe betting sites are notable because they bring you the widest variety of bonuses that actually help you out.
After all, every little bit that is added as a bonus can boost your return on wagering investment. When you sign on with online sportsbooks with odds on the Prix de l'Arc de Triomphe, you should expect some sort of immediate bonus to be tacked on to your deposit. And, if you play often at the site, you can expect VIP perks to come your way as well.
The house always has an edge, even in terms of horse racing online betting. But these bonuses can be a way for the bettor to take away some of that edge. You might even find that some of these bonuses and promotions will be tied directly into your wager on the Prix de l'Arc de Triomphe.
Keep in mind, however, that there is usually a little catch to these bonuses. Even the best Prix de l'Arc de Triomphe online racebooks make sure that the bonuses are used for bets and not just as a way for bettors to take the money and run. They do this by including rollovers with their bonuses.
A rollover essentially requires you to bet a certain amount before you can collect winnings from the bonus in question. For example, if you have a 10x rollover on a bonus of $1,000, it means that you will have to bet $10,000 before you can start to collect (10 times $1,000). Keep in mind that the amount also includes money that you have won and cycled back into other bets, so that $10,000 isn't as burdensome as it might seem.
Still, you should be thinking about finding the Prix de l'Arc de Triomphe betting sites that have the biggest bonuses which are attached to the lowest rollover requirements. And you should also be looking for those racebooks where the bonuses are most beneficial for your own areas of betting interest, like horse racing. By doing this, you can help to boost your betting bottom line.
About the Prix de l'Arc de Triomphe
The Prix de l'Arc de Triomphe is held every October at Longchamp Racecourse in Paris, France. It is contested at a distance of 1 ½ miles on a grass surface. Horses must be at least three years old to be eligible, and the race is open to colts, stallions, fillies, and mares (but no geldings).
This race has long been established as the most prestigious of all races in Paris. It is also pretty much the premier horse race in all of Europe for older horses. And it ranks pretty highly worldwide in terms of races run on a grass surface.
The timing of the Prix de l'Arc de Triomphe often means it is a precursor for its champions to compete in another very big turf race, the Breeders' Cup Turf Classic, which is held in November. And the race is also after the British Triple Crown season, which means that top three-year-olds from England often get their first taste of more experienced competition in the Arc. It makes for a massive field of varied horses, which is why winning the Prix de l'Arc de Triomphe is such a feather in the cap of any horse who achieves it.
Because of the name of the race, the cliché in Paris is that the Prix de l'Arc de Triomphe is as much a monument as it is a race. For horse racing bettors, it is a difficult race to handicap. But those who do it well can reap the rewards since the quality depth in the field means that there is great value to be had in any number of bets that you might make.
How to Bet on the Prix de l'Arc de Triomphe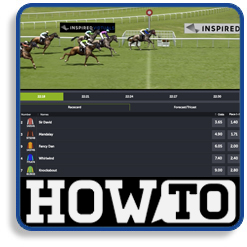 Once you've figured out which Prix de l'Arc de Triomphe betting site you're going to use, the next job is to decide how you want to bet the race. Your decisions will include how much real money you want to bet you want to be on the Prix de l'Arc de Triomphe, which types of bets you want to make, and which horse you wish to include.
In terms of the amount of money that you want to wager, you should never go beyond what you are comfortable losing. Even the surest of sure things sometimes come up empty in the Prix de l'Arc de Triomphe, or in any other horse race involved. As a result, you always have to be comfortable with the risk of losing money when you bet any horse race.
There are many different types of bets that you can make at Prix de l'Arc de Triomphe online racebooks. The decision on which you want to utilize will depend upon your budget and your goals. By goals, we mean whether you're happy with just a tiny profit of any kind or if you're out to get a big windfall from a single race.
If it's a profit of any kind that you're after, we suggest a straight bet. A straight bet involves just a single horse in a single race. You might pick that horse to win, or you can even play it safer than that and simply pick the horse to pick somewhere high in the order of finish.
These Prix de l'Arc de Triomphe bets give you the best chance of emerging with a small profit. Of course, they also rarely pay too significant of an amount. To win a lot of money with a straight bet, you either have to bet a high amount or pick a long shot in the field.
If it is a big amount of money that you're after with your wager, we suggest bets which include multiple horses in either a single race or multiple races. These bets will be called different things depending on the site that you're using. For example, American bettors call them exotics, while European bettors sometimes refer to them as accumulators.
In any case, to win one of these wagers, you have to get every part of the bet correct. For example, you might try to pick the winner of three consecutive races on the card the day of the Prix de l'Arc de Triomphe. If only two of the three that you pick win, you still lose your entire bet. You need all three to win to collect.
As you might imagine, it's not easy to come up with a winner on these wagers involving multiple horses. But the good news is that, if you do hit one, you can win a lot of real money with even a small amount bet. It's kind of like hitting a lottery ticket when you win one of these bets at Prix de l'Arc de Triomphe racebooks.
Of course, it all depends on picking the right horses. And that's the last part of the betting on the Prix de l'Arc de Triomphe equation. Some people choose to digest every piece of information about the horses in a race, either by looking at the program or watching past races before committing to their bet. Others go with a more instinctive feel when they decide on the horses that they want to pick.
If you're relatively new to picking horse races, we suggest focusing on a few things about a horse which you think are important at first. As you go on, you can get more complex about it. The bottom line is that picking winners at Prix de l'Arc de Triomphe betting websites should be a fun process and shouldn't feel like a chore.
Conclusion on Prix de l'Arc de Triomphe Online Racebooks
In terms of European horse races, there are few with the tradition and importance of the Prix de l'Arc de Triomphe. The best horses, jockeys, and trainers compete annually in this one-of-a-kind race. Winners through the years rank among the greatest champions of the sport.
As a bettor, it's the kind of race that you mark on your calendar, both because of how special it is and because of the betting opportunities it affords you. But first, you need to make sure you know how to choose the best Prix de l'Arc de Triomphe betting sites. Once you have that all figured out, you can concentrate on your wagers with the peace of mind that your wagering action will be capably handled.
[ Back to Top ↑ ]