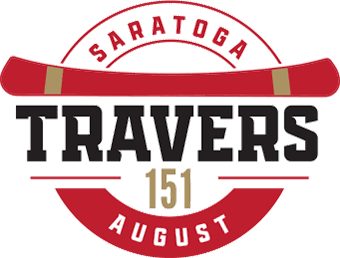 Travers Stakes betting sites are what you'll need to visit if you want to bet on this amazing race without actually being there in person. In terms of races for three-year-olds in America, the Travers Stakes ranks right up there with the Triple Crown races in terms of importance. It makes for an excellent race to bet, which is why you'll need to do a good job of researching and finding sites that provide you with the best overall experience, especially if you want to bet on more than just this race.
Luckily, you've made a good start by coming to this page. We've done most of the in-depth research for you and can give you our wholehearted recommendations for what we feel are the top Travers Stakes betting sites in the business below.
The sport of horse racing is known for its tradition and excitement, but also holds a strong fascination on fans because it has always been associated with legal wagering. For many years, you could legally place wagers on horse racing whereas you couldn't with other sports.
The Travers Stakes takes place at Saratoga Race Course, featuring three-year-old horses. Betting on a race like this is actually ideal for horse racing fans, because the depth of talent makes it hard for any horse to be an overwhelming favorite.
This means there is value to be found throughout the horses in the field. You can make a wager with a small amount of money and, if it works out in your favor, you could walk away with an excellent return on investment.
The top online Travers Stakes racebooks we listed above can deliver all the action you need without interacting with anyone or having to drive to Saratoga Springs. Best of all, they're safe, secure, and legit.
In addition, we are going to talk about why these real money horse racing betting sites stand out from the pack by showing you the qualities that all of the best online gambling sites have in their possession. Finally, we'll also talk about betting on horse racing and look at some of the qualities that make the Travers Stakes such a special race.
Determining the Best Travers Stakes Betting Sites Online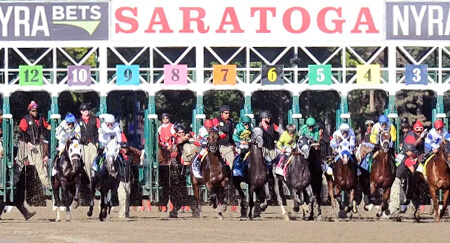 The world of internet gambling is vast, filled with hundreds of sites promising to provide you with the best possible experience. Many of these sites allow for betting on horse racing, since it is a sport so closely associated with gambling. But not all Travers Stakes betting sites are created equal.
Some are excellent, giving you all that you need to enjoy your online wagering with complete peace of mind. Others fall below that standard, because they simply don't have the same capabilities as other top Travers Stakes online racebooks. Or they might be trying to scam honest bettors out of their money.
How did we come up with our list? Well, like we said, we did the research. We scoured these sites and compared their strengths and weaknesses. We also took into account the reviews and feedback of other experienced online gamblers. Finally, we subjected these sites to a checklist of the most important qualities that we thought all the best sports betting sites with Travers Stakes odds should have. These six qualities pretty much cover every part of the real money online gambling experience:
Top-notch customer service
Reliable deposits and withdrawals
Variety of funding options
Different types of betting opportunities
Plentiful bonuses for bettors
Reliable betting apps and website operations
While our list of the top Travers Stakes online racebooks can be considered solid in all of these categories, they are not 100% flawless in every single category. It's important to look at a few of them and find a site that is best suited to you and your needs.
The most common mistake that novice online gamblers make is that they jump into the process without knowing much about it. They choose sites without doing enough research and end up doing some damage to their online wagering experience.
You might find that you can't get the horse racing odds or bets that you want, so you'll either miss out on profitable opportunities or force bets that you're not comfortable with making.
You could also find out later that your preferred method of funding isn't available, causing you to use another method that is less convenient or cost effective.
Even worse, you might find that the site makes it difficult to collect your winnings. While these might seem like worst-case scenarios, they are more likely to happen if you choose a site without doing research on them.
Some of you might just grab one of the names that we listed above as the top Travers Stakes betting sites and quickly sign up for an account. That's one way to do it, and you could probably get away with it. But you might still be short-changing yourself.
The best way is to learn a little bit about the process. When you do, you'll learn how all of the categories we mentioned above will come into play. And you'll also know which of those areas are most important to you in Travers Stakes betting sites.
Understanding the online wagering process allows you to look for betting sites on your own. Just because a site isn't listed here, it doesn't mean it's completely inadequate. If you feel that it satisfies each of the six qualities that we listed and it meets your particular needs, you can go ahead and try it on for size.
But first, you have to learn how it all works and why each of these six qualities are important when it comes to the best real money Travers Stakes betting sites. Let's take a look at what they're all about. Once we do that, you'll be ready to start researching and, not long after that, start betting.
Customer Service
Having a Travers Stakes betting site that provides excellent customer service will come in handy for you in a number of ways. You can find out about upcoming promotions and bets that might be up your alley. You could also get help when a problem arises if good customer relations are in place.
That all starts with the site's representatives being easy to reach when you need them. As a matter of fact, someone from a Travers Stakes betting site should make contact with you the moment that you show some interest in them. With that kind of contact established, you won't have to jump through hoops every time you need something done.
You should also be aware of the tone and manner in which you are treated by customer service representatives at the best online sportsbooks with odds on Travers Stakes. They should be respectful and understanding in all of their dealings with you. And while you should expect a little bit of salesmanship from them as they try to pitch different offers and bets, it should never be a hard sell that makes you feel pressured.
When a problem does come up, whether it's a technical one or some kind of misunderstanding of rules and regulations, you should feel like your concerns are being taken seriously. Not every problem will be solved to your satisfaction at Travers Stakes betting sites. But you should at least sense that every effort was made and that the site is trying to keep you satisfied in lieu of the situation.
Deposits and Withdrawals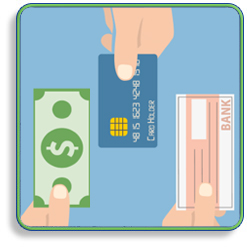 You shouldn't be scared away by a long list of terms of service on a Travers Stakes betting site. In actuality, that shows the site is serious about its business and doesn't want to leave any gray areas that can cause problems with their customers. As a matter of fact, the sites that don't have that kind of attention to detail are the ones that should concern you.
If there isn't a clear definition of how deposits and withdrawals are going to work, it could lead to you struggling to get answers down the line. Remember that the world of online gambling is largely deregulated, so you won't have much in the way of recourse should you feel like you can't get your hands on money that is owed to you.
It's not unusual for Travers Stakes betting sites to put restrictions on the timing of when you can deposit and withdraw or the amount that you can take in or put out at any one time. You just have to make sure that it all seems fair to you and that you understand it all before you embark on signing up with a site.
Keep in mind that you also have to be aware of your wagers so you don't create problems of your own. For instance, you can't withdraw money that you currently have lined up for a wager. Once you've been online wagering for a while and have hooked up with Travers Stakes online racebooks that make the process easy, you shouldn't have any issues.
Funding Options Variety
In many ways, the concern about funding options at online sportsbooks with Travers Stakes odds is tied into withdrawal and deposit procedures. The funding option that you choose is directly related to how quickly a deposit will register in your account so that you can start real money horse racing wagering. And it will also determine how quickly you will receive money when you make a withdrawal.
You might notice in your research how some Travers Stakes betting sites advertise about having "x" number of options for funding. The reason that they do this is to show the kind of flexibility that they can afford you. That flexibility will come in handy if you find that your first or second option for paying for your bets isn't available.
Most people will pay for their online wagering with credit cards, as it is the most popular option by far. But you shouldn't rule out some of the alternatives, such as prepaid cards, bank transfers, or even online payment systems like PayPal.
In fact, if you really wanted to be adventurous in funding your betting on the best Travers Stakes betting sites, you could try cryptocurrency such as Bitcoin or Ether. These digital coins give you the advantage of complete anonymity when wagering and extremely fast settlement times, quicker even than credit cards. But you have to find the sites with enough foresight to include cryptocurrency as an option before you can take advantage.
Different Horse Racing Bets
The first three categories that we listed above might be considered the substance of Travers Stakes betting sites, stuff that might not be too exciting on the surface but is nonetheless necessary. The next few might be more the stylish, fun part of the equation. After all, they deal with the process of actually making bets and getting bonuses on top of that.
In terms of betting variety, it might not mean too much to you if that variety includes sports or events that you would never consider wagering on in the first place. You should double-check to see if the site that you're inspecting is strong in your particular area of interest. If that area of interest happens to be horse racing, make sure to find a site with the most extensive list of horse racing betting options that you can find.
But if you have a hankering to do more on your real money sports betting sites offering Travers Stakes odds, there are plenty of them that can afford you the widest betting variety. And that means not only having different sports to choose from, but also different types of wagers beyond the traditional fare. It's like having an entire sportsbook at your fingertips!
The best Travers Stakes betting sites that we recommended can also connect you with casino wagering that can be done online. That means there's no need to brave crowds and traffic to make it to your favorite gambling spot. These sites can bring that spot right to you, along with all your favorite casino games.
Bonuses for Bettors
You won't have to look very hard to find bonuses at any of the real money Travers Stakes betting sites that you might encounter, even the ones that aren't listed here. That's because sites that don't offer perks to bettors will quickly get left behind in the ultra-competitive environment for online betting. These horse racing betting sites have to offer you something to come aboard or else you'll just move on to the next spot.
It's alright to be excited by the prospect of getting a little something for nothing from these online betting sites. Just keep in mind that you shouldn't get carried away with bonuses as the lone factor in your decision. After all, the only way that you can really get the full effect from bonuses is to be a frequent bettor, which might not be something that you're prepared for if you're a beginner.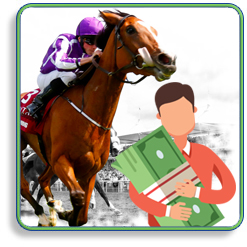 Betting bonuses come attached to rollover restrictions just about 100% of the time. Rollovers are put in place as a way of making sure that you don't just pocket your bonus cash but actually wager with it. Until you meet rollover requirements, you cannot collect winnings that you might have amassed with your initial bonus.
You'll see that the best Travers Stakes racebooks online include bonuses at every step of your betting journey. While most sites will have introductory offers in place, the top horse racing sportsbooks can give you perks even after you've been in the fold. That means that you'll constantly getting a little bit more for your bottom line, which is always a good thing.
Betting App and Website Operations
What we're talking about in this category is, first of all, the presence of some sort of mobile betting component. It is unrealistic, in this day and age, to think that you can conduct all your betting business on a home computer. You need to have the ability to bet on the go, and the top Travers Stakes betting sites provide wagering apps for that very purpose.
The other thing we're looking at in this section is simply the idea that the app or website is operational when you need it to be. It might be a simple thing, but many sites, especially the ones that are just starting out, will have technical difficulties. And these difficulties can affect you in a number of ways, none of which are good news.
The simple way to prevent this from happening is to take a quick look at the website or the app before committing any money to it.
You should be on the lookout for missing or broken links of pages that are under maintenance. On top of that, be aware of pages that take too long to load, because they can prevent you from getting your wagers down just in the nick of time.
One other thing that you should be looking at when considering the operational qualities of Travers Stakes betting sites is how well you can get around them. If it feels like you're trying to solve a riddle just to make a bet or a withdrawal request, it might not be the site for you. But if everything on the site seems to flow well and feels intuitive, you should be able to make wagers in the heat of the moment and get them in on time.
Betting on the Travers Stakes and Other Horse Races
Now that you know how to choose the best Travers Stakes betting sites, it's time to start talking about betting on horse races. Maybe you already know how to do that and just came to this site to learn about the online betting part of it. But if you're new to horse racing betting as a whole, we can help out with a quick tutorial.
Betting on horse racing can sometimes be a confusing process for the uninitiated. But you can make it easier on yourself by just breaking it down to three main components. They are:
Who you want to bet on
How much you want to bet
What kind of bet you want to make
In terms of picking the horses you wish to bet real money on at Travers Stakes betting sites, there are many ways you can go about it. You can immerse yourself in information about the race, such as past performances, pedigree, connections, and any other type of data that will help you forecast the outcome. Or you can keep it simple and just go with a gut feeling about the race.
There is no right or wrong way to go about picking a horse. Just try to find something that ends up with some success. Once you feel comfortable with a certain method of picking winners at Travers Stakes online racebooks, you can simply repeat it with each and every bet that you make.
How much you want to wager on the race will depend on a number of factors. Obviously, you'll want to take into account what your budget is so that you don't overextend yourself. But you'll also base this decision on your confidence level and the amount of money that you hope to win.
Finally, you'll need to decide what types of bets you'd like to make on real money Travers Stakes betting sites. Again, this can be a little confusing because of all the specific horse racing lingo that you might not know at first. But you can make it easy on yourself by breaking it down into one of two major categories, straight bets or exotic bets.
A straight bet involves just one horse in a single race. This is the simplest type of bet and also the easiest to hit at the best online sportsbooks with Travers Stakes odds. You only have to worry about the performance of a single horse. But you also have to temper your expectations with straight bets, since you won't make a lot of money with them unless you bet a lot or pick a long shot who comes through for you.
Popular types of straight bets are:
Win: Your horse must come in first in the official order of finish.
Place: Your horse must come in first or second in the official order of finish.
Show: Your horse must come in first, second, or third in the official order of finish.
Exotic bets, on the other hand, involve multiple horses over a single race or even several races. As you might imagine, it isn't easy to hit an exotic wager. It requires multiple things to go right for you in order for you to win. But exotic bets also make for an interesting opportunity in that you can often make a lot of money with even a small wager, making it like the horse racing equivalent of having a winning lottery ticket.
The most common exotic bets that you'll find at Travers Stakes betting sites are:
About the Travers Stakes
The Travers Stakes takes place at Saratoga Race Course in Saratoga Springs, New York, every August. As a race that has been around since the 19th century, it holds a special place in the hearts of racing fans for its history and tradition. Three-year-old horses are allowed to compete, and the race is held at a distance of 1 ¼ miles on a dirt surface.
Saratoga is one of the most famous tracks in America, known for its beauty and the crowd that it attracts for its month-long meet. The meet is one of the cultural events that signifies the end of summer. And the Travers Stakes is the highlight of this legendary meet.
Many of the horses who compete in the Travers Stakes are those who have competed in the American Triple Crown races earlier in the year. It is also one of the last major races for three-year-olds before they start to face older horses. As a result, the field is always star-studded with horses trying to make the case that they are the best of their age group.
Conclusion
The Travers Stakes represents exactly the type of race that real money horse racing bettors want to be involved in from a wagering standpoint. You can always expect a very exciting race and competitive field. The more competition there is, the more value there is for bettors.
But without finding the best Travers Stakes betting sites, you could struggle to get your wagers in while having the peace of mind that your money is being handled properly. As a result, make sure that you do as much research on the site that you pick as you do finding the horse that you like in the race. If you do, you should reap the rewards well beyond this particular race.