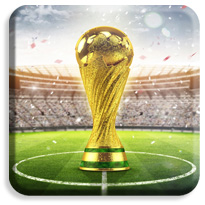 Realistically speaking, FIFA World Cup is the greatest soccer event in the world. The media coverage, the fan support, the international recognition, the sheer number of memes, they're all showing just how big the Mundial is. And don't even get us started on the amount of money bet during these sensational soccer festivals. Plus, when you account for a huge number of people looking to get into the world of online soccer betting, it's not surprising to see a growth in popularity regarding the best FIFA World Cup betting sites.
Whether you're looking to become the next big thing on the soccer betting scene or you're just in it for the thrills, allow us to present you with the best FIFA World Cup betting sites currently available:
In all honesty, the market is oversaturated with online betting sites for the FIFA World Cup. It hasn't been always like this, but in the last decade, we've seen a huge influx of online bookies that further complicated things in an already messy industry.
That said, it's quite easy to get lost in the abundance of options to choose from. Bookie this, bookie that, bookies all around. Such an environment is not a particularly good thing for beginners, those who are yet to make their first steps in this hobby.
But worry not, dear reader, as we got a handful of useful information for you. And it's all, more or less, tied to the best FIFA World Cup betting sites at the moment.
So, let's start off with that and build our way from there!
What Makes Great FIFA World Cup Betting Sites?
Now that you've had the chance to check out our favorite soccer betting online sites, it's time to elaborate on our choices.
Well, for starters, we only picked well-reputable FIFA World Cup online sportsbooks that have been on the market for fairly long. This eliminates any potential scam risks and ensures you get a solid all-around experience. Needless to say, that is of crucial importance for all aspiring soccer betting enthusiasts.
As far as other factors are concerned, here's a short list containing their names. If you want to know more about a particular factor, just click on it and you'll be taken to the explanation.
Best FIFA World Cup Betting Site Bonuses
In addition to good reputation, generous bonuses were also taken into consideration. These days, bonuses come in all shapes and sizes, but you should value quality over quantity.
Most often, you'll encounter welcome bonuses and free bets. These will typically have a certain set of rules you must comply with if you want to see that money in your actual bank account. Most of the times, you'll be looking at a required number of times you need to bet that bonus amount before you can withdraw it.
As far as the actual bonuses go, welcome bonuses are usually portrayed in a percentage of your initial deposit, up to a fixed amount. So, for example, you'll be greeted with a 50% initial deposit bonus up to $200, or something along those lines. As for free bets, they're pretty much straightforward and need no explanation. Still, make sure you read the fine print before you go investing a bunch of money hoping to get it all back through bonuses.
Fast Payout FIFA World Cup Betting Sites
The next thing we look for in the best betting sites for the FIFA World Cup is their ability to quickly pay their customers' winnings. Even at this day in age, there are soccer betting online sites that take more than a week to initialize the withdrawal process. Obviously, we can't stand such business practice so we keep away from them at all costs. In fact, we suggest you do the same.
No matter if FIFA World Cup online Sportsbooks has great odds, a plethora of bets to explore or generous bonuses… It's just not worth it if you have to wait too long to get a taste of your winnings. It's a bad business practice and we encourage you to stick to our picks if you want a fast and worry-free withdrawing experience.
Banking Options
While we were talking about withdrawals, it's important to stress out the banking segment too. You know, the deposit/withdrawal options bookies support. These often greatly vary from site to site, so you have to make sure you don't register at a certain bookie only to learn (later on) that it doesn't accept your banking method of choice.
This happens quite often so there's nothing to be ashamed of if it already happened to you as well. Like we stated earlier, soccer betting online industry is in a total mess now and people get confused in an instance. Especially beginners.
That said, most online sites for betting on soccer include credit/debit cards, Sofort, Skrill, Neteller, and similar online payment services. However, only the best FIFA World Cup betting sites feature everything above alongside various cryptocurrencies. A brand-new method of payment that bettors adore. Check them out, they might be just what you need!
Customer Support
There are various types of customer support available on soccer betting online sites. As we'd come to expect, the most common ones are contact forms and emails. However, there are bookies which do their best to ensure their users' satisfaction is at the highest possible level.
The easiest way to achieve exactly that is by offering a wider range of customer support channels. We're talking live 24/7 chat and telephone line. They're both quite expensive to maintain but are much more efficient than traditional contact form or email inquiries.
So, if you want a soccer betting site that will quickly resolve all your problems, don't settle with anything but the best ones!
System Compatibility
Betting on soccer matches on the go is a new trend in the industry, further blurring the lines between traditional and online-only betting. Despite that, there are still numerous big dogs that don't have fully optimized FIFA World Cup betting websites for mobile betting.
If you want to be 100% sure your bookie of choice has support for your smartphone devices, we're afraid you will have to try it out beforehand. Try to find an app for your device or just start browsing the website using your smartphone's default browser.
If there's an app available, download it, log in and you're as good as golden. On the other hand, if there's no app and if your browser experience is laggy, unresponsive or simply bugged, you'll either have to come to terms with the fact you won't be betting on the go… or find a properly optimized soccer betting online site that supports your smartphone.
Other Betting Options
Where most online sports betting sites shine is the sheer number of available betting options. Needless to say, this is great news for people who aren't just interested in sites for betting on the FIFA World Cup but other soccer events and sports too.
Luckily, most popular FIFA World Cup betting sites nowadays feature a splendid array of markets to choose from. Whether we're talking about the prominent European soccer leagues, NBA, NFL, NHL, MMA, boxing or even esports, most big guns have them all!
So, if you're not satisfied with the number of options betting sites for the FIFA World Cup offers, make a switch to one of these awesome soccer betting sites and experience online betting the right way!
Betting on FIFA World Cup Matches | Interesting Tournament Facts
Let's take a short break from the best sites for betting on the FIFA World Cup, and all things betting-related, for that matter. Let's focus a bit on mesmerizing World Cup tournaments and check out some of the most interesting facts surrounding their existence.
FIFA World Cup events are the pinnacle of international football and are set to take place after the end of all regional qualifiers. Thus far, they've always been held in the summer but the next iteration (Qatar 2022), is the first one that's going to take place during winter.
The Cups feature 32 teams from all around the globe. They're divided into two phases, group stage, and The group stage features the typical 4-team one-leg system with two top teams from each group advancing through to the playoffs. Playoffs are also one-legged matches but played in a single-elimination bracket that further ups the pressure and makes no room for mistakes.
The FIFA World Cup grand finals is one of the most popular soccer matches to bet on. It attracts millions of soccer betting enthusiasts from all around the world, often featuring great odds and splendid specials. In fact, the WC grand finals is probably the most specials-heavy soccer match in the world.
Placing FIFA World Cup Bets | Things to Keep in Mind
Lastly, here are three additional things to keep tabs on when entering the world of FIFA World Cup betting sites.
Group Stage Upset Potential
FIFA World Cup group stage matches are often poised with several big upsets. Whether we're talking about the likes of Croatia beating Argentina or Portugal barely drawing with Iran, the group stage phase is often packed with upsets and it's up to you to recognize them and make some extra profit.
No Underdogs in the Playoffs
As far as the playoffs are concerned, I'm sure the FIFA World Cup 2018 was there to show you just how competitive all teams are. Teams that reach this stage are either really good and are hoping to reach the finals, or are such long-shots that they're playing without any pressure whatsoever. Both types are equally dangerous so predicting WC playoffs matches is a proper science in its own right.
Don't Force Finding Value
Last but not least. If you're trying to forcefully find value in matches that just don't have it, you'll be in for a tough time. Not only will you end up spending much more time than you initially intended, but your betting tickets will also be on the losing end. That said, try not to force value where it doesn't exist. If you can't find good markets to bet on, simply grab a cold one and call it a day. There'll be more bets to choose from later down the road (group stage and playoffs) on so why waste your money on halfcocked options.
FIFA World Cup Betting FAQ
At last, we've come to the final section of this article. Since we're being asked a ton of question on a regular basis, we figured it'd be a great idea to gather the most common ones and answer them all in one location.
So, without further ado, let's check out the most frequently asked questions regarding the best FIFA World Cup betting sites!
How to Start Betting on FIFA World Cup Matches?
Starting your FIFA World Cup betting journey is not a difficult task. All you need to do is choose an online soccer betting website that suits your needs, register an account, confirm your information and you're good to go. You can start betting right away.
Of course, you'll need to know a thing or two about soccer before you start betting crazy sums of money on WC matches. Follow the statistics, explore injured players, newest transfers and all that sort of thing to increase your chances of winning betting slips. It all comes with experience so don't get disheartened if you start out slow. Great things take time and online soccer betting is no different.
Where to Find the Best FIFA World Cup Betting Sites?
Obviously, the best FIFA World Cup betting sites are those with the greatest betting odds, effective customer service and fast payout times. But where can you find them? Well, the best way of doing just that is by checking out the table above or by visiting our in-depth Soccer Betting Sites article. Both of them will give you a ton of great places to bet on FIFA World Cup matches, no doubt about that!
Betting on FIFA World Cup | Best Sports Betting Specials
If you like what you're seeing so far (regarding betting on FIFA World Cup matches), you might be interested in the idea of WC specials. And by specials, we are not just referring to outright winner bets and all that normie nonsense. Nope! There's a whole range of additional special bets that are often available on the best FIFA World Cup betting sites out there.
The most popular ones are some sorts of match-outcome and player-scoring combinations. For example, team A to win and player X to score. While they do require quite a bit of knowledge to guess correctly, they yield pretty decent odds as they are, in essence, mini accumulator bets.
Furthermore, you will also find a plethora of additional options to choose from. We're talking number of goals, yellow cards, corners, will there be a penalty, will there be extra time (playoffs). Not to mention a whole bunch of group stage specials regarding the advancing teams. All in all, if you're an avid specials bettor, you'll definitely like what FIFA World Cup betting websites has to offer.
Can Betting on Soccer Be Profitable?
Well, although it might be more difficult than some other sports, betting on soccer still can be profitable. However, you need to understand that success at FIFA World Cup betting sites isn't something that will come overnight. You'll have to roll up your sleeves, dig deep into the statistics, numbers and situational factors before you'll begin to rack in first big winning tickets.
Don't be disheartened in case of a rough start. That's just the ice breaking under your feet. If you keep up with your hard work and dedicate more time to researching the markets, managing your bankroll and finding value, we're sure you'll be able to turn your hobby into a self-sustainable profit well.
It will take quite a bit of time, but at the end of it all, you'll be more than pleased!