Whether you're watching the NHL, CHL, minor league hockey or even watching Olympic athletes take the ice there's one sure-fire way to spice up the game and that's placing some bets!
We have used a wide variety of online betting apps over the years. Some have been phenomenal, while others have wasted both our time and money. That's why we created this list of the best hockey betting apps for you. Place your bets at any of these platforms for a safe, high-quality mobile betting experience.
If you aren't ready to download an NHL betting app yet, then continue reading this guide to learn about everything sports betting apps have to offer, including their bonus opportunities, banking options, and the odds that they offer.
The Best Hockey Betting Apps in Various Categories
There are numerous hockey betting apps to choose from. You'll find a lot of our choices to be both safe and reputable. We selected the best betting apps for odds, banking options, and bonuses, so that you have a better understanding of each individual betting app's strengths and weaknesses.
Sportsbook App with the Best Hockey Odds: BetUS

If you haven't downloaded the BetUS betting app yet, then you're missing out. BetUS online casino app has awesome features to brag about. One of their biggest strengths by far is the odds that they offer. We always seem to find the best odds here, so we couldn't recommend BetUS enough. Better odds can significantly increase how much money you'll walk away with, which is definitely one of our main goals.
Easiest Deposits of Any Hockey Betting App: SportsBetting.ag

Sportsbetting.ag offers just about any kind of banking option you could think of including cryptocurrencies, credit cards, e-wallets, and more. Their odds come with little to no fees, and most can be processed within minutes. Here's a complete list of the banking options they currently offer. There are 15 different options!
American Express
Bank Wire Transfer
Bitcoin
Bitcoin Cash
Cashier's Check
Discover
Ethereum
Litecoin
Mastercard
Money Order
Ripple
Stellar
USD Coin
Visa
EcoPayz
Best NHL Betting Bonuses for Mobile Users: MyBookie

We always recommend checking out a variety of hockey betting apps for money in order to find the best deals out there. If we were only going to use bonuses at one sports betting app, it would definitely be MyBookie. Here's a list of the bonuses they have available for their players at the time this article was written.
10% Cash Bonus up to $200
150% Cash Bonus up to $750
25% Sports Bonus up to $500
25% Sports Reload Bonus
250% Referral Bonus
8% Horse Rebate
Casino Bonus Weekends
Double Your First Deposit
Free Spin Wednesdays
Pick 'em Bonus Fridays
Raffle Thursdays
Rebate Special Monday
Weekday Reload Bonus
Other Must Have Apps for Hockey Bettors
What Makes These Real Money Hockey Betting Apps Best?
In case you were wondering how we decide which real money betting apps to put on our list of recommendations, here's a glimpse at the criteria we look for in the online betting apps we choose. It's these qualities that make betting apps stand out over their competition.
Trustworthy Reputation
This is by far the most important factor we looked into when we were researching apps for betting money on hockey. We need to know that the betting app is going to take care of players' funds properly and that the games they offer aren't rigged.
While we do test out the games and their banking options ourselves, we also read reviews for more insight on the betting app as a whole.
We avoid hockey betting apps with a history of taking too long to give players their funds or who have multiple complaints about a game not being fair.
Multiple Hockey Leagues to Choose From
If you're a hockey fan, then you know there's more than one league to bet on. While most sports betting apps offer bets on the NHL, not everyone offers bets on all of the other leagues there are out there. Here's a list of leagues that we expect hockey betting apps to offer bets on:
National Hockey League (NHL)
Minor League Hockey
Champions Hockey League (CHL – Europe)
College Hockey
Ice Hockey at the Winter Olympics
International Hockey Leagues (Russia, Sweden, Austria, and other countries around the world)
Unique Bonus Opportunities
We take advantage of bonuses whenever we can, as long as they come with reasonable rollover requirements. We love to see real money betting apps get creative in terms of the bonuses they offer.
Don't misunderstand us, we appreciate generous welcome bonuses, but bonuses for playing certain games or for placing deposits on certain days of the week also excite us and make us more likely to recommend the betting app to our readers.
A Solid Customer Service Team
Customer service teams are your first line of defense when something goes wrong while playing at apps for betting on hockey. That's why we have such high standards for the customer service agents we come in contact with.
First, we expect the agents to be available around the clock, whether that be through live chat or the phone.

Second, we expect them to be well-trained so they can answer our questions with a depth of knowledge.

Third, we expect them to be kind and courteous. We want to feel respected and we know you do, too.
The Importance of Device Compatibility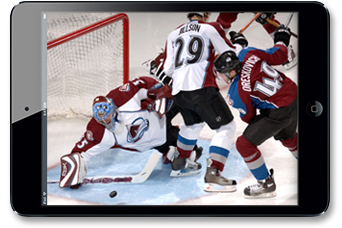 When using apps for betting on hockey online, it's important you make sure to use options that are compatible with your mobile device. If you have an iPhone or iPad, this means iPhone hockey betting apps. If you have a Samsung, Galaxy tablet, or Android, this means Android hockey betting apps. All of the digital sportsbooks recommended on this page will 100% work with iOS and Android operating systems.
If you do happen to be using a more obscure or random operating system, you'll have to check each app on a case by case basis. In those situations, though, it's usually advised to stick to mobile-friendly hockey betting sites.
Tips For Betting on Hockey Games From Your Phone
We hope that you place successful bets at all the real money hockey betting apps you use. Since we have been doing this for years, we wanted to provide you with a list of our best tips for using hockey apps for money. Follow these tips for your best chance of winning the bets you place and walking away with more money in your bankroll than what you started with.
Set a Budget
Okay, so this is another tip we really can't stress enough. Please set an appropriate budget and stick to it. Don't spend money you can't afford to lose on your bets. This will only increase your stress levels and cause you to make hasty betting decisions. Determine how much you can afford to spend at apps for betting on hockey and stay within your means.
Bonuses Are Your Friend
Just about all real money hockey betting apps offer a handful of bonuses for their players. Don't let these bonuses expire before taking advantage of them. They can be truly valuable when it comes to stretching your bankroll even further. You may even discover that some apps for betting on hockey even give you free bets just for signing up.
Don't Get Personal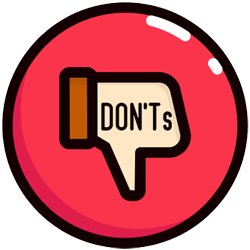 By this, we mean try to leave your emotions out of betting. If you have a favorite hockey team that you have been cheering on for years, then you're naturally going to want to pick them to win every game they're playing in. However, they may not actually be the team with the best chances of winning. Try to be unbiased when placing your bets; this won't only save you from heartache, but it will save you money as well.
Don't Bet on Every NHL Game
The most common mistake sports bettors make when they first start using sports betting apps is placing too many bets. They're so excited to place bets and start making money that they forget to be selective and wait for opportunities that present true value. Patience is key when it comes to betting.
No Betting While Under the Influence
Okay, this tip is vital. We have seen countless bettors over the years get carried away while drinking and it has led them to place bets they wouldn't normally place while sober. Sometimes, they don't even remember placing the wagers in the first place. Betting while under the influence of drugs and alcohol is only going to leave you discouraged and broke, so please don't do this.
Banking Methods Available on Hockey Betting Apps
There are so many more banking options available at real money hockey betting apps today, then there were even five years ago. We love to see this expansion, as it allows players to deposit and withdraw money with any method that makes them feel comfortable.
Here's a list of the banking options that many sports betting apps offer broken down into several different categories.
Type
Examples
E-wallets
EcoPayz
Neteller
Paypal
PersontoPerson
Skrill
Venmo
Credit Cards
American Express
Chase
Discover
Mastercard
Visa
Cryptocurrencies
Bitcoin
Bitcoin Cash
Dogecoin
Ethereum
Litecoin
Tether
Stellar
USD Coin
Other
Bank Transfer
Checks
Money Order
What Kind of Bonuses do NHL Betting Apps Offer?
We have already given you our stance on how useful bonuses can be when using hockey apps for money, so now let's go over some of the different sports betting bonuses you can expect to find.
Welcome Bonus
We always list welcome bonuses first because they are the most common. These bonuses are typically the most generous bonuses you'll find at the real money hockey betting apps you play at because they're designed to grab your attention and encourage you to create an account with them. Take advantage of their generosity and utilize their welcome bonuses to their fullest.

Cryptocurrency Bonus
Cryptocurrencies are now being offered as both a deposit and withdrawal method at numerous real money betting apps. To encourage players to use cryptocurrencies for the first time, many hockey betting apps are giving out incentives or bonuses to do so. They may match your initial cryptocurrency deposit for example.
Refer-a-Friend Bonus
If you love playing at certain apps for betting money on hockey, then you're naturally going to want to tell your friends about it. With refer-a-friend bonuses, you actually receive an award for recommending your friend to join the hockey betting apps you love.
You typically receive the reward once your friend makes their first deposit.
Mid-Week Bonus
The weeks can seem to drag on forever, which is why we love mid-week bonuses. They give us something to look forward to during the workweek. Oftentimes, these bonuses come in the form of free bets or a small percentage of cashback on the bets you place during the week. Use these bonuses whenever you get the opportunity to!
What Bets Can I Place on 2022 Hockey Betting Apps?
There are numerous different types of bets you can place while playing at real money hockey betting apps. We'll briefly go over the most common type of bets we see players place.
Moneyline Wagers
Moneyline betting is extremely simple. You bet on which team you think will win the upcoming game. Let's say there's a game between the Flyers and the Capitals tomorrow night. You notice the Capitals have had an amazing season so far and all of their star players are free from any injuries. You decide to place a bet in favor of them winning. If they win, you get a payout. If they lose, you forfeit your bet.
Team 1
Toronto Maple Leafs

(-170)
Team 2
Ottawa Senators

(+140)
Futures
When betting on the NHL online, you could place a bet on which team you believe will win the Stanley Cup Finals at the beginning of the season. This is very hard to do, as so many things can happen during a season that can impact the outcome. Players can get injured, teams can become disqualified, and so much more. Since futures are hard to predict, the payouts are high.
Parlays
We love betting parlays, but they are more difficult than other types of bets out there. You might place a bet on which teams will win the next five hockey games in the season. Every single one of your bets needs to be correct in order for you to win your parlay and get a payout.
Like futures, payouts for parlays are quite large.
Proposition Bets
These types of bets are so much fun because they can be on almost anything. You might place a prop bet on which team will score first or which player will receive the first foul. They can even be as silly as who will start the first fight or what color whistle the referee will use. Prop bets make watching hockey games live so much more interesting.
Real Money Hockey Betting Apps FAQ
Here's a list of the questions we get asked most often by hockey enthusiasts like us all around the globe.
Absolutely not! From start to finish, this whole process can be accomplished in 10 minutes or less. It takes less time than waiting in line to checkout at the grocery store in some cases.
Almost all hockey betting apps are compatible with Android and IOS phones. Sometimes the earlier models of these phones have issues downloading the apps though. Android and IOS phones less than five years old don't seem to have any issues at all.
Yes, do it! The more hockey apps for money you sign up at, the more bonuses you'll be able to cash in. It will also give you the opportunity to compare odds and lines easily.
Yes! These apps for betting on hockey allow you to get into the real money action from your mobile device. You won't need to go to the sportsbook or head to your desktop computer again to get your ice hockey action.
If you're looking to use dedicated hockey betting apps, you will need to download the apps from your operating system's app store. The links we've provided on this page will take you to the right page to initiate the free downloads. If you don't want to download anything, we recommend checking out mobile-friendly hockey betting websites.
Yes, most offer a wide range of sports to bet on including the following:
Baseball
Basketball
Esports
Football
Soccer
Volleyball
Lacrosse
Our Verdict on Mobile Hockey Betting Apps
Stop what you're doing right now, pull out your phone, and sign up for one of the best hockey betting apps today! These sports betting apps offer decent odds, multiple banking options, and generous bonuses, and mobile NHL betting options like we've never seen before. They allow you to place bets easily and give you the potential to make a substantial amount of money!