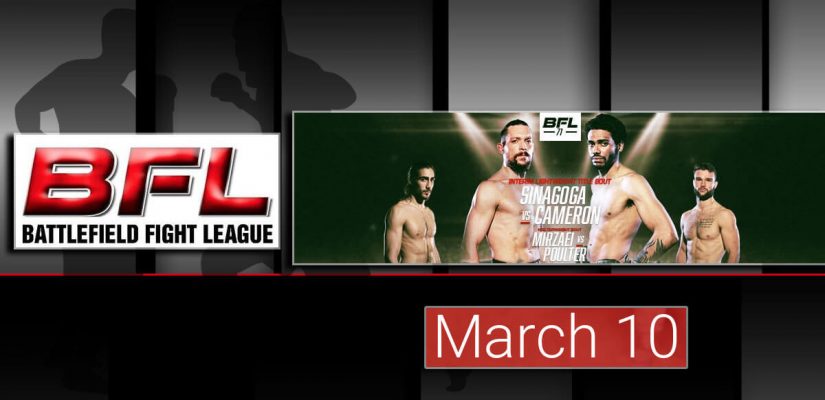 Our betting analysis for Battlefield Fight League and MMA breakdowns of all seven fights on the main card. You won't find betting odds on the first six fights, they're all amatuer bouts and have been skipped by oddsmakers. We've detailed the stats on the main event pick as well as our top Parlay Pick.If you're looking to capitalize on our most confident bets, click the place bet now button below any fight pick before BFL 71 airs on March 10th, 2022 at 8:00 PM ET on UFC  
BFL 71 Main Event: Kyran Cameron vs Dario Singoga 
Cameron lost his last bout to Dejan Kajic, a 12-7-2 fighter from Clinch MMA. He's a crafty old veteran on a five knockout streak. Dario Singoga is undefeated as a professional but was finished in his amatuer career in 2016. Singoga has only finished one fight, and his last win over undefeated Zackery Powell was a split decision. 
Kyran is more dangerous than Dario, but in a five round fight, the decision fighter may have a style advantage. This is his first fight as the underdog, and came in as a -138 favorite over Kajic. 
Tale of the Tape for Cameron vs Singoga 
| | | |
| --- | --- | --- |
| Fighter | Kyran Cameron  | Dario Singoga  |
| Money Line  | +185 | -225 |
| Age | NA | 33 |
| Height | 5'9'' | 5'11' |
| Record | 5-1 | 5-0  |
| Submissions/TKO  | 2/2 | 0/1 |
| Fighter Training Camp | Aegis MMA, Para Bellum MMA | Diaz Combat Sports, Legends MMA  |
Cameron is slightly shorter, and appears to be younger than Dario. He's finished two fights via submission, one leg lock and one Brabo Choke, a finish from side mount. Kyran is dangerous, and has seen only one decision in three years. 
However, his quality of opponent isn't there. Until Kajic, Cameron had only faced fighters with three or less fights, including two with losing records. Compare that to Dario, who has beaten one 4-0 fighter and one 9-3 fighter. 
Fight Tape for Cameron vs Singoga
In Cameron's fight with Trimmeliti, his only decision, he was the smaller fighter and Trimmeliti hung on him inside the clinch for three rounds. Singoga has a clear path to victory if he can work the jab and win some wrestling exchanges. 
Cameron's first round win over Palomeque was a similar story, with Cameron losing the wrestling exchanges early and getting worked over with ground strikes. Once in top position, Palomeque proved Kyran was the better technician, offering a brabo choke from under sprawl after an exhausting first round. 
Singoga looks to be a well conditioned fighter. He wins second and third rounds often despite being a slow starter. I see Kyran as the more dangerous kickboxer, but DCS will help to produce a more technical kickboxing strategy against Cameron's kick-heavy style. 
BFL 71 Betting Pick
Our BFL pick is the favorite, Dario Singoga money line at -225. Singoga has superior conditioning, and in a five round fight he'll be able to game Cameron and his finish focused style. 
PLACE YOUR BETS NOW!
BFL 71 Co-Main Event: Radley Da Silva vs Mateo Vogel 
| | | |
| --- | --- | --- |
| Fighter | Silva | Vogel |
| Money Line | +215 | -275 |
| Record  | 2-1 | 5-2 |
Silva has won his last two fights, scoring a choke on the undefeated John Nguyen in his last showing in 2019. Vogel lost a 2021 bout to Da'Mon Blackshear of DWCS fame, and had won two fights prior. 
Mateo Vogel's Submission Work
Mateo has four submission wins on record, and coming from Peter Fazekas New Era Combat Sports, that's no surprise. He's one of three active pros from New Era, all of whom have submission or grappling focused games. With Da Silva being a submission fighter as well, it will come down to who has the better wrestling skill. 
Fight Tape and Betting Pick for Da Silva vs Vogel
Radley's won the takedown at least once in every fight he's had and so has Vogel, however Radley hasn't fought anyone competitive. Mateo has better grappling and BJJ conditioning. His kickboxing is a little sloppy, but Da Silva doesn't bring enough explosiveness to outwork Vogel's grappling advantage. Our betting pick is Mateo Vogel money line at -275. I see a close decision with Mateo winning the grappling exchanges narrowly. 
PLACE YOUR BETS NOW!
BFL 71 Main Card: John Nguyen vs Gagan Gil
| | | |
| --- | --- | --- |
| Fighter | Nguyen  | Gill |
| Money Line | -140 | +110 |
| Record  | 3-2 | 3-1 |
Nguyen has finished all three wins via knockout and has lost twice via submission. The only question we need to know for this fight: does Gill have the submission work to put Nguyen away with a submission?
The oddsmakers say no, despite two submission finishes in Gill's professional career. Gill has never been knocked out, and has an expansive amatuer career with many submission finishes. 
Nguyen's fight tape shows that he's a fantastic striker, one that has high quality kickboxing even in his amatuer career. Gill's takedowns are okay, but it's his conditioning and heart that wins him fights. 
I see an upset for Gill. He's tough to put away and his grappling is good enough to submit Nguyen if we see the second or third round, maybe even eeking out a decision with two rounds of clinch fighting, which Nguyen also struggles with. 
Our BFL betting pick is the Gagan Gill money line at +110. 
PLACE YOUR BETS NOW!
BFL 71 Parlay Pick: Mike McAloon vs Jonathan Broad
| | | |
| --- | --- | --- |
| Fighter | McAloon  | Broad  |
| Money Line | +170 | -210 |
| Record  | 4-3 | 2-0 |
McAloon is a quality submission fighter, and he was hitting advanced footlocks in his amatuer career in 2015. Broad is undefeated with three knockout finishes. We have a classic striker versus grappler bout on our hands. 
Much anticipated LW matchup this Thursday night exclusively on @UFCFightPass #bfl71 pic.twitter.com/G3fGFqQhg6

— Battlefield Fight League (@BattlefieldFL) March 9, 2022
They are making it seem like McAloon has finsihes outside the takedown, which he does not. He'll need to find top position early to take home his first round win.
McAloon Fight Tape
McAloon went pro in 2017, and his first decision loss was to Mike Imperato. He demonstrates cagey kickboxing and gets taken down inside the first minute, just two and a half years ago. It's clear that unless McAloon is the better wrestler, he struggles to win rounds by any other means. 
Jonathan Broad Fight Tape
Jonathan's MMA debut for UFC fight pass opened with a spinning back kick and a flurry that finished the opponent in fourteen seconds, and boasts another 32 second KO. However, each fighter he's beaten was a debuting fighter. McAloon is the only fight he's taken with any MMA experience whatsoever. 
Broad is a Karate based fighter who trains out of Colossal Martial Arts. Denis Kang is his MMA and wrestling coach, and Brock Stone as a BJJ coach. His camp is of the highest quality. This kid's going far. 
BFL 71 Betting Pick
Our betting pick and most confident bet for a parlay ticket is Jonathon Broad at -210, a $0.45 return per dollar wager. He's more skilled than McAloon in nearly every category, but especially comfortable in striking arts. 
PLACE YOUR BETS NOW!
BFL 71 Main Card: Saeid Mirzaei vs Bobby Poulter 
| | | |
| --- | --- | --- |
| Fighter | Mizaei | Poulter |
| Money Line | +170 | -210 |
| Record  | 2-0-1 | 3-0 |
Saeid is coming out of a massive amatuer career, a 16-3 run that includes many finishes and rare submissions like a Japanese Necktie and D'arce choke. Mirzaei clearly has strong submission work. Pou;ter is a wrestling centered fighter coming off a TKO win just six months ago. 
Fight tape shows Poulter is a good kickboxer, one that employs body kicks and clinch work to wear the opponent down. He's won the majority of his fights with better strength and conditioning. Mizaei has a tentative style that will put him on the back foot against Poulter often. He relies on winning wrestling exchanges, but doesn't seem to cut enough weight to be bigger than many of his opponent's. 
Our betting pick is the Bobby Poulter money line at -210. He'll use his size and pressure fighting to slowly eke out a win over Mizaei, who is probably the more technical BJJ fighter of the two. 
PLACE YOUR BETS NOW!
BFL 71 Main Card: Nigel Crosswell vs Indroop Virk 
| | | |
| --- | --- | --- |
| Fighter | Crosswell | Virk |
| Money Line | +235 | -295 |
| Record  | 0-1 | 1-1 |
Crosswell had an extensive amatuer career, but has never won against a fighter with a winning record other than the 1-0 Matt Szep in 2017. He fights out of Crosswell MMA, a school run by him and his brother, another 0-1 pro who's lost six of his last seven fights (primarily amatuer bouts.)
Virk was an undefeated amatuer with eight wins. He lost his last bout after shooting into a guillotine early in the fight. Virk trains out of The Sound and Checkmat, both quality MMA programs. His recent posts show his training is on point and he is diced to the kneecaps in preparation for this fight. Nigel will have trouble dealing with anything Virk brings to the table. 
Our betting pick is Indroop Virk at -295. If I had just a bit more fight tape for Virk, I'd be comfortable recommending a parlay. 
PLACE YOUR BETS NOW!
BFL 71 Main Card: Wesley Bowman vs Ozhan Yalcin 
| | | |
| --- | --- | --- |
| Fighter | Bowman | Yalcin |
| Money Line | +275 | -350 |
| Record  | 0-2 | 1-0 |
Yalcin started his professional career with a second career submission finish over a debuting fighter. Bowman lost to the 2-0 Zahabi and debuting Patrick Ward via submission finishes. Bowman has also lost amatuer bouts by submission. However, Wesley's last pro bout was 2016. 
Bowman trains at LDP Martial Arts where he is one of two active fighters. There are no reports of major changes in his training strategy. This looks like an easy win for Yalcin via submission, but with Bowman's unknown experience level, we can't be too sure. 
Our betting pick is Ozhan Yalcin at -350, but keep him off parlay tickets. 
PLACE YOUR BETS NOW!
BFL 71 Betting Picks Wrap Up
If you're looking for more MMA betting through the week, start with our Invicta betting preview. If you're new to sports betting, learn more with our MMA guide.