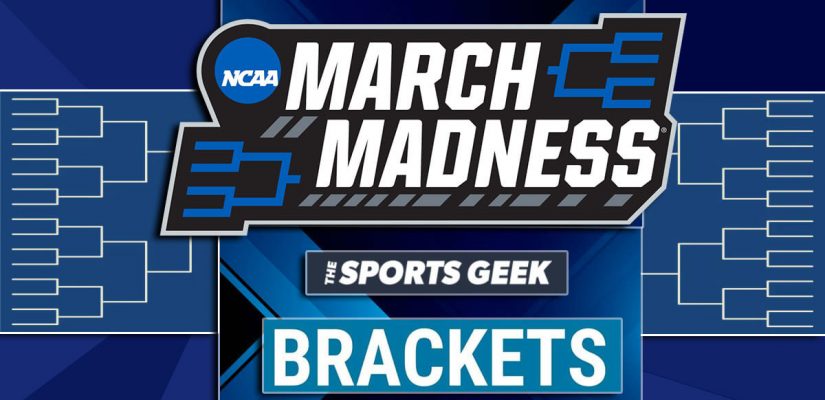 For the first time in several years, March Madness will look relatively normal. The NCAA Tournament was canceled two years ago as a result of the unfolding pandemic, while last year's edition was marred by unfortunate cancellations. In 2022, March Madness will look a lot more like the March Madness of old.
This is amazing news for bettors and college basketball fans alike.

Millions of Americans will once again fill out
March Madness brackets
in anticipation of one of the year's most exciting sporting events. The burgeoning sports betting industry means more Americans will have money on the festivities than ever before. Other, more casual fans may opt for the cheaper thrills that come with participating in a bracket pool with coworkers, friends, or family.
In all, 68 teams will enter the competition with the same dream of lifting that coveted National Championship trophy. Meanwhile, millions of Americans will dutifully make their bracket picks with the ever-elusive goal of achieving perfection.
No perfect bracket has ever been filled out. Maybe, just maybe, yours will become the first this year. You don't have to be a diehard college basketball fan to fill out a bracket.
In fact, the vast majority of those that do participate in pools couldn't name a single active college basketball player. The best way to get in on the action is to fill out a bracket in order to keep up with the action that will captivate the nation over the next few weeks. Where can you find a bracket? Look no further!
2022 Printable March Madness Bracket
While some providers now give you the ability to fill out your bracket entirely online, there is something to be said about doing your bracket the old-fashioned way by hand.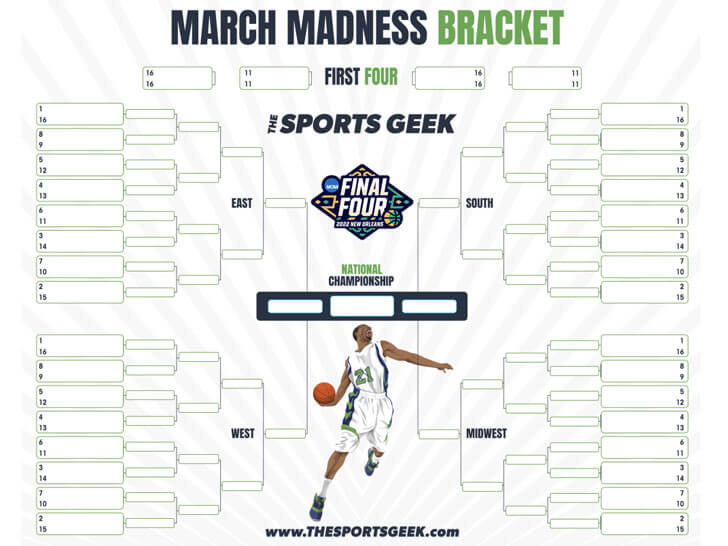 So, we've done you the courtesy of providing you with a free, printable, and blank March Madness bracket in anticipation of the 2022 NCAA Tournament.
2022 March Madness Bracket
The Odds-On Favorites
Arguably the most fun aspect of March Madness is the unpredictability. Obviously, upsets are a major part of what makes the NCAA Tournament such a popular event every year. A few teams will enter the Big Dance as betting favorites to win it all, but we don't always see the No. 1 overall team advance through the tourney unscathed.
The field is a wide-open one heading into the 2022 NCAA Tournament, as well. The following teams are listed among the betting favorites to win it all:
Purdue Boilermakers:
+1400
Gonzaga Bulldogs
Gonzaga has become a legitimate powerhouse of a basketball program over the years, but they're still looking to cement that status with a national championship. The title has been elusive to the Zags, who got to the brink last season before falling to Baylor in the National Championship Game.
????? ????? pic.twitter.com/2tUNNCiGbI

— Gonzaga Basketball (@ZagMBB) March 10, 2022
Drew Timme, who burst onto the scene last March, is still the crux of Mark Few's offense. Gonzaga has also replaced last year's freshman phenom, Jalen Suggs, with another in Chet Holmgren. The lanky seven-footer is likely to be one of the first three players taken in this year's NBA draft. Between Timme and Holmgren, Mark Few has one of the most talented frontcourts we've seen at the college level in years.
Arizona Wildcats
Arizona hasn't won a national title since 1997, but the Wildcats are currently ranked second in the nation. The Pac-12 has a few quality teams at the top of the conference standings, but Arizona looks like the most compelling title contender of the lot.
The 2021-2022 Regular Season Pac-12 Champs #BearDown #RunWithUs pic.twitter.com/vHj9pAl1I1

— Arizona Basketball (@ArizonaMBB) March 2, 2022
Arizona has a few quality wins on their ledger, with victories over UCLA, USC, and Michigan. The Wildcats haven't advanced to the Big Dance since 2018. Arizona will be in search of their first trip to the Final Four since 2001, as well. The Wildcats weren't really on anybody's radar at the beginning of the season, but they've won over their fair share of doubters over the course of the campaign.
Kentucky Wildcats
There are few teams more synonymous with postseason success than the Kentucky Wildcats. John Calipari has restored the program to true blueblood status, though they are mired in a relative drought. The Wildcats failed to qualify for the tourney last year for the first time since 2009.
It's #SECTourney time ?

Let's make some more memories this weekend, #BBN. pic.twitter.com/Pw0Dtsawje

— Kentucky Men's Basketball (@KentuckyMBB) March 11, 2022
Calipari has a reputation for developing and churning out NBA-caliber talent. This year's squad is no exception. TyTy Washington and Shaeden Sharpe are projected to be NBA lottery picks later this year, while Oscar Tshiebwe is a borderline first-round prospect.
Baylor Bears
Baylor won its first men's basketball title in dramatic fashion last year with an upset win over Gonzaga in the National Championship Game. Scott Drew's squad saw plenty of turnover this season, with both Davion Mitchell and Jared Butler having left Waco for the NBA. However, the Bears are once again firmly in the national title mix and firmly atop a deep and talented Big 12.
THIS. TEAM.

CHAMPIONS ?#SicEm | #CultureofJOY ? pic.twitter.com/CMm2KTMImI

— Baylor Men's Basketball (@BaylorMBB) March 6, 2022
Baylor may not have as much star power as they had a season ago, but this team knows better than most how to win in March. Baylor doesn't have the same track record as some of the other perennial national title contenders, but they should not be taken lightly.
How to Fill in Your Bracket
There is more than one way to skin a cat. I'm not sure where that gruesome phrase originated, but the same mantra applies to how to fill out a March Madness bracket.
If you're filling out your tournament bracket by hand, we recommend doing so in pencil.
You're likely going to hem-and-haw over a few of the matchups along the way, so having the ability to erase is crucial. It's also worth noting the games become more valuable as the tournament progresses.
One unconventional path to take is to pick your national champion before filling out the rest of your bracket. Working backwards is a different-yet-intuitive way to help you chart your course. Keeping track of seeding is also important. Obviously, teams with higher seeds tend to be more talented and better suited to make deep runs into the tournament.
This certainly isn't the be-all, end-all method to picking games, but, generally speaking, the cream tends to rise to the top. Every so often, we'll see a Cinderella-like run to the Final Four, but those don't happen with much regularity.
NCAA March Madness Bracket Schedule
It's March, which means the 2022 NCAA Tournament is right around the corner. The First Four will go down on Tuesday, March 15, and Wednesday, March 16, with two games each day.
The first round officially starts on Thursday, March 17, with the second round set to begin on Saturday, March 19. The Sweet Sixteen begins on Thursday, March 24, with the Elite Eight getting underway on Saturday, March 26.
The 2022 Final Four, which will take place in New Orleans this year, begins on Saturday, April 2. The National Championship Game is scheduled for Monday, April 4.