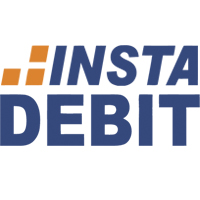 If you've ever bought something on Facebook, Playspan, Playdom, Live Gamer, or World of Tanks, you are probably familiar with InstaDebit. InstaDebit is a variation of an e-wallet that allows you to make deposits into online gaming and online betting sites directly from your bank account without having to fund a "middle-man" account.
For those of you that are looking for an InstaDebit betting site, we've compiled a list of the top-ranked betting sites that offer it as an option below. These are the highest-ranked and best overall betting sites available on the market utilizing this financial option.

Best InstaDebit Betting Sites
In order for a site to make our list of top-ranked InstaDebit betting sites, they have to do a lot more than just offer InstaDebit as a deposit or withdrawal method. The Canadian market has a lot of great options for online betting sites, and a lot of them offer InstaDebit as an option. But, you'll notice that we don't have every single one of those sites listed above.
Why? Because we only want to show you the best of the best and the betting sites that we trust. In order to make our list, a betting site has to be one of the best options available and offer one of the top online experiences. This means trustworthiness, lots of betting options, a great user interface, and an overall experience worth writing home about.
Only after we go through all of that will we check to see if they offer InstaDebit as an option to include them on this recommended betting site list. We also make sure to check the quality of the sites on our list regularly. If any of them drop in quality or drop InstaDebit as a payment option, they get scrubbed from the list. Additionally, if we come across a betting site offering InstaDebit that is great and not on the list, we'll either add them or replace a site on the list.
Our goal is to give you the best options to choose from to ensure you can make the most informed decision possible.
Pros and Cons of Betting with InstaDebit
To help you decide if InstaDebit is the right deposit method for you and if you'd be happy at an InstaDebit betting site, we wanted to go ahead and list out the pros and cons of using these sites. This should really help anyone who is on the fence about trying out this deposit method and the associated betting sites.
Pros
No Middle-Man Account Step
At first glance, you might think that InstaDebit is an e-wallet. In a sense it is, but it allows you to deposit without having your money have to make a pit stop in the middle in your account. What's nice about this is that it saves you a lot of time and even some frustration in getting your betting account funded.
If you do choose to use InstaDebit as a withdrawal method, you will have funds making this pit stop in your account. Luckily, it's a pretty easy move to get them from InstaDebit to your bank account. While they are in the middle step, you can use them at another online betting site or any online merchant that accepts InstaDebit.
Certified by McAfee, TRUSTe, and Norton
If you visit the InstaDebit website, you will see at the bottom right that they display security badges from three of the biggest online security firms in the industry. This is obviously something that we're pretty happy about. When one third party company gives you the seal of approval (literally) in the security and protection department, it's great. When three companies do this, it's incredible.
In business for almost 15 years, InstaDebit is a trusted processor that understands the betting industry and knows how to help you get your funds moved quickly and efficiently where you want them when you want them there.
Cons
If you live in Canada, you can disregard this con because it does not apply to you. InstaDebit limits it's services to residents of Canada and therefore only services online betting sites that also serve the Canadian market. If you live there, that's awesome. If you live anywhere else in the world, though, this is going to be a bummer.
What's a bit more of a bummer is that if you are visiting Canada and want to play online, it looks like you won't be able to use InstaDebit as a deposit or withdrawal method. You're required to have a SIN number to apply for an account, and from our understanding, those are only given to residents of Canada. So, if you live anywhere else in the world, sorry, but you're going to need to find a different deposit option to fund your accounts.
Why Use InstaDebit Betting Sites?
InstaDebit enabled betting sites (specifically the ones we've recommended) are a great place for you to house your sports betting or gambling action. Regardless of the games you like to play or bet on, InstaDebit creates a simple to use medium to get money on and off your betting account quickly.
If you're a Canadian resident looking to get into the action now, we highly recommend you take a look at one of the sites we recommended above and using InstaDebit to move your funds around.