There are a ton of great soccer betting apps to be using in 2022 and this review will show you exactly where to go to experience the best! You cannot go wrong with any of the real money sportsbooks we recommend to our readers. Find yourself some solid betting lines and odds as well as some hefty bonuses and top-rated service and support when you join one of our favorite soccer betting apps today!
If you would rather learn a little bit more about real money soccer betting apps and how we assemble our list of recommendations, continue reading this extensive guide.
Find the Right Soccer Betting App for Your Needs
There's no denying that we're all different, therefore, we want different things in terms of betting apps. Some sports bettors care more about odds and lines than about bonus opportunities. Other players may think bonus opportunities are more important than banking options.
We're not here to argue about whose opinion is right. Instead, we're here to help you find the best soccer betting apps for you.
| | | | | | | |
| --- | --- | --- | --- | --- | --- | --- |
| Sportsbook | Best Bonus | In-Play Betting | Payout | Cryptos | Mobile Compatible | |
| Bovada | 50% up to $250 | Yes | 48 Hours | Yes | Yes | Go Now! |
| BetUS | 125% up to $2,500 | Yes | 48 Hours | Yes | Yes | Go Now! |
| BetOnline | 50% up to $1,000 | Yes | 48 Hours | Yes | Yes | Go Now! |
| Sportsbetting.ag | 50% up to $1,000 | Yes | 48 Hours | Yes | Yes | Go Now! |
| MyBookie | 100% up to $1,000 | Yes | 48 Hours | Yes | Yes | Go Now! |
What Makes These the Best Soccer Betting Apps?
We don't expect you to just take us at our word that these are the best apps for betting on soccer. Instead, we plan to explain to you exactly what makes them the best.
Multiple Soccer Leagues to Choose From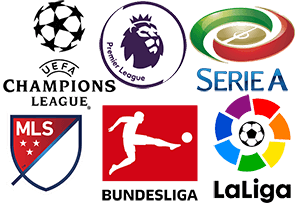 We go into more detail about the various soccer leagues you can bet on later on in this article, but if you're a soccer fan then you know there are numerous leagues. All of the real money betting apps that we recommend have most, if not all, of the leagues available for you to bet on.
Trustworthy Reputation
In order to make our list of recommendations, these soccer betting apps need to prove that they are trustworthy. That's why we sift through hundreds of reviews to see if we notice any red flags that might indicate that they're ripping players off or refusing to pay players the money they rightfully deserve.
We hope to find companies that have been around a long time and have multiple licenses from reputable agencies. They also need to have high user ratings.
Kind and Knowledgeable Customer Service Team
The customer service that betting apps offer is a reflection of how little or how much they care about their players. That's why we go out of our way to test the customer service team of each of the real money soccer betting apps on our list.
We speak with several different agents at several different points throughout the day to make sure they are consistently offering top-notch service. We expect the customer service agents to be pleasant to talk to and informed enough to answer our questions with ease. At the very least, we expect that to be able to direct us to someone who can answer our questions quickly.
What Soccer Leagues Can I Bet on From My Phone?
Almost all soccer leagues can be found on sports betting apps these days. Here's a short list of the most popular soccer leagues we see offered at soccer apps for money.
Dutch Eredivisie
English Carabao Cup
English FA Cup
English League Championship
English Premier League
World Cup Qualifying – AFC
World Cup Qualifying – CAF
World Cup Qualifying – CONCACAF
World Cup Qualifying – CONMEBOL
World Cup Qualifying – UEFA
French Ligue 1
German Bundesliga
German DFB Pokal
Italian Serie A
Major League Soccer
Mexican Liga BBVA MX
Spanish Copa del Rey
Spanish La Liga
UEFA Champions League
UEFA Europa League
UEFA Nations League
UEFA Women's Champions League
United States NWSL
This is another incredibly important factor to consider when you're signing up for a mobile soccer betting site.
If the sportsbook app doesn't have odds on the leagues you like you probably won't like the app!
Soccer Betting Apps – Device Compatibility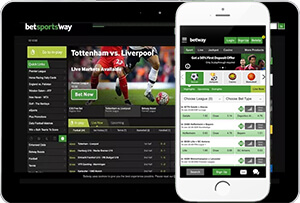 Soccer betting apps have come a long way since their inception nearly two decades ago. The top providers have discovered the importance of making sure their apps are able to be used on the most popular devices. Soccer betting is possible thanks to improvements in device compatibility.
iPhone and iPad Apps
If you're looking for apps for betting on soccer and you have an iOS device like an iPhone or an iPad, you're in luck. All of the best apps for soccer betting we've recommended here are fully compatible with the most recent versions of the iOS operating system. To get started, use the links provided at the top of the page, and you'll be directed to the app store to get the latest version.
Android and Galaxy Tablet Apps
Just because you don't have an iPhone does not mean you're out of luck. Game providers have realized that Android users deserve the same high level of service as iOS users. All of the soccer betting apps recommended here offer full service to Android, Samsung, and Galaxy tablet users. Use the links provided, and you'll find a convenient download link to get started.
What Bonuses do Soccer Betting Apps Offer?
Welcome Bonus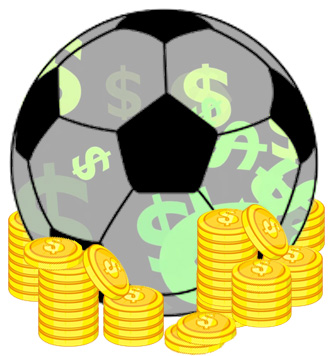 Almost everyone has heard of welcome bonuses since most apps for betting on soccer offer some kind of welcome bonus. This is an amount of money or free bets given to a player for placing their first deposit and making their first wagers on the app. It's typically only available for new players and can only be used once.
Refer-a-Friend Bonus
These are some of my favorite kinds of bonuses offered at real money betting apps. You basically get rewarded when you invite your friends to create an account and make their initial deposit. These bonuses are available to new players and existing players alike.
They can be redeemed as many times as you want!
Cryptocurrency Bonus
The use of cryptocurrencies is on the rise when it comes to sports betting apps. Since more and more soccer betting apps are accepting cryptocurrencies for the first time, they are rewarding their players for making their first cryptocurrency deposit. Similar to welcome bonuses, these bonuses are available for a one-time use only.
What Bets Can I Place on Soccer Betting Apps?
There are so many different types of wagers that it can be hard to keep them all straight. In this section, we briefly go over some of the more popular kinds of wagers you'll be able to place at apps for betting money on soccer.

Moneyline Wagers
This is where most newbies to soccer betting apps start. These types of wagers are as simple as they sound. You place a bet on which soccer team you believe is going to win the match. Moneyline wagers can be placed with minimal knowledge and research, making them ideal for beginners.
Be sure to check out Complete Guide to Betting on Soccer Online for more details on this subject!
Totals
This is another great type of bet for beginners. In soccer, you'll be betting on the total number of goals scored in the game. For example, in a match featuring Stoke City and West Bromwich Albion, the sportsbook may set the total goals scored in the game to 3. You bet whether or not you think the actual score of the game will be under or over that amount.
If you want to learn more about totals betting, check out Over/Under Totals Betting Guide.
Futures
Future bets are a little more advanced than the first two we mentioned because you have to analyze an entire league full of teams in order to determine who you think will win the final championship before the season even starts. These types of wagers are difficult to win, but the payouts are high.
Be sure to read 3 Reasons Why You Should Take Advantage of Futures Betting.
Parlays
Another type of bet with large payouts that are hard to win is parlays. Parlays are several different bets in one. Let's say you wanted to place a parlay bet on the outcome of the next five soccer matches. You would have to win each individual bet in order to receive the payout from the parlay. If even one of your bets was incorrect, you lose the entire parlay.
For more information on parlay betting, read Parlay Betting Strategy Guide.
Banking Methods Available at Soccer Betting Apps
There are a wide variety of banking methods available at real money soccer betting apps. While not all betting apps offer the same types of banking methods, these are the ones we typically see offered.
Credit Cards
This is one of the most popular ways to make a deposit at online sportsbooks nowadays. Many sites carry all major providers and, in many cases, only offer this as a deposit option. Payouts must be conducted by other means such as a check, bank wire, or e-wallet. On average, credit cards have longer payout timeframes compared to other methods like cryptocurrencies, but are nonetheless one of the quickest, easiest, and most popular ways to bank at some of the best real money sportsbooks out there.
American Express
Chase
Discover
Mastercard
Visa
For more information on the best in credit card sportsbooks, read Best Credit Card Gambling Sites in 2022.
Cryptocurrencies
Cryptos are quickly becoming one of the biggest ways to bank when betting on sports online for real money. Cryptocurrencies usually have the fastest payout times (averaging around 48 hours) and can be largely used free from any sort of fees. And there are many cases where cryptos have high depositing maximums. There are many sportsbooks out there that feature special bonuses based around their customers using cryptos as their banking method of choice. Cryptos are definitely one of the best banking options currently out there and there are ton of benefits that come along the way.
Bitcoin
Dogecoin
Ethereum
Litecoin
Tether
Check out Best Cryptocurrency Betting Sites 2022!
E-wallets
Electronic wallets allow customers to bank without having to directly connect their bank account to the sportsbook they are using. Customers can transfer funds from the bank straight into their e-wallet and use that while banking at their favorite online sportsbook. It gives that extra layer of protection, and it also happens to be a great method if you enjoy speedy payouts. Many e-wallets offer payouts with 48 hours!           
Other
Bank wires function as a great method of banking for those who are looking to transfer in large sums of money onto an online sportsbooks. In most cases, transfers can be used for both depositing and withdrawing funds! Checks are typically used as a payout method for those who used credit cards as their deposit option.
Desktop Betting Sites vs Soccer Betting Apps
There are pros and cons to using online betting sites over mobile soccer betting apps, which we have outlined for you in the table below.
Pros
Cons

Thousands of sites to choose from
Larger screens are easier to place bets on
Easier to place bets on multiple sites at once

Playing on the go is more difficult
Can be slower for live betting
Some bonuses are exclusive to mobile
There's a time and a place for both, but we prefer the convenience of real money sports betting apps. Ultimately we recommend you try both and use whatever works best for you.
All the mobile soccer betting sites we've recommended on this page will work well on your desktop computer and mobile devices.
Soccer Betting Ap Tips and Tricks
We want you to be successful when it comes to placing wagers at soccer betting apps, so we created a list of our best tips and tricks. We hope these help you place wise bets and make a decent profit off of them!
Leave Personal Bias Out
This one is so hard because we all have our favorite teams that we want to be successful. Betting against them even when the odds are stacked against them just seems wrong.
Leaving personal bias out of the wagers you place is hard, but it will prevent you from making unwise betting decisions.
No Betting While Under the Influence
Betting while drinking or using drugs of any kind will only impair your ability to make quality decisions while placing your bets. Avoid these behaviors at all costs if you don't want to end up with a completely depleted bankroll by the end of the night.
Be Selective
One of the biggest mistakes we see new sports bettors make time and time again is over betting. For some reason, they think the more bets they place, the better. This simply isn't the case. Successful soccer bettors wait for an opportunity where the odds are good, and they actually have a chance to make a profit.
This is the key to more money in your bankroll.
Take Advantage of Bonuses
Utilize the bonuses offered by the soccer betting apps you have accounts with. As long as the terms and conditions of those bonuses seem fair, there's no reason why you shouldn't use them to your benefit. Anything that helps you stretch your budget is a positive in our book.
Set a Budget
This brings us to our final tip: Set a budget based on your personal income. You know what you can and cannot afford in terms of a sports betting allowance. Avoid overspending by setting a realistic budget and then stick to it at all costs.
Our Verdict – Should You Bet on Soccer From Your Phone?
Yes! Right now we think that mobile soccer betting is a fun and safe option and highly recommend it.
Try any of the apps on our list of top soccer betting apps for a secure and high-quality experience. These sports betting apps have proven themselves to be trustworthy; they also offer good odds and generous bonuses. Sign up and start placing your bets today!
Soccer Betting Apps FAQ
Use attribute "a" for answer.
Honestly, no. All of these steps we have listed above can usually be accomplished in ten minutes or less. Occasionally, it takes a little longer to sign up, depending on which soccer betting app you are creating an account at, but for the most part the process should be straightforward and quick.
Navigating to this page was a great first step! By choosing a soccer betting app from this page, you can be confident you'll have a safe and secure experience. But how do you decide the best soccer app for you? You'll need to dedicate some time to checking out the different options available. Determine what's most important to you and find the app that offers that.
Use attribute "a" for answer.
Use attribute "a" for answer.
Yes, we suggest opening an account at at least two or three different soccer betting apps for money. This will give you the chance to find the best odds and lines. Plus, you'll get to use bonuses from each online sports betting site you play at.
Use attribute "a" for answer.