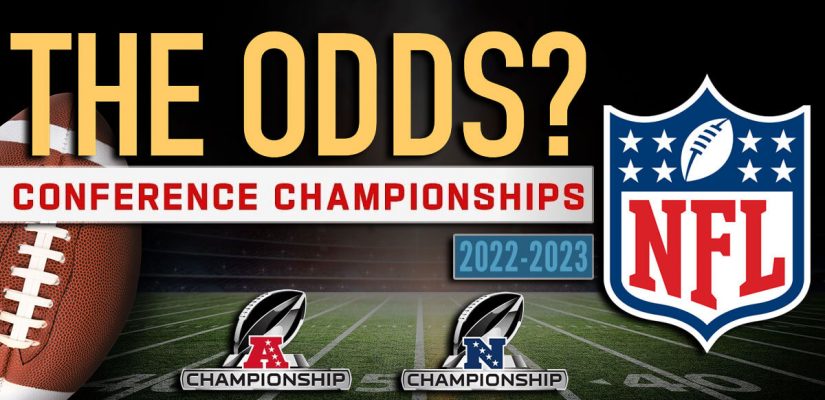 At this point, most of the dust on the NFL offseason has settled. The vast majority of free agency and the draft are in the rearview mirror. A few notable names are still without teams, so we should see more deals come over the news wire over the next few weeks.
Unfortunately, actual football is still a ways off.
The NFL will release its full 2022-23 schedule later this month, which is something the league has successfully turned into a TV event of its own. Unless you're into the USFL or following your favorite team's OTAs, any football betting you'll be doing in the near future will be of the futures variety.
On the bright side, NFL betting sites are always offering something. Football may be seasonal, but betting on football is now a year-round pastime if you want it to be. With most of the offseason's major moves out of the way, now is a good time to take a gander at the latest NFL conference championship odds.
Of course, these odds are going to fluctuate quite a bit between now and Super Bowl 57 next February. That's why it's important to try and unearth as much value as you possibly can at this early stage. Interestingly enough, two teams that failed to advance to last year's Super Bowl are actually favored to win their respective conferences early next year.
How should you bet on 2023 NFL conference championship odds? You've come to the right place.
NFL Conference Championship Schedule
The NFL hasn't officially unveiled its 2022-23 regular season schedule yet, but we do already know the dates and kickoff times for every single playoff game. Next year's Wild Card Round is set to begin on Saturday, January 14th, with a total of six games scheduled over a three-day span. We had our first-ever Monday Night Football playoff game last year, and the league will bring it back again for a second time next year.
The Divisional Round is set for the following weekend with two games on Saturday, January 21st, and two more on Sunday, January 22nd. As is usually the case, both conference title games will take place the following Sunday, January 29th. The NFL conference championship schedule gets underway that day with CBS hosting the first game at 3:05 pm ET. The second game, set to air on Fox, will kick off at 6:30.
Super Bowl 57 will go down in Glendale, Arizona, on Sunday, February 12th, at 6:30 ET. Fox will have the game, though Joe Buck and Troy Aikman won't be in the booth. After the famed duo left for ESPN this offseason, Fox announced Kevin Burkhart will replace Buck on play-by-play for Super Bowl 57. Greg Olsen and Drew Brees are reportedly a couple of choices Fox is considering to fill Aikman's vacated analyst seat for the big game.
AFC Championship Odds
Los Angeles Chargers:
+850
Cincinnati Bengals:
+1100
Indianapolis Colts:
+1200
New England Patriots:
+2200
Pittsburgh Steelers:
+4000
Jacksonville Jaguars:
+6500
Bills Circling the Wagons
It's early, but oddsmakers and bettors are all rallying around the Buffalo Bills ahead of the 2022-23 campaign. The Bills haven't appeared in a Super Bowl in nearly 30 years, yet Buffalo is the current favorite to represent the AFC in Super Bowl 57 at +330 conference championship odds.
Why? The Bills have lost to the Chiefs in each of their last two trips to the postseason, including their infamous shootout defeat in overtime in the Divisional Round earlier this year. The Bills have been trending in the right direction over the past few years, with four playoff appearances in the last five seasons.
James Cook is electric ⚡️ pic.twitter.com/XBwutLrKu4

— PFF Fantasy Football (@PFF_Fantasy) April 22, 2022
It's also helpful that the Bills reside in the AFC East, which means they likely won't face much resistance on their way to a third consecutive division title. No other team in the East has conference championship odds more favorable than Miami at a distant +1800. Buffalo is justifiably a heavy -175 favorite to win the division.
The Bills have strengthened an already-talented roster with the additions of Von Miller, Jamison Crowder, and Rodger Saffold. Buffalo also drafted ex-Georgia standout James Cook, who could step in right away and bolster the team's relatively underwhelming rushing attack. If there was any criticism of the Bills last season, it was that the offense may have been a bit too one-dimensional.
Chiefs Always Lurking
As long as Patrick Mahomes is in Kansas City, the Chiefs are going to be in the Super Bowl mix. However, Mahomes' massive contract is starting to hamper the front office's ability to keep the team's talented roster intact. Already this offseason, the Chiefs have parted ways with Tyreek Hill, Tyrann Mathieu, Eric Fisher, and Charvarius Ward.
Kansas City attempted to fill Hill's spot with the signings of Marquez Valdes-Scantling and Juju Smith-Schuster, but it's hard to imagine any newcomer truly replacing a player as important as Hill has been to this offense over the years. Travis Kelce's steady brilliance need not be overlooked, but Hill's all-around impact was a huge part of what has made this the most feared offense in football over the last half-decade.
The Chiefs belong among the favorites to advance to a third Super Bowl in four years as long as Mahomes is here and healthy. However, I'm not nearly as bullish on their chances. Kansas City will have to navigate an incredibly difficult and much-improved AFC West this year, so it's no guarantee they earn another first-round bye in next year's playoffs.
Speaking of the AFC West…
The "other" three teams in the Chiefs' vaunted division are all listed with NFL conference championship odds of +2000 or better. The Chargers and Broncos are actually tied for the third-best odds at +850 apiece, while the Raiders are still a relatively distant +2000 to win the AFC.
The Chiefs unquestionably got worse this offseason.
Each of these three teams improved on paper, which should be enough to put Kansas City's chances of extending their streak to seven straight division titles in serious peril.
The Chargers have taken a page out of the Rams' playbook this offseason. LA made a pair of splashy moves on the defensive side of the ball, trading for Khalil Mack and signing the top defender on the free-agent market in JC Jackson. The team already had no discernible weaknesses on offense around Justin Herbert. On paper, the Chargers look like the real deal.
With the 48th pick in the 2022 NFL Draft, the Los Angeles Chargers selected Khalil Mack. #BoltUp pic.twitter.com/cLJp5fJOCT

— Chargers Country (@ChargersCountry) April 29, 2022
The Broncos made arguably the biggest move of any team in the entire league this winter when they made the blockbuster trade to bring Russell Wilson to the Mile High City. Denver now has its first franchise QB since Peyton Manning retired. Now, the team can focus on making its first playoff appearance since Peyton hung 'em up, too.
Javonte Williams looked like a budding star out of the backfield last season. Wilson has plenty of weaponry at his disposal between Courtland Sutton, Jerry Jeudy, and Tim Patrick. Defensively, Denver replaced Von Miller with Randy Gregory, who should form a dynamic duo in the pass-rush with Bradley Chubb. I prefer the Chargers to the Broncos at the same NFL conference championship odds (+850), but the hype surrounding Denver is justified.
Let's not forget the Raiders (+2000) were the only AFC West team other than the Chiefs that actually made the playoffs last season. Las Vegas came awfully close to getting past Cincinnati in the Wild Card Round, which is no small feat considering what the Bengals accomplished after that. The Raiders made a massive trade of their own to bring in Davante Adams, which means he'll be reunited with his former college QB, Derek Carr.
Davante Adams in silver and black ☠️ pic.twitter.com/DuroMyvXtz

— PFF Fantasy Football (@PFF_Fantasy) April 26, 2022
The Raiders added Chandler Jones and Rock Ya-Sin to the defense, as well. That side of the ball is the bigger question mark for this team moving forward, but Las Vegas still looks a little undervalued at their current AFC championship odds.
Can Cincinnati Repeat?
It's a little weird to see the defending AFC champions with such long NFL conference championship odds, but that's the reality for the Bengals. Cincinnati came out of nowhere to win their first AFC title since 1988 last year, only to fall to the LA Rams in Super Bowl 56. Needless to say, Joe Burrow and co. won't be sneaking up on anybody in 2022-23.
The Bengals have one of the most dynamic young offenses in the league around Burrow.
Ja'Marr Chase is already a superstar. Tee Higgins and Tyler Boyd are perfect complementary pass-catchers, with Joe Mixon handling a big load in the running game. Protecting Burrow has been a tall order for this team over the past couple of years, which is why the front office invested in La'el Collins, Alex Cappa, and Ted Karras this winter.
Throwback to win Joe Burrow juked out the 1st and 13th overall picks pic.twitter.com/QU0M7s7bhJ

— Protect Joe (@bengaIscentre) May 2, 2022
Three new starting offensive linemen should be exactly what the doctor ordered after Burrow was sacked a whopping 70 times last year. No other quarterback across football went down more than 48 times.
That said, it did feel as though the Bengals caught lightning in a bottle last year.
There is enough talent here to where Cincy should be able to top the AFC North again this season, but the Browns (+900) actually have the best NFL conference championship odds from any team in this division. Oddsmakers have the Ravens on par with the Bengals at +1100, too.
Best Bet to Win AFC Championship
If you want to bet on the Bills at their current +300 AFC championship odds, I won't fight you. Buffalo's Super Bowl window is wide-open right now, and this may be their best-ever chance to win a title.
There is still some meat on the bone with the Bills at their NFL conference championship odds.
If you're looking for a little more value, I have my eye on the Chargers at +850. I may be guilty of drinking the offseason Kool-Aid, but this is an incredibly well-built team.
Perhaps more importantly:
The Chargers finally have a coaching staff capable of making the most of their incredible amount of on-field talent.
If you want safety, bet the Bills. If you want a bit more upside, believe in the Bolts.
PLACE YOUR BETS NOW!
NFC Championship Odds
Tampa Bay Buccaneers:
+350
San Francisco 49ers:
+700
Philadelphia Eagles:
+1800
New Orleans Saints:
+2500
Washington Commanders:
+3500
Guess Who's Back
Remember those two months when Tom Brady was retired? Me neither.
In January, Brady made the shocking announcement that he was going to retire from football following a couple of successful seasons in Tampa Bay. Less than two months later, Brady made the less-shocking announcement that he would return to the Bucs for his 23rd NFL season. Immediately, the Bucs went from an NFC also-ran to the favorite to win the conference for the second time in three years.
In addition to Brady, the Buccaneers brought back Chris Godwin, Leonard Fournette, Ryan Jensen, and Carlton Davis. Jordan Whitehead, Ronald Jones, and Alex Cappa left for greener pastures, while the jury is still out on the unsigned trio of Jason Pierre-Paul, Ndamukong Suh, and Rob Gronkowski. Shaq Mason, Russell Gage, and Keanu Neal are among the team's new arrivals.
Tom Brady has been playing longer than his new teammate Logan Hall has been alive 😳 @BRGridiron pic.twitter.com/kmLuY1frsf

— Bleacher Report (@BleacherReport) May 2, 2022
With the rest of the NFC South looking incredibly weak, the Bucs should win this division with little drama.
That puts them in pole position to earn a first-round bye, as they should be able to rack up enough wins against lesser competition.Betting against Brady has not been a particularly profitable endeavor over the years.
Assuming he doesn't suffer a dramatic age-related decline this season, it's hard not to like the Buccaneers' +350 NFC championship odds.
NFC Runs Through LA
While the Bucs are the early favorites, let's not forget it was the Rams that dethroned the Buccaneers on their way to a Super Bowl title earlier this year. LA has been incredibly aggressive in a desperate attempt to build a winning roster since moving back to Southern California a handful of years ago. That bold strategy finally paid off in a big way back in February.
The defending champs have endured a few departures this winter.
Andrew Whitworth retired, which means Joe Noteboom will assume the starting left tackle role entering the new campaign. Robert Woods was traded, but the team was able to replace him with Allen Robinson via free agency. Von Miller signed with Buffalo, but the Rams subsequently stole the great Bobby Wagner from the NFC West rival Seahawks.
According to Peter King, the Rams told the NFL they wouldn't mind facing the Packers in London.

Because, well, London > Lambeau https://t.co/8tfsAjrZ1f

— Cameron DaSilva (@camdasilva) May 2, 2022
The NFC West has been tough over the past few years. San Francisco (+700) is among the NFC title favorites, while Arizona (+1200) isn't too far behind. Both of those teams have some serious question marks, however, while the Seahawks appear destined for a rebuild after trading Russell Wilson to Denver. I like the Rams to win this division fairly easily next year.
This is another team with no clear weaknesses. As a result, the Rams' +450 NFL conference championship odds look awfully tasty.
Rodgers Remains
Much like the Chiefs, the Packers will have to try and fill a gaping hole this season. While the team was ultimately able to convince Aaron Rodgers to stick around, Davante Adams is gone. Adams has been arguably the league's most prolific receiver over the past handful of years, and his connection with Rodgers was legendary.
It's unclear how the Packers will replace Adams immediately.
Allen Lazard is likely to start the season as the default WR1 in this offense, while veteran journeyman Sammy Watkins was plucked off the free-agency wire. Green Bay has high hopes for second-round rookie Christian Watson, who should step into a decent role from day one. At 6'5″, Watson could become a top red-zone target for Rodgers right away. Watson, who went 34th overall, was the highest pick used by the Packers on a receiver since Jordy Nelson went 36th overall back in 2008.
Aaron Rodgers has only thrown an interception on 1.3% of his career pass attempts 🤯

Best in NFL history 👀 pic.twitter.com/XnDcqgupyC

— PFF (@PFF) December 30, 2021
The Packers used their two first-rounders on defenders Quay Walker and Devonte Wyatt. Green Bay has won the NFC North in each of the last three years, but this franchise is still in search of its first conference title since 2010. At this point, it's hard not to feel as though the Packers' repeated missed opportunities will come back to haunt them.
Anyone Else?
While the AFC is fairly deep with a few legitimate Super Bowl hopefuls, the NFC looks much more top-heavy. Beyond Tampa Bay, Los Angeles, and Green Bay, is there a single team that looks like a worthy contender?
The Cowboys have no shortage of talent, but they might have taken a step back this offseason. We don't really know who's going to be playing QB for the 49ers next year.
If Trey Lance is the guy, is he really going to lead the Niners to a Super Bowl in his first year as the starter? The Cardinals have chemistry question marks. The Eagles, Vikings, and Saints may all be a couple of years away, at best.
Best Bet to Win NFC Championship
At this point, I don't see much of a need to look past the Buccaneers, Rams, or Packers when it comes to the NFC conference championship in 2022-23. The Bucs are the favorites, but the Rams probably should be.
After all, the Rams did just go into Tampa and beat the Bucs in last year's playoffs, and LA's roster doesn't seem to have gotten any worse this offseason.
The favorite in which I'm not as confident is the Packers at +500. The relatively weak NFC does give Green Bay a puncher's chance, but Tampa Bay and Los Angeles are both superior betting values, as of now.
The Rams at +450 have the best NFL conference championship odds of any NFC side. The Bucs (+350) would be the next choice.