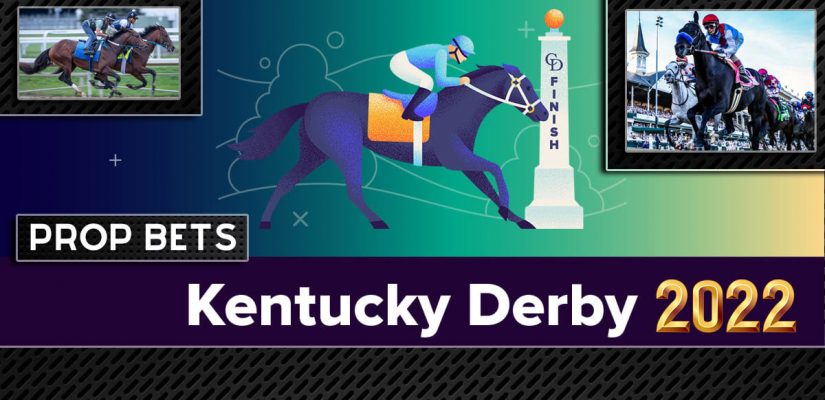 Kentucky Derby prop bets might not be the most popular Kentucky Derby bet, but this is a relatively new type of wager for the race. You aren't going to find most sportsbooks offering Kentucky Derby prop bets.
It's important to have more than one or two online sportsbooks in your arsenal. We've put together the best Kentucky Derby online betting guide for you to find the perfect sportsbooks to suit your needs.
If you want to play 2022 Kentucky Derby prop bets, we recommend checking out what BetOnline has to offer for TheSportsGeek. They have the best Kentucky Derby prop bets and a good selection of bets for the 148th Kentucky Derby.
That hair tho👌 pic.twitter.com/flOue9u7Qq

— Kentucky Derby (@KentuckyDerby) May 3, 2022
There are more traditional bets that we're going to make for the Kentucky Derby. We have our best win bets posted on the blog and will continue to have Kentucky Derby picks leading up to the big day at Churchill Downs on Saturday.
How To Bet On Kentucky Derby Prop Bets
As mentioned above, you will have to find an online betting site that caters to Kentucky Derby prop bets. Keep in mind that these bets will not be found under the racebook. At the racebook, you can find your win, show, place, exacta, trifecta, superfecta bets, Pick 5, and so on.
However, if you want to play prop bets at the Kentucky Derby, you'll have to stay on the sportsbook and find the horse racing section. There may or may not be Kentucky Derby prop bets available at your site.
Are you a member at BetOnline? You're good to go because that's where our prop bets are based for the Derby. Otherwise, sign-up at BetOnline and receive a free betting bonus to bet on Kentucky Derby prop bets in 2022.
You can find a variety of Kentucky prop bets, including the Over Under for how long it will take to complete the race. That's probably the one that I'm most interested in. They have some top-3 bets, which are essentially show bets for the public that doesn't understand what a show bet is.
The three-way matchup prop bets are a unique wager as well. There is some good value to be had on some of these bets. Hopefully, we can take advantage of these Kentucky Derby prop bets and add to the bankroll at Churchill Downs.
2022 Kentucky Derby Prop Bets
Best Finishing Position?
This is going to be a wide-open Kentucky Derby, so expect anything to happen. I think we can find a good spot to go in with a win on this prop bet, though.
Lucky Number 7️⃣ pic.twitter.com/py5kvZ0lpJ

— Kentucky Derby (@KentuckyDerby) May 3, 2022
Crown Pride is an interesting colt all the way from Japan. The winner of the UAE Derby (Gr. 2) is a talented horse that could do something a horse from overseas has never done, which is win the Kentucky Derby.
In three races in Japan, Crown Pride finished 1st, 1st, 6th before being shipped off to Dubai for the UAE Derby at Meydan Racecourse. The big win points Crown Pride to the Kentucky Derby on US soil.
At +2800, Crown Pride isn't getting the most love, but he enters in confident form and had a nice workout on April 27 with a time of 46.40 seconds at 4 furlongs. Charge It might be too tough, though.
Charge It has been involved in all three races in his career. He's finished 2nd, 1st, 2nd and coming off a solid run in the $1,000,000 Florida Derby (Gr. 1) on April 2.
Charge It is ready to charge into the #KentuckyDerby for trainer @PletcherRacing. 🚀 pic.twitter.com/2h8tVDqaL3

— America'sBestRacing (@ABRLive) May 2, 2022
Charge It placed 2nd behind a talented White Abarrio by 1 ¼ lengths. He beat Simplification by 1 length to secure 40 points for the Derby.
His workouts have been in good order as well, with a time of 1:00.40 at 5 furlongs and 47.40 at 4 furlongs recently. He's +1200 to win the Derby and still getting plus money over +2800 Crown Pride and +2000 Simplication.
Best Finishing Position?
I'm high on Smile Happy making some noise in the Kentucky Derby, so naturally going to like him over Cyberknife and Zozos. With odds of winning the Kentucky Derby at +1600, Smile Happy appears like one of the better value bets in the Derby.
Smile Happy is coming into the Kentucky Derby with only losses against the two Derby favorites in his most recent attempts. Overall, the colt is 1st, 1st, 2nd, 2nd, in his career. The only horses that he's lost to have been Zandon and Epicenter.
The only horse with a two-turn win at Churchill Downs, Smile Happy looks to do it again in the #KyDerby. pic.twitter.com/g8EVvm45Es

— Kentucky Derby (@KentuckyDerby) April 27, 2022
Two races back, Smile Happy placed 2nd behind Epicenter by 2 ¾ lengths in the $400,000 Risen Star Stakes (Gr. 2). Epicenter is the betting favorite to win the Derby at the moment.
He came back to finish 2 ½ lengths behind Zandon in the $1,000,000 Toyota Blue Grass (Gr. 1). Note that Smile Happy draws the most successful post position in Derby history at No. 5. There's a lot to like about Smile Happy and he should have the advantage on Cyberknife and Zozos.
Number of words in winner's name?
This is one of the more unique Kentucky Derby prop bets that you aren't going to find at the racebook. There are three horses that could win with three words. That includes +2200 Tiz the Bomb, +3300 Pioneer of Medina, and +8000 Summer Is Tomorrow.
Those aren't the best odds. I'd want something better than +1400 on those three to take the Kentucky Derby. Two words makes more sense, especially after I just got done discussing how much Smile Happy is a live dog.
However, there the top four contenders all have one name. Backing one word isn't cheap at -220, but look at the horses you are getting with this wager. Epicenter, Zandon, Taiba, and Messier are what you're basically betting on with this bet.
Despite having to lay the juice with -220, this bet affords you four very talented horses that could all strike in the 2022 Kentucky Derby. With that in mind, there is still bettable value at this price.
Winning Distance
This is another one of those Super Bowl type prop bets that you can only find during a big event like the Kentucky Derby. The winner to clear by 1 length is the favorite to win this prop bet. However, this should be a close race down to the wire.
The odds suggest that this should be a close race and I tend to agree with the talent in this one. There isn't a clear leading contender. As much as I like Epicenter to win, he's likely going to have to deal with his rivals.
In an entertaining finish in the final furlong, don't expect a contender to draw clear. A duel to the wire is more likely in the 148th Kentucky Derby at Churchill Downs.
Winning Time
This isn't a race with multiple horses entering with blazing fast speed ratings. Taiba enters off back-to-back consecutive speed readings of more than 100. He's the only contender having achieved this feat before the Kentucky Derby.
However, the main contenders, Zandon and Epicenter have not been consistently above 100 in their careers. Epicenter, the current favorite, has recorded a time of 97 in four straight races. Zandon notched a rating of 93 and 107 in his previous two races.
No, speed ratings don't necessarily point to a winner. Epicenter has never been clocked above 100, but is more than capable of running a tactical race at this distance and winning. This should be a tactical race, with no one breaking free for an easy win in the stretch.
The last two Derby winners were timed at 2:00.61 and 2:01.02, but the previous three were all 2:03.59 or worse. That includes Justify, who was timed at 2:04.20. American Pharoah, one of the best racehorse over the last few decades, completed the Kentucky Derby with a time of 2:03.02 in 2015.
Maybe if Bob Baffert was around for some funny business in the stable at Churchill Downs I'd pause and think some more. However, the Over for the winning horse at 2:02.30 is where I'm pointing.