On this page do our best to answer any and all questions you may have about Bovada. To start we've put together this table with quick answers and links to additional resources:
URL:
Bovada.lv
Year Established:
2011
License:
Curacao eGaming
Review Rating:
4.5 stars
Welcome Bonus:
50% up to $250
Betting Limits:
$0.50 Min \ Max Varies
Phone Number:
+1-(888)-263-0000
Email:
service@bovada.lv
Restricted States:
DE, MD, NV, NJ, NY
Monthly Visitors:
4,923,000
Traffic Sources:
99.09% US Traffic
Top Competitors:
BetOnline, MyBookie, BetUS
Still Have Questions About Bovada? – Jump Ahead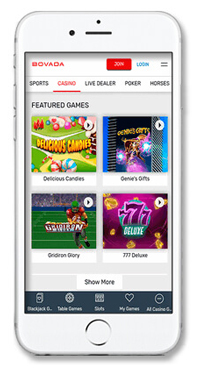 Above we tried to quickly answer some of the most common questions about Bovada, but we understand there's a lot you may still wonder about this online gambling site.
To slim down your search we've grouped the remainder of this FAQ page into five categories.
Each Bovada FAQ category linked below will directly address questions we've commonly received from users or seen floating around in forums or discussions around the industry.

If you don't see answers to your questions about Bovada you can also contact us to ask your questions using the form at the conclusion of this page. Questions from users like you allow us to keep this Bovada FAQ page updated and useful.
General Questions About Bovada


In this section, we'll be looking at questions frequently asked about Bovada as a business. Subjects like Bovada's ownership, licensing, and reputation in the online gambling industry.

Bovada.lv, which continues to be powered by Bodog, is owned by Mohawk Morris Gaming Group. Since 2007, they are the ones responsible for the Bovada.lv brand name, support services, and licensing the Bodog software.
Bovada, which was formerly Bodog, moved to the .lv domain after an incident in 2012 when the United States Department of Homeland Security confiscated its former domain Bodog.com.
The original company was the Bodog brand that was established in 2000. This company ended up exiting the US market and transferred its customers to Bovada.lv. This occurred in 2011 and, since then, Bovada has become one of the top US-friendly online gambling and sports betting sites on the market!
While Bovada is located offshore and does not have to follow US laws, there are some states that have laws against certain types of online gambling.
Bovada does not accept players from Delaware, Maryland, Nevada, New Jersey, or New York.
If you live in Delaware, New Jersey, New York, Maryland, or Nevada, Bovada will not be able to accept you as a player, as there laws in those states concerning the matter. Players from other states should not have to worry about using Bovada as it is a fully licensed and legal casino that accepts most US players. This subject is somewhat of a gray area in terms of laws. States do not have any real jurisdiction to penalize individuals who are using Bovada from their personal phones or devices. On top of that, there are no examples of individuals in legal trouble for using a site like Bovada from the privacy of their home.
They were regulated by Kahnawake up until 2016, when they did not renew their license with the Kahnawake Gambling Commission. They operated without one until they obtained licensure from Curacao eGaming in late 2020.
They do hold a gambling license from Curacao eGaming, a company located in the Caribbean Sea off the coast of South America. Bovada serves US customers but is based offshore. This means that they cannot have any state-issued gambling license because no governing authority within each state is willing to issue licensing to a brand that is located offshore.
We have seen extremely positive reviews and extremely negative reviews on this site. Looking into the negative comments from users, we found that some were legitimate, mostly dealing with an occasional payout that was late being deposited to a customer's account. However, many were based on customers' misunderstanding of Bovada terms and conditions relating to the games and bonus. Another theme we saw was customers not understanding rollover requirements.
Bovada has 24/7 customer service, and there are several methods to contact them where customers will experience a faster response. Calling their toll-free number at +1 888 263 0000 is always a good way to reach out. Another great way to contact Bovada is to use their live chat feature, which allows customers to speak with a representative directly.
Bovada gets some bad press online, and it stems from confusion on the customers' part as to the terms and conditions to games and bonuses, as well as confusion on the company's policies. If you do not understand everything you are getting into when using Bovada and something defies your expectation, you might jump to the conclusion that you were scammed or that the policies and gaming are "rigged" against you.
One can observe this by reading the user comments, where it seems like most issues stem, not from Bovada being dishonest or opportunistic.
It usually stems from a lack of understanding on the customers' part as to the way a bonus works or the estimated time of a payout. Bovada should make all policies and terms and conditions more blatant and use repetition to drive the point home for users. That way, there are no mix-ups, confusion, or false expectations.

Bovada has been in the market for a substantial number of years, making them a highly reputable choice for an online sportsbook and casino. They are also known for low wagering requirements, strong bonuses and promotions, tons of softcore odds for the sportsbook, and a diverse set of cryptocurrency-related bonuses.
To assist with this process, you will need to contact the customer service team at Bovada.lv. A service agent will be able to assist you in this endeavor.
We recommend you
visit Bovada.lv
where you can learn about anything you need to know. This includes contact information and customer service, the varieties of games and sports betting lines available, the types of banking methods you can use to fund your account and withdraw winnings, and the assortments of bonuses offered by the site.
Bovada Sports Betting Questions


One of the main draw to Bovada is it's sportsbook. In this section we'll be looking at questions regarding what sports Bovada offers lines on and how you can start betting:

Some distinctive features of Bovada as an online sportsbook include fast payouts, low wagering requirements, a strong sign-on bonus, the availably of softer odds compared to other sportsbooks, and a large range of betting opportunities. Bovada is generally considered by many to be one of the more reputable names in the market. They know how to treat their customers well and being generous with their offerings.
Log into Bovada and select "Sports" at the top of the screen.
Pick out a sport from the menu and select the line by clicking on the box with the corresponding odds. It will be added to your bet slip where you can choose to "Risk" or "Win.


Parlays are sometimes referred to as combo bets. This is where two to 12 bets are put together to make one single bet. All individual selections need to win in order for the parlay to be successful; otherwise, it is counted as a loss. Payouts can increase with an increase in individual bets made to form the parlay.




If you can't find odds that doesn't necessarily mean they don't exist. The team at Bovada try to keep everything as simple as possible to navigate, but sometimes things slip through the cracks.

If you can't find odds for an event you feel like they should have odds for try contacting their staff via live chat, call, or email.




Football, basketball, hockey, soccer... you name it you can probably bet on it at Bovada. In addition to the classic sports, you'll also be able to find lines on more unique markets such as virtual sports, table tennis, darts, or entertainment.




This allows them to attract the widest customer base. Some people are only interested in betting on basketball at Bovada, some football, or esports, or boxing... we could go on.

By offering as many unique markets as possible Bovada keeps its sportsbook interesting for the widest possible group of users.




The virtual sports betting section of Bovada is a unique feature that allows users to bet on sports even if there aren't any. They do this by randomly simulating different sporting events.

You can bet on virtual basketball, soccer, horses, greyhounds, supercars, camels, and more!




Yes. In fact, the live betting odds will be one of the first things you see when you visit the sports section of Bovada.lv.




Bovada Casino FAQ




Bovada is primarily a sportsbook, so the casino is not as well-known by consumers. Generally, the people who use the casino are patrons of the sportsbook, which means that the customer base for both is quite loyal. The sportsbook is well-received and loved by many.

From everything we see and read, the Bovada casino is a middle-of-the-road offering for customers. A few things that make it stand out from other online casinos is the ability to claim one free deposit and one free payout every three months. There are a few extra tables at their live casino, and there is a poker room available.


Games at the Bovada casino are not rigged. Just as games at land-based casinos must meet a RTP rate and have software that randomizes spins and results, casino games at Bovada are run in a similar fashion. We tend to find that people who say that Bovada is "rigged" are individuals who either ran into a streak of bad luck or did not understand the terms and conditions of a game or bonus offering before diving in.




This is one of the areas in which Bovada excels! Their poker room is considered one of the largest in the world. At the time of writing, there is a generous poker bonus available for a 100% match up to $500! Bovada tends to offer great poker bonuses such as these. Customers can also find a ton of poker tournaments every week at the site.




According to Bovada.lv, there are roughly 31 live dealer games for your enjoyment. And these games are American Roulette, European Roulette, Baccarat, Super 6, and two casino game versions of Blackjack.




Yes. Bovada is a great site for playing online poker. A sister company to the popular Bodog Poker, Bovada offers multiple bonuses, special features, and tournaments for online poker players.




You can indeed! Bovada is very proud of their fast and smooth mobile poker interface that allows users to get in the action from wherever they are.




There are over 200 unique slot games in the bovada casino. These games can be played for real money or you can try free play to get the hang of them before risking your hard-earned money.




At the time of writing the biggest jackpot we could find at Bovada was $87,000 on Gold Rush Gus, but it's important to note that this changes often due to actual users winning. While you might not find that exact jackpot available there should be plenty of other jackpots ranging from 2 to 50 thousand dollars almost anytime you log on.



Visit Bovada Casino

Frequently Asked Bovada Banking Questions




Yes, you can win real money gambling online at Bovada. There are a ton of ways to make some extra money online, including a large variety of games or sports betting lines and lucrative bonus offers that can punch up your bankroll. Customers have tons of betting lines from multiple sports to choose from, like hockey, basketball, golf, tennis, and football.

On the casino side, they also have their choice of playing many great slot titles, table games like blackjack, craps, baccarat, and roulette, and live dealer casinos. To add to the real money winnings on the casino floor or at the sportsbook, customers can use bonuses to create more funds for themselves. These could be in the form of a welcome bonus match, reload bonuses, rebates, and prizes like free spins.


Your

depositing options

include MatchPay, Bitcoin, Litecoin, Vouchers, Bitcoin Cash, Zelle, and credit cards (Visa, Mastercard, and American Express). There may be some banking restrictions depending on location.




If you are looking for fast payouts, we recommend using cryptocurrencies. Bitcoin only take 24 hours for approval. Bitcoin Cash and Litecoin take up to one hour from when your funds are approved. Once your withdrawal is approved within 24 to 48 hours, a check by courier will take 10 to 15 business days to arrive.




Customers have their choice of Bitcoin, Bitcoin Cash, Litecoin, Check by Courier, and Vouchers for withdrawing money. There may be some restrictions depending on location.




Because Bovada supports the new MatchPay betting deposit service, this makes it possible for US players to use PayPal as a way to deposit.




Winnings from online sportsbooks like Bovada are taxable. If your winnings exceed $600, it is necessary for the site to send a Form 1099 to the IRS and to you as well.




Questions About Bovada Bonuses




In short, Bovada.lv offers bonuses to attract new customers. There are hundreds upon hundreds of online betting sites and offering unique bonuses is one way that these sites compete with eachother.

The best way to find the latest Bovada codes is to visit Bovada.lv and search under the promotions tab. Here you will find a complete lineup of the

latest Bovada bonus codes

and other promotional items.

There's really no hard answer to that. Bovada is at liberty to pull or change their bonuses at any time so the only way to guarantee you claim a bonus code is to do it now.

As of right now Bovada is offering 2 Bitcoin bonuses for new members. A $750 sportsbook bonus and a $3,750 bitcoin bonus for their online casino.

Yes they do! In fact, Bovada has one of the best VIP rewards programs in the industry! For more details on how you can earn points and get rewarded visit the link below


Visit Bovada.lv

Ask Questions About Bovada – Get Answers

If you've reached this part of the page that must mean there's still something you want to know about Bovada that you couldn't find. Let us try to fix that!

By filling out the form below you can ask us anything about Bovada.lv and we'll email you back with the answer. The more we see questions come in from users like you the better this page will become as we update it for future users.