While you might not be in line to get your gridiron glory on the field, you can still revel in victory thanks to top football betting apps. Prove you're an expert and get paid in the process by picking winners and turning a monster profit betting on football online. Where can you go to get action on the NFL, college football, the CFL, arena football, and more, all in one place? Right here. Below, we have an updated list of the best apps for betting on football available right now.
Find the Perfect Football Betting App for You
Like with all industries there are different apps tailored to meet different needs. In this section, we'll be looking at a few must-have apps for football bettors and how they can help you. These apps will include mobile sportsbooks, streaming apps, apps for research, and more.
Best Real Money Football Betting Apps
Apps have made placing bets on games so much more accessible in recent years. The convenience of mobile football betting apps can be life-changing if you find the right ones. This section will help you find those legit apps and get the best bonuses from the most reliable brands in online sports betting:
BetUS App

100% up to $2,500
Accepts Players from all 50 States
Over 25 Years Online
BetOnline App

100% up to $1,000
Accepts Players from all 50 States
Online Since 2001
MyBookie App

50% up to $1,000
NJ, NV, NY, PA Restricted
Online Since 2014
Best Apps for Football Betting Stats and Trends
Football bettors need more than just mobile sportsbooks to succeed. Staying up to date with the latest on teams and players is key to making money betting on football. Here are a few apps that we recommend:
It's also worth looking to see if your favorite teams have their own apps (most of them do). These team-specific football apps will help you keep a better eye on changes with players, management, and more within the team which can be crucial for betting.
Best Apps for Fantasy Football and DFS Betting


Playing fantasy football can be another great way to stay up to date on what's going on in the world of football. It's also a great way to have fun with friends. Here are the top fantasy football apps:
If you're looking for DFS football betting apps you'll want to look into brands like DraftKings, Fanduel, or FantasyDraft. These football betting apps will let you make real money DFS Betting.
Best Apps for Watching Football


It's hard to bet on a sport you can't watch. In this section, we'll be talking about the best apps for watching football. (If you want to place bets mid-game you may want to consider an app with live football betting like BetOnline)
Are These Really the Best Football Betting Apps?
Heck yes, they are! Why are we so confident in our recommendations? Because we refuse to settle or recommend football betting sites we're not willing to put our name behind. We also refuse to let any football betting apps buy, barter, bribe, or beg their way onto our recommendations list. You want to get our seal of approval? Offer the best football app. Otherwise, head to the locker room.
The Different Football Leagues You Can Bet On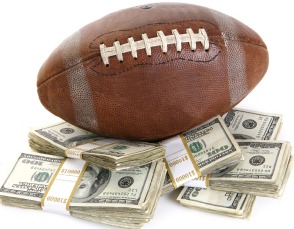 One of the most important criteria we look for in top football betting apps is the variety of football leagues you're able to bet on. While many sportsbook apps will give some level of football action, many fall short when it comes to giving complete action. All of the apps for betting on football we recommend offer great action on all of the popular leagues in the US as well as international football leagues.
Here are a few of the more prominent football leagues we look for action on when analyzing football betting apps.
National Football League (NFL)
College Football (NCAAF)
Canadian Football League (CFL)
Arena Football
Additional International Football Leagues
Industry Leaders in Secure and Trusted Operations
The title says it all. We will only recommend options if we are confident they're the safest football betting apps. There are areas of our review process where we're willing to bend and give a little. Safety and security do not make that list. Unless we see safe practices, adequately dedicated resources, trusted banking partners, and a clear care for the safety of customers, we're not interested. Betting on football should not instill fear in you.
Customer Service You Can Count On
Knowing you have the backing and support of the football betting apps you choose to use is important. A big aspect of this is customer service. Here are the major questions we ask when determining the quality of customer service.
Do they have multiple customer service options available?
Do they have instant customer service options available like chat or phone support?
Are the options available 24/7/365?
Do the agents speak fluent English?
Are the agents capable of solving issues, or did the company go with the lowest bidder?
Do People Really Bet on Football From Their Phones?
To many, mobile football betting is a foreign concept, but you may be surprised to see how popular it really is. Let's take a look at exactly where people are placing their bets online:

That's right! Over 60% of sports betting traffic was from mobile devices. And in 2022 the number of people betting on football from apps has only continued to increase! As a result, all major brands have been forced to either adapt with the times or close their doors.
What Bets Can I Place on Football Betting Apps?
Options! We love options when it comes to betting on football. When you make the switch to betting through top football betting apps, you might be surprised to know you'll actually get more options than you do in the sportsbook. You'll find more prop bets, additional special spreads, and action on smaller games ignored by major casinos and books.
Here are the four most popular football wagers you'll have instant access to at the best apps for betting on football.
Moneyline Wagers
There is absolutely nothing wrong with keeping it simple when betting on football. There's a common misconception that the complexity of your wagers somehow gives you magical betting odds and a better chance of winning. This is not true. Simple bets that are right pay money that's just as real. If you want to get into the action and like picking game-winners, check out football moneyline wagers.
Over/Under (Totals) Wagers
For those of you football bettors who have a strong grasp of game flow but don't want to be burdened with picking winners, you'll love over/under bets. These wagers available at football betting apps allow you to bet on the total number of points scored by both teams in the game. The sportsbook apps will set what they think the total will be, and you get to wager on whether they're too low or too high. If you're right, you'll win!
Proposition Wagers
If you've bet on the Super Bowl before, you're probably well accustomed to proposition bets. Prop bets are wagers on game occurrences that might not have a direct effect on the final outcome of the game. Here are some of the most popular prop bets available at the best football betting apps.
If a certain player will score a touchdown or not
Whether the coin toss is heads or tails
The total number of penalties in a game
The total number of interceptions in a game
Futures Wagers
Do you know who is going to win the Super Bowl this year already? Do you have a strong feeling about who is going to be the college football National Champion? If you do, you can turn that prediction into cold, hard cash. Futures wagers are bets available at football betting apps that let you bet on future outcomes of a season, tournament, or designated group of games. In football, this is usually the season-ending champs.
Device Compatibility of Apps for Betting on Football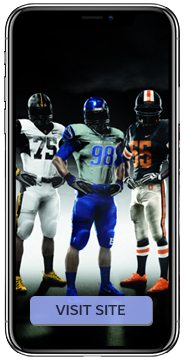 Got an iPhone or iPad? Maybe you've got a Samsung phone or Galaxy tablet? It's important when picking the best football app for you to choose one that's compatible with your device. In the early days, this was a much bigger deal than it is now. Why? Because as the industry matured, the game providers put a stronger focus on making sure their apps worked across most platforms.
If you use an iOS or Android device, all the apps for betting on football listed here will 100% work for you. For those using a more obscure operating system, you'll have to investigate on a case by case basis. Predominantly, though, sportsbooks are catering to the two most popular operating systems. You can always utilize a mobile-friendly sportsbook for your real money action if you run into compatibility issues.
Football Betting Apps FAQ
Certainly! If you're a football bettor looking to bet on preseason, regular season, or postseason professional football games (NFL), the options listed in this guide will all work as NFL betting apps. Typically, the NFL is the most widely covered sport by football betting apps.
Getting into the real money football betting action is easy and only takes a few steps. First, choose the football betting apps from this guide that sound best to you. Click the link next to the app, and you'll be taken to the appropriate page or app store. From there, download the app and create your free account. Make a real money deposit with any of the many safe options listed, and you're ready to make your first bet!
This varies from app to app. Some are known for offering just one specific gambling option. Others provide members with a wide range of casino and sports betting options. Before joining any real money gambling apps, make sure it offers what you're looking for.
Absolutely not. In fact, even those completely new to sports betting should have no trouble at all signing up and placing bets through different mobile football apps. This industry has evolved massively over the years and is now more simple than ever before. That's particularly true with the betting apps that we recommend.
The vast majority of them do. Each app differs, yet the best ones will provide odds on a wide range of different football leagues including the NFL, NCAA, and XFL. It's always a good idea to spend time researching the different football betting options that different apps provide.
It's very likely. Sports betting is now becoming hugely popular all around the world. Even the US, which prohibited sports betting in all states except Nevada for years, is embracing this form of gambling. There's a very good chance that many great apps for football betting are operating where you are.
Yes! All of the apps we are recommending are actually fully-functioning sports betting platforms offering odds on a wide variety of sports. That includes mainstream sports such as baseball, basketball, and ice hockey. Even wagering odds for fringe sports like ping pong and cricket are being offered!
Everyone seems to have their own opinion on this. Our team highly recommends both BetUS and BetOnline for mobile football betting. These are well-respected betting apps known for their safety. We're confident that fans will love the huge range of fun football wagering options being offered through these platforms.
Conclusion
Football fans around the United States now have access to some incredible football betting apps that offer odds on all the major leagues taking place. Make sure to check out the different football apps for real money that we listed at the top of this page as well as the
Feel free to reach out to our team with any additional questions that you have. Good luck, and have fun placing your bets!

[ Back to Top ↑ ]