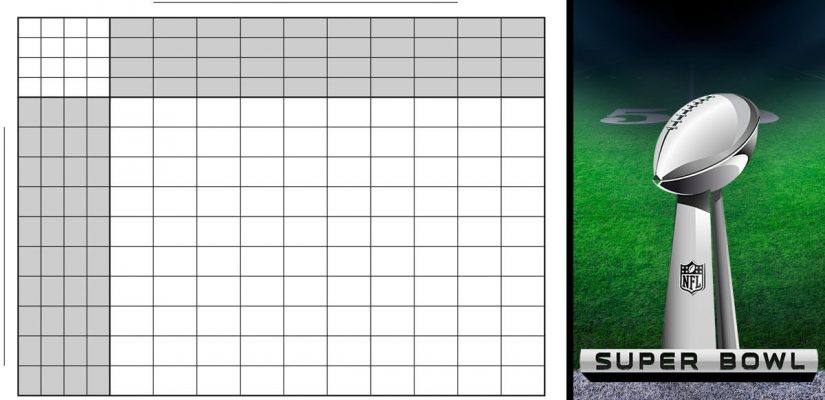 Let's start the New Year by leaving 2020 far off in the dust and begin better in 2021 with a blow out Super Bowl party! And the perfect way to get started is by playing some Super Bowl Squares to add a little spice to the event.
We will take a look at some of the best Super Bowl Square Templates that this page has to offer. Whether you're getting together with family, friends, or coworkers there are a variety of square templates and formats to be enjoyed for Super Bowl 2021.
This post will go over the classic Super Bowl Square template (in addition to several other types), how to play, and recommendations as to which will best fit your Super Bowl party or get-together. Grab your mask, keep 6 feet apart and lets play some Super Bowl Squares!
If you are not familiar with how to play Super Bowl Squares, don't worry!
We'll have you covered. They are fun and easy to play whether you are a beginner or a seasoned veteran. You can make your own by hand on a basic sheet of 8 x 10 printer paper for a more casual get- together, access premade templates online for a quick setup, or use a word proccessing program for a more professional presentation.
How to Play:
The most common way to play Super Bowl Sqaures is using a 10 x 10 grid. This will make a total of 100 squares. I will use this template as an example in laying out how to play.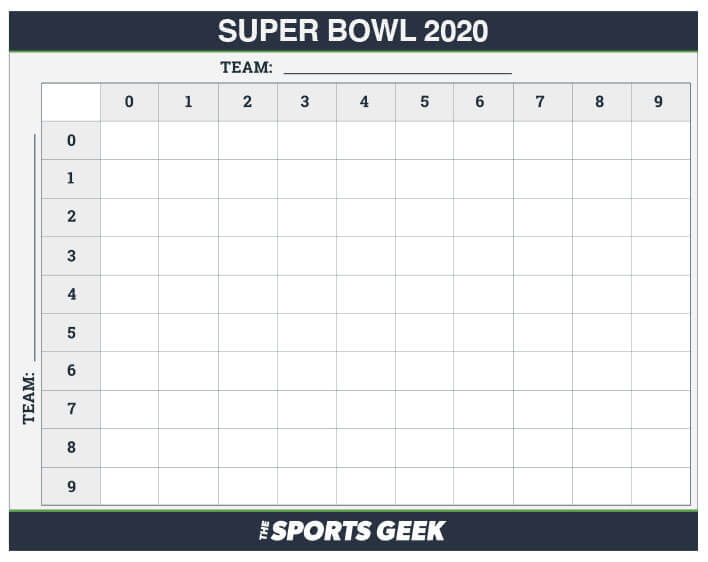 Free Printable Super Bowl Squares Template – Classic
Assign one team to the columns and one team to the rows. Each column and row will be labelled 0-9. Each square represents a specific score in the game.
Next, recruit people to your Super Bowl Squares. Make sure all squares are filled in before the game starts. I would suggest using another template such as the 25-line or 50-line Super Bowl Squares model if you are struggling to fill out 100 squares.
A typical price per square would be $1, for example. As the game is played out, winners are determined after 1st ,2nd , 3rd , and final game scores.
To determine winners of each quarter, take the last number in each team's score, match them on grid and see which square intersects the two numbers.
If the AFC team's final score is 36 and the NFC team's final score is 45, the square with AFC with number 6 and the NFC with number 5 is the winner.
Traditionally, payouts are determined as follows: 20% of the prize pool money is distributed to the winners of the first three quarters and 40% for the ultimate winner of the final score. At the end of the day, there are no hard rules. Players can use other methods the distribute winnings.
Other Types of Templates
10-Line Super Bowl Squares Template:
Players have the option of a 10-lines template. This is different from the classic set-up. Players only get one number in this case. The winner is determined by adding together the scores of the two teams at the end of each quarter.
Free Printable Super Bowl Squares Template – 10 Lines
Let's say Team X has 5 points and Team Y has 10 points, making a total of 15. The player who has number 5 on their square would be the winner.
25-Line Super Bowl Squares Template:
Players have the option of a 25-lines template. Here, there are fewer player, but the odds of winning are much higher. Each square, in both the columns and rows, contains two numbers. As mentioned earlier, this is a good template to use if you do not have a big enough group participating.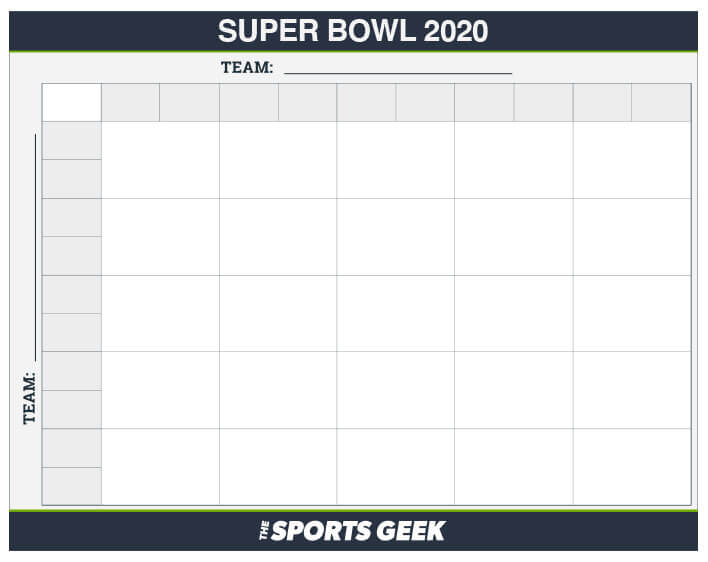 Free Printable Super Bowl Squares Template – 25 Line
50-Line Super Bowl Squares Template
If the 10-line or 25-line Super Bowl Squares don't meet your expectations, there is the option of a 50-lines template as well. The difference here is that Team X will only have one number, but Team Y will have two numbers. This version is friendlier for a smaller crowd, but there are also higher odds for winning prizes.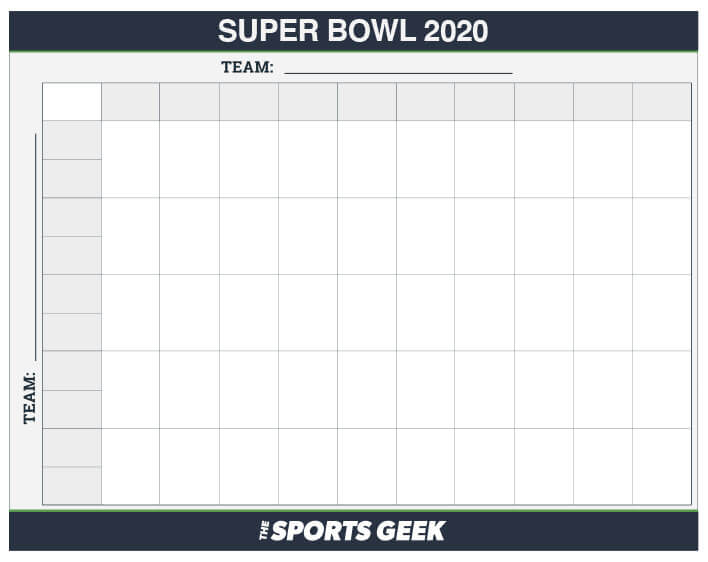 Free Printable Super Bowl Squares Template – 50 Line
Which Template Is Right For Me?
Choosing an appropriate template for your party is easy and fun. Each Super Bowl party or setting is completely unique; it follows that a variety of Super Bowl Squares Templates can be used based on who is at the party and how aggressive and competetive the players want to be.
A large party might want to utilize the classic 100-square template (10×10) while a smaller setting may go with 25-line or 50-line version. If you enjoy playing for higher stakes, you may want to go with the classic 10×10 grid, as there are more players to compete with and it's a harder struggle for prizes. Go with a 25-line or 50-line model if you want to make it easier to obtain winnings and prizes.
Ready-made grids are easy to find online; these are perfect for those who don't want the hassle of doing one by hand or customizing one on the computer.
You can make your own Super Bowl Squares via word processing programs where you can customize your grids with colors, symbols and teams logos. This creates a more professional look and may generate sales appeal as you seek out players to fill up the squares.
And of course, you can always make a hand-drawn Super Bowl Square. Good old-fashioned 8 x 10 printer paper is perfect for a low key get-together with close friends or family.
Fun Ways to Play Free Super Bowl Squares
A less traditional way to play that will surely keep players on their A-game is to pay out the reverse of the winning numbers. Every time the score changes, a payout is made, ensuring many winners and scores that go up in value at the end of each quarter.
Another way to play against the traditional model is to issue prizes for squares that are touching the winning squares. Players can be more strategic in their play here and the game gets way more interesting.
$10 a square makes a prize pool of $1000. Every player in the 4 quarter winning squares would get a prize of $125.
Where Can I Find Super Bowl Squares Contests Online?
In the event you cannot find enough players to fill out a game of Super Bowl Sqaures or you simply want to stay home on the evening of the Big Game, there are plenty of options to play online. Many of these sites will offer squares for games throughout the season as well.
Just to name a few…
Super Bowl Squares can be a fun, communal experience to spice up your Super Bowl 2021 celebration. There is a little something for everyone; it's fun for casual low-stakes players. There's also big prizes and high payouts for that aggressive, high roller we all know. This page has a ton to offer in the way of Super Bowl Squares templates, something that can be used to custom fit your Super Bowl 2021 event.