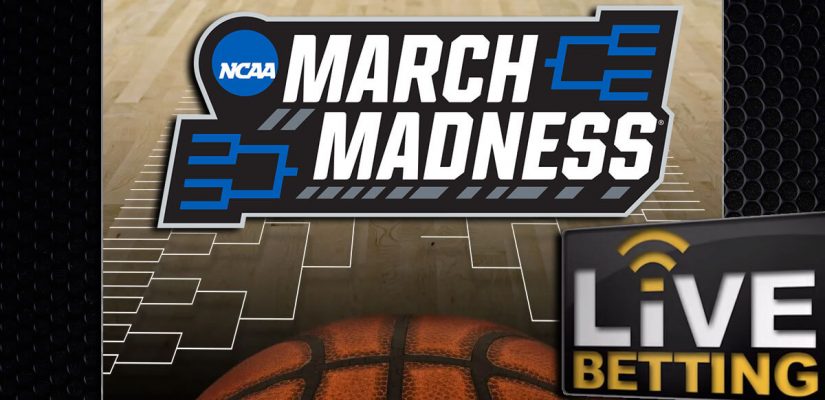 March Madness includes both the conference tournaments and NCAA Men's and Women's Championship events. That means we are in store for a lot of basketball, with wagering available at the top gambling sites.
Let's focus on in-game wagering with this March Madness live betting. College basketball fans circle the month of March every year as the best time of the year.
There will be hundreds of games played in that stretch, with the conference tournaments leading right into the Big Dance for the men and women. Madness is a pretty accurate way to describe what's coming over the next few weeks.
Chattanooga hits a buzzer beater to lock up their spot in March Madness. UNREAL ?

(via @TMarkwith14)pic.twitter.com/Ypg1lfzWEQ

— Bleacher Report (@BleacherReport) March 8, 2022
Now that sports betting is widely available online, March is also an ideal time to get in as much betting action as possible. And live betting makes that possible to an even greater degree. Because you're no longer shut out once a specific game begins, you're opened up to many more opportunities to wager on March Madness than you might otherwise have had.
You need to know what you're doing, or else there's no point in getting too excited about college basketball live betting. You need to know where and how you can make those wagers. And you also need to know the strategies and tips that will make all that action profitable for you. We've got you covered with this in-depth guide to
March Madness
live betting so that you'll be ready for the weeks ahead.
To do that, we'll talk about how live betting works, which college hoops betting sites you should be using, and what kind of bets you can make during the tournament games. And we'll give you some pointers that will help make you March Madness in-game bets winners.
What is March Madness Live Betting?
The basic gist of live betting is that you can make wagers during the games, as opposed to the bets that you make before the game. This is made possible by online gambling sites that include live wagering as part of their menu.
Because the practice has become so popular, most of the top sites have a wide variety of live betting markets. Especially for an event as popular as March Madness.
As the game you're planning to be progresses, the odds will be adjusted by oddsmakers based on what's been happening. While we'll go into all the live bets that you can possibly make on the NCAA Tournament action.
An example might be this:
Team A begins the game as the betting favorite over Team B
At halftime, Team B is leading by ten points
Team B is then made the favorite to win the game because of the score advantage
This is an extremely simplified example, as the live odds will change much more rapidly than that. You need to decide when the timing and the odds are right to jump in and make wagers. Live betting can take place right up to the conclusion of the game.
As there are bets that can still be made in the waning moments of the game.
As a result, you can get a whole slew of wagering opportunities within a single game. And that means that you can find more angles to possibly get value, which is the goal of every bettor. That's why live betting has the favorite of many savvy fans who are looking to bet on the March Madness action.
Where to Make Live Bets on March Madness
Before you can get started with live betting college basketball, you need to know where to go. It's not just about finding a website that allows live gambling, because most do that these days. There are also certain qualities you should be seeking out in these sites to ensure that you have the best possible experience.
What are some of the specific characteristics that you need in a March Madness live betting website?
Here a few of the key ones:
Smooth technical features. Because of the speed with which the bets will be changing, a site that has delays will be disastrous for college basketball live betting. You need to make sure you don't miss out any bets that could be the ones that make your night.
Many betting markets. As we'll explain, one of the advantages of March Madness live betting is the wide variety of possible bets that can be included in the menu. You'll want the sites that go the extra mile in terms of unique offerings, and you'll want odds that are fair.
Bonuses tied to live wagering and/or March Madness. Most sites offer you bonuses for signing up with them and depositing money. But you can get a real edge if you can find sports gambling sites that incentivize live betting, while also possibly aiming promotions at the NCAA Tournament.
Beyond that, there are other qualities that come into play that are useful no matter what kind of sports gambling you're doing at the site. These relate to everything from depositing and withdrawing money through dealing with issues at the site all the way to getting paid. Make sure that any sites you choose can do the following:
Make it very easy to use the site. You shouldn't have to feel like you need an advanced degree of some site just to gamble on March Madness. And it should be simple for you to find all the live bets that you want to make.
Provide you with solid mobile options. When you're making your college basketball live bets, you might be doing so while you're away from your computer. But as long as you have your phone or other mobile device, you can certainly get your wagers in if you have an app or mobile-friendly site.
Let you do your banking in several different ways. You should be able to use something other than the same old credit cards. Bonus points if the site lets you gamble with cryptocurrencies like Bitcoin, since they're ideal for online gambling convenience.
Pay you as fast as possible. When you make a withdrawal request from a March Madness live betting site, there shouldn't be much of a lag before there is a response. The withdrawal guidelines should make it clear what to expect, and the site should follow these guidelines to the letter every time.
Ensure that they always offer excellent customer service. You might have problems with something that happens at the site, or maybe even just a question or two. Good customer service can cure a lot of ills.
Do all they can to keep your financial and personal information safe. The best sites generally put safety first, usually by using top software to protect you. And they don't do anything sneaky to con you out of your money.
Enjoy a good reputation with bettors. That means that they've been around for a while and have proven themselves as capable of handling the demands of bettors even at the busiest of times. The March Madness action can be too much for lesser sites who don't have the experience to handle it.
You can go through every single site on the internet and rank them in all these categories. Or you can follow our lead since we've done the research for you. Read on to find out the sites that we believe are the best for college basketball live betting.
BetUS
Cryptocurrency Betting:
Yes
Sports Welcome Bonus:
125% up to $1,000
BetUS has been handling sports betting for so long that they easily could have started to go on autopilot. Instead, they continue to innovate with creative live wagers. Their smooth interface ensures that you'll be on top of any live bets that come down the pike on the college basketball games you're watching this month.
BetOnline
Cryptocurrency Betting:
Yes
Sports Welcome Bonus:
50% up to $1,000
Over the past few years, BetOnline has surged to become one of the top options for live wagering. It helps that they offer a stunning variety of in-game wagers. And they also win points for the bonuses that they offer, giving your bottom line a little something extra.
Sportsbetting.ag
Cryptocurrency Betting:
Yes
Sports Welcome Bonus:
50% up to $1,000
This site allows one of the widest selections of cryptocurrencies for banking, which is a great bonus for crypto users. They're live betting experience is just as sharp on mobile devices. That means you can wager on the tourney with in-game betting anytime and anywhere.
MyBookie
Cryptocurrency Betting:
Yes
Sports Welcome Bonus:
100% up to $1,000
In terms of the odds that are provided for live betting college basketball, MyBookie features some of the most reliable in the industry. And you'll see them change quickly enough during the NCAA Basketball Tournament action that you'll be able to compare it favorably to what's going on in the game. That will help you spot value on a regular basis.
Bovada
Cryptocurrency Betting:
Yes
Sports Welcome Bonus:
50% up to $5,000
Bovada is known as one of the most respected betting brands in the sports wagering industry. That's a reputation that they've forged over the years even as competitors have come and gone. And they've made immediate inroads in terms of live betting for March Madness, offering excellent bonuses and an outstanding variety of betting markets.
How to Begin March Madness Live Betting
The process for getting started with live wagering on all the March Madness is actually a pretty simple one. This is true even for those who are new to online gambling. Here is a step-by-step to get you started, a process which will really take just a few minutes so you can begin betting almost immediately.
Choose your site. We've already told you about that process and the best March Madness live betting sites. Pick one and search for it or type the address into your browser.
Sign up. There will be a link that's easily found on the main page of the site, or you can even find it often as a subheading when you do an internet search. Once you click on that, you'll have to fill out some basic information, choose a user name and password, and verify your account.
Transfer your betting funds to an account on the site. You can use whatever methods are provided by the site as deposit options. Fill out the required data and decide how much you want to deposit.
Activate any bonuses allowed to you. These bonuses will be shown on your main betting dashboard. You can simply opt in to some, while with others you might have to type in a promo code.
Find the live betting page. This is usually found separate from the main sports betting options, which will be focused on bets made before the event takes place. Once on the live betting page, you can look for the college basketball section to find which March Madness games are on the menu.
Make your bets. Choose which bets you want to make, which options within those bets you like, and how much you want to wager. Check the digital betting slip at the end to make sure you have everything right.
Collect your winnings. If at any time you decide that you want to withdraw money you've either won or have left over in your account, simply follow the site's guidelines. Keep in mind that funds associated with any bonuses you've activated won't be released until you've completed the rollover requirements associated with them.
Understanding Odds for Live Betting College Basketball
If you've already gambled online before on sporting events, you might know how this works. But for those who might be new to the process, live betting odds at top sports gambling sites are based on a system known as the moneyline. The moneyline essentially tells you how much you'll win back in return for how much you wager on all your college basketball live bets.
Keep in line that there is also something known as a moneyline bet, which requires you to pick the winner of a college basketball game. But the moneyline is essentially in place for all the different types of live wagers, which we'll get into in the next section. Here is how it works:
If there is a minus sign in front of the line, it means that you must wager that amount to win $100 profit
If there is a plus sign in front of the line, it means you will win that amount in profit if you wager $100
For example, take a look at the following line:
In this case, a $150 bet will bring you $100 profit if you go with Choice A and you're right. And a $100 on Choice B will earn you $125 of profit if you're right. Keep in mind that you also receive the money that you risked back in addition to the profit if you're right in either case. Another way to look at the moneyline is as a ratio which is in place no matter how much you wager.
In the example we've given, that ratio looks like this:
Ever $1.50 wagered on Choice A returns $1 in profit
Every $1 wagered on Choice B returns $1.25 in profit
The first time that you see the moneyline in a March Madness live betting menu, it might seem a bit confusing. But once you have the math of it down, you'll be able to look at it quickly and get the gist of the odds. That will be true no matter what type of college basketball betting market you're utilizing.
Types of March Madness Live Bets You Can Make
There is no set menu of live bets on college basketball that governs every site that you might use. Most sites have a few standards offerings and then have a few that they add into the mix that might be different than what other sites offer. In any case, there are three March Madness live bets which you'll generally encounter on just about every site.
Moneyline/Win Bets
In the case of this wager, all you're trying to do is pick the winner of the game at the end of it. You can make this bet before the game at odds that are set the moment you make them.
In the case of live win bets, those odds will keep changing.
For example, a sample line for a college basketball win bet might start out something like this:
Let's say that the game begins and Tulsa jumps out to a 14-point lead ten minutes into the game. The oddsmakers at a top college basketball betting site might adjust on the fly to something like this:
The oddsmaker has adjusted the line based on the fact that Tulsa has a sizable lead and have greatly enhanced their chances of winning since the start of the game. They've gone from a favorite to an underdog.
You have to decide then if it's worth it to believe in Tulsa's fast start, or to hope that North Carolina comes back and wins at much more favorable odds than were on them at the start of the game.
Win bets are the easiest to understand in terms of college basketball live wagers. And they can provide excellent value if you know the time to strike with an underdog. You can also use them to hedge bets you've already made on one team that you've already bet that might not be off to a great start.
Point Spread Bets
With a win bet, the moneyline odds can stretch pretty wide between the favorite and the underdog. But point spread bets keep the moneyline relatively even.
Instead, the oddsmaker uses a handicap of sorts to even the teams out.
The point spread essentially awards points to the game underdog, or, if you want to look at it another way, takes it away from the favorite. Here is an example:
In this example, the point spread is 4 ½, while the moneyline is -110 for both sides. Here is that bet would work in terms of possible outcomes:
For Gonzaga to be on the winning side of that wager, they would have to not only win the game but also do so by a margin of at least 5 points
For Illinois to be on the winning side of the wager, they have to either win the game outright or lose the game by 4 points or less
As you can tell, the oddsmakers is handicapping Gonzaga for being perceived as the team with a better chance to win the game. When you live bet with the point spread, the spread will tend to change much more than the moneyline. That's because oddsmakers want to keep the potential payback as close to even-money as possible.
Over/Under Bets
With an over/under bet, you don't have to worry at all which team is going to win the game. Your only concern is to estimate how many points will be scored by both teams at the end of the game.
Over/under bets are sometimes referred to as "Totals" or "Points" bets for that reason.
Here is what an over/under might look like for a random March Madness matchup:
In this case, the moneyline is at -110 for both squads. As for the over/under line, the oddsmakers is roughly estimating that the total score for both teams when added up at the end of the game will add up to roughly 124 ½ points.
There is no chance that the game can end on a half-point score, but live college basketball betting sites often do this to prevent any chance of a tie on the bet. You have to decide if the total of the two teams will go higher (over) or lower (under) than that number. In the case of over/under live bets, the line will keep moving depending on how high-scoring or low-scoring the game might be. As is the case with the point spread, the moneyline will stay roughly in the same ballpark throughout the game.
Many bettors love over/under bets because they feel it's easier to get a feel for how many (or few) points teams will score than it is to speculate who will win. Live betting the over/under is also very popular. Watching the game and basing your bets on the offensive flow that you see is a solid way to live bet the March Madness action.
Other March Madness Live Bets
As we mentioned above, once you get past the big three bets mentioned above, it's anybody's guess as to which live bets might be included by a site. It also might depend on how important the game is. Games with a lot of exposure tend to be subject to more betting markets.
In any case, here are a few live bets you might find available to you:
Halftime bets: Instead of focusing on the whole game, you instead would be speculating on what happens in the first half of a college basketball game. You can usually make moneyline, point spread and over/wagers based on the play in a single half. It's just a different way to break up the game action.
Margin bets: This is similar to a point spread bet in that it focuses on how much one college basketball team beats the other. But with margin bets, the oddsmakers break up the options into several different margin groups. For example, in a game between Kansas and Indiana, one choice might be "Indiana wins by 2-5 ½ points," and there would be a moneyline attached to it based on the likelihood of it happening.
Flash bets: With a flash bet, you're focusing on practically the next play of the game. For example, it might pop up saying something like "Which team will make the next 3-pointer in the game?" You have to be ready to strike quickly, and these bets are very volatile, but if you can ride a hot streak with them the results can be impressive.
Player prop bets: You shouldn't expect live player props in all March Madness games. But once you get to bigger action like the Final Four of Championship Game, it wouldn't be out of the question for top gambling sites to include moving targets for the statistics of key performers in the game. For example: "How many combined points and rebounds will Player X have?"
There is really no limit to the number of live bets might be included during a March Madness game. Perhaps the best way to check is to follow along at the site for a typical game, even if you don't want to bet it. That will give you an idea of what to expect for the action when you do decide to wager real money on it.
Tips for March Madness Live Betting
Since you now know the mechanics of college basketball live betting, you can start to hone in on the strategies that can help you win. It's obviously a boost if you know your college basketball stuff in terms of the players and teams.
But one of the cool things about live betting is you can go in knowing practically nothing, watch the game, and have just as much of a feel to make bets as a diehard college hoops fan.
When it comes to basketball live betting, there are definitely some tips that you can take to heart that are unique to the sport. And then there are some general betting strategies that can apply to just about any sports betting that you do. Take a look at some of the best of both of those categories.
Basketball-Specific Live Betting Tips
Be aware of foul trouble. It can affect a team if one of their star players has to sit because they're a little too close to the five-foul limit that would lead to a disqualification. But a team with a lot of fouls in a half can be at a disadvantage as well, since it means that the opponent can get in the bonus quickly and take advantage of free throws.
Look for halftime adjustments. College basketball is very much a coaches' game, and the best know how to go into the locker room at the half and find the right buttons to push even if their team has been struggling. Halftime is often the perfect chance to pivot with your live bets and start steering them towards the team that might have been a big sluggish in the first 20 minutes of game action.
Watch out for the second-half scoring surge. In college basketball, the second half usually features more scoring than the first, which is something you should keep in mind as you focus on over/under live wagers. The losing team often shoots quicker to try to come back, while the winning team often is the beneficiary of a lot of foul shots at the end of the game to pump up their total score.
General Live Betting Tips
Value should be the goal. If you're like most college basketball live bettors, you're going to be focused on winning as much as you can without breaking the bank. For that reason, you need to focus on the bets that will bring you a good payback for a small investment. That means you should always have one eye on the odds while the other stays on the game.
Be careful of your budget. Because you could conceivably bet all game long, it can be easy to get carried away with March Madness live betting. Keep track of each bet that you make while deducting any winnings you might have accrued, and then make sure that you don't go over a preset spending limit with that amount.
Know what your betting goals are. That will help point you in the right direction of the bets that fit your particular wagering style. Get a feel for the volatility, risk, and reward levels with which you feel comfortable before even considering which live bets you're planning on making.
Conclusion
College basketball's busiest season is now upon us, and your March Madness live betting opportunities will be ramping up with each passing day. If you start by choosing the best real money sports betting sites, you should have a good foundation. From there, follow the steps and the strategies we've given you and might just enjoy March Madness more than ever this season.