If we're talking about the biggest esports, it's safe to say they don't get any bigger than League of Legends! Riot Game's massively popular multiplayer online battle arena (MOBA) game is not just the most popular esports title viewership-wise, but betting-wise, too. While we don't have any official numbers from League of Legends betting sites, we did get a few confirmations from sources near the top of the esports betting sites hierarchy.
Here's a short rundown of the most popular League of Legends betting websites in 2021.
What's the Best LoL Betting Site?
Best League of Legends Bookie with Awesome Odds – BetWay (Non-US)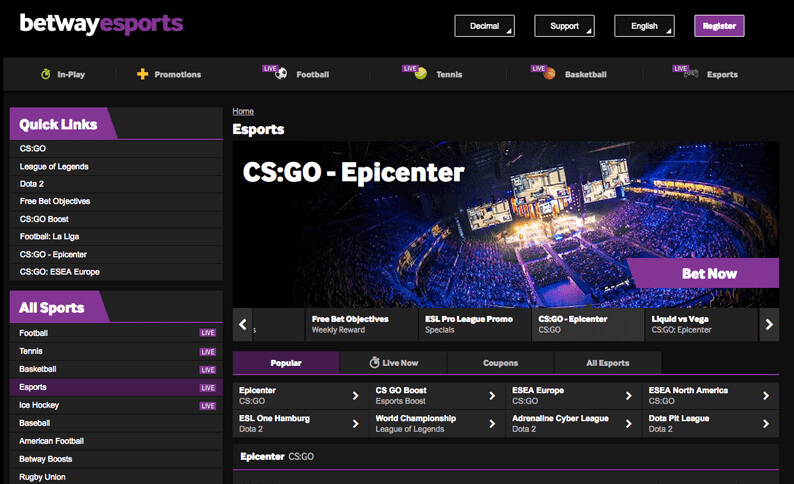 BetWay is the best esports bookie if your primary concern is low-profit margins. That's right, BetWay has the best odds out there. Combine that with superb bet variety and an all-around fluid website, you'll understand why BetWay has been at the top of the online sports betting world for so long. Kudos to BetWay, keep up the good work!
Best League of Legends Betting Site with Generous Bonuses – Bovada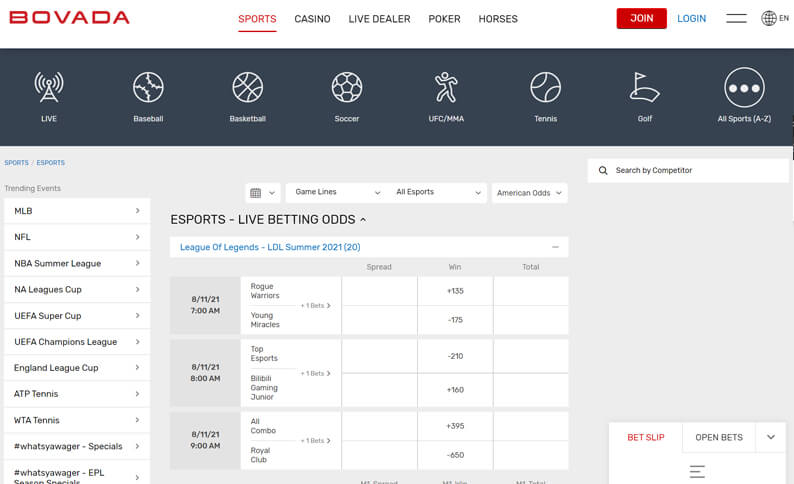 Bovada is known for having exceptional bonuses for sports bettors. However, they aren't shying away from offering the same service to their esports-focused clients. Most of the time, esports section works with the site's sports bonuses. However, they do possess standalone esports bonuses as well.
Best League of Legends Gambling Site with Great Bet Options – 22Bet (Non-US)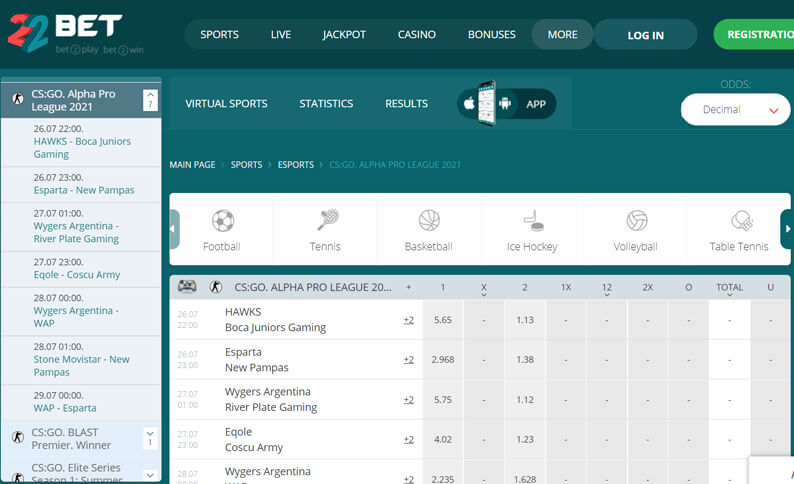 22Bet might not be the very best bookie across all departments, but it definitely does a great job with bet variety. For folks who are looking for more than just moneylines, 22Bet will hit right home. Their odds are good too, especially for delicate specials during big events like the Worlds or Mid-Season Invitationals.
Best League of Legends Online Betting Site for US Players – BetUS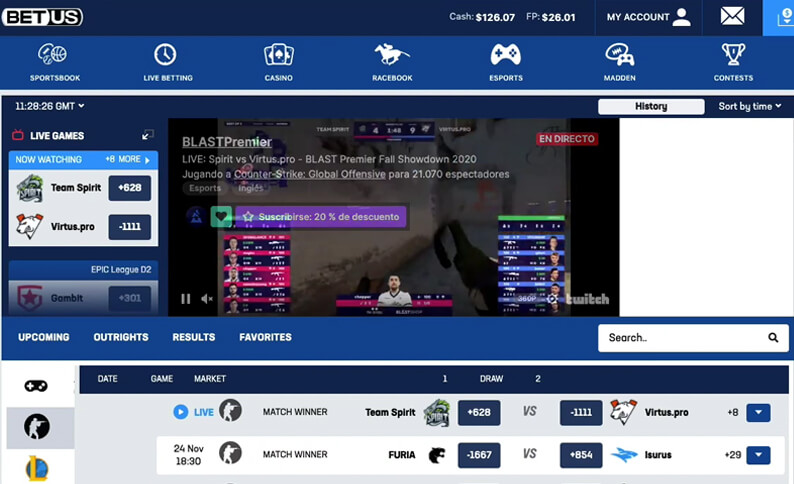 BetUS is the absolute champion in terms of the US LoL betting market. They offer the best all-around experience for US bettors thanks to on-time lines, plenty of bet variety, and fast payouts. If you're living in the US and you're legally allowed to enjoy online esports betting, BetUS should be your primary choice.
Best League of Legends Gambling Website for Beginners – BetOnline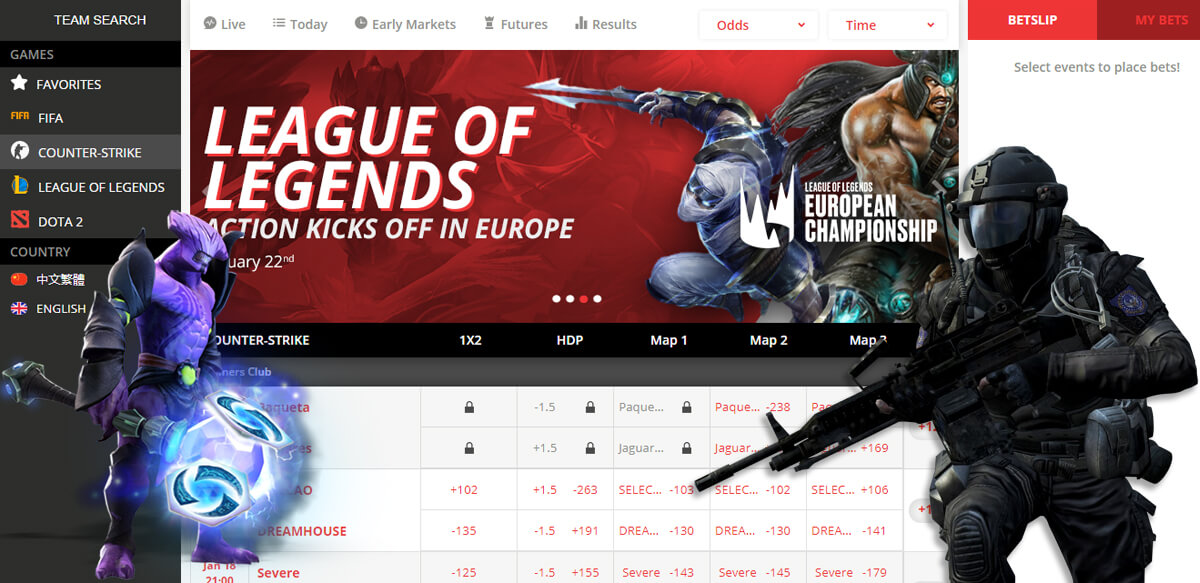 BetOnline is as simple as they come! Their new Beta Design offers even more simplicity. The whole page, not just their standalone esports hub, is beginner-friendly. The design is straightforward, page-to-page navigation is intuitive, and they have a solid customer support service in case something goes south.
If you're interested in esports —esports betting to be more precise— chances are you're looking for information on betting sites for League of Legends. After all, LoL is the most popular game in the esports betting world, and the demand for the best League of Legends betting sites is extremely high.
[ Back to Top ↑ ]
What Makes Good Online League of Legends Betting Sites
There are several reasons why we decided to go with these particular sites for betting on League of Legends online. For starters, they have low profit margins, which is among the first things people check before committing to an esports bookie. Low profit margin equals higher value and better returns, everything League of Legends betting enthusiasts love and care about.
Furthermore, we took five additional factors into consideration, each of which contributes to the overall quality of a given bookie. Take a closer look below.
| | BetUS | MyBookie | BetOnline |
| --- | --- | --- | --- |
| Year Established | 1994 | 2014 | 2001 |
| # of Sports | 30 | 23 | 22 |
| Welcome Bonus | Up to $2,500 | Up to $1,000 | Up to $1,000 |
| Bonus Rollover | 10x | 10x | 10x |
| U.S. Players? | Yes | Yes | Yes |
| In-Play Betting? | Yes | Yes | Yes |
| Bitcoin? | Yes | Yes | Yes |
| Live Chat Support? | No | Yes | No |
| Phone Support? | Yes | Yes | Yes |
| Sign Up Now! | Visit BetUS | Visit MyBookie | Visit BetOnline |
Esports Betting Customer Service
Let's start off with the key factor behind great League of Legends betting sites—customer service! In fact, it's important for virtually all types of online-based services, because proper customer service drastically improves overall user satisfaction.
No matter what sort of a problem you might stumble upon, customer service is there to guide you, or at least that's how it's supposed to be.
Many League of Legends betting sites don't care too much about their customer support quality which, in essence, means they don't care too much about their users either. If you want to avoid such sites, stick to the ones we listed above!
Special League of Legends Bets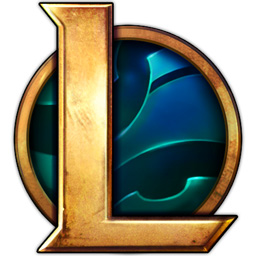 Obviously, betting on League of Legends match winners will provide short-lasting fun. Esports betting enthusiasts need more variety, and the best League of Legends betting sites are going out of their way to provide. Specials, both short-term and long-term, are growing in numbers, followed by a massive demand due to their entertainment and frequent high-value bloopers. There are numerous special League of Legends bets available. We'll talk about them in more detail later on!
Reputation
Customer service, bet variety, and payment methods aside, you should always (can't stress this enough) do extensive online research on LoL betting sites you're thinking of joining. Even though a good portion of online reviews are outright fake, there are a few well-known sources featuring legit information.
Our sportsbook reviews page offers a multitude of betting sites reviews. On top of that, it also explains why our reviews are unique, what makes our process trustworthy, and which factors were taken into consideration.
Payout Speed
Last but not least, we've got payout speed. Even though it doesn't solely depend on your bookie of choice, fast payout speed is still important in the grand scheme of things. What else are they dependent upon, you may ask… Well, in addition to bookies' internal processes, payout speed also depends on your specific payment method and the amount of money in question.
The larger the amount, the longer the waiting period.
Typically, you will have to wait between 48 and 72 hours to get your winnings. That's the average waiting time for average winnings. If you've won big, you're looking at upwards of a week since you'll need to go through additional security layers to get your money in the safest possible fashion.
User Interface
Nowadays, the best League of Legends betting sites don't just have great customer service and an abundance of specials, but also highly intuitive, user-friendly websites. And, realistically, user-friendliness is one of the key figures that make for an enjoyable betting experience.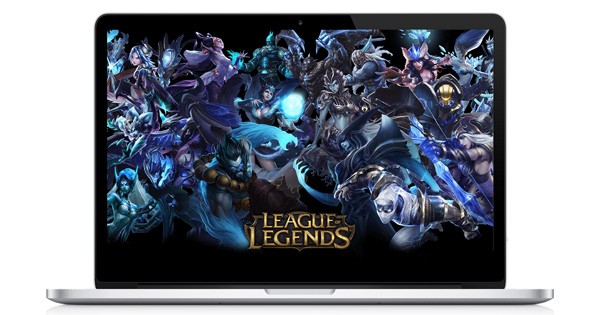 We're talking about stuff like page-to-page navigation, market structure, category organization, responsiveness, and loading speed. Extra points were given to bookies featuring fluid mobile platforms as well as dedicated betting apps.
Generous Esports Bonuses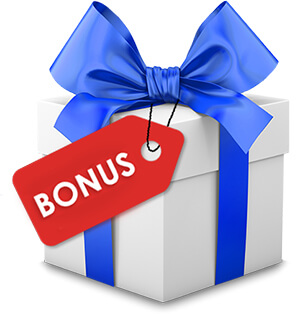 Who doesn't like free bets? Who doesn't like having extra funds in the good old betting bankroll? Even though bonuses are nothing more than a mean of incentivizing new users, players love them. And, mind you, if you have a proper strategy, you might even reach a cash-out. Even if you don't bonuses still offer a fun way of countering your real money LoL bets, or spicing things up with high-risk shockers.
Good Variety of Payment Methods
Even though the availability of payment methods depends on where you live, bookies still have to obtain the necessary licenses to feature specific options. The more options they have, the higher the chances of you actually being able to use one of them right away.
Here are the most popular means of online payments on LoL gambling websites:
Credit/Debit Card
Cryptocurrencies
EcoPayz
Neteller
Skrill
Wire Transfer
Paysafecard
Live and Mobile Betting
Nowadays, LoL gambling websites offer both live and mobile betting…. Even the combinations of the two. Yes, that's right – some bookies allow you to bet on live LoL matches from your smartphone. Crazy times, huh? What's so special about live betting and is mobile betting here to stay? We'll talk more about that later on!
[ Back to Top ↑ ]
Esports Bonuses on LoL Betting Websites
With the rapid growth of esports betting, it was only a matter of time before bookies start offering separate bonuses for their esports-focused clientele. What does this mean for the average LoL bettor? Well, not much. In fact, the bonuses have remained the same across the board, with slight changes to adjust for the esports market.
Here are the bonuses you can expect on some of the most reputable real money League of Legends gambling sites:
| Bookmaker | Bonus |
| --- | --- |
| BetUS | 100% welcome bonus up to $2,500 |
| MyBookie | 50% welcome bonus up to $1,000 |
| Bovada | Welcome bonus up to $500 |
| BetOnline | 50% welcome bonus up to $1,000 |
| Buff.bet | €25 free bet and 100% welcome bonus |
| Betway | $30 in free bets |
| BetNow | Welcome bonus up to $2,500 |
| 22Bet | 100% welcome bonus up to $122 |
| 888Sport | $30 in free bets |
| Arcanebet | 100% welcome bonus up to $100 |
| GGbet | 100% welcome bonus up to $100 |
| Unikrn | $250 first deposit bonus |
[ Back to Top ↑ ]
Esports Betting Apps for League of Legends
When talking about esports betting apps, we're typically talking about apps that allow you to bet on esports matches­. That's nothing new – most LoL gambling websites either have standalone smartphone apps for iOS and Android or mobile-friendly web platforms.
We will be touching on the subject of mobile apps for placing wagers later on. For now, we'd like to focus your attention towards apps that make betting on League of Legends easier. Apps that help you stay on top of news, happenings, transfers, and stats. There are two that stand out so let's take a closer look!

Games of Legends
Games of Legends is a stats platform for League of Legends esports. There are a couple of them available in 2021, but we strongly believe Games of Legends is the best one. It has just the right amount of useful statistics, gives users plenty of tools to filter their findings, and possesses exceptional depth to satisfy even the neediest of bettors.
Strafe
Strafe is a highly popular mobile esports app that gives you crucial information on when your favorite teams and games are live. It also possesses good depth in terms of statistics and news coverage, allowing you to manually focus on the things that interest you the most.
[ Back to Top ↑ ]
Why is BetWay the Best LoL Bookmaker in 2021?
There are several factors that make BetWay the best all-around real money LoL betting website in 2021. Let's check them out:
Betting Odds
Always among the best bookies in terms of profit margins. BetWay takes a very small cut off every bet, meaning the odds are typically higher than on other platforms.
Early Lines
BetWay is always among the first real money LoL gambling sites when it comes to releasing fresh odds. If you don't like playing the waiting game, BetWay is the obvious choice.
Bet Variety
Moneylines, outrights, specials – BetWay has them all. If you're sick and tired betting on who's going to win the match all the time, you'll love their bet variety.
Available Payment Methods
Even though this largely depends on your country of residence, chances are BetWay will have you covered. Go ahead, give them a try and you'll see the available options.
Beginner-Friendly
Don't worry, young padawan! BetWay offers a beginner-friendly experience. If you still end up struggling, don't sleep on our comprehensive esports betting guide!
[ Back to Top ↑ ]
Biggest League of Legends Events to Bet on
There are two standalone events and several regional championships you should wager on during your stay at League of Legends bookmakers!
League of Legends World Championship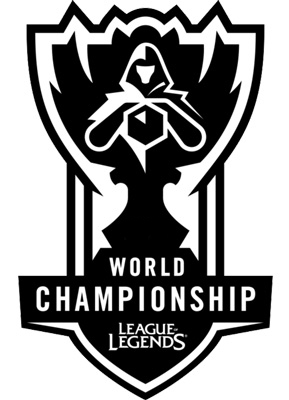 The biggest LoL event is the one and only League of Legends World Championship. More commonly referred to as LoL Worlds, it represents the pinnacle of League of Legends' competitive season. LoL Worlds are held once per year and bring forth the best teams and players from all of the game's competitive regions.
They might not be as lucrative as Dota 2 Internationals, but LoL Worlds are the most popular esports events on the planet. Both 2019 and 2020 LoL Worlds iterations had just shy of 4 million peak viewers. On top of that, they both had over 1 million average viewers, which tells you just how much popularity LoL esports has.
Regional Championship Series
Regional Championship Series. Most of the big names now pan out in franchised systems, with no promotion or relegation taking place. This means more money for everyone involved, but less for up-and-coming teams wanting their taste of international glory. Long-term stability is what Riot Games was always after for LoL esports, and franchised Regional Championships was the perfect answer.

LEC, LCS, LPL, LCK – these are just some of the biggest regional championships out there. These league-like competitions are divided into two splits (Spring and Summer) with MSI in between and LoL Worlds after the second split. Long story short, they serve as year-long qualifications for the two international events.
Mid-Season Invitational
Last but not least, Mid-Season Invitationals (AKA MSIs) are held in between Spring and Summer splits. We're talking about international competitions here, featuring decent prize money and all the best teams from the most competitive regions. Mini Worlds is what people like to call them, and it suits them perfectly!
[ Back to Top ↑ ]
What Types of Bets are Available on Online LoL Betting Websites?
League of Legends betting is not just popular because of the addictive gameplay of massive hype surrounding the best players and teams. It's popular because there's a whole lot of quantifiable stats in the game, making special bets extremely entertaining.
Yep, MOBA games are heaven for specials, thanks to numerous global events, stats, and happenings throughout each match. Not sure what we're talking about here? Make sure you check out these five highly entertaining League of Legends special bets.
First Blood
First blood is the name for the very first kill in a League of Legends match. The first kill grants additional gold and sends the killed player back to base, resulting in free lane farming for the killer. League of Legends betting sites often features first blood bets, as they pose as quick and highly entertaining thrills.

Match Duration Over/Under
League, just like Dota 2, is a MOBA game that lasts until one team destroys the enemy team's Nexus. Surrender is also a winning mechanism, but it doesn't happen in professional matches. As far as match duration bets are concerned, real money LoL betting websites provide you with an average time, and you're supposed to guess if the duration is going to be lower or higher than that number.
Baron/Dragon Kills
Baron and dragon(s) are the two biggest neutral monsters in the game. They are often dubbed as the most important global objectives due to the various types of buffs they provide. Both competing teams do their best to clinch crucial dragons as well as the baron later on. Winning Baron-based team fights is a great way to start off that final base push. As far as the placing bets on League of Legends go, they are pretty straightforward!
Your job is to guess which of the two teams will get the first baron or dragon. It's as simple as that!
First Turret/Inhibitor
Summoner's Rift has three lanes with continuous minion waves. The lanes are connected with the so-called jungle that's home to a vast number of neutral monsters. Each lane has three turrets and an inhibitor, and teams need to make their way through at least one entire lane to reach the enemy base. LoL betting sites feature bets on both first turrets and first inhibitors destroyed, and it's up to you to decide which teams to bet on.
Player vs. Player Stats
When talking about this bet type, we're usually talking about two-player kill counts, in which you're betting on the player you believe will have more kills at the end of the match. Additionally, though, there are also assists, deaths, and minion kills, all of which bring forth solid odds and plenty of entertainment.

[ Back to Top ↑ ]
Do League of Legends Gambling Sites Offer Betting on the Go?
What's betting on the go? It's a fairly simple term – mobile betting! That's right, betting on the go represents the ability of betting via your smartphone/tablet. It's not a new thing, mind you, betting on the go has been around for more than a decade in some places.
We differentiate two mobile betting segments:
A. Mobile esports betting apps
B. Mobile-friendly platforms
The first is the ideal option as standalone apps usually possess all features of a desktop-based website. In most cases, that's true for mobile-friendly platforms as well… though some of them will limit your experience. At the end of the day, it all depends on which LoL betting website you opt for.
[ Back to Top ↑ ]
Live Betting on League of Legends
Live betting on League of Legends isn't a myth! It's a real thing; people have been betting on ongoing LoL matches for quite a while now.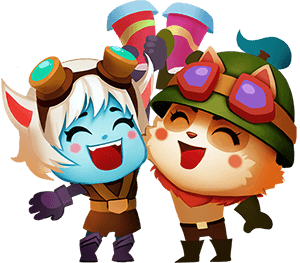 A few years ago, only the crème de la crème of esports bookmakers had access to live betting options for League of Legends. Nowadays, every reputable real money LoL gambling site offers live bets on ongoing matches. The demand is pretty high, so we can say with enough certainty that live betting on Lol is here to stay.
But, why should you care that LoL bookmakers offer live betting. What's wrong with conventional, pre-match betting? Well, there's nothing wrong with that, it's far from it. Just like everything else in live, live betting on LoL has its pros and cons. Here's a quick look at what we're referring to here:
Pros
Cons

The ability to watch and react to live gameplay and momentum changes
Live bets typically possess great value, for those who are patient enough
Some bookies offer live specials, which further up the fun factor

Momentum shifts aren't the ideal method of wagering
Live bets can suck you in and run you dry
Live bets happen in the heat of the moment; you can't base them on facts
[ Back to Top ↑ ]
Real Money LoL Betting | Beginners vs Experts
Best Ways to Fund Your Bankroll on Online LoL Bookmakers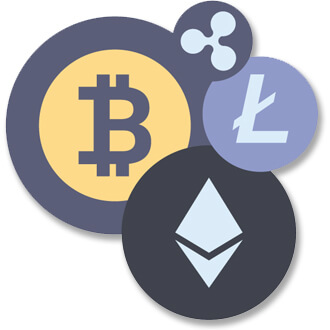 There's no ideal way to fund your betting bankroll. It all depends on which online payment methods are legal in your country and which ones you already have access to. If you already have one or two that are accepted on the bookmaker you're aiming for, there's no need to look for alternative options… unless we're talking about cryptocurrencies.
Yep, cryptocurrency betting is still quite popular despite the recent highs and lows the market has been going through. Cryptowallets are fairly easy to set up. The same goes for transactions to and from online League of Legends betting sites. You don't need to be a tech-savvy person to get a grasp on things.
It's a straightforward process that could save you a ton of nerves (and money) in the long run.
[ Back to Top ↑ ]
FAQ on League of Legends Betting Websites in 2022
While all well-known, reputable LoL betting sites are licensed and regulated, whether or not betting on League of Legends is legal depends on your residence. In the US, more and more states legalizing sports betting. No worries, that usually includes esports betting, too. If you're living outside the US, it's always a good idea to check your country's laws before depositing bigger sums of money and venturing too deep into LoL betting waters.
This isn't your typical "one size fits all" kind of answer here. There's no end-all-be-all payment method outperforming its counterparts. Your choice depends on a lot of factors, your personal preference, and your country of residence. Some countries have more available online payment options than others. Plus, you might already have a specific method set up so you don't have to go through the painstaking registration and signup process.
If we had to choose, we'd go with cryptocurrencies. They could be the next big thing in the online betting sphere, and esports betting could be the niche to push them to even greater heights. Cryptocurrencies are relatively fast, cheap, and possess ultimate security and anonymity.
League of Legends Worlds is the biggest of League of Legends events, typically starting late September or early October. They include the most lucrative and tightly-contested events featuring the world's best teams, which only makes massive demand for LoL betting logically.
If LoL Worlds is too mainstream for you, you can always bet on the May-bound MSI events. If you're more of a leagues' fan, then perhaps LEC and LCS, two of the best western regional championships, will be right up your alley. Whichever event you opt for, you'll be in for a treat, as long as you're using one of the best League of Legends betting sites, of course.
Betting on League of Legends is pretty safe, assuming you're sticking with reputable LoL betting sites. Such sites have SSL certificates, fair odds, and decent customer service, all of which are installed for maintaining user satisfaction and security at an admirable level.
If, however, you take our advice for granted and go with an unknown bookie promising $1,000 in free bets, chances are, you won't see a dime pop back into your account even if you win. Not only are new, unknown esports bookies a massive security risk, but they're probably illegal and pose as a great way to expose your personal info to wannabe hackers.
Stay on the safe side and pick one of the above-featured League of Legends betting sites. You'll get the esports betting experience you deserve!
As far as League of Legends skins are concerned, you can't use them to bet on LoL matches. Betting with League of Legends skins is not a thing, because the game isn't available on Steam and its items aren't a part of Steam's tradeable marketplace.
But you can use skins from games such as Dota 2 and CS:GO for League of Legends bets. Sounds weird, I know, but it's just how it is. Let's finish off with quick advice—don't force skin betting. It's a shady business and it's just not worth the hassle… Even if you win, getting your money is not guaranteed!
The easiest way to ensure you're getting the esports betting experience you deserve is to visit our esports betting sites guide! That should be your go-to place for all things related to esports betting.
For everyone interested in kickstarting their esports betting career, acquiring betting-related knowledge is the first task, assuming you already know a fair deal about the esports title you're planning to bet on.
Of course they aren't! While 100% safe League of Legends do exist, you will have to look far and wide to find them. Your best bet is to visit the piece linked above. Once again, not only does it feature a list of the best LoL betting sites, but it also possesses a great deal of supporting info.
If you're trying to get into the esports betting hobby, that piece makes for a great starting point! If you're just interested in League of Legends betting sites, then head to the top of this page and you'll find a shortlist featuring the most popular options.

[ Back to Top ↑ ]