The Super Bowl is the biggest sports betting event in the United States every year. Billions of dollars are wagered legally and illegally in the US on the NFL's championship game. The game is also a TV ratings machine. Incredibly, Super Bowls have accounted for 29 of the 30 most watched television broadcasts in the history of the United States. The lone exception is the series finale of MASH, which attracted nearly 106 million viewers back in 1983.
You can see why other networks might be eager to get a piece of that Super Bowl broadcasting pie. Super Bowl Sunday has become something of an honorary holiday in the United States, with countless viewers getting together to watch the game. So many people watching TV presents a unique opportunity for other networks, which is why Animal Planet launched the first-ever Puppy Bowl in 2005.
The Puppy Bowl is exactly what it sounds like. Each year, two "teams" of puppies will be pitted against one another inside a model stadium. The broadcast features commentary just like the commentary you'd hear for a normal game of football. The broadcast originated as counter-programming idea for the network against the Super Bowl, but Animal Planet has aired the Puppy Bowl before the big game in recent years.
As crazy as it may sound, you can actually bet on the Puppy Bowl, too. The Puppy Bowl certainly doesn't attract nearly as much betting interest as its real football counterpart, but most major real money online betting sites do offer Puppy Bowl odds.
What to Look for in Online Puppy Bowl Betting Sites
Puppy Bowl Betting Coverage
Betting sites these days pull out all of the stops when it comes to covering the Super Bowl. Prop betting has never been more popular, and you can really bet on almost anything Super Bowl-related when that time of year rolls around. Puppy Bowl odds can typically be found among a site's Super Bowl betting options, but you may also find them under the "Entertainment" heading. If you want to bet on the Puppy Bowl, the first thing you have to do is make sure a site is actually covering it.
Good Reputation and Long Track Record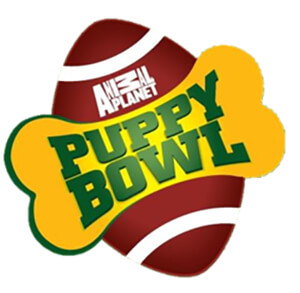 You also need to ensure that the site at which you bet on the Puppy Bowl carries a solid reputation in the industry. Unfortunately, there are some operators out there that don't have your best interests in mind. Taking the time to read about a site's history to glean a little extra information about their backstory will be worth your while. You can also read detailed reviews regarding everything a Puppy Bowl betting site has to offer.
Real money Puppy Bowl betting sites don't need to have a long history to rank among the most reputable, but it doesn't hurt either. Sites for Puppy Bowl betting online that last a long time generally come with strong reputations. Puppy Bowl online betting sites with poor reputations tend to fail pretty quickly.
Safety and Security
You also want to make sure that your site is taking the necessary precautions to help keep your information from getting into the wrong hands. That's why the sites with the best Puppy Bowl betting odds offer measures like password encryption and two-factor authentication to keep your information private. If you can't tell whether a site is safe for use, it's almost certainly not worth your time.
Attractive Bonuses
One way the best Puppy Bowl betting sites can try and sell you on their business is by offering attractive bonuses that can help you inflate your bankroll instantly. Sites are always touting their sign-up bonuses, which is basically a way for you to get free money into your betting account. They will match your initial deposit up to a certain amount, and you can then use that extra cash to bet on the Puppy Bowl or anything else.
Puppy Bowl online betting sites will also offer reload bonuses on any subsequent deposit you make. Some will also offer special contests for certain events, like the Super Bowl and March Madness.
Fast Payouts and Withdrawal Speeds
Timing is everything when it comes to online betting. Americans are also infamously impatient. However, you should never have to wait a long time for a site to pay you your winnings after you've won your bet. So, if you're real money betting on the Puppy Bowl, you should be sure to do so at a site that prides itself on offering fast payouts and withdrawal speeds.
The best real money online betting sites will get your winnings to you within minutes of you cashing out. They will also work hard to ensure that the withdrawal process is quick and easy. Whether you're having your winnings wired to your bank account or mailed to you via traditional check, you shouldn't have to wait too long.
Banking Options
Betting on the Puppy Bowl online is all about convenience. That's why using a site that gives you a variety of banking options is another nice perk. Some banks and credit card companies in the US still won't let customers make financial transactions with known betting entities. The times are changing, but some of them are still stuck in the Stone Age in this regard.
There are all sorts of alternative options for you when it comes to depositing and making withdrawals from your account. In addition to debit or
credit cards
, you can use
cryptocurrency
(like Bitcoin) or
e-wallets
(like PayPal or Neteller) at most major online betting sites.
Mobile Compatibility and Ease of Use
The main reason online betting has exploded in popularity in recent years is because it's a lot easier than the traditional method of doing so in person at a retail sportsbook. While there's certainly still something to be said about in-person betting, nothing beats the convenience of real money betting on the Puppy Bowl online. So, you should use a site that includes a clean, easy-to-navigate interface as a way to streamline the process.
Your online Puppy Bowl betting site should also be accessible via mobile device. The top real money betting sites in the industry optimize their desktop sites to fit your smaller phone or tablet screen. Some even go as far as to develop a mobile app that you can download straight to your device. These days, you can easily place bets on the Puppy Bowl without having to even get off the couch!
How to Bet on the Puppy Bowl for Real Money
1. Join Safe Entertainment Betting Sites
If you follow some of the guidelines listed above, finding where to bet on the Puppy Bowl online should be a breeze. Once you have settled on said site, the sign-up process is even breezier. The "Join" or "Sign Up" tab should be easily visible at the top of your site's homepage. Once there, enter the required personal information (username, password, etc.) and click submit. See? Piece of cake.
2. Deposit Money and Collect Your Bonus
The next step is to actually put money into your betting account. The "Deposit" button should also be easy to find. Using your preferred banking method, enter the amount of money you'd like to put into your account. Don't forget to enter the promo code attached to your deposit bonus so that you can recoup that extra cash, too. Double check to make sure everything is in order before submitting.
3. Bet on the Puppy Bowl
Now, the fun part begins. Once you found where to bet on the Puppy Bowl online and your betting account is funded, it's time to actually bet on the Puppy Bowl. Navigate your way to the site's Super Bowl or Entertainment betting section, where you'll find the variety of odds on the Puppy Bowl. Then, take some time to browse your options. Once you're ready to bet, enter the amount of money you want to risk, and place your bet!
When Can I Bet on the Puppy Bowl?
As mentioned, the Puppy Bowl has taken place on Super Bowl Sunday every year since 2005. Animal Planet will usually release the rosters for both teams (Team Ruff and Team Fluff) about a week or two before the game. Betting sites can unveil their odds several weeks in advance, but puppy-specific prop bets may not be released until the rosters are known to the public.
So, you may have a span of a few weeks before Super Bowl Sunday to bet real money on the Puppy Bowl online.
Puppy Bowl Betting Tips
Shop for Lines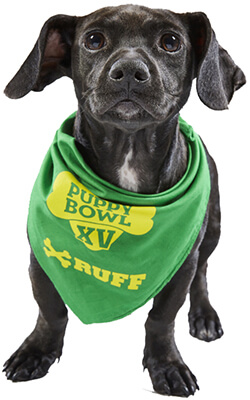 One of the first things you should do when you set out to bet on the Puppy Bowl is to take the time to shop around for betting lines. Not every site is going to handicap the game the same way, and the odds can vary wildly for something as subjective and unpredictable as a football game being played by several puppies.
Team Ruff might be favored at one site, while another site sees Team Fluff as a more likely victor. This is just one example of how lines may differ when Puppy Bowl betting online, so make sure you find the best Puppy Bowl betting odds offered online.
Analyze the Rosters
The Puppy Bowl features all sorts of different breeds. Animal Planet releases detailed roster information that includes breeds and ages of all participants. While most of the Puppy Bowl is uncontrolled chaos, the game does actually have a scoring system. If a dog carries a toy across the goal line, that dog's team is credited with a touchdown.
Bigger breeds might have a better chance of outmaneuvering or bullying their opponents on the way to the goal line. Younger dogs may be more playful, which could enhance their chances of carrying a toy into the end zone. Taking the time to break down the rosters of Team Ruff and Team Fluff can't hurt your chances of nailing your bets, right?
Betting on the Puppy Bowl FAQ
You can legally bet on the Puppy Bowl online if you happen to live in a state that has legalized sports betting. Several states have done just that since the Supreme Court struck down PASPA in May of 2018, and more are expected to follow suit.
If you're not lucky enough to live in one of those states, though, you can still legally wager on the Puppy Bowl online. Most of the best sites in the industry operate offshore, and there are no enforced laws in place that prevent Americans from placing real money bets online at these offshore sites.
Becoming a member of multiple different real money Puppy Bowl betting sites isn't only allowed, it's encouraged. The only way you can take advantage of line shopping is by joining several different sites. The sign-up process is quick and easy, so joining multiple
Puppy Bowl betting sites
is highly recommended.
The most common type of Puppy Bowl bet is a straight wager on the winner of the game. For the 2020 Puppy Bowl, Team Fluff was listed as a -140 moneyline favorite, while Team Ruff was priced at +100 to win. Some sites will go as far as to offer a point spread, but betting on the moneyline is likely a safer option. In case you were wondering, Team Fluff wound up winning Puppy Bowl XVI, 63-59.
You can also bet on which dog will be named MVP (Most Valuable Puppy). There hasn't been much rhyme or reason to this over the years. Each of the first five Puppy Bowl MVPs were purebred, while eight of the next 10 MVPs were mixes. Puppy Bowl odds on MVP will likely vary quite a bit from site to site.