The world's first poker website officially went live in 1998. A huge number of online poker sites have launched since that time, some of which have gained far better reputations than others. Today, our team of experts will highlight the safest online poker sites in 2022.
Below is a list of the most trusted online poker sites available to join today.
Our Favorite Safe Online Poker Site Right Now
Online poker has continued to evolve over the years. Competition in this industry is fierce and every online poker site is constantly working to provide the best platforms to its members. A few of these sites have stood out in 2022.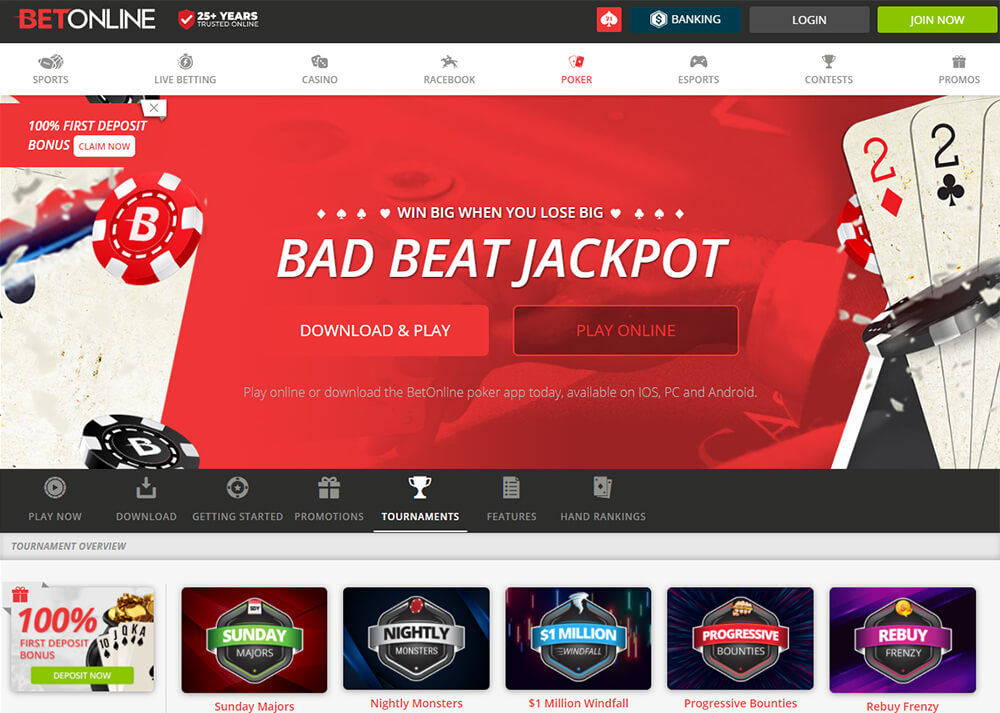 BetOnline Poker is our current favorite online poker site for 2022.
Many will be familiar with BetOnline from the sportsbook it provides. More have recently begun to realize how many incredible online poker options this site offers, too. It makes it easy to play all of the most popular poker games including 7-Card Stud, 32-Card Draw, Americana, Boost Poker, Six Plus Hold'em, Texas Hold'em, Windfall Poker, and more.
The large number of tournament options is what really makes BetOnline Poker stand out as one of the top online poker sites right now. This website regularly hosts major Hold'em and Omaha tournaments with a large variety of buy-ins to fit different budgets. These represent great opportunities for players to win large amounts of money against fellow poker fans.
How to Play at BetOnline Poker
Another reason we at The Sports Geek love BetOnline Poker is how easy this site is to access. Members here are able to play poker using the desktop site, as well as BetOnline's downloadable software.
Playing online using the desktop site is simple. Simply log into your BetOnline account and head over to the "Poker" tab. From here, players have access to all of the poker games, tournaments, and promotions currently available.
Downloading the BetOnline Poker software is easy. Many prefer this route, as it makes it more convenient to play poker games using their mobile devices.
Make sure to check out BetOnline Poker today to learn more about why this site is considered by many experts to be one of the best and safest poker websites in 2022.
Traits to Look for in the Safest Online Poker Sites
Any beginners to online poker playing may have a difficult time narrowing down what exactly separates a trusted online poker site from a shady one. Even more advanced players might find themselves overwhelmed by the sheer number of online poker options available in 2022.
Luckily, the safest poker sites for real money are on the leading edge of the technology and have things in place to mitigate the risks. What does that look like? So glad you asked! Here are eight common traits that we look for when recommending the safest online poker sites.
1. A Proactive Stance Towards Bots and Collusion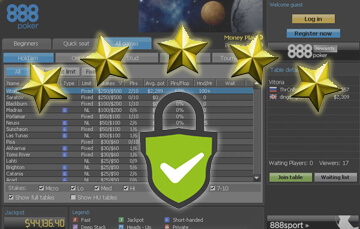 The plagues against online poker sites that payout real money come in the form of bots and collusion. A bot is a computer player that is used to make money by leveraging technology to beat real players. Collusion is when two or more players work together at the table to gain an unfair advantage over the other players at the table.
Both of these things are no good for the poker industry. Thankfully, the safest US poker sites work hard to eliminate bots and combat collusion.
2. Third-Party Auditing
Trusting United States online poker sites because "they tell you to" is nothing short of silly. Ask any poker site if its software is safe, and you will get a resounding yes. Anything less than that is bad for business. What you can trust, though, are online poker rooms that use third-party auditors. The sites will have outside companies come through and assess the current level of security. It's the only way to get an accurate look at the security levels.
3. Regularly Scheduled Internal Security Audits
Not only should the poker sites have outside people looking at their security processes, but they should be regularly auditing internally. This means constantly checking technology, servers, programs, procedures, and processes to make sure they're offering you the safest way to play online poker for real money. Usually, this necessitates the use of a dedicated security team.
4. Proper Data Encryption
The biggest threat to United States online poker sites and players is in the data. When the data leaves the real money poker site and travels to you, it's "out in the open." The same is true when the data goes back to the poker site. If the roadways that the data travels on are not properly protected and encrypted, there may be issues.
Luckily, the safest online casinos with real money online poker utilize encryption levels on par with banks, credit unions, and financial institutions.
5. A Trusted Management Team With Experience
The software and the banking integrations can be safe, but that all becomes pointless if the poker room is run by untrustworthy individuals. When we are assessing our list of trusted poker sites, we look at the management and ownership teams behind the scenes. Thanks to industry contacts and unique resources, we're able to find out who is running the show and what their pasts look like.
6. Positive Industry Reputation
The best way to judge the safety and reliability of online real money poker sites is by looking at its history, track record, and industry reputation. While there are always going to be some haters, negative trends should raise concern. Before we give a poker room the title of one of the safest online poker rooms, it must pass the sniff test with industry reputation.
7. Secure Banking Integrations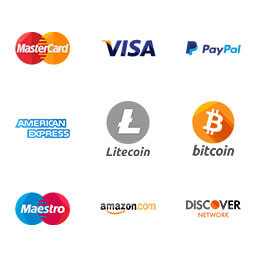 While keeping your information safe and maintaining the integrity of the games are both important, the real security needs come with the money. We live in a world where hackers and online thieves want to get their grimy hands on every last dollar that isn't rightfully theirs.
The safest online poker sites must keep your money safe while it's on the site but also while it is in transit to and from your bank and the site. This means that the poker rooms need to choose high-quality banking partners and integrate the banks into the software securely.
8. Adequate Contact and Customer Support
Safety is an active process. All the most trusted online poker sites need to have adequate customer service in place to handle security concerns in real-time. If you bring something to the attention of the poker room and they don't have the time to handle it, it can become dangerous. We recommend joining ones that offer live chat support, 24/7.
Finding the Safest Online Poker Apps in 2022
Those interested in playing poker on the go may want to find an app that offers this game. The vast majority of online poker sites provide excellent mobile platforms. Some have worked particularly hard to create apps that are even more complete and sophisticated than their desktop versions.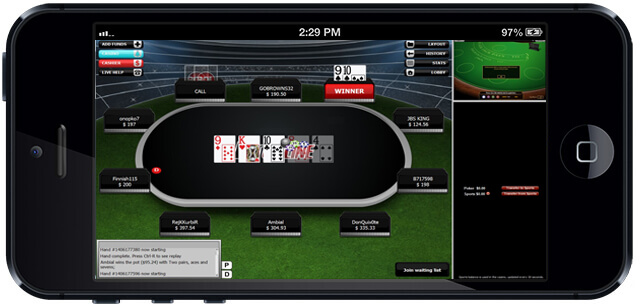 Our team has narrowed down the very best poker apps in 2022 currently operating. On this page, we explain exactly how poker is played using a smartphone. You can find everything you need to know about playing poker on your smartphone in our real money poker apps guide.
Tips to Keep Safe Playing Online Poker
The burden of online poker safety falls heavily on the poker site operators. However, that does not mean that you don't have a role to play in the process. There are several things you can do to make your online poker playing time much safer. Here are the top five things you can do starting right now.
Don't Engage in Collusion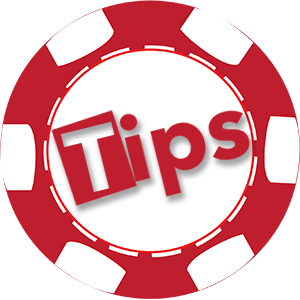 You may be tempted at some point during your online poker career to make some easy money colluding at safe online poker sites. If you don't think so, that's great! But do remember that "taking it easy" on a buddy at the tables is a form of collusion at US poker sites.
What does this have to do with safety? If you're caught or even suspected of colluding, you could see your real money poker funds disappear. While this is done to keep the other players safe, it won't be a happy day for you. Make sure you play against other opponents fairly and stay away from the allure of easy money.
If You See Something, Say Something
This phrase has been touted by police departments and safety officials for years. It fully applies to the online poker world as well. If you see something that seems unsafe, say something. It's up to us as poker players to protect our ecosystem and keep things as safe as possible.
The best online poker sites work hard to be as transparent as possible. You will never have questions about how much money a wager will produce. These sites will also clearly feature the rollover requirements attached to different promotions.
Who do you report any suspicious activity to?
Contact the site's customer service department. If it's one of the safest online poker rooms, the staff will take care of it immediately.
Keep Your Antivirus Software Up to Date
You have got to ensure your computer software and antivirus software are completely up to date to safely play online poker. Why? Anything you do on your computer may become vulnerable if unwanted software is able to make its way onto your hard drive. This can happen by visiting questionable poker sites, opening an email attachment, or by someone deliberately putting it on there. While antivirus isn't perfect, it can go a long way to catch threats before they cause major problems when you are trying to play poker safely online.
Use Proper Password Safety
Your password is the first and last line of defense between the world and your account at poker sites accepting US customers. Because of this fact, it's imperative that you practice proper password safety. Here are a few of the most important and must-follow tips when making your password at reliable online poker sites.
Always use a strong password.
Never store your password to real money poker sites on any of your devices.
Change your password regularly (minimum every 90 days).
Follow All the Safe Poker Sites Guidelines to a T
If the poker room staff gives you a directive regarding safe play, you should follow it to a T. Failure to do so could open up your account to an unknown threat, or it could open your account up to potential termination.
Trusted Poker Sites FAQs
Gambling laws and regulations vary depending on location. In recent years, most US states have loosened their restrictions on online poker. Always make sure to read up on your location's specific laws towards online gambling before you decide to join a poker site.
Types of crypto payments vary from site to site. The majority now allow deposits and withdrawals to be made using Bitcoin, Ethereum, and Litecoin.
Promotions have helped a huge number of online poker gambling platforms to grow their user base. Nearly all of the ones operating today provide welcome bonuses that add money on top of an initial deposit. Many also provide reload bonuses, offering more deposit bonuses on a weekly basis.
It's fairly uncommon for modern online poker sites to provide completely free play to their members. Instead, many will offer unique promotions that can add funds to a player's account.
Most of the safest online poker websites provide even more games than the country's biggest land-based casinos. Expect to find games such as Texas Hold'em, Omaha, and 3-Card Poker.
Get Started Playing Poker Online Now!
Now that you know where to find the safest online poker sites and what you need to do to keep safe, it's time to get the cards in the air. Head back to the top of the guide and select one of the options we've picked out for you. You're only about five minutes away from safe and secure real money online poker action right from home.