The National Basketball Association is one of the most desirable leagues when it comes to sports betting. In fact, most real money betting apps offer a variety of bets on the league, and sportsbooks see a lot of action.
Gamblers who use online betting apps pay close attention to the odds that they offer for the NBA, and it takes a lot of effort to find optimal betting opportunities. That doesn't mean you won't be able to make money betting on the NBA, it just means you need to be selective when it comes to choosing the right NBA betting apps to join.
That's exactly why we have created this guide. Our goal is to help you find the best NBA betting apps for you. Continue reading to discover everything real money betting apps have to offer. If you're eager to get started right away, click on any of the NBA apps for money listed below for a guaranteed top-notch experience.
Find the Best NBA Betting App for You
The three apps we're about to recommend are great resources when it comes to understanding the ins and out of sports betting apps. We suggest downloading them immediately. After downloading, you're one step closer to playing at one of our recommended NBA betting apps in 2021.
Best Real Money NBA Betting App: BetUS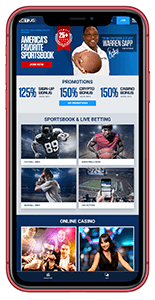 We have been using BetUS since they first opened their doors in 1994. For nearly three decades now, they have been serving their players by offering high-quality betting conditions. Their sports betting app is a reflection of many years of hard work and dedication to the online betting world. Here are some other reasons why the BetUS sports betting apps are so appealing:
125% Sign Up Bonus
Ample Live Betting Options
Plenty of Free Contests to Enter
Caring and Experienced Customer Service Team
Excellent Loyalty Program
---
Best App for Fantasy NBA: FanDuel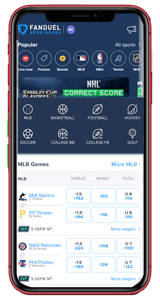 FanDuel is quickly becoming a household name and there's a reason for that. It's one of the best sports betting apps around. While their main focus is their fantasy leagues, they offer NBA betting options and plenty of others as well. Here are a few things about FanDuel that stood out to us:
FanDuel now offers its own casino
Daily and season-long fantasy sports available
Multiple contests run through the NBA season
Numerous betting options, including live betting, parlays, and more
---
Best App for Watching Basketball: NBA Official App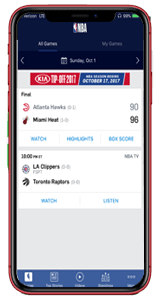 You may not have realized this, but the NBA actually has their own official app that they keep up to date on all the latest events. It's definitely the best place to watch all of your favorite teams in action. The app has some amazing features, including the following:
Score and stats updated constantly
Rapid replay option
The app is updated regularly for improvements
Easy to navigate through
---
How to Get Started With the Best NBA Betting Apps Right Now?
Getting started has never been easier!
Follow these six basic steps:
Download your favorite apps for betting on the NBA. Downloading sports betting apps takes only a few minutes as long as you have a reliable internet connection.
Insert your personal details. Most betting apps ask you to provide your identification card, your address, and your social security number to make sure you are old enough to open an account with them and eligible based on your region.
Place your first deposit. After you decide how much money you want to put in your account and what banking options you want to go with, placing your first deposit is simple. It typically only takes a few minutes to fund your NBA betting apps.
Do your research. Research the teams you are planning to place bets on to make sure they truly do have the best chance of winning or performing in the way you expect them to. Check stats from previous years or from earlier in the season too. This will help you make informed decisions and increase your chances of winning.
Place your bets. Now, it's time to place your bets, which only takes a minute or two.
Cash out those winnings! If you won, which we hope you do, you can withdraw your winnings or use those winnings to place more bets. The choice is yours.
What Makes These the Best NBA Betting Apps
A question we get asked over and over again is, "How do you know these are the best NBA betting apps out there?" The answer is simple; it comes down to these three factors.
Trustworthy Operations
We would never recommend apps for betting money on the NBA to you unless we're positive that they're running a reliable business. We hate to see bettors get ripped off by choosing real money betting apps with questionable backgrounds. We want to steer you away from those frustrations at all costs.
That's why we take the time to investigate all of the NBA betting apps for 2021 on our list.
We sift through user reviews to make sure there isn't a pattern of customers reporting that they have been ripped off by this betting app. Any discrepancies in how real money NBA betting apps handle their customers' funds aren't taken lightly and it will often lead to us taking them off our list.
Ample Betting Options With Reasonable Odds
The top NBA betting apps that we suggest playing at always have a plethora of betting options. They have everything from basic moneyline and point spread wagers to the more complicated wagers like parlays and multiples.
They also offer reasonable odds that present an opportunity to make money. Getting a payout is always one of our goals when it comes to betting on the NBA and we're sure the same can be said about you! Well, fair odds is the first step towards reaching that goal!
Customer Service You Can Count On
We've said it once, and we're sure we'll say it again: Good customer service is so important when it comes to real money sports betting apps. Here's a few things we hope to see the best NBA betting apps have to offer in terms of customer service:
Live-chat option
24/7 customer service
Great communication skills
Well-trained representatives
Tips for Using NBA Betting Apps
Set a Budget and Stick to It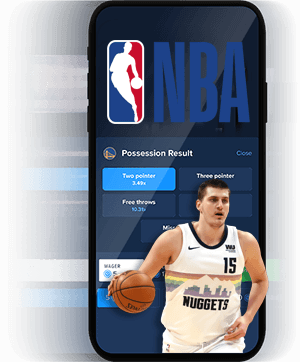 Everyone's betting budget looks different because everyone's financial situation is unique, and that's okay. Decide how much money you can afford to spend on real money NBA betting apps and deposit only that amount into your account. Going into debt to bet on the NBA will only lead to frustration and financial ruins, so don't go down that path.
Read All Bonus Terms and Conditions
If you're planning to use the bonuses offered at NBA apps for money, then we suggest looking at the terms and conditions associated with those bonuses. Make sure the rollover requirements are attainable and that any other things they require are fair. Don't waste your time with a bonus that isn't going to help nurture you.
Try Different Wagers While Betting on the NBA
As we go into detail about later, there are a myriad of different wagers you can place on the NBA. Since every bettor excels by betting in different ways, we suggest trying out a few different types of wagers to see what works best for you. When trying a new wager, only put a little amount of money at risk.
This will help cut your losses as you gain experience using new types of bets.
Avoid Betting While Intoxicated
While social drinking while using apps for betting money on the NBA is fine, don't overdo it. We all know that we make poor choices when we're under the influence of drugs and alcohol, so betting is one of the last things we should be doing. This will only lead to rash decisions and overspending.
Banking Options for Real Money NBA Betting Apps
Most sports betting apps have banking options in each of the following categories:
Credit Cards – Chase, Discover, Mastercard, Visa
Credit cards are great options because you don't have to open any special accounts to use them. You simply have to pull your card out of your wallet and input the necessary details. These transactions are often well protected by your credit card provider.
Cryptocurrencies – Bitcoin, Litecoin, Ripple
Cryptocurrencies are a great option if you want your privacy. These transactions are hard to trace and well protected by VPNs. These may not have been widely acceptable 10 years ago, but they are the number one option for currency in the online betting world today.
E-wallets – Alipay, Neteller, Skrill
This is another great safe option if you didn't want to use your credit card. You transfer money from your bank account to your e-wallet. Then, you can use the money in your online wallet to fund your NBA betting apps accounts.
What Bets Can I Place on NBA Betting Apps?
You can place just about any wager while using sports betting apps. Here are a few of our favorite wagers to place while betting on the NBA.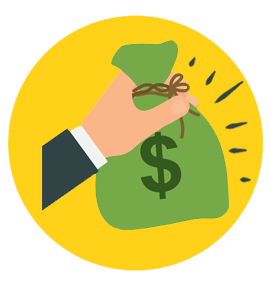 Moneyline Wagers
We love this type of wager because it's SO simple. Moneyline wagers, also known as win bets, are bets you place on which team will win the event.
For example, let's say you're betting on an upcoming game between the Nets and the Lakers. You have two options, you can either place a moneyline wager in favor of the Nets winning or in favor of the Lakers winning. That's it!
Proposition Wagers
Prop Bets are exciting because the outcome is so hard to predict. They are usually on very random events like which team will foul first or what color shoes the coach will wear. These prop bets typically don't lead to big payouts, but they do keep things interesting.
Futures Wagers
A future's wager is a bet you place on an event that's not going to take place for a while. For example, you may place a bet on who is going to win at the NBA finals at the start of the NBA season. It's often difficult to pick a winner early on, but if you happen to choose correctly, you can expect huge payouts.
Device Compatibility of Apps for Betting on the NBA
NBA Betting Apps FAQ
Here are the answers to those repetitive questions our faithful readers have asked us multiple times. We update this section as needed, so be sure to check back with us often.
Surprisingly, no! The whole sign-up process from start to finish can be accomplished in 10 minutes or less.
Every NBA online betting app comes with their own unique bonuses, but here are the ones we see offered most commonly:
Welcome bonus
Weekly bonus
Cryptocurrency bonus
Refer-a-friend bonus
While we can't answer with 100% certainty, we can say that NBA betting apps are available in most countries. Most apps provide a list of restricted countries, or you can contact a customer service agent to further assist you.
Sure, why not? It doesn't cost any money to open accounts at NBA betting apps, so there's no reason to avoid opening an account at more than one. This allows you to find the best odds and use even more bonuses.
Yes, most real money NBA betting apps offer odds on a wide range of other sports including the following:
Soccer
Baseball
Hockey
NFL
UFC
Lacrosse
Esports
Wrap Up
Now that you've made it through our entire NBA betting apps guide, we hope you feel ready to pick the best NBA betting apps for you. Use the information and tips in this guide to help increase your bankroll. You got this; good luck!