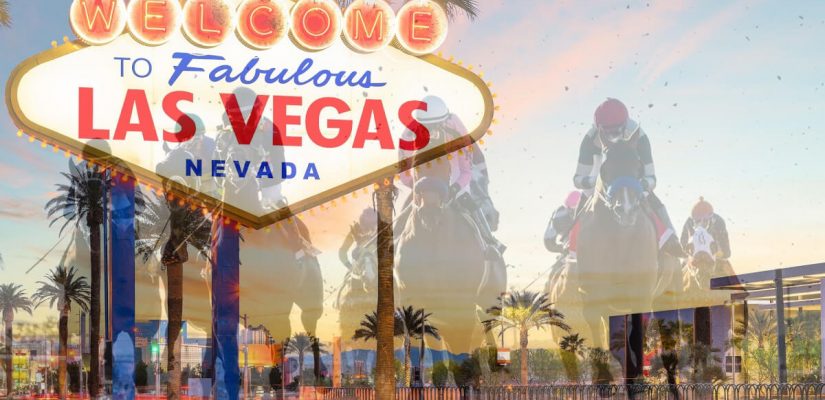 For a city that glorifies all things gambling, Las Vegas isn't exactly a hotspot for Thoroughbred horse racing or track racing of any kind.
The horseracing industry has been in steady decline for decades now, but it's dead and buried in Sin City. And it has been since 1983, when Las Vegas Downs held its final race after just two tumultuous seasons in operation.
The very first attempt to bring live horse racing action to the desert failed after just 13 race days, which were held over the span of six weeks. A second attempt to attract Thoroughbred horseracing enthusiasts commenced in 1963, but Thunderbird Downs suffered the same fate as Las Vegas Downs after three years in operation.
Knowing all this, why would any serious horseracing handicapper venture to Las Vegas then?
Well, the city still has sportsbooks that double as off-track betting (OTB) sites. They even have air conditioning and complimentary cocktails to boot.
Visiting a Las Vegas racebook is like any other OTB experience in that you'll be wagering on horse racing events simulcasted from tracks across the country. Using simulcast streams from industry-leading outlets like TwinSpires, TVG, and BetAmerica, the best racebooks in Las Vegas connect bettors directly to the country's most prestigious tracks and stakes.
And the OTB action here isn't limited to top-tier tracks like Churchill Downs and Pimlico either. Get a load of this list showing the daily simulcast schedule at a popular Las Vegas racebook, and remember, this covers only the A-B-C entries at the front of the line.
Abbreviated OTB Race Book Simulcast Schedule (A-C)
| | |
| --- | --- |
| TRACK | POST TIME |
| Albuquerque | 3:29 PM |
| Ascot (UK) | 1:14 PM |
| Assiniboia Downs | 7:35 PM |
| Australia A | 9:47 PM |
| Australia B | 10:00 PM |
| Australia C | 10:10 PM |
| Australia D | 10:30 PM |
| Batavia Downs | 6:00 PM |
| Belmont Park | 3:02 PM |
| Belterra Park | 12:41 PM |
| Birmingham Eve | 7:15 PM |
| Century Mile H | 6:15 PM |
| Charles Town | 7:00 PM |
| Clonmel (IG) | 2:49 PM |
| Colonial Downs (TB) | 4:59 PM |
| Curraheen (IG) | 2:50 PM |
As you can see, punters will find no shortage of races large and small to choose from.
OTB betting isn't anything to be afraid of either, thanks to strict regulation from the Nevada Gaming Control Board (NGCB).
They ensure that every ticket written and bet accepted is monitored for integrity.
In other words, you'll never have to worry about the racebook shorting your payout, backing off winners, or writing erroneous tickets that turn would-be winners into unlikely losers.
With that in mind, I'm happy to take you on a tour of the three best OTB racebooks in Las Vegas to catch all the horseracing action you could ask for.
1 – South Point Hotel Casino and Spa Race Book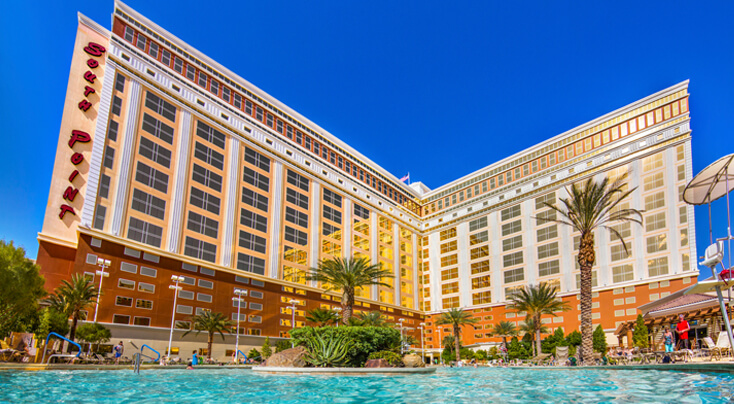 Address: 9777 S Las Vegas Blvd. Las Vegas, NV 89183
Phone: (866) 791 – 7626
Website: https://southpointcasino.com/casino/race-book
Unlike most casino sportsbooks in Las Vegas that offer horseracing odds, the South Point Hotel Casino and Spa doesn't give the ponies short shrift.
Instead, horseracing enthusiasts who call South Point their home away from home enjoy a dedicated racebook that offers nothing but OTB simulcasts.
By far the largest such venue in all of Las Vegas, the South Point Race Book is a monument to the "Sport of Kings."
It features more than 150 seats, each equipped with its very own TV monitor. You can even purchase earphones that connect to your personal TV to enjoy the sounds of your race's broadcast crew, audience, and even the Thoroughbreds themselves, as they tear through dirt, turf, or slop.
In addition to the smaller in-seat TV monitors, you'll see 20 huge high-resolution screens up above the betting window, each displaying one of the day's most popular races.
As the only bifurcated racebook-sportsbook, horse racing fans who flock to South Point will enjoy the ability to focus on horses only, without football and baseball games cluttering up the view. According to South Point Race Book manager Mary Jungers, who has nearly 40 years of experience in the industry, that's all by design.
Jungers, who began managing the facility in 2005, spoke with the Las Vegas Review-Journal in 2017 to explain her passion for making the South Point Race Book the best in town. As she told the local newspaper of record, Jungers believes the South Point—which hosts 40 weeks' worth of equestrian events and rodeos every year—is the perfect place for local horseracing fans to congregate.
The venue opens its doors at 8 AM every morning and closes when all guests have cashed their tickets on the last race of the day. The South Point Race Book also offers a convenient online mobile betting app, which allows patrons to place wagers on the go.
2 – Wynn Race and Sports Book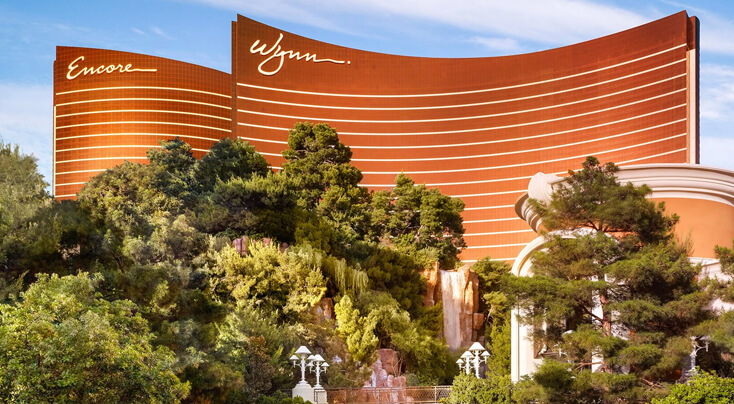 Address: 3131 Las Vegas Blvd. Las Vegas, NV 89109
Phone: (702) 770 – 3075
Website: https://www.wynnlasvegas.com/casino/race-sports-book
If the South Point Race Book is the biggest in Las Vegas, the facility located within the Wynn Sports Book is definitely the most beautiful.
There's nothing quite like watching a furious photo finish from the Wynn Race Book's spectacular 1,600-square-foot wraparound LED video screen. Throw in comfortable plush seats, personal TV monitors, and USB outlets to charge your mobile device, and the folks at Wynn's Race Book seem to have thought of everything.
That's no coincidence either, as former manager Johnny Avello—ran the Wynn Race and Sports Book for 13 years—told the Las Vegas Review-Journal:
"Mom and dad were big horse racing fans. They were more of harness people, and I became a harness guy.

I think that is the reason I am in this business now. It was the kind of thing I loved to do as a kid. Horse racing needs a real kick. I don't want it to die.''
Avello's legacy is still felt strongly at the Wynn Race Book, right down to the board posting an array of futures bets and proposition wagers that can't be found anywhere else in Las Vegas.
3 – The Race Book at Westgate Las Vegas SuperBook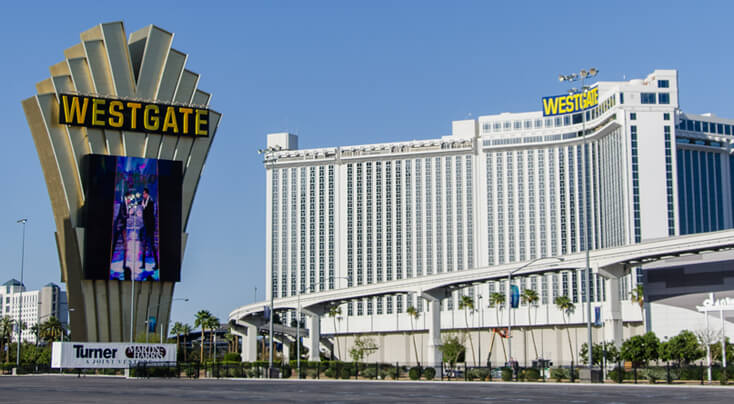 Address: 3000 Paradise Rd. Las Vegas, NV 89109
Phone: (702) 732 – 5111
Website: https://www.westgateresorts.com/hotels/nevada/las-vegas/westgate-las-vegas-resort-casino/casino/race-sports-book/
Best known as the largest sportsbook on the planet, the Westgate SuperBook is home to a dedicated racebook section roped off from the perpetually crowded main room.
Manager Jay Kornegay is a legend in the game for his stewardship over the multimillion-dollar NFL SuperContest. But he's no slouch when it comes to keeping the SuperBook Race Book up to speed.
Punters will find 32-inch LED screens attached to every seat in the house, an expansive menu featuring Thoroughbreds, harness racing, and even greyhounds, along with a VIP section with key-card access for regulars and high-rollers.
Conclusion
Live horseracing in Las Vegas may be a thing of the past, but that doesn't mean bettors have to look elsewhere when the big race day draws near. The beauty of modern OTB betting ensures that anybody, anywhere, can still watch and wager on their favorite tracks, horses, jockeys, and trainers.
And with so many sportsbooks including onsite OTB wagering, and the Triple Crown of racebooks listed above taking the experience to the next level, you'll always have a ticket in hand while the pack storms to the finish line.