A Comprehensive 2022 Review of GTbets
GTbets is an excellent online sportsbook and casino and you have found an honest and unbiased 2022 review for this top-rated gambling site! This is not going to be a review where we praise GTbets' strengths and then downplay or sugarcoat the weaknesses or the areas that need improvement. We are going to take an honest and transparent look at what GTbets does well and some of the things that they do not do well.
We are going to be completely honest with each and every area that we cover with this online sportsbook and casino. Discover today if GTbets is the best online gambling site for you by checking out this comprehensive 2022 review!
Pros and Cons
We are committed to bringing you the best review of GTbets in terms of honesty and transparency. This review of GTbets will focus closely on the perks and benefits of this gambling site, but we will also take a look at the downsides and cons found at this site as well. Our readers can make the best decision for themselves when they have a completely accurate and unbiased picture of GTbets in 2022! 
Pros
Bitcoin accepted
Excellent VIP features
Free credit card deposits for new players
Cons
Low betting limits
High BTC minimum withdrawal

Approved for
US Customers

Important Info
Website:

GTbets.ag

US Customers:

Accepted

Welcome Bonus:

100% up to $500 

Compatibility:

Mac, Windows, Android, iOS

Sportsbook:

Yes

Casino Games:

Yes

License:

Curacao Gambling Commission

Online Since:

2011
---
Users Interface:

4

/5
Mobile Compatibility:

3.5

/5
Customer Support:

4

/5
Payout Speed:

3.5

/5
Banking:

3

/5
---








Payout: 48 Hours
Screenshots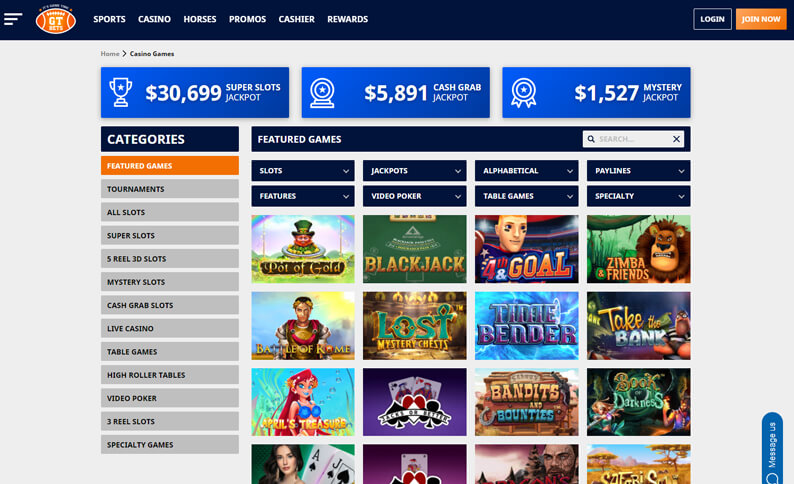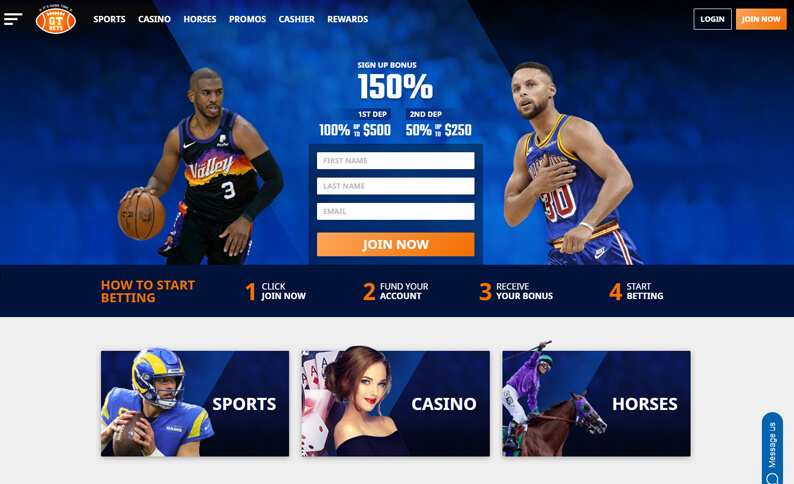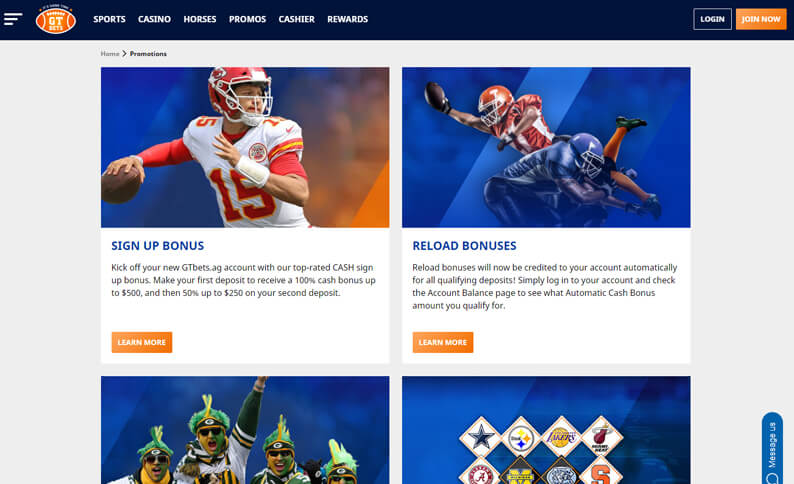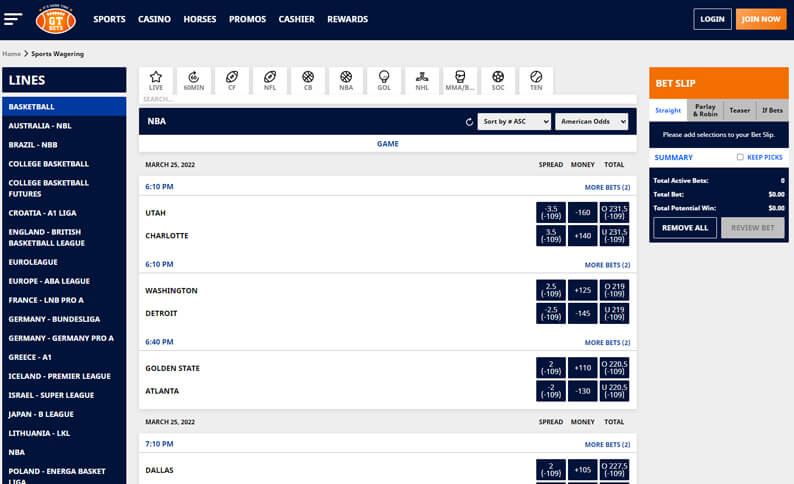 Our Staff Review
If you are looking for a sportsbook with fast payout times and an awesome variety of real money bonuses, chances are that GTbets is going to be a great option for you! This is a real money sports betting site that rewards its committed bettors really well with a comprehensive VIP program that includes some of the best top-rated perks and benefits. There are also a ton of betting opportunities available to bettors and punters with markets geared toward football, basketball, hockey, and soccer as well as smaller markets like tennis, cricket, esports, rugby, and volleyball! There is a little bit of everything here for anyone!

– Mark Peters

GTbets has several key characteristics that make it viable in 2022! For starters, it accepts Bitcoin, it has exceptional VIP features, as well as free credit car deposits for newly registered accounts. But, the downsides include ridiculously high BTC withdrawal minimum and generally low betting limits. just something to keep in mind before you register for an account there.

– Tom Olsen
GTbets Sportsbook Review
The first thing that stood out about the GTbets Sportsbook is how well it was organized. It didn't require a degree in computer science to figure out how to navigate the site, and we were able to get to the lines and bets within a couple of mouse clicks. Each betting screen follows the same flow with the sports categories along the left fold, the odds and bet options down the middle, and your selected bets along the right-hand side of the screen.
Turning your bet into a parlay, robin, teaser, or If bet is done with the click of one button on the right-hand fold of the screen. If you're able to buy points on that particular game, that option pops up right away on the right-hand side of the screen which is extremely convenient. We were big fans of the fact that you could tinker around with all of these options on the same screen and it updated potential payouts as well as the conditions needed to win.
Basically, it allowed you to move into some more advanced betting options with a simplicity that we don't often see from betting sites.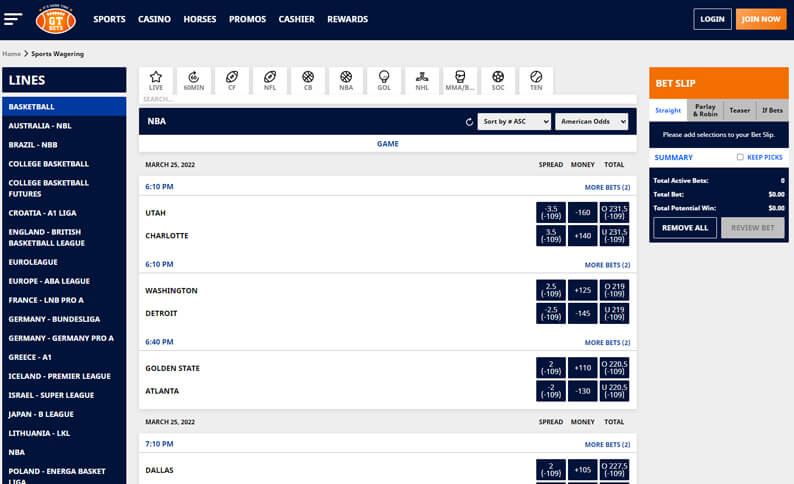 Odds were displayed initially in American (moneyline style) odds and could be changed to fractional or decimal with the click of one button. Clicking the button changed all of the odds instead of making you have to do them one at a time like some sites. Bets were also able to be sorted by number, sport, or date which also added convenience. You could also search by team names to pull up the bets you were looking for.
Overall, the biggest takeaway that we loved about GTbets was the fact that everything was laid out well and was extremely user-friendly. Our guess is they probably got a lot of users without a technical background to test the interface and continued to tweak it until they were easily able to use it. This is a huge plus as you don't need the software making your job any harder.
Sports You Can Bet On
Like most sites, GTbets had main sports categories that expanded out when clicked to show the current listings of bets offered. Major sports that were out of season still showed up on the lists as they began offering some lines way in advance. Some sports leagues that currently had no events going on were not listed but only added when the lines were put out. This makes things a lot easier for you to sift through rather than having to go through a ton of options that are currently not available.
Here is the list of events as well as the bets that were offered at the time of the last update to this review. If you don't see the league or division that you like to bet on, they're most likely offered but were out of season when we last updated this review. The site allows you to look at all of the offerings without having to make an account, so feel free to pop over and check if you don't see what you're looking for on the list below.
Football
Baseball
Basketball
Cricket
E-sports
Hockey
Horse Racing
MMA
Rugby
Soccer
Tennis
Volleyball
Again, this was only the list at the time of the last update to this review. If you don't see what you're looking for, take a quick jump over to their site, and you can see the complete current listing without creating an account or anything like that.
One thing we didn't see where any of the novelty style bets like betting on politics or competitive eating or anything crazy like that. It's possible these get added in sporadically, but we were hoping to see a dedicated category or something like that. This is, of course, not a big deal as these are usually gamble-type wagers, but it is nice to have complete flexibility if possible. Certainly not a deal-breaker; just us being overly picky.
Types of Bets Offered
Here's a list of the bets offered on GTbets. The smaller sports will vary on what is offered but can easily be accessed and seen from the homepage of the site.
Sides
Totals
Parlays
Teasers
Futures
Props
Half Times
Money Lines
One thing we didn't see was pleasers and a few of the more complex betting options like rolling-if wagers and things like that. Honestly, not a big deal as the more complex bets seem to get people in trouble sometimes and do more harm than good. For some reason, people think that the more complex a bet is, the better the payouts or odds it will have. This is 100% not true.
Here are the betting limits for each of the major sports and bet types offered. These numbers are all in US dollars. These limits are a bit lower than we've seen on a few other sites which lead us to believe they are really targeting recreational and semi-serious sports bettors. While that is probably the case, this doesn't mean you can't use this site if you're a professional. The interface alone should be reason enough or at least a great spot to shop lines.
Bets Limits
| | NFL | College Football | NBA | College Basketball |
| --- | --- | --- | --- | --- |
| Sides | 5,000 | 3,000 | 5,000 | 3,000 |
| Totals | 2,000 | 1,000 | 1,000 | 1,000 |
| Parlays | 1,000 | 1,000 | 1,000 | 1,000 |
| Teasers | 1,000 | 1,000 | 1,000 | 1,000 |
| Halftime Sides | 3,000 | 3,000 | 3,000 | 3,000 |
| Halftime Totals | 1,000 | 1,000 | 1,000 | 1,000 |
| Moneylines | 1,000 | 1,000 | 1,000 | 1,000 |
| Run Lines | —- | —- | —- | —- |
| Quarter Sides | 1,000 | —- | 1,000 | —- |
| Quarter Totals | 500 | —- | 500 | —- |
| | NHL | MLB | Soccer | Other |
| --- | --- | --- | --- | --- |
| Sides | 2,000 | 3,000 | 500 | 500 |
| Totals | 500 | 1,000 | 500 | 500 |
| Parlays | 1,000 | 1,000 | 1,000 | 1,000 |
| Teasers | —- | —- | —- | —- |
| Halftime Sides | —- | —- | —- | —- |
| Halftime Totals | —- | —- | —- | —- |
| Moneylines | 1,000 | —- | 1,000 | 500 |
| Run Lines | —- | 1,000 | —- | —- |
User Interface at GTbets
If you've read any of the above sections, you know we've been singing the praises of the user interface on GTbets pretty highly. This is because they clearly took the time to think about the end user and create a platform that specifically caters to their needs. Graphics-wise, the site is fairly plain. If you're looking for the full James Bond type feeling when you're placing your bets, this isn't the site for you.
Honestly, that sort of stuff can become distracting when you're looking to focus on getting your bets placed quickly, efficiently, and with no mistakes. Too many flashing banners and bells and whistles will do more harm than good, so we actually enjoy the simplistic graphics of the sportsbook on GTbets.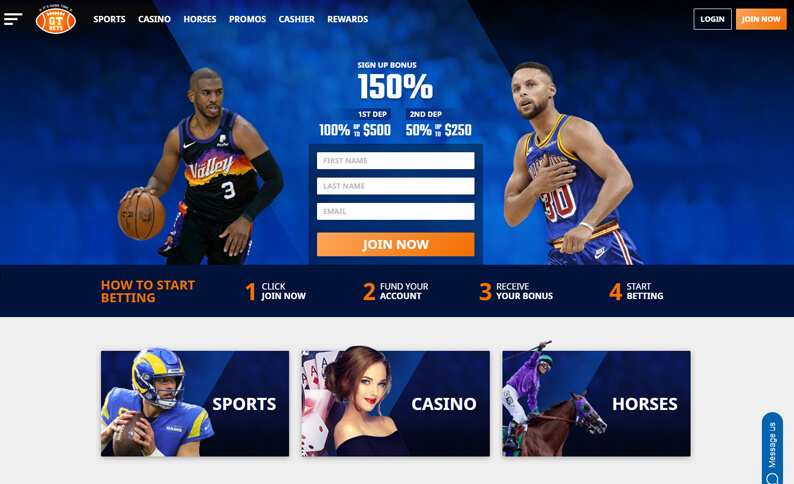 Regarding the casino section of the site, the simplistic look and easy-to-navigate look are all present. One thing we would like to see improvement on is that when you go to scroll through the game options, it can be tough to see where to click to use the slider because it's blue on a blue background. Yes, we are nit-picking, but that's what we do best. The actual game graphics are awesome, and they did not skimp on that experience.
If you want to take a look at some of the casino games, they're available for free play without even having to sign up or create an account. The game we tried out took a few additional seconds to load, but the graphics were worth the wait.
GTbets Casino Review
The casino at GTbets is clearly not an afterthought of the sportsbook but has quite a bit to offer. Slots were organized into a lot of different categories, and there were tons of different offerings to choose from. Categories included 5-Reel 3D Slots, Super Slots, Cash Grab Slots, 5-Reel Slots, and 3-Reel Slots. We didn't count them all, but there were hundreds of offerings that were all available to be played for free without creating an account at all. The graphics were amazing and the sounds and full experience matched. We highly recommend checking out some of the 3-D slots because they were a lot of fun. We may have taken way too long of a break playing them while writing this review.
Online Slots
GTbets.ag has tons of online slot machines to choose from in each category.
5-Reel 3D slots
Super Slots
Cash Grab Slots
5-Reel Slots
3-Reel slots
In addition to the slot offerings, the casino had a lot of other game offerings to help you scratch that gambling itch. These included the following:
High Roller Tables
Table Games
Super Video Poker
Video Poker
Pyramid Video Poker
Multi-Hand Video Poker
Specialty Games
GTbets also had something interesting that we don't see as developed on most other sites. They had a complete dedicated section for slot and table game tournaments. While a lot of sites will have a tournament or two sporadically, it's cool to see a fully dedicated schedule that includes freerolls (tournaments with no entry fee but you can win actual prizes and money).
Deposit and Withdrawal Options at GTbets
Deposit options look pretty healthy which is great to see. No fees or anything silly like that on those. Withdrawal options were fine, not great, but not bad. The one positive that you won't see below is that the reliability and timeliness look to be very good with this site. We did some research into forums and any customer feedback to try and look into that. The free Bitcoin withdrawal every month is nice, though, we would like to see all Bitcoin withdrawals free. Overall, banking could be improved, but it's definitely not bad.
Deposit Options
| Deposit Method | Fees | Limits | Notes |
| --- | --- | --- | --- |
| Visa, American Express, and Bitcoin | Free | $35 / Depends on player status | Instant approval |
| MasterCard | Free | $35 / Depends on player status | It's recommended by GTbets that you contact support before using this option. |
| Pre-paid Gift Card | Free | $35 / $5,000 | – |
| Direct Cash | Free if over $200, $10 if under | $100 / $2,000 | – |
| Quick Cash | Free if over $200, $10 if under | $100 / $1,000 | – |
| Skrill and Neteller | Free | $35 / Depends on player status | Only available to players outside of the US. There is an additional 50% signup bonus up to $500 on these deposits. The 100% bonus is excluded/can't be combined. |
Withdrawal Options
| Withdrawal Method | Fees | Limits | Notes |
| --- | --- | --- | --- |
| Bank Wire | $60 | $35 / $5,000 | 1 per 7 day period. Takes 12 days to receive transfer |
| Bitcoin | Free | $300/ $3,000 | 1 per 7 day period. 1 Free per 30 days Additional withdrawals during that time frame are assessed a fee of 5% up to a maximum of $60. |
| Direct Cash and Quick Cash | Min $50 or 8% of requested amount | – | Contact support for additional limits and details. 1 per 7 day period. |
GTbets Bonuses and Promotions
Sign-Up Bonus – 100% up to $250 or a 50% bonus up to $500
Reload Bonus – 5% to 50%; these vary based on your player level but can be checked on your account balance page to see what you qualify for.
Refer a Friend – 50% of your friend's initial deposit up to $400
Free Points – This one was actually really cool. GTbets offers you free points on your favorite teams during the regular season. This applies to basketball and football.
Casino Rebate – 10% weekly rebate refunded to your account on Tuesdays
Casino G.O.T.M – Earn double reward points on their "Game of the month"
Horse Rebate – 15% rebate on any net monthly losses credited to you on the first day of every month
Email Promotions – GTbets will email you specific promotions at random times so make sure you join their email list. These can include the following:

Double Reloads
Point Discounts
Free Bets
Double Rewards
Rebate Specials
Games of the Week
No Juice Specials
Customer Service at GTbets
Customer support options looked great with live chat, phone, and dedicated email accounts. The only area we could see improvement on here was that the live chat had hours and was not 24/7. Granted, they are only closed six hours out of the week, so it's really not a big deal.
Option
Details
Phone
1-800-509-4847
Fax
1-514-221-4567
Live Chat
Hours: Monday – Sunday from 10 a.m. – 4 a.m. EST
Email
Support Team
support@gtbets.eu

Cashouts Team
cashout@gtbets.eu

Rewards Team
support@gametimerewards.com

New Sign Ups
signup@gtbets.eu