The summer months are generally a pretty slow time in the American sports calendar. Other than Major League Baseball, there usually isn't a whole lot going on from a sports perspective. Fortunately, we get to experience the thrills of the Nathan's Hot Dog Eating Contest every Fourth of July. There is perhaps no single event that more accurately encapsulates what it means to be an American sports fan. It's exciting, competitive, disgusting, and heroic all at the same time.



The world's best eaters gather on the same stage in Coney Island, New York, every year with hopes of becoming the most prolific gobbler of all. Millions of people tune in to watch the festivities on an annual basis for a variety of reasons. Some are fans of the sport of competitive eating. Others are watching for the spectacle of it all. Others just want to see the agony of defeat.
Another chunk of viewers tunes in for betting purposes. Nathan's Hot Dog Eating Contest has become a hugely popular betting event in recent years, as well. All of the top sports betting sites offer odds on the Nathan's Hot Dog Eating Contest, including futures on the winner and over/unders on how many hot dogs the winner will choke down.
What Makes a Good Hot Dog Eating Contest Betting Site?
While you may dispute the notion that competitive eaters are "athletes" in the traditional sense of the term, oddsmakers are still tasked with breaking down the field as though they are. If you're betting on Nathan's Hot Dog Eating Contest, you're going to want a site that offers you the very same perks you'll find if you're betting on football, basketball, baseball, or any other sport. Nathan's Famous Hot Dog Eating Contest may be more of a niche competition, but that shouldn't mean you have to make sacrifices as a bettor.
Favorable Bonuses
A good bonus is the hallmark of good online betting sites, just like mustard and onions are key to a delicious hot dog. Bonuses have become a staple of the online sports betting experience, and as a bettor, you have the ability to shop around to different sites and find the one that suits your needs the most.
Some generous online sportsbooks with odds on Nathan's Hot Dog Eating Contest will offer bonuses up to 100% of your initial deposit after you sign up, up to a certain amount. For example, one site with Nathan's Hot Dog Eating Contest betting odds may offer to match 100% of your first deposit up to a limit of $5,000. A different site may also match 100% of your deposit, but only up to $2,500. Be sure to read the fine print with regard to bonus offers before deciding where to sign up.
Reload bonuses and free rolls are also common. Sites are interested in getting you to sign up, but they're also in the business of making sure you keep coming back for more.
Most Hot Dog Eating Contest betting sites will continue to match your subsequent deposits up to a certain amount if you're forced to put additional funds into your account. Some sites will also give you the chance to place some free bets before you deposit, just as a way to whet your appetite.
Banking Options
The advent of the internet means we have a lot more banking options today than we did even 20 years ago. You can still use traditional forms of payment like a credit/debit card or a check, but the best sites with Nathan's Hot Dog Eating Contest odds offer an array of other options, too. These include:
E-wallets (PayPal, Neteller, etc.)
Cryptocurrency
Credit cards
Debit cards
Wire transfers
Money orders
Checks
Betting on the Hot Dog Eating Contest online is supposed to be all about convenience. Convenience applies to everything, and the banking options you'll have at your disposal are no exception. Be sure to find online betting sites that afford you several different methods of payment and withdrawal.
Competitive Hot Dog Eating Contest Betting Odds
While things like payment method and fast payouts are obviously important aspects of an entertainment betting site, one of the first things you're looking for as a bettor is a site that offers competitive and advantageous odds. The other perks are nice, but if a site is lacking when it comes to the odds themselves, that could be a dealbreaker.

Odds will vary from site to site, so it's worth your time to shop around and find the site with the odds that look the most favorable. If you're going to take the bold step of betting against Joey Chestnut to win Nathan's Famous Hot Dog Eating Contest, you'd better be sure to find a site that offers plenty of bang for your buck on some of the underdogs.
Safety and Security
Betting on the Hot Dog Eating Contest is all about taking risks. While most bettors are inherently risk-tolerant, one thing you don't want to risk is the safety of your personal or financial information. Unfortunately, there are plenty of seedy sites out there that don't have the best intentions when it comes to their customers.
The online sportsbooks with odds on Nathan's Hot Dog Eating Contest take your security seriously. This is one aspect that makes betting on the Hot Dog Eating Contest online a little more risky than doing so at a land-based sportsbook. Fortunately, we're here to make sure that you only choose from sites that take your safety and security seriously.
Types of Nathan's Hot Dog Eating Contest Bets
The Nathan's Hot Dog Eating Contest features a field of 20 contestants vying for the title. Quite simply, the winner is the person that manages to ingest the most hot dogs (and buns) over the course of 10 minutes. The length of the contest has varied over the years, but it has been set at 10 minutes since 2008.
Frankly, there are only so many ways you can bet on the Hot Dog Eating Contest. The most popular betting option at real money betting sites is picking the outright winner, which is basically a futures bet. The other types of bets differ depending on which betting site you find, but some popular prop bets include the nationality of the winner and the over/under on total number of hot dogs eaten by the eventual champion. All of these bets are typically available for both the men's and women's competitions.
How to Bet on the Hot Dog Eating Contest Online
1. Sign Up at a Reliable Entertainment Betting Site
As mentioned above, there's plenty to look for when you're searching for a site with Nathan's Hot Dog Eating Contest odds. Fortunately, there is no shortage of options out there, either, so you should be able to find the best site to suit your betting needs. Once you have settled on a site, you're ready to get started.
Signing up is the easiest part of all. Find the "Join" or "Sign Up" tab, which is usually located near the top of the site's homepage. After that, jot down some pertinent personal information (username, email address, password, etc.) and you're good to go!
2. Deposit Funds and Collect Bonuses
Next, it's time to put some money into your account so you get ready for betting on Nathan's Hot Dog Eating Contest. It should be easy to find your preferred method of payment on the deposit screen, and you can choose from a number of different amounts that you wish to deposit.
This is also where you enter any promo codes that are associated with your first-time deposit bonus. After you're done, your bankroll should appear on your screen, with bonus cash included.
3. Bet on the Hot Dog Eating Contest
Now comes the fun part. Find your way to your betting site's entertainment section and scroll down to find betting odds on the Hot Dog Eating Contest. Sift through the variety of bets and props listed on the screen before settling on which bet you'd like to place.
Then, enter the amount you're willing to risk on your bet slip and double-check to make sure you entered the correct amount. Finalize your wager, and you're all set!
When Can You Bet on the Hot Dog Eating Contest?
The Nathan's Hot Dog Eating Contest goes down on Independence Day every year without exception. As a result, most of the betting activity begins to ramp up in the days leading up to July 4.
The odds are typically posted around a month before the competition begins. It's smart to wait until the field gets finalized before placing your bets, of course. You don't want to be putting money on someone that won't even be participating.
All Hot Dog Eating Contest online betting sites will accept your bets as soon as the odds are posted, so you should have plenty of time to do any research you need before the contest gets underway.
Hot Dog Eating Contest Betting Tips
There isn't a whole lot of science involved in the Hot Dog Eating Contest. While that may be bad news for bettors that like to take an analytical approach, it does make things a bit easier if you don't happen to be a competitive eating expert. You're basically trying to predict which person has the mental and physical fortitude to be able to withstand scarfing down dozens of hot dogs in a very limited amount of time.
Favorites Tend to Win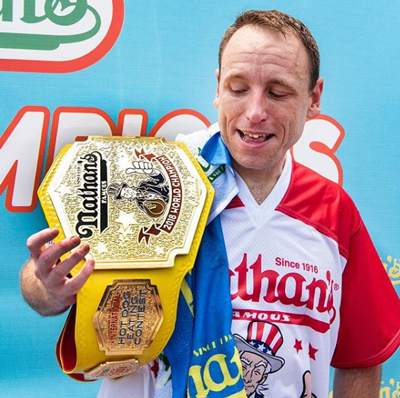 This may sound simple, and it is. Oddsmakers are tasked with doing as much research as they possibly can before slapping odds on the eaters set to duke it out on Coney Island. While betting on underdogs can be a fruitful strategy in other sports, that isn't necessarily a smart strategy when it comes to Nathan's Hot Dog Eating Contest.
Joey Chestnut has 12 Hot Dog Eating Contest titles on his resume compared to just one loss. Chestnut was defeated by Matt Stonie in a massive upset back in 2015. So, despite the fact that he has been a minus-money favorite just about every year, Chestnut has proven to be a worthwhile betting option far more often than not. Before Chestnut, the contest was dominated by Takeru Kobayashi, who win it six times in a row.
The same can be said of Miki Sudo on the women's side. Sudo has won the Hot Dog Eating Contest in each of the last six years. At this point, betting against either of the heavy favorites seems to be a fool's errand.
Betting the Over Is Smart
Betting on the over/under on number of hot dogs eaten by the eventual champion tends to be more profitable than betting on the Nathan's Hot Dog Eating Contest outright winner from an odds perspective. Betting on someone like Chestnut at -1000 offers less profit potential than betting on the over/under, which typically carries -110 juice on both sides.
Chestnut and Sudo have been smashing records in recent years. Chestnut inhaled a record 74 hot dogs and buns back in 2018, while Sudo set a women's record with 38.5 the year prior. It seems as though both competitors are trying to break their own individual records with each passing year.
The over/under at real money betting sites will typically be set a little bit lower than the all-time marks, which means there's merit to taking an aggressive approach with your bets. Chestnut and Sudo are so dominant that they're essentially competing against their own personal records as opposed to the other 19 eaters.
Nathan's Hot Dog Eating Contest Betting FAQ
Yes, and you absolutely should. Shopping for lines is a crucial aspect of being a profitable online sports bettor. So, there is really no reason you shouldn't be a member of multiple different sites if you want to diversify your bets. Not all odds are created equal, and there are no limits in place when it comes to how many online sportsbooks you can use.
Betting on the Hot Dog Eating Contest online is legal anywhere online sports betting is legal. There are also no laws in place in the United States that restrict Americans from placing online bets at betting sites that operate at offshore locations. So, there are no potentially negative legal ramifications if you want to partake in some online Hot Dog Eating Contest betting.
Other Entertainment Betting Options
If you're the type of person that likes to bet on something unusual like the Hot Dog Eating Contest, then perhaps you would also be interested in betting on some other interesting events. Check out a few other entertainment betting options available at the internet's best betting sites.
American Idol
Academy Awards
The Voice
Dancing With the Stars